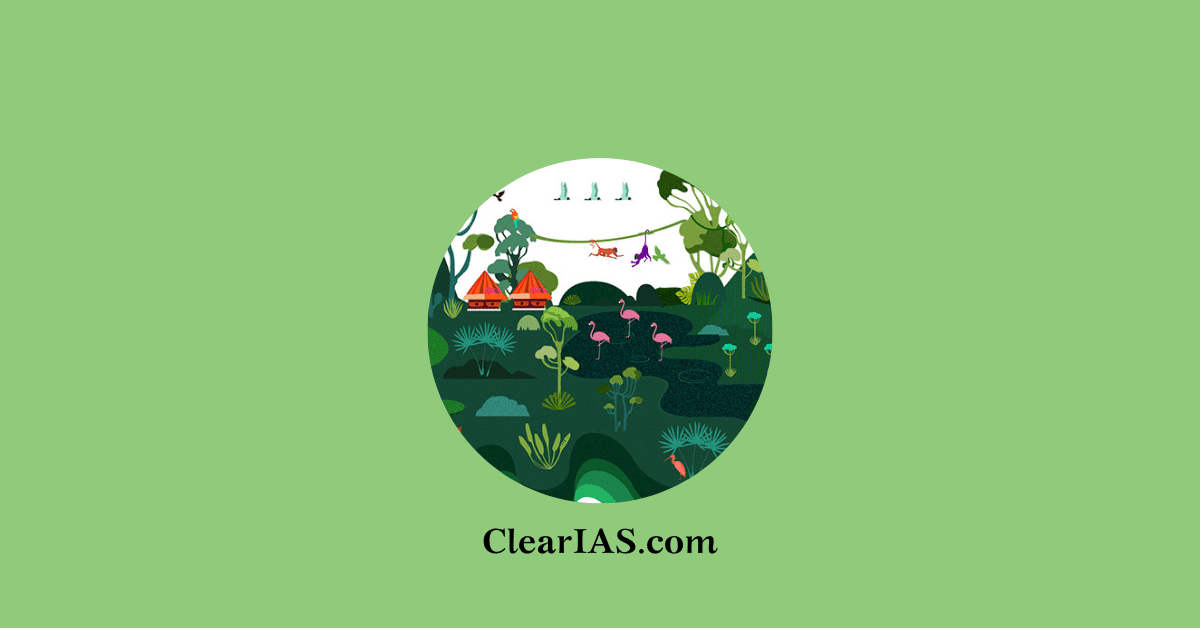 What are national parks? What are its provisions? What is the importance of national parks? Who has access to national parks in India? Read further to know more.
The Wild Life (Protection) Act (WPA) of 1972 gave state governments the authority to create national parks in regions deemed to be of sufficient ecological, geomorphological, and natural significance.
However, the WPA of 1972 makes no distinction between the conservation values of national parks and sanctuaries. A national park's main objectives are to preserve biodiversity and the local natural environment. India's national parks fall under IUCN category II protection.
National parks
An area that is relatively big and has one or more ecosystems that have not been extensively impacted by human exploitation and habitation is referred to as a national park.
An area with sufficient ecological, faunal, floral, geomorphological, natural, or zoological significance qualifies as a national park. Similar to a sanctuary, a national park was created with the intention of conserving, enhancing, or developing wildlife or its environment.
The right-vesting of persons who reside there is the main distinction between a sanctuary and a national park. A National Park does not confer any rights, in contrast to a Sanctuary where they might. Within a National Park, no livestock grazing is allowed; but, in a Sanctuary, the Chief Wildlife Warden may restrict, limit, or forbid it.
Furthermore, while removal from a Sanctuary requires permission from the State Board for Wildlife, permission from a National Park requires permission from the National Board for Wildlife. India's first national park, Hailey, was established in 1936. It is now referred to as Uttarakhand's Jim Corbett National Park.
In India, there are currently 106 national parks, totalling 44,372.42 km2, or 1.35 per cent of the nation's total land area.
National parks  in India provisions
There are some provisions related to national parks. They are described below.
State government declaration
If the State Government determines that a particular area has sufficient ecological, faunal, floral, geomorphological, natural, or zoological significance for the purpose of conserving, enhancing, or developing wildlife or its environment, it may notify the public of its intention to establish a national park there.
The State Government may issue a notification detailing the borders of the national park and announcing that the aforementioned area shall be a national park as of the date specified in the information once the initial notification has been issued and the deadline for filing claims has passed.
Central Government's Declaration
Suppose the Central Government is convinced that an area has significant ecological, faunal, floral, geomorphological, natural, or zoological value for the purpose of safeguarding, propagating, or developing wild species or its environment. In that case, it may by notification proclaim a national park.
Also Read: Hotspots – World Heritage Sites – Biosphere Reserves – National Parks – Sanctuaries – Tiger Reserves (clearias.com)
Boundaries
The notification must be as specific as feasible in describing the issue and the area's borders.
When territorial waters are involved, the limits must be decided in conjunction with the Chief Naval Hydrographer of the Central Government after sufficient steps have been made to safeguard the professional interests of nearby fishermen.
A national park's limits cannot be altered without the National Board for Wild Life's approval.
Territorial seas in regions designated as sanctuaries for the preservation of offshore marine flora and fauna were included in the Amendment Act of 1991.
Declaration of Rights
The State Government shall make alternate arrangements for making fuel, fodder, and other forest produce available to persons affected in accordance with their rights.
In accordance with the Act, the State Government designates an officer as a "Collector" to look into and ascertain the existence, kind, and extent of any person's rights in or over the land included in the national park that is to be notified.
If the claim is accepted in full or in part, the Collector may either exclude the land in question from the proposed sanctuary's boundaries or proceed to acquire it, unless the land's owner or right holder has agreed to cede his ownership of the land to the government in exchange for the compensation specified in the Land Acquisition Act of 1894.
Allow the continuation of any person's right to any land inside the national park's limits after consulting with the Chief Wild Life Warden.
Access to a Protected Area
Nobody else besides:
working public servant
a person who the Chief Wild Life Warden or another authorised officer has authorised to live inside the national park's limits.
a person who has any type of claim to real estate located inside the national park's limits.
a person passing through the national park on a public road.
the family members of the individual mentioned in clauses above
No one is allowed to enter or stay in the national park unless they are in compliance with the rules and conditions of permission that has been obtained.
Grant of Entry Permit
Any person may request permission to enter or stay in a national park, and the Chief Wild Life Warden may approve it for all or some of the following uses: photography, scientific research, tourism, and other related endeavours; and conducting authorised business with any person dwelling in the sanctuary.
All Protected Areas are under the direction, management, and maintenance of the Chief Wild Life Warden.
On issues pertaining to activity limitations in those regions, as well as on the creation and maintenance of national parks, the National Board for Wild Life may offer recommendations.
On the creation and administration of protected areas, the State Board for Wild Life shall provide advice to the State Government.
Importance of National parks
The main importance of national parks is mentioned below:
Aids in preserving and naturally managing the area. The physiographic areas, biotic groups, genetic resources, and unmodified natural processes are examples.
Helps preserve various species, local biological processes, and migration paths.
Maintains ecological functionality and a viable population. The long-term goal of this combination of native species is to maintain the robustness and integrity of the ecosystem.
Assists in controlling visitor use so that the use of natural resources for recreational, educational, inspiring, and cultural objectives does not significantly degrade their biological or ecological integrity.
It takes into account the needs of local communities, especially the utilisation of resources for subsistence. These won't currently have a detrimental effect on the main management objective.
Helps local economies by promoting tourism.
The majority of Category II places are relatively sizable and maintain an "ecosystem." This may require sympathetic management in the neighbouring areas to be added to the protected area.
Activities that are  permitted and prohibited in national parks
Certain activities are permitted and a few others are prohibited in Indian national parks.
National Parks do not tolerate human activity. Private tenancy rights and cattle grazing are also forbidden.
It is also forbidden to hunt or capture any of the species that are listed in the Wildlife Act's Schedule.
Animals cannot be taken, used for personal gain, or destroyed in a national park.
No one is allowed to cause harm to, destroy, or deprive any wild animal of its habitat while it is in a National Park.
Additionally, they cannot lose their status as a "sanctuary."
The federal government and state governments can both create national parks.
However, unless authorised by a resolution adopted by the State legislature, no alterations to a national park's limits may be made.
State-wise National Parks list
Name of State
Name of Protected Area
Andhra Pradesh
Papikonda
Rajiv Gandhi (Rameswaram)
Sri Venkateswara
Arunachal Pradesh
Mouling
Namdapha
Assam
Dibru-Saikhowa
Kaziranga
Manas
Nameri
Rajiv Gandhi (Orang)
Dehing Patkai
Raimona
Bihar
Valmiki
Chhattisgarh
Guru Ghasidas (Sanjay)
Indravati (Kutru)
Kanger Valley
Goa
Mollem
Gujarat
Blackbuck (Velavadar)
Gir
Marine (Gulf of Kachchh)
Vansda
Haryana
Kalesar
Sultanpur
Himachal Pradesh
Great Himalayan
Inderkilla
Khirganga
Pin Valley
Col. Sherjung Simbalbara
Jharkhand
Betla
Karnataka
Anshi
Bandipur
Bannerghatta
Kudremukh
Nagarahole (Rajiv Gandhi)
Kerala
Anamudi Shola
Eravikulam
Mathikettan Shola
Pambadum Shola
Periyar
Silent Valley
Madhya Pradesh
Bandhavgarh
Dinosaur Fossils
Fossil
Pench
Kanha
Kuno
Madhav
Panna
Sanjay
Satpura
Van Vihar
Maharashtra
Chandoli
Gugamal
Nawegaon
Pench (Jawaharlal Nehru)
Sanjay Gandhi (Borivilli)
Tadoba
Manipur
Keibul-Lamjao
Shiroi
Meghalaya
Balphakram
Nokrek Ridge
Mizoram
Murlen
Phawngpui (Blue Mountain)
Nagaland
Intanki
Odisha
Bhitarkanika
Simlipal
Rajasthan
Desert
Keoladeo Ghana
Mukundra Hills
Ranthambhore
Sariska
Sikkim
Khangchendzonga
Tamil Nadu
Guindy
Gulf of Mannar Marine
Indira Gandhi (Annamalai)
Mudumalai
Mukurthi
Telangana
Kasu Brahmananda Reddy
Mahaveer Harina Vanasthali
Mrugavani
Tripura
Clouded Leopard
Bison (Rajbari)
Uttar Pradesh
Dudhwa
Uttarakhand
Corbett
Gangotri
Govind
Nanda Devi
Rajaji
Valley of Flowers
West Bengal
Buxa
Gorumara
Jaldapara
Neora Valley
Singalila
Sunderban
Andaman & Nicobar Islands
Campbell Bay
Galathea Bay
Mahatama Gandhi Marine (Wandoor)
Mount Harriett
Rani Jhansi Marine
Saddle Peak
Jammu & Kashmir
City Forest (Salim Ali)
Dachigam
Kazinag
Kishtwar High Altitude
Ladakh
Hemis
Conclusion
The preservation of biodiversity is the main objective of protected areas. In order to continue delivering vital ecosystem services like nutrient cycling, climate regulation, air and water purification, and pollination, ecosystems must remain stable and healthy. The preservation of biodiversity is essential for our economy, our values, and the intrinsic worth of individual species and ecosystems. Numerous plants found in national parks contribute to the preservation of biodiversity and provide us with clean water, pure air, and other essential functions.
Article Written By: Atheena Fathima Riyas