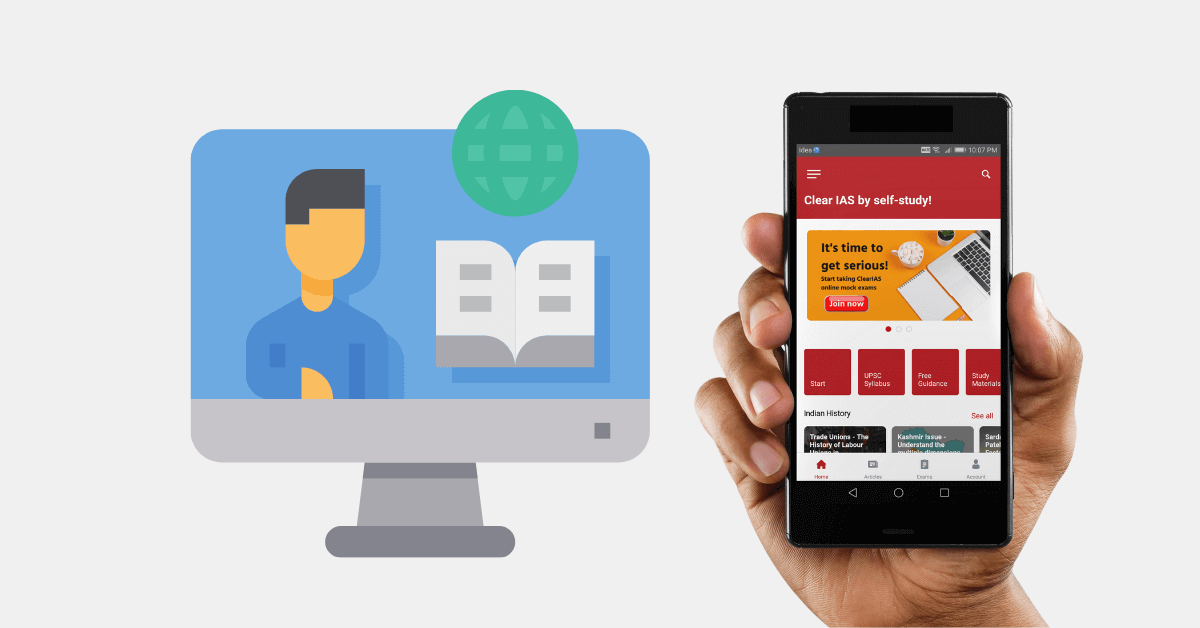 ClearIAS has come up with a lot of new initiatives to help aspirants preparing for IAS exam by self-study. We wish all followers of ClearIAS all the very best in the upcoming UPSC Civil Services Examination.
Let me start with the message of the Father of our Nation who said 'In a gentle way, you can shake the world'.
The potential to change the world is within you.
You should realise your potential first.
Once you realise this, you can make a lot of positive changes in the world.
India needs the service of brilliant youth like you to uphold and protect constitutional values. We truly wish you to become an asset to the nation.
ClearIAS: How we help Indian Youth to dream big and achieve their goals?
Even though UPSC and the Centre strive to make top Government posts like IAS, IPS, IFS etc as inclusive as possible, the privileged section of the society who had access to proper guidance and coaching always had an advantage.
It was then, in 2012, ClearIAS was started as an online learning platform which helps aspirants to clear IAS by self-study.
We offered free/affordable programs with quality much better than many expensive classroom coaching facilities across India.
In the last 8 years, ClearIAS has helped many aspirants achieve their IAS or IPS dreams, particularly from the rural side, who otherwise would have very little chance to walk through the power corridors.
A look back at the past 1 year
ClearIAS, in the last 1 year, has added a lot of value-added products and services into our offerings. This included free as well as premium programs.
New Initiatives of ClearIAS: What's coming up?
ClearIAS will conduct more video-based Classes and Courses in the coming days. We are just outlining what to expect soon on ClearIAS.
ClearIAS Answer Key for UPSC Prelims 2020: It takes time to prepare a well-researched answer key. Once ready, the key will be uploaded on the ClearIAS Mock Exam Platform. Stay tuned.
ClearIAS Prelims Test Series 2021: The Early Advantage Batch of ClearIAS Prelims Test Series 2021 has been already started (May 2020). Aspirants preparing for 2021 can still join the program and get access to the already uploaded exam. Having said that, after Prelims 2020, we may start a new test series for Prelims 2021 (October Batch)
ClearIAS Mains Test Series for 2020: A paid program is in consideration. However, we are very particular that our program should be high-quality. It should not be just another test series in the market and should really offer value. Due to time constraints, we are not committing as of now. Stay tuned for further updates.
More IETs: We have discussed 20 IETs in the form of a video class. 20-25 more IETs are also documented from our end. A course on the same will be released soon.
ClearIAS LIVE Classes: ClearIAS will conduct LIVE Classes for Mains 2020 as well as Prelims 2021. This will be module classes (paid program) which cover subjects difficult for aspirants (Eg: Indian Economy, Polity, Ethics etc)
Thank you for your support and love!
Now, about 1 million aspirants visit ClearIAS.com on a monthly basis.
ClearIAS app is one of the most downloaded apps dedicated to UPSC CSE preparation.
ClearIAS Mock Exam platform has 3,00,000+ registered users.
As a long-time follower of ClearIAS, we really thank you from the bottom of the heart for the support provided for the free and paid initiatives from ClearIAS.
We are proud and happy to see our efforts bear fruit.
In the coming years, we wish our humble initiatives help create more and more leaders!