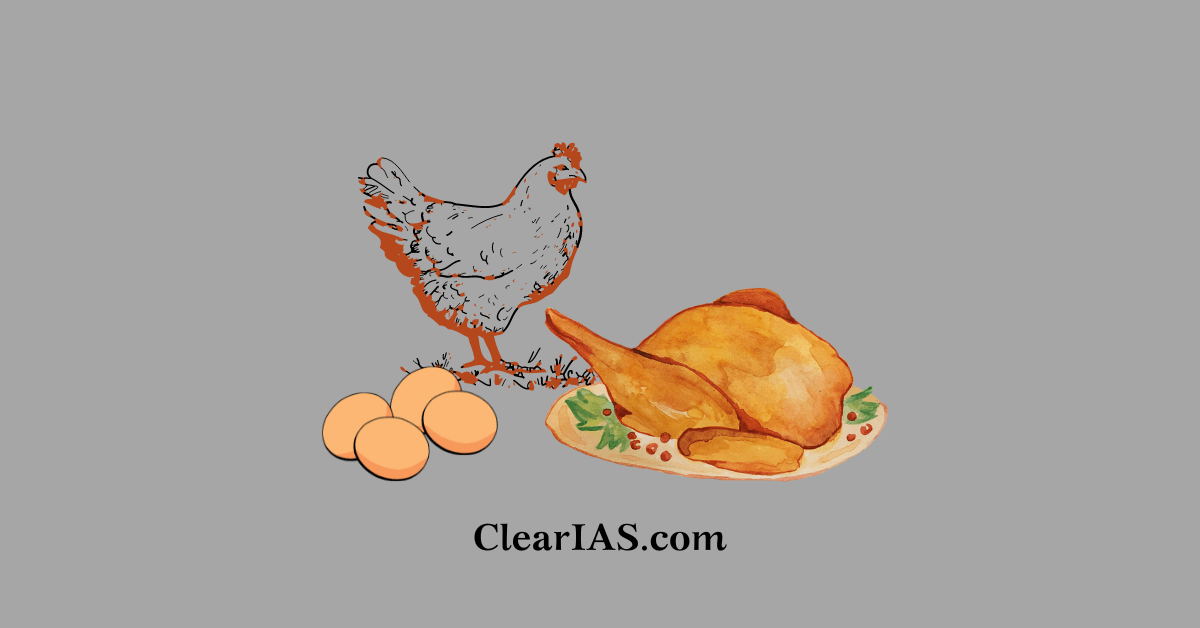 What is pink revolution? What is India's potential in this sector and what are the challenges faced by India in this respect?
Pink Revolution is a term used to denote the technological revolutions in the meat and poultry processing sector.
India has already seen the 'green' and 'white' revolutions in its food industry – related to agriculture and milk respectively, now thrust is upon the meat and poultry sector.
India as a country with a huge cattle and poultry population, has a high potential for growth if this sector is modernized.
Potential of Pink Revolution in India
India produces about 5.3 million MT of meat and 75 billion eggs annually, and it has the greatest population of animals in the entire globe.
India is the world's top producer of goat and buffalo meat, respectively.
Meat processing levels currently stand at 21%, compared to 6% for poultry.
India's poultry sector is very vertically integrated and operates at a level of efficiency comparable to many western nations.
To give consumers safe and hygienic meat, the Indian government has taken initiatives to modernise municipal abattoirs.
Export-focused organizations have made major investments in the construction of sizable, cutting-edge meat processing facilities.
Given the shifting demand of Indian consumers for clean, safe, and sanitary meat and meat products, fresh meat manufacturing, abattoirs, logistics, processing, and point of sale cold storage facilities are opportunities in India.
The present meat consumption per capita of around 6 grams per day will improve to 50 grams a day in the next decade or so. When such a phenomenal increase in meat consumption occurs, the sector will witness tremendous growth.
Major producers in India
Major egg, meat and poultry producing states in India are as follows:
Eggs
Andhra Pradesh, Tamil Nadu and Maharashtra are the top egg producers in the country.
Meat
Uttar Pradesh is the greatest meat producer in the nation, accounting for 23% of all meat output, followed by West Bengal at 12%. With 7% of the nation's total production, Andhra Pradesh is the third-largest meat producer.
Poultry meat
The three states that produce the most poultry meat in the nation are Haryana, West Bengal, and Uttar Pradesh.
Challenges
Despite India's large livestock population, India accounts for only around 2 per cent of the global market.

Challenges include creating standard policies for meat production and export, standardizing the quality and safety aspects of meat and poultry, and creating infrastructure facilities for modern slaughterhouses, meat testing facilities and cold storage for the growth of the meat and poultry processing sector.

India needs more hygienic methods in meat and poultry processing and increased investment in the sector.
Government Policies To Promote Meat and Poultry Sector
There is no income tax or central excise in this sector.
There are no restrictions on the export of poultry and poultry products, and the government provides some transport subsidiaries. Restrictions on Foreign Direct Investment (FDI) have also been lifted, meaning that 100 per cent of FDI is now permitted to tap into available opportunities across the sector.
The government has launched a comprehensive scheme for the modernization of abattoirs across the country in order to address quality standards, contamination and deterioration of produce, and the amount of meat wasted.
The Indian poultry industry has been growing at varying rates of between 8-15 per cent annually and is now worth more than 700 billion dollars.
For further reading related to Pink Revolution, refer :
Update: UPSC Questions related to Pink Revolution
2013 Mains GS3: India needs to strengthen measures to promote the pink revolution in the food industry for better nutrition and health. Critically elucidate the statement.