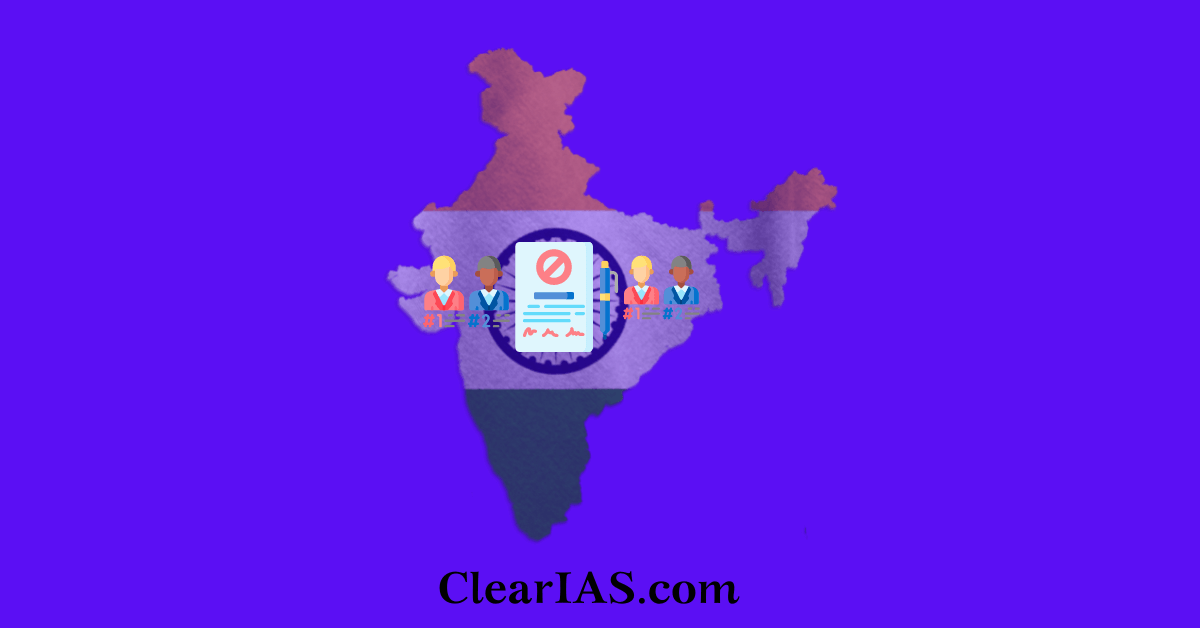 What are Political parties? How many political parties are in India? What are the functions and eligibility of political parties? Read further to know more.
The Election Commission of India (ECI) registers political parties for election purposes and recognises them as national or state parties based on their poll performance.
The remaining parties are simply designated as registered-unrecognized parties.
According to the Representation of the People Act of 1951, registered political parties can gain recognition as a 'State Party' or a 'National Party' over time.
What are Political Parties?
Political parties are voluntary associations or organised groups of individuals who share similar political views and seek power through constitutional means in order to advance national interests.
In modern democratic states, there are four types of political parties
Reactionary parties which cling to the old socio-economic and political institutions
Conservative parties that believe in status-quo
Liberal parties that aim to change and reform the existing institutions
Radical parties aim at establishing a new order by overthrowing the existing institutions
In accordance with the ideologies, political parties are also categorised. Political scientists have positioned conservative and reactionary parties on the right, liberal parties in the middle, and radical parties on the left.
In India, the CPI and CPM are examples of leftist parties, Congress is an example of a centrist party, and the BJP is an example of a rightist party.
There are three kinds of party systems in the world:
(i) The one-party system, in which there is only one party in power and no room for an opposition group. One-party systems, such as the Soviet Union, are examples.
(ii) A two-party system based on the existence of two major parties. Consider the Democrats and the Republicans in the United States.
(iii) Coalition governments are formed in a multi-party system, where there are numerous political parties. Examples of multi-party systems include Switzerland, France, and India.
Aim: They keep the public informed about those who speak for them in both the government and the opposition.
Constitutional Status: Political parties continue to be the backbone of Indian politics despite being extra-constitutional.
Historical Background
The Congress Party dominated Indian politics from 1952 to 1964, when the country's democracy was essentially a one-party system known as the "Congress system."
Jawahar Lal Nehru's passing and the 1967 elections brought about a challenge to the dominance of the congress system. The majority held by Congress in the Lok Sabha was down to 54% of the seats as a result of losing majorities in eight states. Around the nation, regional parties started to proliferate.
A new coalition headed by the Janata Party emerged in 1977. This led to the creation of a multi-party system in India. Instead of coming to an ideological understanding, a number of smaller parties joined forces to take on Congress.
There has been a multi-party system and coalition politics since 1989.
How many political parties are in India?
Several hundred political parties are officially registered in India as of 2021. However, there are significantly fewer parties that are actually active and have a sizable presence at the federal or state level. There are currently 7 recognised national parties and 49 recognised state parties in India, according to the Election Commission of India.
The seven recognized national parties in India are:
Indian National Congress (INC)
Bharatiya Janata Party (BJP)
Communist Party of India (CPI)
Communist Party of India (Marxist) (CPM)
Nationalist Congress Party (NCP)
Bahujan Samaj Party (BSP)
All India Trinamool Congress (AITC)
Numerous other lesser-known parties also participate in elections at the federal, state, and local levels in addition to these officially recognised ones. While some of these parties are based on particular ideologies or areas, others are concentrated on particular communities or groups.
It's important to remember that India has a multi-party system, which prevents any one party from winning a majority on its own and frequently results in coalition governments being formed after elections.
Eligibility For Status Of Political Party
A party is recognized as a State Party if any of the following requirements are met:
If it receives at least 6% of the valid votes cast in a general election for the state's Legislative Assembly or Lok Sabha, as well as at least 1 seat in the Legislative Assembly or 2 seats in the Lok Sabha.
If it prevails in a general election held to the Lok Sabha or Legislative Assembly of a state with at least 8% of all valid votes cast.
If it wins three legislative seats, three per cent of the state's legislative assembly seats, or at least three per cent of those seats.
If it wins at least one Lok Sabha seat out of the 25 that are allotted to the States.
Currently, the Election Commission has designated 64 political parties as State Political Parties.
A party is recognized as National Political Party (NPP) if a full fills any of the following conditions:
If it receives at least 6% of the valid votes cast in an election for the Lok Sabha or the State's Legislative Assembly in 4 or more states, in addition to at least 4 seats in the Lok Sabha from 1 or more states.
If it receives at least 8% of the valid votes cast in a general election for the Lok Sabha or state legislature held in four or more states.
If it receives votes from three or more states for at least 2% of the Lok Sabha's total seats.
Currently, the Election Commission has designated 8 political parties as National Political Parties.
Latest NPP: The National People's Party (NPP), the first regional party from the northeast to receive this honour, has been named India's eighth national party by the Election Commission of India.
Functions Of Political Parties In India
Political parties in India serve several functions, including:
They nominate candidates for elections.
The effort to increase support for their candidates for office.
They use manifestos to present voters with their plans and policies.
Election results determine who forms the government and who enacts and implements policies. Election results determine who forms the government and who enacts and implements policies.
The opposition is formed by those who are not in power and keeps the government in check.
They form an opposition and put constant pressure on the executive branch for good governance when they are in the minority in the legislature.
They help form and mould public opinion by educating the general public.
They communicate the demands of the populace to the government.
Additionally, political parties in India play a crucial role in shaping public opinion and influencing the political discourse in the country. They also serve as a means for citizens to express their views and participate in the democratic process.
Conclusion
In India, political parties are essential to the operation of the democratic system. The political landscape of the nation is, however, beset by a number of problems. In order to guarantee intra-party democracy and financial transparency, it is past time to de-communalize political parties and constitutionalize them.
No single party can win a majority in India's multi-party system on its own, and coalition governments are frequently formed after elections. This factor is a significant contributor to democracy in the nation.
Article Written by: Remya