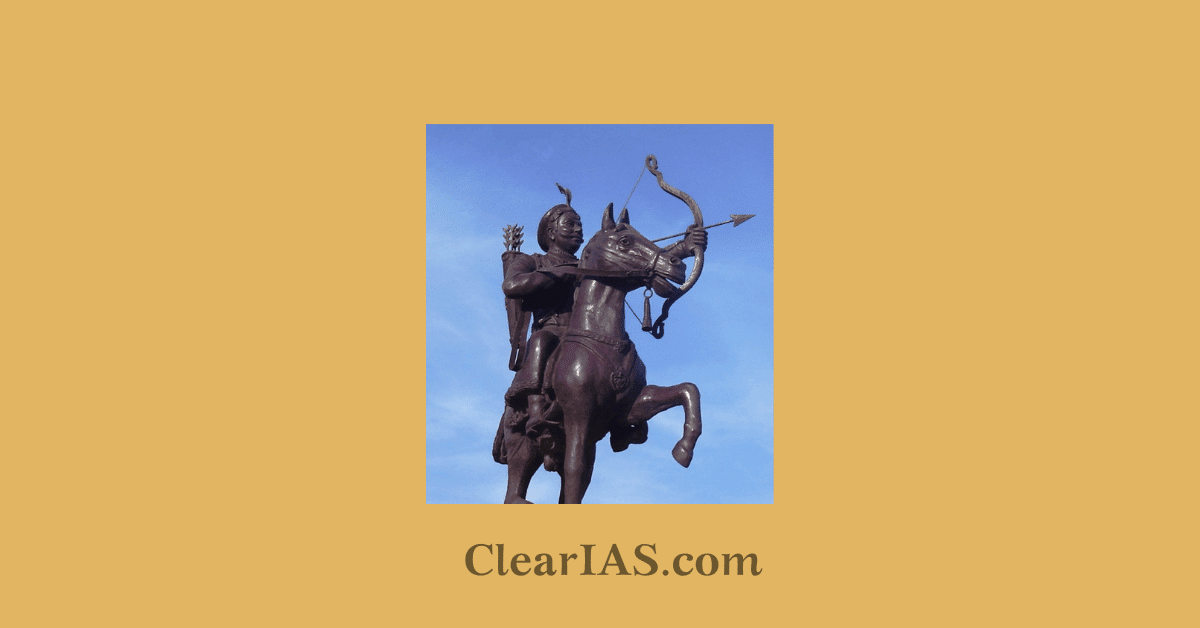 Prithviraj Chauhan was the valiant king of the Chauhan dynasty during the medieval period of Indian history. Read here to know more about his heroic life.
Prithviraj III or Prithviraj Chauhan or Rai Pithora was the king of the Chauhan or Chahamana dynasty who ruled from the present-day Ajmer and later Delhi (Dhillika) as well.
Historically, Prithviraj Chauhan has an image of a fearless and noble warrior whose life is mostly traced from the famous poem, Prithviraj Raso. The poem is written by Chand Bardai in the 16th century in Brajbhasha.
Despite being a celebrated hero, not much is known of his life as there are concrete descriptions written down about him. Most of the knowledge about his life comes from later inscriptions derived from various poems.
Besides the Muslim accounts of Battles of Tarain, he has been mentioned in several medieval kavya or epic poems by Hindu and Jain authors. These include Prithviraja Vijaya, Hammira Mahakavya, and Prithviraj Raso.
Other chronicles and texts that mention Prithviraj include Prabandha-Chintamani, Prabandha Kosha, and Prithviraja Prabandha. These were composed centuries after his death, and contain exaggerations.
The early life of Prithviraj Chauhan
The Chahamanas or Chauhan dynasty of Ajmer rose to power after the decline of the Gurjara Pratihara Empire in the 11th century CE.
Prithviraj was born to the Chahamana king Someshvara and queen Karpuradevi (a Kalachuri princess) in 1166 CE. Both Prithviraj and his younger brother Hariraja were born in Gujarat, where their father Someshvara was brought up at the Chalukya court by his maternal relatives.
Prithviraj's father, Someshvara was crowned the Chahamana king after the death of Prithviraja II. Someshvara died in 1177 CE when Prithviraj was about 11 years old.
Prithiviraj who was a minor at that time ascended the throne with his mother as regent. During his early years, his mother managed the administration.
He took over the throne at the age of 16 and started his conquests also at that time. He quelled a rebellion by his cousins who came from the rival branch of the family.
Prithviraj's first military victory was the suppression of a revolt led by his cousin Nagarjuna and the recapture of Gudapura.
Nagarjuna was Prithviraj's uncle Vigraharaja IV's son, and the Chahamana throne struggle sparked a feud between the two branches of the family.
At its height, Prithviraj Chauhan's empire stretched from the Himalayan foothills in the north to the foothills of Mount Abu in the south.
The empire stretched from the Betwa to the Sutlej rivers.
His empire included what is now Rajasthan, western Uttar Pradesh, northern Madhya Pradesh, and southern Punjab in modern times.
Prithviraj had a dedicated ministry for scholars and poets, which was under the charge of Padmanabha. His court had several poets and scholars, including:
Jayanaka, a poet-historian who wrote Prithviraja Vijaya
Vidyapati Gauda
Vagisvara Janardana
Vishvarupa, a poet
Prithvibhata, a royal bard (identified as Chand Bardai by some scholars)
He fought a series of wars with his neighboring Rajput kingdoms.
War against Chandelas: Battle of Mahoba
In 1182-83, Prithviraj Chauhan invaded the Jejabhukti (Bundelkhand) which was ruled by Chandela king Paramardi. He took the capital of Mahoba, but it is debatable whether he just sacked the capital for a short while or captured it.
Wars with Gujarat:
In 1187 CE, Prithviraj attacked Gujarat which was ruled by Bhima II of the Chalukya/Solanki dynasty, who had already defeated Muhammad Ghori.
Several small struggles ensued between them but eventually, Bhima II defeated Prithviraj which later led to a peace treaty between them.
Conflict with Gahadavala:
The Gahadavala kingdom was ruled by the powerful Jayachandra who had his capital at Kanauj.
According to legend in Prithviraj Raso, Prithviraj eloped with Jayachandra's daughter Samyogita leading to rivalry between the two kings.
This rivalry later proved costly for Prithviraj Chauhan in his conquest against the Ghurids.
War with the Ghurids:
The predecessors of Prithviraj Chauhan had faced numerous attacks and raids from the Islamic dynasties. The northwestern areas of the Indian subcontinent were captured by the Islamic dynasties by the 12th century.
The Ghaznavids had taken over the areas around Multan during these times. but after the decline of Ghazni, these far-off lands were governed by independent governors.
The rise of Ghurids under Mohammed Ghori was quick as they ran over the lands west of the Indian subcontinent.
Ghori invaded Multan in 1175 CE while Prithviraj Chauhan was still a child. And in 1178 CE Ghori attacked Gujarat and might have passed by the boundaries of the Chahamana kingdom.
After his defeat at the hands of Solankis of Gujarat, Ghori consolidated his army and marched back to India in 1191 CE. And during this time Prithviraj Chauhan was also expanding northwards after his peace treaty with the Solankis of Gujarat.
The first battle of Tarain:
During 1190-91 CE, Ghori invaded the Chahamana territory and captured Tabarhindah or Tabar-e-Hind (identified with Bathinda). He placed it under the charge of Zia-ud-din, the Qazi of Tulak. When Prithviraj learned about this, he marched towards Tabarhindah with his feudatories, including the Govindaraja of Delhi.
The two rulers met for the first battle of Tarain in 1191 CE and Ghori was eventually defeated by the confederacy of Prithviraj Chauhan after 12 months of the siege of Tabarhind.
Ghori escaped to Ghazni and regrouped a stronger army to attack India again.
The second battle of Tarain:
It is mentioned that Prithviraj treated the first battle with ghori as a normal frontier fight, hence did not reinforce the western frontier against future attacks from ghurids.
And as a result of his wars against neighboring Rajput kingdoms, he eventually lost allies as well. And his rivalry with the powerful king Jayachandra of Gahadavala was also a setback for his confederacy.
Ghori had gathered a well-equipped army and marched towards the Chahamana kingdom via Multan and Lahore, aided by Vijayaraja of Jammu.
Prithviraj was defeated by Ghori in the second battle due to Ghori's elaborate and clever planning.
There are multiple disputed reports about Prithviraj Chauhan's fate after the defeat. It is said that Prithviraj was captured and taken to prisoner in Ghazni while some writings suggest that he was killed in battle. While some sources indicate that he ruled for a short while from Ajmer as a Ghurid vassal, but was later killed on conspiracy charges.
But it is clear that the Ghurids plundered and destroyed many temples in Ajmer but a Chauhan ruler continued there as a vassal of ghurids according to the coinage retrieved from the area.
It is also said that ghori placed Prithviraj's son Govindaraja on the throne of Ajmer after the death of Prithiviraj.
The fate of Prithviraj Chauhan has been written in different ways in different sources, hence is inconclusive.
The most accepted theory is that after Prithviraj's death, the Ghurids appointed his son Govindaraja on the throne of Ajmer as their vassal. In 1192 CE,
Prithviraj's younger brother Hariraja dethroned Govindaraja and recaptured a part of his ancestral kingdom.
Govindaraja moved to Ranastambhapura (modern Ranthambore), where he established a new Chahamana branch of vassal rulers.
Hariraja was later defeated by the Ghurid general Qutb al-Din Aibak.
Legacy of Prithviraj Chauhan
There are seven inscriptions dated to Prithviraj's reign available and none of these were issued by the king himself :
Barla or Badla inscription, 1177 CE
Phalodi inscription, 1179 CE, records the grants made by Prithviraj's vassal Ranaka Katiya.
Madanpur inscriptions of 1182 CE:
Inscription 1: Mentions that Prithviraj invaded the territory of the Chandela ruler Paramardi
Inscription 2: Names Prithviraj's father, Someshvara, and grandfather, Arnoraja, and states that he plundered Jejakabhukti (the Chandela territory).
Udaipur Victoria Hall Museum inscription, 1187 CE.
Visalpur (Bisalpur near Tonk) inscription, 1187 CE.
The construction of the now-ruined Qila Rai Pithora fort in Delhi is attributed to Prithviraj.
He has been depicted as the last Hindu ruler of India before the rise of the Delhi Sultanate. His heroics have been etched in folklores and stories carried over the centuries.
In modern times also many films and television series have been inspired by the life of the great warrior king. Very recently, a movie on his life sparked controversies as well.
-Article written by Swathi Satish