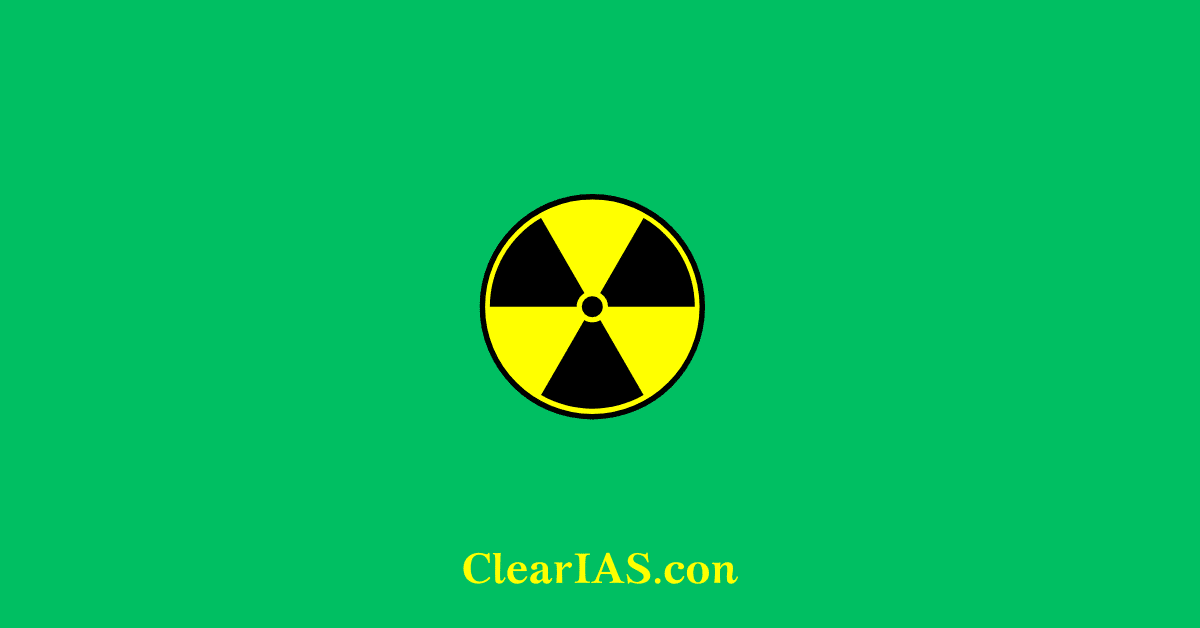 What is Radioactivity? What is Radioactive Pollution? What are the types of Radiation? What are the effects of Radioactive Pollution? What measures are taken to control Radioactive Pollution? Read further to know more.
Radioactive pollution is the term for the dangerous level of radiation emitted by radioactive elements. Radiation exposure from all man-made sources contributes 98% of the population's dose and accounts for 20% of the population's overall exposure.
More than 3600 million diagnostic radiological treatments are performed each year around the world, along with 37 million nuclear medicine operations and 7.5 million radiation treatments.
High levels of radiation can induce chronic disorders, cancer, gene mutation, cell disintegration, or even rapid death in rare circumstances of extreme exposure.
What is Radioactivity?
The spontaneous emission of particles or waves from the unstable nucleus of some elements is known as radioactivity.
Alpha, Beta, and Gamma are the three types of radioactive particles.
Positively charged particles are alpha particles. Beta particles are negatively charged electrons, and gamma rays are neutral electromagnetic radiations.
The earth's crust contains naturally occurring radioactive elements.
Three NORM (Naturally Occurring Radioactive Materials) series contaminate water resources: uranium, thorium, and actinium.
What is Radioactive Pollution?
Radioactive Pollution is defined as the increase in the natural radiation levels in the environment that pose a serious threat to humans and other life forms.
Radioactive contamination is the deposition of or presence of radioactive substances on surfaces or within solids, liquids or gases (including the human body), where their presence is unintended or undesirable (International Atomic Energy Agency definition).
Radioactive pollution occurs when radioactive materials are present or deposited in the atmosphere or environment, especially when their presence is unintentional and poses a risk to the environment due to radioactive decay
The radioactive materials destrtyingy emitting hazardous ionizing radiation (radioactive decay) such as beta or alpha particles, gamma rays, or neurons into the environment where they exist.
Human activities are considered to be responsible for around 20% of the radiation we are exposed to.
Activities involving radioactive materials, such as mining, handling and processing radioactive materials, handling and storage of radioactive waste, and the use of radioactive reactions to generate energy (nuclear power plants), as well as the use of radiation in medicine (e.g. X-rays) and research, are all examples of human activities that can release rtypestion.
Types of Radiation
Radioactivity is a phenomenon of spontaneous  ission of a proton (alpha-particles), electrons (beta-particles) and gamma rays (short wave electromagnetic waves) due to the disintegration of atomic nuclei of some elements.
These cause radioactive pollution. Radiations can be categorized into two groups namely the non-ionizing radiations and the ionising radiations.
Non-ionizing radiations:
Non-ionizing radiation is a type of lower energy radiation that cannot detach electrons from atoms or molecules, whether they are part of matter or living things.
Visible, infrared, and ultraviolet light, microwaves, radio waves, and radiofrequency energy from cell phones are all examples of non-ionizing radiation.
They have a limited ability to penetrate and have an impact on the chemicals and cells that they absorb.
The majority of non-ionizing radiation types, though, are you haveinogenic.
These waves have energies enough to excite the atoms and molecules of the medium through which they pass, causing them to vibrate faster but not strong enough to ionise them.
They may damage eyes which may be caused by reflections frandastal sand, and directlyow blindness) directly looking towards the sun during an eclipse.
They injure the cells of skin and blood capillaries preddeningsblisters and reddening called sunburns.
Ionising radiations:
Ionizing radiation is a type of radiation that has enough energy to separate electrons from atoms or molecules, which results in atomic-level alterations when it interacts with anything, including living things.
The word "ionizing" radiation refers to changes that typically result in the formation of ions (atoms or molecules that are Examplescally charged).
Example: X-rays, cosmic rays, and atomic radiations are some of them (radiations emitted by radioactive elements).
Ionizing radiation has a strong ability to penetrate matter and can shatter large molecules.
Long-range (delayed) or short-range (immediate) its may result from the molecular damage.
Ionisation is the process by which an atom or a molecule acquires a negative or positive charge by gaining or losing electrons to form ions, often in conjunction with other chemical changes.
Sources of Radioactive Pollution
Sources of radioactive pollution can be widely classified as Natural sources of many-sourcesution and man made sources of radioactive pollution.
Natural Sources of Radioactive Pollution
Following are the natural sources of radioactive pollution:
Exposure to Cosmic Radiation
Cosmic radiation is constantly bombarding the earth's outer atmosphere.
Cosmic radiation is made up of fast-moving particles that exist in space and can come from a variety of places, including the sun and other celestial occurrences.
Protons make up the majority of cosmic rays, although they can also be other particles or wave energy.
Terrestrial Radiation
Terrestrial radiation is produced by the Earth itself. Natural radioactive materials can be found in soil and rock.
Natural reserves of uranium, potassium, and thorium, which produce modest amounts of ionizing radiation during natural decay, are the principal sources.
Uranium and thorium are "ubiquitous," which means they can be found almost wherever.
Radiation through Inhalation
Inhalation of radioactive gases created by radioactive materials found in soil and bedrock accounts for the majority of variations in natural radiation exposure.
The decay of uranium-odourlessuces colourless odorless and colorless radioactive gas. It is an inert gas, which means it does not react with the matter around it.
Radon can easily migrate up through the ground and into the sky since it does not react.
Thoron is a thorium-derived radioactive gas.
The amount of radon and thoron in the air varies greatly depending on the soil and bedrock makeup.
Man-Made (Anthropogenic) Sources of Radioactive Pollution
Following are the anthropogenic sources of radioactive pollution:
Nuclear Power Plants
The nuclear fusion process in nuclear power plants is the prime culprit for the generation of radioactive waste.
These processes generate radioactive wastes such as uranium mill tailings, spent (used) reactor fuel and othreserve adacvariouswastes which are hazardsous environmental hazard associated with nuclear power plants.
For thousands of years, these elements can stay radioactive and are harmful to human health.
Nuclear Waste Handling and Disposal
Nuclear waste handling and disposal can produce low to medium levels of Radioactivityr time.
The radioactivity has the potential to pollute and spread through the air, water, and soil.
As a result, their impacts may be difficult to discern and anticipate. Furthermore, certain nuclear waste sites may go undetected.
The primary problem with radioactive waste is that it cannot be decomposed chemically or handled biologically.
Nuclear Weapons
Nuclear weapons testing began with the advent of the atomic era, resulting in the radioactive pollution of a vast number of locations around the world.
According to statistics from the Stockholm International Peace Research Institute platform, between 1945 and 2006, 2053 nuclear tests were conducted globally.
This was one of the major sources of radioactive pollution.
Effects of radioactive Pollution
There are many ill effects occurring due to radioactive  pollution listed as follows:
Genetic Mutations
When it comes to genes and genetics, radiation has negative consequences.
It causes DNA strand damage, which leads to genetic disintegration over time.
The degree of genetic mutation leading to changes in DNA composition varies depending on the amount and type of radiation one has been exposed to.
If a person or animal is exposed to too much radiation through the atmosphere, food, or even water, their bodies are likely to have already absorbed the radiation.
Because energy cannot be eliminated, it remains active once within the body.
As a result of the mutation, one is extremely vulnerable to cancer.
Diseases
Our health is severely harmed by radioactive pollution. Acute radiation syndrome is a rare condition that is one of the most deadly side effects of radioactive pollution.
It is, however, a result of high-level radioactive radiation. Within a few hours, this condition causes nausea and vomiting.
If the situation is extremely bad, the person may die in a matter of days or weeks.
Radiation can also cause cancer, which is by far the most common side effect.
Soil Infertility
Radiation is prevalent in soils due to its exposure to the atmosphere.
Radioactive compounds in the soil react with various nutrients, causing the nutrients to be destroyed and the soil to become infertile and very poisonous.
Such soil results in the harvest of crops that are contaminated with radiation and consequently unsafe for human and animal consumption.
Impact on Marine Life
For decades, power plants have been releasing radioisotopes into the water as a source of nuclear energy and chemical processing.
They include Cesium, Radon, Crypton, Ruthenium, Zinc, and Copper, to name a few.
The fact that the waste is emitted at a "permissible" level does not imply that it is safe.
These radionuclides can be found in the fishes' soft tissues as well as their bones.
The radioisotope of ruthenium was believed to be present in the seaweed used in bread.
The shells and tissues of all shelled fishes are polluted with radionuclides.
Measures to Control Radioactive Pollution
Radiation can still be found in radioactive waste. As a result, it cannot be disposed of in the same manner as for regular waste.
Proper Method of Disposing of Radioactive Waste
Because seepage is a possibility, this waste should be stored in large, thick concrete containers.
Since storage may not be practicable, another alternative is to dilute the radiation.
Proper Labeling
Any material containing radioactive material must be labeled, with the required precautions stated on the label's content.
The reason for this is that even light contact with radioactive material can allow radiation to enter the body.
Containers containing such materials should be clearly labeled to encourage the use of protective equipment when handling them.
Prohibition of Nuclear Tests
It has already been established that nuclear power possesses a great deal of latent destructive force.
Nonetheless, the tests conducted to perfect the energy play a significant role in the overall presence of radioactive materials.
Furthermore, although being conducted in the deserts, these tests wind up leaking into other ecosystems, impacting the livelihoods of many people.
Alternative Energy Sources
Initially, the development and usage of nuclear power were not dreadful things.
However, given the harm and threats it poses to the environment, it is past time for its use to be phased out in favor of alternative and ecologically friendly energy sources, such as renewable energy sources (solar, hydroelectric, and wind power).
When radioactivity is used to generate energy in nuclear power plants, for example, the waste emitted from the various processes and combustion results in more radiation being discharged into the atmosphere.
Regulatory Measures
The Department of Atomic Energy (DAE), which was founded in 1954, is the executive agency for all nuclear energy-related activities.
Nuclear installation locations are selected with safety considerations in mind.
Several structural barriers are planned to prevent any serious radiation leakage from the reactor.
Every month, the radiation exposure of employees is assessed.
The exposure limit for personnel has been set at 30 millisieverts (mSv) by the Atomic Energy Regulatory Board (AERB).
This conforms to the International Commission on Radiological Protection's (ICRP) level (ICRP).
The Atomic Energy Regulatory Board, an independent arm of the Atomic Energy Commission, executes all safety and regulatory duties mandated by the Atomic Energy Act of 1962, which applies to all Department of Atomic Energy institutions.
Additionally, it has the authority to make decisions about the location, planning, execution, and maintenance of all nuclear installations.
Conclusion
It is important to control radioactive pollution both at the individual level and at the government level. Using radiation exposure protection, proper labels, and appropriate storage and disposal are a few among them. All locations that utilize potentially hazardous levels of radioactive material urgently require increased security measures.
The best preventive approach to dealing with this kind of pollution may be to speed the development of low-cost alternatives for radioactive materials in a wide range of applications through research programs and incentives.
Article written by Aseem Muhammed