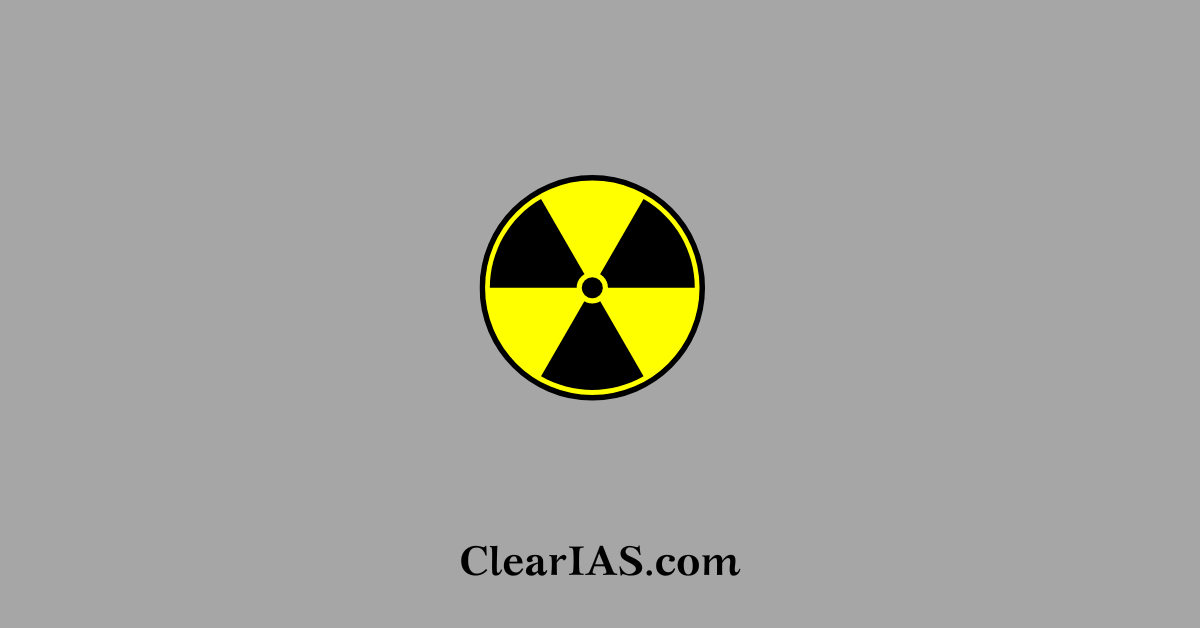 In recent times, the world has been dealing with a power and energy crisis. While the factors that caused this emergency differ from country to country, the upshot has been a clamour to reduce dependence on fossil fuels and look for viable alternatives. In this context, Nuclear Energy has a lot to offer. Read more about Nuclear Energy here.
In order to meet the energy crises, Nuclear energy is said to be the most efficient way of bringing out energy.
Nuclear energy provides large amounts of 24/7 carbon-free, emissions-free, greenhouse gas-free electricity now, which is irreplaceable in protecting the environment.
Nuclear Energy is the cheapest, greenest and safest source of energy currently known to man.
What is Nuclear Energy?
Nuclear Energy is the energy in the nucleus or core of an atom. Tiny units that make up all matter in the universe are called atoms.
Nuclear energy is the energy in the nucleus, or core, of an atom. Atoms are tiny units that make up all matter in the universe, and energy is what holds the nucleus together.
There is a huge amount of energy in an atom's dense nucleus. In fact, the power that holds the nucleus together is officially called the "strong force."
Nuclear energy can be used to create electricity, but it must first be released from the atom. In the process of nuclear fission, atoms are split to release that energy.
How Nuclear Energy is produced?
Nuclear energy is released by splitting the atom, using the process called Nuclear fission.
A nuclear reactor, or power plant, is a series of machines that can control nuclear fission to produce electricity. The fuel that nuclear reactors use to produce nuclear fission is pellets of the element uranium.
In a nuclear reactor, atoms of uranium are forced to break apart. As they split, the atoms release tiny particles called fission products.
Fission products cause other uranium atoms to split, starting a chain reaction. The energy released from this chain reaction creates heat.
The heat created by nuclear fission warms the reactor's cooling agent. A cooling agent is usually water, but some nuclear reactors use liquid metal or molten salt.
The cooling agent, heated by nuclear fission, produces steam. The steam turns turbines, or wheels turned by a flowing current. The turbines drive generators or engines that create electricity.
Rods of material called nuclear poison can adjust how much electricity is produced. Nuclear poisons are materials, such as a type of the element xenon, that absorb some of the fission products created by nuclear fission.
The more rods of nuclear poison that are present during the chain reaction, the slower and more controlled the reaction will be. Removing the rods will allow a stronger chain reaction and create more electricity.
Benefits of Nuclear Energy:
Nuclear produces electricity reliably. Around-the-clock electricity is a must for our nation to prosper in the 21st century. Clean, reliable nuclear energy is a critical part because it runs nonstop for 18-24 months at a time.
Nuclear generates jobs. Nuclear energy provides more than 100,000 well-paid, long-term jobs and supports local economies with millions of dollars in state and local tax revenues.
Nuclear protects our air. Nitrogen oxide, sulfur dioxide, particulate matter and mercury: are all things you don't want in the air you breathe. Nuclear energy provides power 24/7 without a trace of those pollutants.
Nuclear boosts international development. Nuclear energy helps developing nations meet sustainable development goals.
Nuclear power electric vehicles. Electrified transportation promises to reduce carbon emissions. When powered by carbon-free nuclear energy, electric vehicles can reach their full potential.
Nuclear protects national security. Supports a resilient electrical grid at home, A country's security needs are addressed by using nuclear-powered submarines and nuclear-powered Aircraft carriers.
Nuclear power is used for space exploration.
It can be built in urban or rural areas.
Used for providing potable water through desalination.
Used in cancer treatment, Nuclear radiation is used in the treatment of food by killing bacteria, insects, and parasites that cause illness.
Used for sterilizing medical equipment.
Nuclear energy could play a major role in transportation by acting as a substitute for fossil fuels.
Nuclear Energy in India:
Nuclear power is the 4th largest source of electricity in India after thermal, hydroelectric and renewable sources of electricity.
Approximately 2.5% of India's energy requirements are met through nuclear energy.
India has 22 nuclear reactors in operation in 7 nuclear power plants, having an installed capacity of 6780 MW.
Till 2009, India was excluded from global nuclear trade as it was a non-signatory of the Nuclear Non-proliferation treaty due to its nuclear weapons program. This was a hindrance to the development of India's Civil Nuclear energy program.
Locations of Nuclear Power Plants: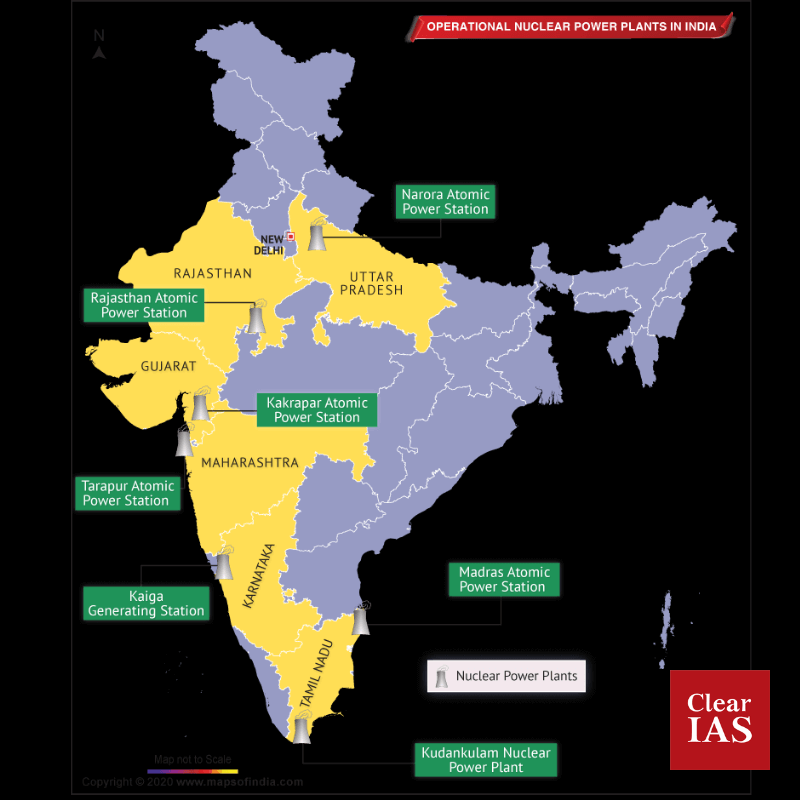 Tarapur Atomic Power Station (MH) – First in India
Kakrapar Atomic Power Station (GJ)
(Kalpakkam) Madras Atomic Power Station (TN)
Narora Atomic Power Station (UP)
Kaiga Nuclear Power Plant (KR)
Rajasthan Atomic Power Station (RJ)
Kudankulam Nuclear Power Plant (TN)
Locations of Uranium Resources:
Tummalapalle (Kadapa District) – Andhra Pradesh
Nalgonda District – Telangana
East Singhbhum District – Jharkhand
West Khasi Hills District – Meghalaya
Udaipur District – Rajasthan
Yadgir District – Karnataka
Rajnandgaon (District) – Chhattisgarh
Sonbhadra district – Uttar Pradesh
Rudraprayag District – Uttarakhand
Una District – Himachal Pradesh
Gondia District – Maharashtra
India's three-stage nuclear programme: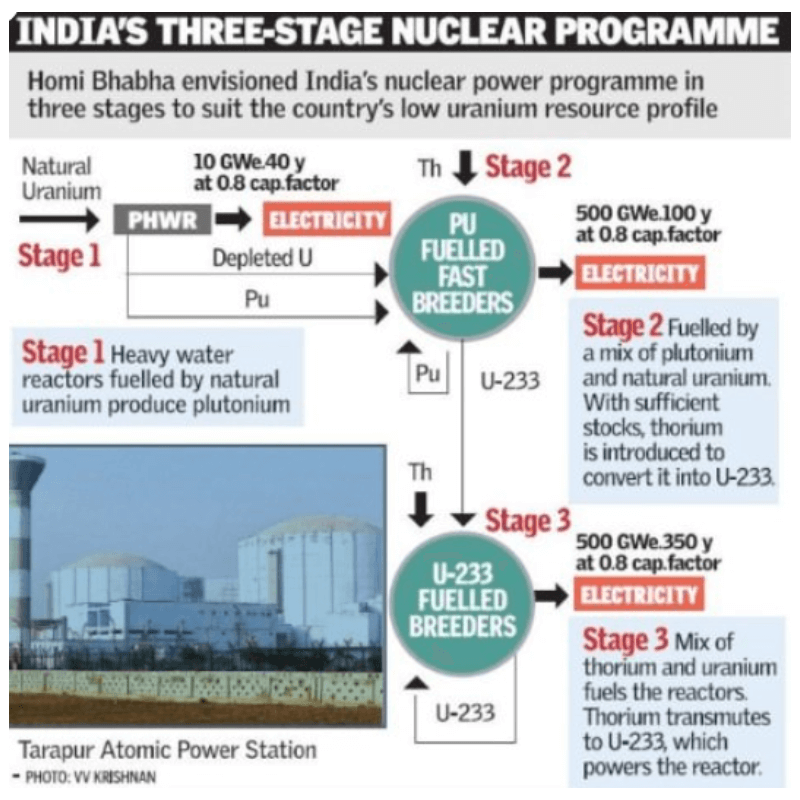 India has very modest deposits of uranium and some of the world's largest sources of thorium. Keeping this in mind, in 1954 Homi Bhabha envisioned India's nuclear power programme in three stages to suit the country's resource profile.
The Indian nuclear power programme, launched in 1954, envisaged a three-stage development of nuclear power generation from the country's uranium and thorium resources.
In the first stage, heavy water reactors fuelled by natural uranium would produce plutonium.
The second stage would initially be fuelled by a mix of the plutonium from the first stage and natural uranium.
This uranium would transmute into more plutonium and once sufficient stocks have been built up, thorium would be introduced into the fuel cycle to convert it into uranium 233 for the third stage.
(Transmutation is the conversion of an atom of one element to an atom of another through nuclear reactions. Induced nuclear transmutation is transmutation which is induced by scientists by striking the nuclei with high-volume particles)
In the final stage, a mix of thorium and uranium fuels the reactors. The thorium transmutes to U-233 as in the second stage, which powers the reactor.
Fresh thorium can replace the depleted thorium in the reactor core, making it essentially a thorium-fuelled reactor even though it is the U-233 that is undergoing fission to produce electricity.
Components of a nuclear power plant: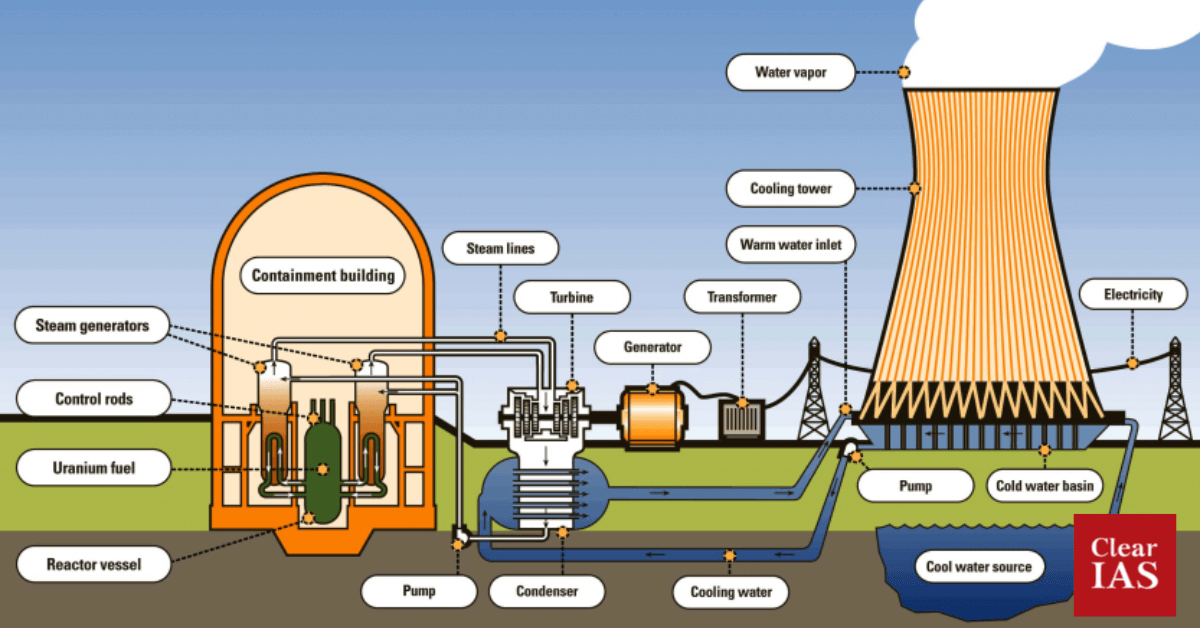 There are several components common to most types of reactors:
Uranium is the basic fuel. Usually, pellets of uranium oxide (UO2) are arranged in tubes to form fuel rods. The rods are arranged into fuel assemblies in the Nuclear

reactor core. In a 1000 MWe class PWR there might be 51,000 fuel rods with over 18 million pellets.

Moderator

The material in the core slows down the neutrons released from fission so that they cause more fission. It is usually water but may be heavy water or graphite.

Control rods or blades

These are made with neutron-absorbing material such as cadmium, hafnium or boron, and are inserted or withdrawn from the core to control the rate of reaction, or to halt it.

Coolant

Fluid circulates through the core so as to transfer the heat from it. In light water reactors, the water moderator functions also as a primary coolant

Pressure vessels or pressure tubes

Usually, a robust steel vessel contains the reactor core and moderator/coolant, but it may be a series of tubes holding the fuel and conveying the coolant through the surrounding moderator.

Steam generator

Part of the cooling system of pressurised water reactors (PWR & PHWR) where the high-pressure primary coolant bringing heat from the reactor is used to make steam for the turbine, in a secondary circuit.
Conclusion:
India is blessed with the rare, and very important, nuclear fuel of the future – Thorium. It cannot afford to lose the opportunity to emerge as the energy capital of the world, which coupled with the largest youth power, will be India's answer to emerge as the leading economy of the world.
In the immediate past, the world was dealing with a power and energy crisis. While the factors that caused this emergency differ from country to country, the upshot has been a clamour to reduce dependence on fossil fuels and increase the production of renewable energy.
However, the current green energy paradigm needs some serious examination in terms of the 24×7 availability of these renewable resources.
Notwithstanding that Nuclear Power may be the cheapest, greenest and safest source of energy currently known to man. Every time the word "nuclear" is uttered, it gets a negative and often hysterical response rather than a reasoned fact-based one.
In the Indian context, nuclear, despite being a cleaner fuel, remains outside the priority list of power sources in India; India contributes only 1.72% of global nuclear-installed capacity.
The global energy crisis should spur a rational relook at an energy source as clear as nuclear which is needlessly seen as a hot potato.
We must make the right choices between various low-carbon technologies, all of which have some social and environmental impact.
To meet rising energy demands, nuclear power is one of the better solutions. Considering lower capacity utilisation of renewables, rising fossil fuel prices and ever-soaring pollution problems, the potential of nuclear power must be fully exploited.
Article written by: Aseem Muhammed