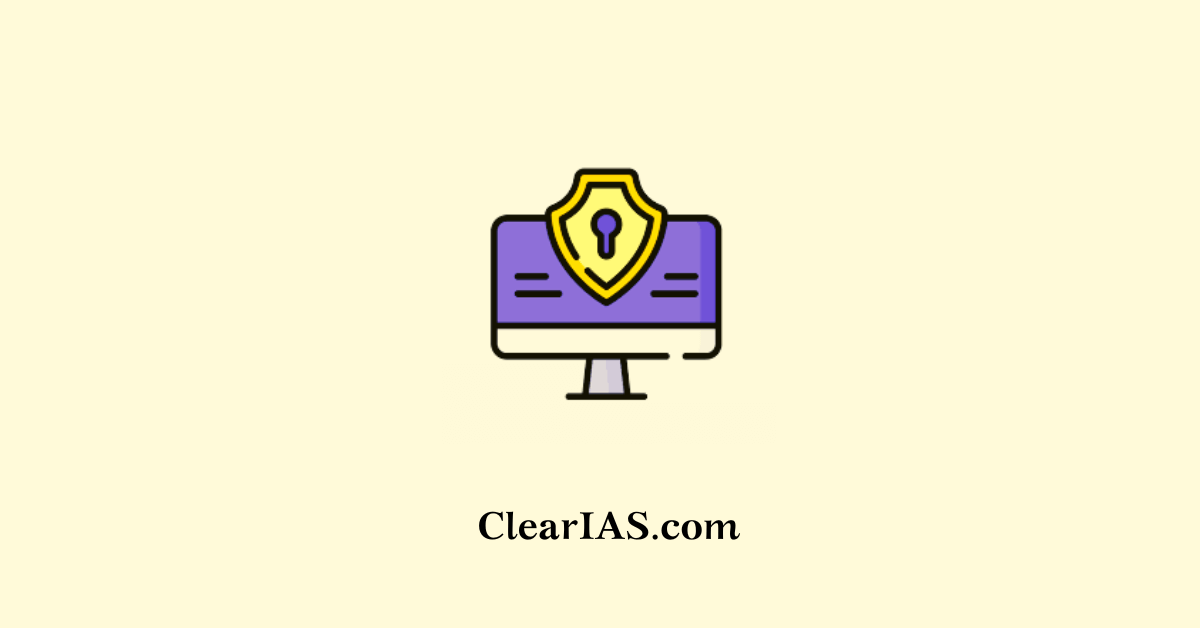 What are the media's effects on internal security challenges? In what ways do social networking sites compromise national security? What are the legal controls over social networking sites? Read further to know more.
Social networking sites and the media are quickly turning into two-edged swords in the internal security system. The impact of social media and traditional/digital media has grown dramatically as a result of the data and digital revolution.
The media and social networking sites play a significant role in internal security challenges. While they can be valuable tools for information dissemination and communication, they can also pose risks and challenges to security.
We will talk about both sides of the two faces of new-age media in this article.
Internal Security and Media
Despite being regarded as the fourth pillar of democracy, recent print and electronic media performances have called into question those claims. In reality, it has expanded the scope of risks to India's security environment.
What part does media play in ensuring national security?
The fourth estate is referred to as media. It has a history of independence struggles and has consistently represented societal transformation.
Its skilled reporting during trying times has aided in fostering national consciousness and solidarity.

Whether it is a welfare issue or a security issue, the establishment has been kept on its toes because it has spoken the truth to power. Severe corruption in the defense industry was exposed by the Bofors probe.

By bringing up concerns about infrastructure shortages, defense readiness, and other issues through its reporting, it has engaged in a critical study of the state of internal security challenges. Policy formulation has benefited from early policy discussions on media regulation.

It has revealed the specifics of when and where the security forces atrocities occurred. It held the government and security forces responsible in this way.

It has aided in societal resentment's release and judicial repression.

The media consistently aids in the proper exposure of societal resentment and reduces the establishment's susceptibility to uprisings.

The core tolerant and democratic civilizational and constitutional ethos has always been supported by the entertainment media, including movies, television, and other forms of art. It has aided in bolstering India's composite society.
What are the media's effects on internal security challenges?
Despite being effective in its function, the media has recently started acting irresponsibly, endangering the environment's security.
The abundance of news outlets, including print and electronic media, has intensified the already fierce competition.

Newspapers and electronic media turn to sensationalize the news to stay afloat.

This frequently leads to issues with law and order.

The breaking news culture has occasionally led to careless reporting that is harmful to national security.

Reporting by the media on important topics that can lead to social unrest. According to many social activists, the recent community instances and how the media handled them were extremely divisive. This sows social enmity, which works as a social tension time bomb ready to blow.

The accuracy of the media's coverage of terrorism has occasionally been questioned. It makes one group the target of blame, encourages war, and sways public opinion in favor of sometimes unwise, quick, dramatic actions to combat terrorism.

The media's coverage of the events on 26/11 came under fire for disclosing important information in the pointless TRP race.

The post-truth media rests its arguments on feelings rather than just the truth, leaving it open to attack from the enemy and manipulation.

Institutions of democracy are harmed by the politicization of the news media and skewed reporting.

A significant worry has been the Fourth Estate's lack of independence.
Internal security and social networking sites
Ideas advance dramatically daily in the Internet of Things, and disruption is the norm. The introduction of social media is one such disruption that has completely revolutionized how information is shared in real time.
It has upended information hierarchies, widened access, and created a brand-new information exchange ecology. Social media's disruptive nature also poses numerous internal security challenges.
In what ways do social networking sites compromise internal security?
Social networking sites create the following challenges to internal security.
Fake news
With the growth of social media, the false news phenomenon has exploded. News channels have mostly been overtaken by social media as a source of information. The first news sources for the digital generation are Facebook, Twitter, and other social media websites.

For instance, the repercussions of fake news were seen when a crowd in Maharashtra launched false reports of child lifting.
War on propaganda
Facebook pages and WhatsApp groups are being exploited as propaganda tools in social media.

They serve as radicalism's echo chambers and radicalize the populace.
Social Media and Terrorism
ISIS and other terrorist groups are rapidly recruiting new members through social media.

Unrestricted social media platforms develop into comparatively safer channels of interaction for these terrorist groups.
Platform with no restrictions
The social media platform is not constrained by territorial restrictions. This has caused outside parties to meddle in domestic matters.
Intolerant religious behavior on social media
Fundamentalism in religion is being spread via social media more and more. The country's social fabric is being harmed by the proliferation of false history and news.

Through social media, hate speech can be spread quickly.
What problems do policing and regulating social networking sites face?
Social media go beyond conventional censorship and regulating systems.
National governments find it challenging due to social media's global nature.

Social media data storage raises jurisdictional concerns when attempting to combat criminality online.

Private firms, who control a large portion of the infrastructure, view security precautions and routine auditing as superfluous expenses that make it harder to protect individuals from social media-related crimes.

The impact of social media problems cannot be controlled because smartphones and the internet have reached every aspect of life.
What are the legal controls over social networking sites?
Information Technology Act 2000 (IT Act 2000) is the primary law connected with cyber security in India.
The Information Technology Act of 2000 and its intermediate regulations, which were published under the IT Act of 2011, apply to social networking networks.

Numerous clauses in the IT Act, most notably Sections 69A and 79, can be utilized to restrict internet content.

Security organizations keep an eye on social media sites for threats and work to reduce them.

By working along with those sites, several offensive social media platforms have been removed.
A Summary
Here's an overview of the roles of media and social networking sites in internal security challenges:
Dissemination of Information:
Positive Role: Media and social networking sites are essential channels for disseminating information about security threats, emergencies, and government actions. They can help raise public awareness and facilitate timely responses to crises.
Negative Role: Misinformation and disinformation can spread rapidly through these platforms, causing panic and confusion during crises. False or misleading information can also undermine public trust in authorities and institutions.
Radicalization and Extremist Propaganda:
Positive Role: Authorities can monitor social media for signs of radicalization and extremism, enabling them to identify potential threats and take preventive measures.
Negative Role: Extremist groups use social networking sites to recruit, radicalize, and spread propaganda. This can lead to incidents of terrorism and political violence.
Privacy and Surveillance:
Positive Role: Media and civil society can play a vital role in highlighting issues related to government surveillance and infringement on individual privacy rights. Advocacy and reporting can lead to policy changes to protect civil liberties.
Negative Role: Social networking sites and communication apps can be used for surveillance by governments and malicious actors. Personal data and communication can be compromised, posing threats to individual privacy.
Cybersecurity Threats:
Positive Role: Media can report on cybersecurity threats and educate the public about safe online practices, helping individuals and organizations protect themselves from cyberattacks.
Negative Role: Cybercriminals use social networking sites and communication networks for phishing, malware distribution, and cyberattacks. Media reports on high-profile cyberattacks can cause panic and damage a country's reputation.
Manipulation of Public Opinion:
Positive Role: Media and social networking sites can provide a platform for citizens to express their opinions and participate in democratic processes.
Negative Role: Malicious actors, including foreign governments, can use social media to spread disinformation, manipulate public opinion, and interfere in elections, potentially undermining the democratic process and creating social unrest.
Reporting on Security Operations:
Positive Role: Media serves as a watchdog, reporting on security operations, government actions, and human rights abuses. This can lead to accountability and transparency in security matters.
Negative Role: Premature or inaccurate reporting can compromise security operations, put lives at risk, and hinder law enforcement efforts.
Cybersecurity Awareness:
Positive Role: Media can raise awareness about cybersecurity threats, encouraging individuals and organizations to adopt best practices for online safety.
Negative Role: Media outlets can inadvertently provide information or details about cyber vulnerabilities and exploits, potentially aiding malicious actors.
Communication During Emergencies:
Positive Role: Social networking sites and messaging apps can be crucial tools for communication during emergencies, enabling people to connect with authorities, loved ones, and emergency services.
Negative Role: Overuse of communication networks during emergencies can strain infrastructure and lead to network congestion, hindering response efforts.
Way forward
Media has become a deadly weapon against the opposition and the general public in a globalized world. Information functions as a strategic tool within the framework of grand strategy as a component of soft power. Social media should be used responsibly.
However, we will need to consider taking action to prevent its exploitation from endangering the nation's internal security. Social media is undoubtedly a blessing to our world, with all of its advantages and possibilities for growth, but misuse or careless use can have detrimental impacts on internal security.
To combat the threat, the national government must modernize its security infrastructure.
Social media should be used correctly for creative or constructive reasons to be progressive for humanity and society as a whole rather than regressive, as we must guard against its negative effects.
Article Written By: Aryadevi