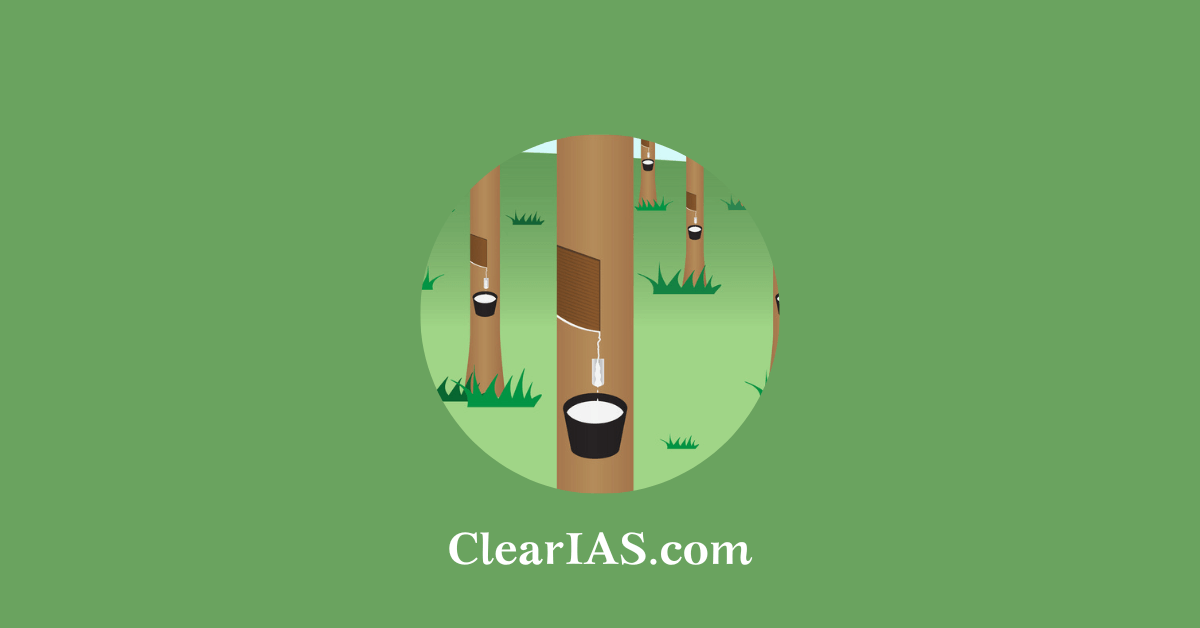 India is the world's largest producer and the third largest user of natural rubber and one of the world's fastest expanding economies. But the rubber industry in India faces many problems. Read the article to know more about natural rubber and the rubber industry.
As part of India's expanding involvement in the global economy, the Indian rubber industry has grown in strength and importance. India is the world's largest producer and the third largest user of natural rubber and one of the world's fastest expanding economies.
With an annual growth rate of 8-9%, rising foreign exchange reserves, rapid expansion in capital markets, and FDI inflows, India proudly claims the title of the world's second-fastest-growing major economy. It has a high concentration of vehicle manufacturing and the existence of large and medium companies in South India.
Global rubber production was considered extremely volatile in the last few years. Compared to the rest of the globe, India's rubber production is stable at 6% yearly. The Indian rubber sector has expanded dramatically over the years.
Natural Rubber
Natural rubber is a polymer of the chemical molecule called isoprene. Rubber is a cohesive elastic solid derived from the latex of several tropical trees.
It is a native of the Amazon basin and was introduced to countries in the tropical belts of Asia and Africa in the late nineteenth century.
Hevea brasiliensis, often known as the Para rubber tree after the Brazilian port of Para, is a fast-growing, moderately strong, perennial tree that can reach a height of 25 to 30 metres.
The rubber tree has a straight trunk and thick, slightly soft, light brownish-grey bark. It can live for a hundred years or more.
The rubber tree may live for a hundred years or even more. But its economic life period in plantations, on general considerations, is only around 32 years – 7 years of the immature phase and 25 years of the productive phase.
Rubber Growing Areas
On the basis of agro-climatic conditions, India's rubber-growing regions can be divided into two major zones: traditional and non-traditional.
Traditional Areas
Rubber growing in India has traditionally been limited to the hinterlands of the southwest coast, primarily in Tamil Nadu's Kanyakumari District and Kerala.
Non-traditional regions
Rubber is presently farmed in the hinterlands of coastal Karnataka, Goa, Maharashtra's Konkan Region, coastal Andhra Pradesh and Orissa, the northeastern provinces, and the Andaman and Nicobar Islands, among other places.
Climate requirements for Rubber Cultivation
Soil
Trees require well-drained, weathered soils.
Lateritic, alluvial, sedimentary, and non-lateritic red soils are optimal for growing these trees.
Deep, friable, well-drained soils are optimal for root development, and acidic soils are also suitable.
Temperature 
For the greatest outcomes, a humidity of roughly 80%, 2000 hours of sunshine, and the absence of high winds are also required.
Rubber is a tropical tree that demands high temperatures all year, ranging from 20° to 35° C, or an average monthly mean of 27° C.
Temperatures below 20°C are harmful.
Precipitation
The Hevea rubber tree grows best in areas with evenly distributed rainfall throughout the year, at least 100 rainy days per year,
Annual average rainfall of at least 200 cm is ideal.
Major Uses
Rubber is used for a wide range of applications, from erasing pencil markings to creating tyres, tubes, and a wide range of industrial products.
Because of its great tensile strength, vibration-dampening characteristics, and tear resistance, natural rubber is favoured over synthetic rubber.
As a result, it is critical for the construction and automobile industries.
The expansion of the vehicle business in several nations is expected to enhance demand for natural rubber manufacturing.
The increased need for latex items such as catheters, gloves, and belts is also expected to contribute to the expansion of the rubber market.
Rubber Industry
The Indian Rubber Industry is approximately 6000 units in size, with 30 big scale, 300 middle scales, and over 5600 small scale and tiny sector units. Such units produce over 35000 rubber goods, employ 400 thousand people, including 22000 technically competent support employees, and provide Rs. 40 billion to the national exchequer through taxes, customs, and other levies.
The Indian Rubber Industry is important to the Indian economy since the rubber plantation industry in India generates about 630 thousand tonnes of natural rubber per year, with a predicted production of more than one million tonnes in the near future.
Market Capitalization
Rubber output in India is between 6 and 7 lakh tonnes per year, amounting to Rs. 3000 crores. Ribbed Smoked Sheets (RSS) account for 70% of total rubber production in India and are also imported by India, accounting for 45% of total rubber imports. Today, the Indian Rubber Industry has a turnover of Rs 12000 crores.
The tyre sector consumes the majority of the rubber, accounting for over 52% of India's total production. Kerala is the largest rubber consumer, followed by Punjab and Maharashtra. Despite being one of the main producers of rubber, India still buys rubber from other countries. At the moment, India imports approximately 50000 tonnes of rubber every year.
India's Rubber Production Situation
According to FAO Stat 2019, India is the world's fourth-largest producer and user of rubber.
Consumption
The transportation sector consumed the most rubber, followed by the footwear industry.
Exports
The amount of natural rubber exported from India for the fiscal year 2020 totalled above 12 thousand metric tonnes.
Germany, Brazil, the United States, and Italy were the top importers of natural rubber from India.
Automobile tyres and tubes, footwear, medicinal goods and hoses, coats and aprons were among the export items.
Rubber Producing Areas
The first rubber plantations in India were established in 1895 on the hill slopes of Kerala.Commercial rubber cultivation, on the other hand, began in 1902.
Kerala is India's top producer of natural rubber. Kottayam, Kollam, Ernakulam, and Kozhikode generate nearly all of the state's rubber.
Tamil Nadu's main rubber-producing districts include Nilgiri, Madurai, Kanniyakumari, Coimbatore, and Salem.
Chikmagalur and Kodagu are the key producing districts of Karnataka.
Other states that produce rubber include Tripura, Assam, Andaman & Nicobar, Goa, and others.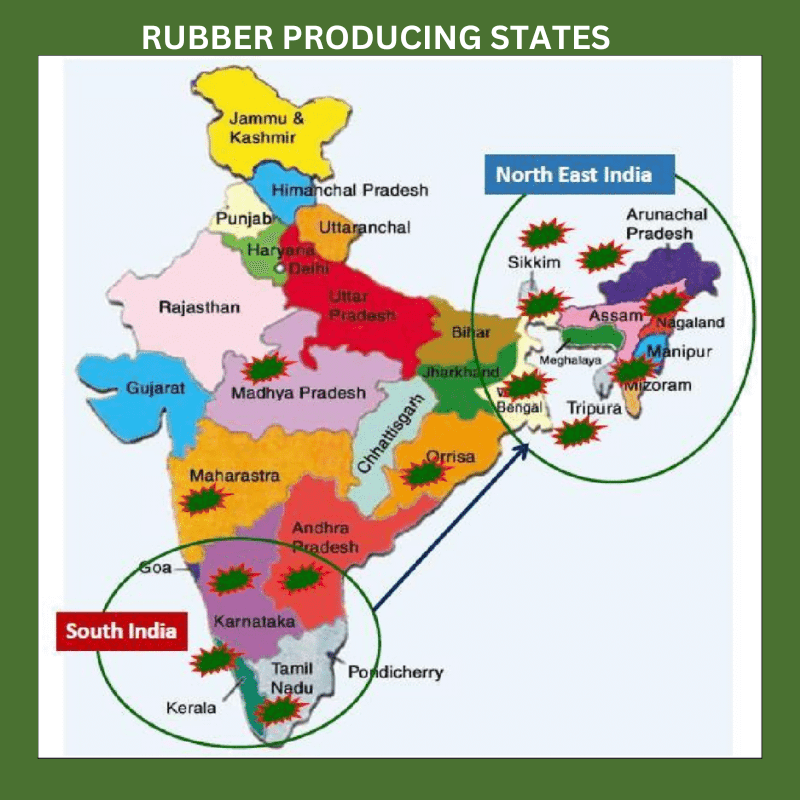 Problems faced by the Rubber industry
A significant decrease in rubber productivity per hectare.
The constant drop in natural rubber prices, along with high labour costs, has driven many growers (75 per cent of small and marginal farmers) to refrain from tapping.
Rubber growers and tyre companies have competing interests. Unrestricted enormous imports by larger tyre firms reduced domestic demand; however, MSME and other small industries that rely on the domestic supply of natural rubber demanded immediate action.
Other causes include high input prices, an unusual duty system, inexpensive imports, and the negotiation of Free Trade Agreements with countries that stimulate the entry of finished rubber products into India.
Article Written By: Atheena Fathima Riyas