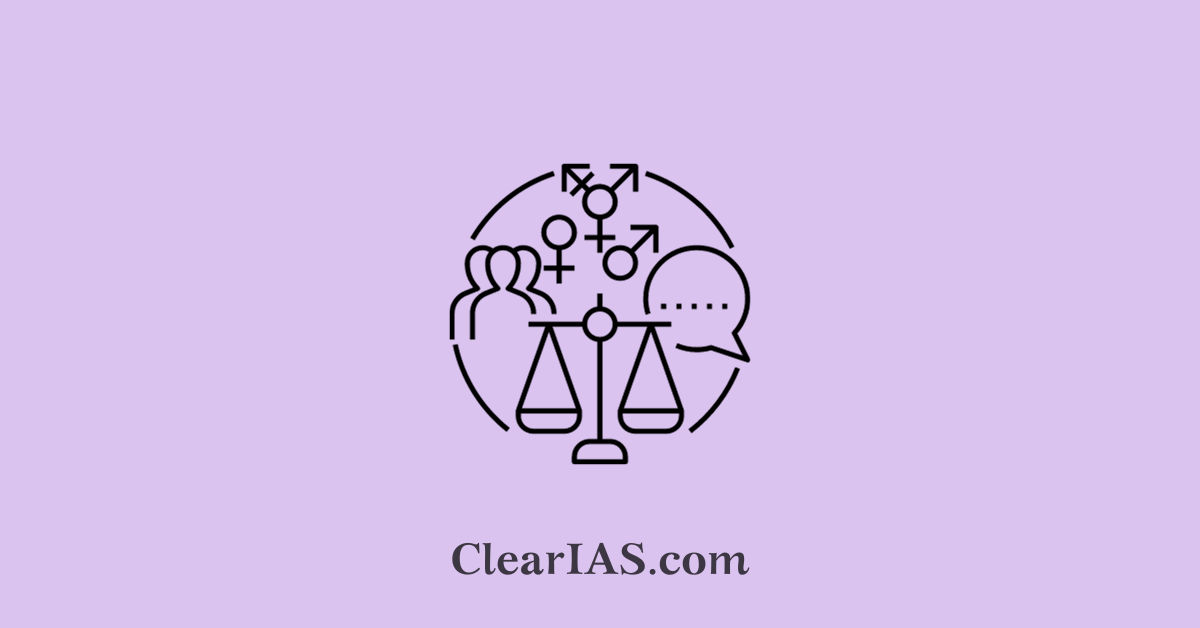 Gender justice refers to the fair and equitable treatment of individuals of all genders in social, economic, political, and legal contexts. Still, women continue to be under-represented in decision-making roles that directly impact their lives, safety, and well-being. Read here to understand gender justice better.
Progress towards equal power and equal rights for women remains elusive around the world.
Globally, discriminatory laws, policies, and attitudes remain common and ingrained. In crisis settings, women often bear the brunt of violence, marginalization, and economic exclusion.
Gender justice seeks to address historical and ongoing disparities and discrimination based on gender, striving for a more just and equal society where all individuals have equal rights, opportunities, and access to resources, regardless of their gender identity or expression.
Gender justice
Gender justice emphasizes gender equality, which means that individuals of all genders should have equal rights and opportunities. This includes equal access to education, employment, healthcare, and participation in decision-making processes.
It opposes discrimination based on gender, including discrimination against women, men, transgender individuals, and gender non-conforming people. Discrimination can take various forms, including unequal pay, gender-based violence, and exclusion from certain roles or positions.
Gender justice promotes the empowerment of individuals, especially women and marginalized genders, by giving them the tools, resources, and support needed to make informed choices, participate in society, and achieve their full potential.
Access to Justice:
Ensuring that individuals have access to legal remedies and protection against gender-based discrimination and violence is a fundamental aspect of gender justice. This includes efforts to strengthen the legal framework, provide support services, and raise awareness about legal rights.
Gender justice seeks to prevent and address gender-based violence, which disproportionately affects women and marginalized genders. It advocates for the enforcement of laws against violence, support for survivors, and efforts to change social norms that perpetuate violence.
Empowerment and Rights:
Promoting gender equality and challenging harmful stereotypes and biases are essential components of gender justice. Education and awareness campaigns help change societal attitudes and behaviors.
Gender justice includes economic empowerment initiatives to reduce gender disparities in income, access to resources, and economic opportunities. This often involves measures to promote women's participation in the workforce and entrepreneurship.
Ensuring access to healthcare, including sexual and reproductive health services, is a critical aspect of gender justice. It encompasses issues like family planning, maternal health, and access to contraceptives.
Gender justice advocates for equal participation of individuals of all genders in political and decision-making processes. This includes efforts to increase the representation of women and marginalized genders in elected offices and leadership positions.
Gender justice recognizes that individuals experience multiple forms of discrimination and disadvantage based on factors such as race, class, disability, and sexual orientation. It aims to address these intersecting forms of discrimination.
Read: Women's Reservation Bill
Constitutional provisions of Gender justice
India has a long history of being one of the most unequal and insensitive to gender issues nations in the world.
This is especially true for women, who suffer from a range of social issues like infanticide, foeticide, child marriage, and gender biases regarding the ownership of coparcenary property, among others.
Even in the 21st century, when the entire world has become aware of the attraction of feminism, India has been unable to break free from the constraints of antiquated social practices and customs in various regions.
India continues to be the most significant country in the patriarchal belt of the world, where women are still viewed as less important than males, in a kin-ordered social structure.
Indian women should be treated equally, and the state should protect them, according to the constitution's creators.
Right to Equality (Article 14): Article 14 of the Indian Constitution guarantees equality before the law and equal protection of the law to all citizens, regardless of their gender. It prohibits discrimination on the grounds of sex.
Prohibition of Discrimination (Article 15): Article 15 prohibits discrimination based on sex, among other grounds. It empowers the state to make special provisions for women and children.
Equality of Opportunity (Article 16): Article 16 ensures equality of opportunity in matters of public employment. It prohibits discrimination on the grounds of sex, and the state is authorized to make reservations for women in government jobs.
Protection of Minorities (Article 29): Article 29 protects the educational and cultural rights of minorities, which includes women belonging to minority communities.
Abolition of Untouchability (Article 17): Article 17 abolishes "untouchability" in any form and prohibits its practice. While this provision doesn't explicitly mention gender, it has a significant impact on the lives of women from marginalized communities.
Directive Principles of State Policy (DPSP) (Article 39): The DPSP includes principles that guide the state in matters of policy. Article 39(a) emphasizes equal pay for equal work for both men and women.
Rights of Women (Article 42): Article 42 directs the state to make provisions for securing just and humane conditions of work and maternity relief for women.
Reservation of Seats in Panchayats (Article 243D): This article provides for the reservation of seats for women in Panchayats (local self-government institutions) to ensure their participation in grassroots-level governance.
Reservation of Seats in Municipalities (Article 243T): Similar to Article 243D, Article 243T mandates the reservation of seats for women in municipal bodies.
Protection Against Violence (Article 15(3), Article 46, Article 51A(e)): While these articles do not explicitly mention violence against women, they emphasize the need for the state to protect the rights and dignity of women and to promote a culture that respects the dignity of women.
Right to Privacy (Article 21): The right to privacy, as established by the Supreme Court of India, includes the right to bodily autonomy. This has important implications for issues such as reproductive rights and the prevention of gender-based violence.
Landmark Judgments
Over the years, the Indian judiciary has delivered numerous landmark judgments that have advanced gender justice, including judgments related to gender-based violence, workplace harassment, and property rights for women.
Vishakha v. State of Rajasthan (1997): This landmark judgment by the Supreme Court of India laid down guidelines to prevent sexual harassment of women in the workplace. These guidelines, known as the Vishakha Guidelines, were an important step toward addressing workplace harassment and creating a safer environment for women employees.
Shayara Bano v. Union of India (2017): This case challenged the practice of triple talaq (instant divorce) in Islamic personal law, which disproportionately affected Muslim women. The Supreme Court declared the practice of triple talaq unconstitutional, recognizing the importance of gender justice in matters of personal laws.
Navtej Singh Johar v. Union of India (2018): This historic judgment decriminalized homosexuality in India by striking down Section 377 of the Indian Penal Code, which criminalized consensual same-sex relations. The judgment was a significant step toward recognizing the rights and dignity of LGBTQ+ individuals, including women.
Sarla Mudgal v. Union of India (1995): In this case, the Supreme Court addressed the issue of bigamy and the practice of Hindu men converting to Islam to marry again without divorcing their Hindu wives. The judgment highlighted the need for legal reforms to protect the rights of women in such cases.
Vineeta Sharma v. Rakesh Sharma (2020): This judgment clarified the legal rights of Hindu daughters in matters of ancestral property. It affirmed that daughters have equal rights as sons in ancestral property, irrespective of whether the father was alive or not at the time of the amendment to the Hindu Succession Act.
Independent Thought v. Union of India (2017): This case resulted in the Supreme Court raising the legal age of consent for sexual intercourse from 15 to 18 years, recognizing the need to protect the rights and well-being of girls and prevent child marriages.
Joseph Shine vs Union of India (2018): This landmark judgment challenged the constitutional validity of Section 497 of the Indian Penal Code (IPC), an archaic law that criminalized adultery, defining it as a crime committed solely by a man having sexual intercourse with a married woman without her husband's consent.
Way forward
Gender justice is a multifaceted and ongoing effort to create a more equitable and inclusive society.
Achieving gender justice requires the collaboration of governments, civil society organizations, businesses, and individuals to challenge gender-based discrimination and work toward a world where all individuals can live free from gender-related inequalities and injustices.
Social, political, and economic equality for women is integral to the achievement of all Millennium Development Goals. Hence, gender justice entails ending the inequalities between women and men that are produced and reproduced in the family, the community, the market, and the state.
Since 2020, UNDP and UN Women have worked together to empower women, support their leadership, and fulfill the promise of justice and human rights for all. In 2022, this partnership evolved into the Gender Justice Platform, a framework for strategic cooperation and upscaled joint initiatives.
Previous year question
Q. Explain the constitutional perspectives of Gender Justice with the help of relevant Constitutional Provisions and case laws. (GS Paper 2 2023)
Related article: Same-Sex Marriage
-Article by Swathi Satish