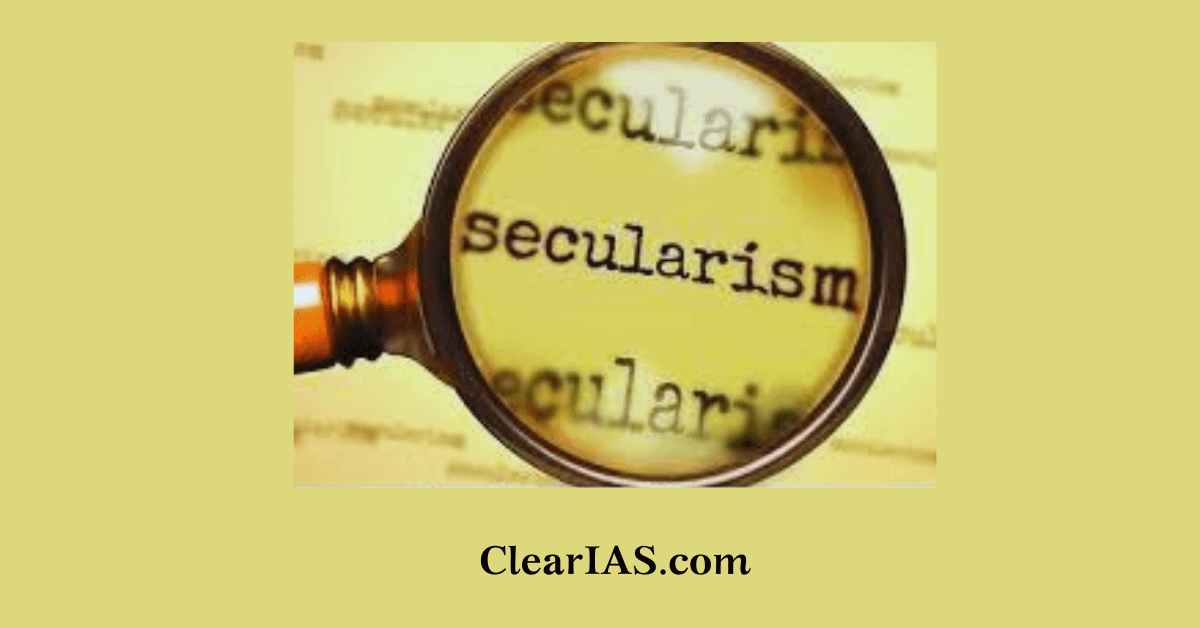 What do you mean by secularism? How is secularism rooted in Indian history? What is the Constitutional status of secularism? How does Indian secularism differ from the Western model of secularism? Read on to learn more.
This article will help you to know more about the relevance of secularism in our society.
The term "Secular" refers to being devoid of religion or being apart from it.
Secularism refers to the treatment of religion as a totally private concern, separating it from the political, economic, social, and cultural aspects of life.
A secular person is one who does not attribute moral principles to a particular religion. His logical and scientific thinking produces his values.
It placed a strong emphasis on the separation of the state and religion, as well as on the complete freedom and acceptance of all religions.
Additionally, it advocates for nondiscrimination and impartiality based on faith, as well as equal chances for adherents of all religions.
Philosophy of Indian Secularism
The term "secularism" is similar to the Vedic idea of "Dharma nirapekshata," or the state's disregard for religion.
The paradigm of secularism is adopted by Western civilizations, where the government is completely distinct from religion.
There is no recognized state religion in India. However, a person's religion may have various personal rules depending on issues like marriage, divorce, inheritance, and alimony.
Indian secularism aimed to achieve the peaceful coexistence of various religions, but it was not an end in and of itself.
Indian philosophical concept refers to equal respect for all religions. It derived from the Vedic idea of "Sarva Dharma Sambhava" (meaning, "that the endpoint of the pathways pursued by all faiths is the same, though the paths themselves may be different")
This idea, known as "Positive Secularism," which embodies the dominant spirit of Indian culture, was adopted and pushed by individuals like Vivekananda and Mahatma Gandhi.
Secularism in Indian History
Secular traditions are deeply ingrained in Indian history.
The foundation of Indian culture is the synthesis of numerous spiritual traditions and social movements.
Emperor Ashoka was the first great emperor to declare that the state would not persecute any religious denomination.
In his 12th Rock Edict, Ashoka urged people to adopt a spirit of profound respect for all religious factions in addition to tolerating them.
The pursuit of religious tolerance and the coexistence of various faiths persisted even after the arrival of Jainism, Buddhism, and later Islam and Christianity on Indian territory.
The Sufi and Bhakti traditions in medieval India created a loving and peaceful link between members of many communities.
Khwaja Moinuddin Chisti, Baba Farid, Sant Kabir Das, Guru Nanak Dev, Saint Tukaram, and Mira Bai, among others, were major luminaries of these movements.
In medieval India, Akbar's rule was characterised by religious tolerance and freedom of worship. Numerous Hindus served as his ministers, and he abolished Jizya and prohibited forced conversions.
His proclamation of "Din-i-Ilahi," or the Divine Beliefs, which combined components of both Hindu and Muslim faith, was the most obvious manifestation of his tolerance policy.
In addition, he emphasised the idea of "sulh-i-kul," or religious harmony and peace.
He even sponsored a number of theological discussions that took place at the Hall of Worship's "Ibadat Khana," featuring theologians from the Brahmin, Jains, and Zoroastrians.
The Indian liberation movement also contributed to the strengthening and enrichment of secularism, despite the fact that the British had a divide-and-rule policy in the name of many religions. The partition of Bengal, the establishment of separate electorates, and communal awards as examples of how Britishers fostered religious diversity in Indian society.
However, the secular culture and ethos that defined the Indian freedom movement were present from the beginning.
The liberals who participated in the early stages of the Indian freedom movement, such as Sir Feroz Shah Mehta, Govind Ranade, and Gopal Krishna Gokhale, largely adopted a secular political philosophy.
There were many provisions on secularism in the constitution that Pandit Moti Lal Nehru drafted in 1928 while serving as the chairman of the  Nehru Committee, such as: "There shall be no state religion for the commonwealth of India or for any province in the commonwealth, nor shall the state, either directly or indirectly, endow any religion with any preference or impose any disability on account of religious beliefs or religious status."
While J. L. Nehru's secularism was based on a dedication to scientific humanism tinted with a progressive perspective of historical development, Gandhiji's secularism was founded on a commitment to the brotherhood of religious communities based on their respect for the pursuit of truth.
Secularism and the Indian Constitution
All the fundamental ideas of secularism have been explicitly incorporated into the constitution's different clauses.
The term "secular" was inserted into the preamble of the Constitution by the 42nd Amendment Act of 1976.
"India is a sovereign, socialist, secular, democratic, republic."
It highlights the fact that India is a constitutionally secular nation without a State religion. And that the state must respect all religions equally without favouring or patronising anyone in particular.
Other constitutional provisions enlarge the concept of secularism:
Article 14 grants equality before the law and equal protection of the laws to all
Article 15 prohibits discrimination on grounds of religion, race, caste, sex or place of birth.
Article 16 (1) guarantees equality of opportunity to all citizens in matters of public employment and reiterates that there would be no discrimination on the basis of religion, race, caste, sex, descent, place of birth and residence.
Article 25 all persons are equally entitled to freedom of conscience and the right to freely profess, practise and propagate religion.
Article 26 every religious group or individual has the right to establish and maintain institutions for religious and charitable purposes and to manage its own affairs in matters of religion.
 Article 27 the state shall not compel any citizen to pay any taxes for the promotion or maintenance of any particular religion or religious institution.
Article 28 allows religious instruction to be given at educational institutions run by various religious groups.
Article 29 Protect the cultural identities of minority
Article 30 Protect the educational rights of all minorities
Article 51A to uphold peace, the spirit of fraternity, and the rich history of our composite culture.
Indian vs Western Secularism Model
Over time, India has created its own distinct idea of secularism that, in the following ways, distinguishes it from the similar western concept:
According to the western concept of secularism, the "State" and the "religion" have their own distinct domains and may not interfere with one another's business.
Thus, the full separation of religion and state is required by the western concept of secularism.
However, there is no "wall of separation" between religion and the State in India, either in law or in reality.
In India, both the state and religion are permitted to interact and interfere in one another's business as long as they do so within the limits that have been set by law and the courts.
In other words, Indian secularism does not call for the complete exclusion of religion from the state.
According to the western model, religious communities' educational institutions cannot get any financial assistance from the state.
All religious minorities in India have the legal right to create and maintain their own educational institutions, with possible state support.
In the western paradigm, the state stays out of religious concerns until they are conducted within the bounds of the law.
On the other hand, Indian secularism requires the state to intervene in religion in order to purge its vices.
India has stepped in by implementing laws that forbid the customs of Sati, or the burning of widows, dowries, animal and bird sacrifice, child marriage, and denying Dalits access to temples.
Since no public policy can be created in the west on the basis of religion, the government is completely cut off from the religious activities and practises of its people.
In India, the government has a policy of establishing Wakf Boards, Departments of Religious Endowments, etc. Additionally, it is involved in choosing the Trustees for these boards.
Threats to Secularism
Despite the fact that the Indian Constitution declares the state to be completely neutral toward all religions, our society is deeply religious.
Religious persecution and inter-religious dominance are displayed in our society when one community or its members are discriminated against by another community or its members because of their religious identity.
Indian secularism is in danger as a result of the blending of religion and politics, or the mobilisation of votes based on fundamental identities like religion, caste, and race.
A communal politics is one that attacks rational ideals, communalizes social space, propagates myths and prejudices about minorities, and engages in divisive ideological propaganda and politics.
Inter-religious conflict results from the competitive politicisation of other groups as a result of the politicisation of any one religious organisation.
Communal riots are one of the signs of communalism. The secular foundation of Indian polity has shown to be seriously threatened by communalism in recent years as well.
In recent years, the rise of Hindu nationalism has led to mob lynchings based on the mere suspicion of eating meat and butchering cows.
In addition to this, forced slaughterhouse closures, efforts against "love jihad," forced reconversion of Muslims to Hinduism (Ghar- wapsi), etc. all serve to strengthen communal tendencies in society.
The establishment of an Islamic State based on sharia law is promoted by Islamic fundamentalism or revivalism, which is directly at odds with ideas of a secular and democratic state.
Way Forward
Cooperation towards "mutual enlightenment" is one method for decreasing religious prejudice. Only through education can people's mindsets be changed. To ensure that young people receive a valuable education that helps them understand and respect both their own and other religions' traditions in the nation.
A shared set of values or a framework that enables the coexistence of the various groups is also required.
The establishment of a supportive atmosphere and the development of a socio-political consensus are necessary for the implementation of social reform initiatives like the Uniform Civil Code.
Article Written By: Aryadevi E S