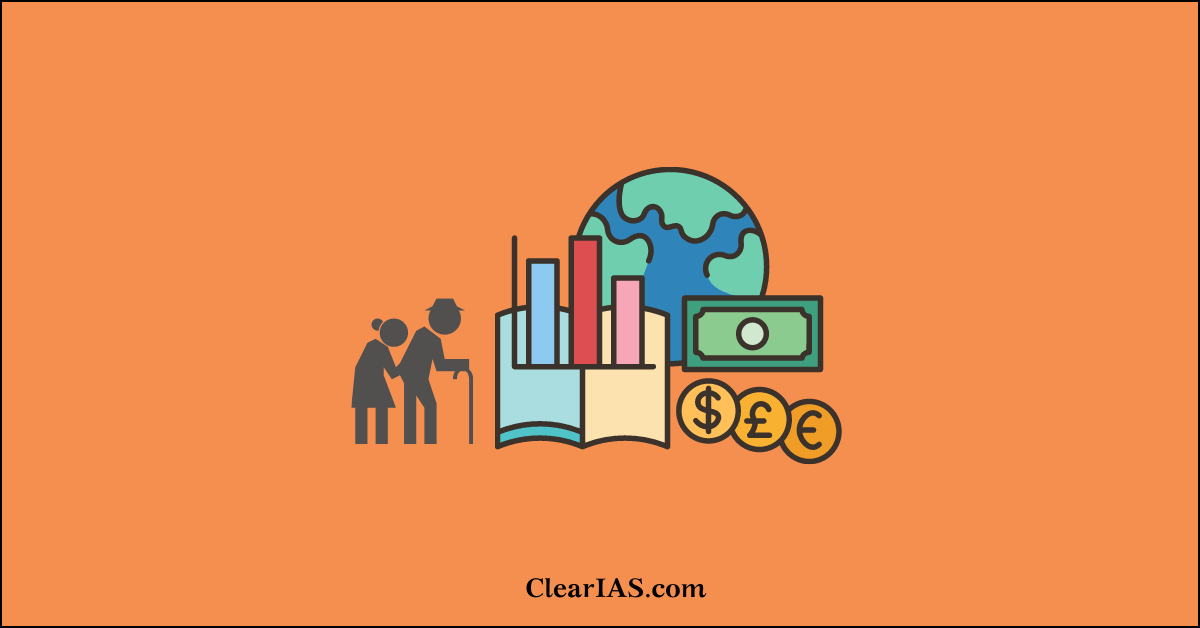 What is the silver economy? What are silver markets? What are the challenges associated with old aged people? Read here to know more.
Do you know the elderly population in India is fast reaching the current population size of Mexico or Russia? For making senior care Govt's focus on 'Silver Economy'.
The term "Silver economy" refers to a system of production, distribution, and consumption of goods and services that uses older and ageing people's purchasing power to meet their needs for consumption, a place to live, and healthcare.
Context- Silver Economy
As per surveys, the number of elderly citizens in India is on the rise. Based on these surveys, the number of elders, as a percentage of the total population, is expected to grow from around 8.6% in 2011 to about 12.5% by 2026, and then surpass 19.5% by 2050.
Which is better than the rate it was in 2011.
Due to this significant increase, India urgently needs to develop a more robust eldercare ecosystem, particularly during the post-COVID period.
Based on the Expert Group on the Silver Economy's recommendations, a programme has been launched. To support private businesses that innovate in their processes and products for the benefit of the elderly.
Is SAGE will be a solution for this?
The Senior Aging Growth Engine, or SAGE, project will identify, assess, confirm, and aggregate the needs of senior citizens in order to provide goods, solutions, and services.
Senior citizens will be able to contact employers in the private sector through another website.
The  SACRED: Senior Able Citizens for Re-Employment in Dignity, which was recently launched by the Vice President.
An initial budget of 100 crore rupees has been allocated to assess and promote the silver economy in India, of which approximately 25 crore rupees will be used in FY2021-22.
Initial estimates indicate that the Silver Economy is currently worth about 73,082 crore rupees.
On International Day for Older Persons, the Ministry of Health and Family Welfare introduced the Decade of Healthy Aging (2020–2030). (1st October).
In the field of social gerontology, the silver economy is examined not as an existing economic system but rather as a tool for ageing policy and as a potential, needs-driven economic system for the ageing population.
Its main component is Geron-technology, a brand-new paradigm in science, research, and application.
History
In Japan, the phrase "silver market" was coined in the 1970s to refer to the expansion of senior facilities.
What are Silver Markets?
The silver market includes, among other things, goods, values, and services geared toward wealthy older people; unique trade arrangements that enable adjustments for an ageing workforce; and concepts of universal design and transgenerational design that aim to adapt products and services to people of different ages (i.e., "age-friendly"), physical conditions, and cognitive abilities, which may lead to improved social integration.
Is the Silver economy a single industry? No, but rather a conglomerate of goods and services drawn from numerous other industries.
Healthy ageing is "the process of developing and maintaining the functional ability that enables wellbeing in older age," according to the World Health Organization (WHO).
The Report of the World Assembly on Ageing, also known as "the International Plan on Ageing," was published in 1982 and served as the first international discussion of older people's rights and provided a strategy for enacting those rights.
The Second World Assembly's "Madrid International Plan" on ageing, which was adopted in 2002, was given to the UNPF to carry out.
Ageing:
Ageing is a continuous, irreversible, and universal process that begins at conception and lasts until a person dies.
According to the National Elderly Policy, people 60 and older are considered elderly.
The age breakdown of the Indian population is as follows: 0-14: 30.8%, 15-59: 60.3%, 60+: 8.6%.
According to the 2011 Population Census, India has close to 104 million elderly people.
It increased from 5.5% in 1951 to 8.6% in 2011.
In terms of the elderly population, more than 73 million people, or 71% of the population, live in rural areas, while 31 million people, or 29% of the elderly population, live in urban areas.
Also, read the article on the topic of ageing India.
Challenges associated with old age
There are multiple challenges associated with them and can be grouped into social, financial and health.
Social
The intergenerational ties that were the defining feature of the traditional family are weakening as a result of the erosion and adaptation of traditional values and institutions.
Negligence by kids towards their old parents.
Disillusionment due to retirement.
Feeling of powerlessness, loneliness, uselessness, and isolation in the elderly.
Financial
Retirement and dependence of elderly on their child for necessities.
The elderly, who are typically poor and in distress when living alone or with just their spouse, are negatively impacted by the emigration of young people of working age from rural areas.
78% of the elderly are neither receiving a pension nor expected to receive one.
Health
Multiple disabilities among the elders in old age.
One in two elderly people has a chronic illness. Around 40% of elderly people have a disability, 27% have multiple morbidities, and 20% have mental health problems.
In India, the average per capita income for people over 45 is 44,901, and cardiovascular disease and hypertension affect one-third of this population.
Mental health issues are rarely discussed.
Initiatives by government
Maintenance and Welfare of Parents and Senior Citizens Act, 2007: The welfare of parents and senior citizens is ensured by the act through need-based maintenance. The 2019 Maintenance and Welfare of Parents and Senior Citizens (Amendment) Bill, which seeks to amend the 2007 Act, was also introduced in Lok Sabha.
National Programme for the Health Care for the Elderly (NPHCE): It is an articulation of the International and national commitments of the Government as envisaged under the UN Convention on the Rights of Persons with Disabilities (UNCRPD), National Policy on Older Persons (NPOP) adopted in 1999 Section 20 of "The Maintenance and Welfare of Parents and Senior Citizens Act, 2007" dealing with provisions for medical care of Senior Citizen.
Longitudinal Ageing Study of India (LASI) Wave-1, India Report: LASI is a comprehensive national scientific inquiry into the causes, effects, and factors of population ageing in India.
Integrated Programme for Older Persons (IPOP): The scheme's major goal is to improve elderly people's quality of life by offering them necessities like food, shelter, and medical and entertainment options.
Rashtriya Vayoshri Yojana (RVY): Seniors in the BPL group who have age-related problems such as low vision, hearing loss, tooth loss, and locomotor impairments are given assistance and assisted living gadgets.
Indira Gandhi National Old Age Pension Scheme (IGNOAPS): According to the requirements set forth by the Government of India, financial support is given to individuals 60 years of age and above who are members of families that are below the poverty line.
Varishtha Pension Bima Yojana (VPBY): Intended to provide a guaranteed minimum return on the subscription money in exchange for an ensured minimum pension.
The Pradhan Mantri Vaya Vandana Yojana: Providing social security for the elderly. The Life Insurance Corporation (LIC) of India will put this simpler version of the VPBY into action.
Vayoshreshtha Samman: Given to notable senior citizens and institutions in a variety of areas as a national honour for their accomplishments on October 1st, the International Day of Older Persons.
Article 41 and Article 46 are constitutional provisions for those who are older. Even though they are not legally enforceable, directive principles create a positive duty to the state when enacting any law.
Section 20 of the Hindu marriage and adoption act, 1956makes measures for maintaining an elderly parent mandatory.
Under Section 125 of the Criminal Procedure Code, elder parents can claim maintenance from their children.
Contributions to society – Silver Economy
Elderly individuals have a wealth of knowledge from their personal and professional lives, and society as a whole needs to tap into that knowledge for a better future.
They can serve as an important generational bridge for coming ones. Families and society at large receive support and stability as a result.
Grandparents in blended families are an essential link for passing on morals and values to the younger generation throughout their formative years, helping to raise better people and responsible citizens.
Our society would become more age-inclusive and less generationally divided if elders' contributions were recognised.
Their rich cultural impressions and social experiences serve as the necessary barrier against hatred, violence, and hate crimes, promoting stability in society—especially in this age of crime and hate.
Through their awareness and understanding, they can significantly contribute to reducing societal conflicts, both within and outside of families.
Way Forward
The silver economy will focus more on including these folks as active contributors to the economy rather than only as recipients.
The country needs economic and social innovation that is supported by substantial legislative reform and significant cultural change in order to address the country's changing demographics.
For the nation to push the silver industry and offer seniors specialised services, new financial models are required.
Promoting social entrepreneurship is crucial if we want to hasten the development of the silver economy.
Small communities exist in places like Europe, where senior care is provided as well as related services. Volunteers from the community assist the elderly. In order to assist the elderly in remote areas, India must create a similar young army.
The elder generation has to be retrained. What is learnt early in life needs to be remembered again to enable them to contribute as fully as possible in the silver era?
In India, 58 is seen as an advanced age at which one should retire and stop working. There is no set retirement age in western nations like the US, nevertheless. To ensure that the elderly are actively participating contributors to the nation, behavioural modification is required.
Increasing the monthly pension of the elderly.
Housing for the elderly, in particular for the elderly poor, must be a priority under the Pradhan Mantri Awas Yojana.
Elderly people in need of assisted living facilities, especially those with age-related conditions like dementia, require policy attention.
More tax advantages, or at the very least eliminating the senior deposit interest tax.
improving the infrastructure for geriatric care, particularly in rural locations.
At both levels, setting aside a separate budget for the aged.
providing clubs and libraries as well as other forms of entertainment at the panchayat level.
Appreciations for the contributions of elderlies at the village level.
Article written by- Remya