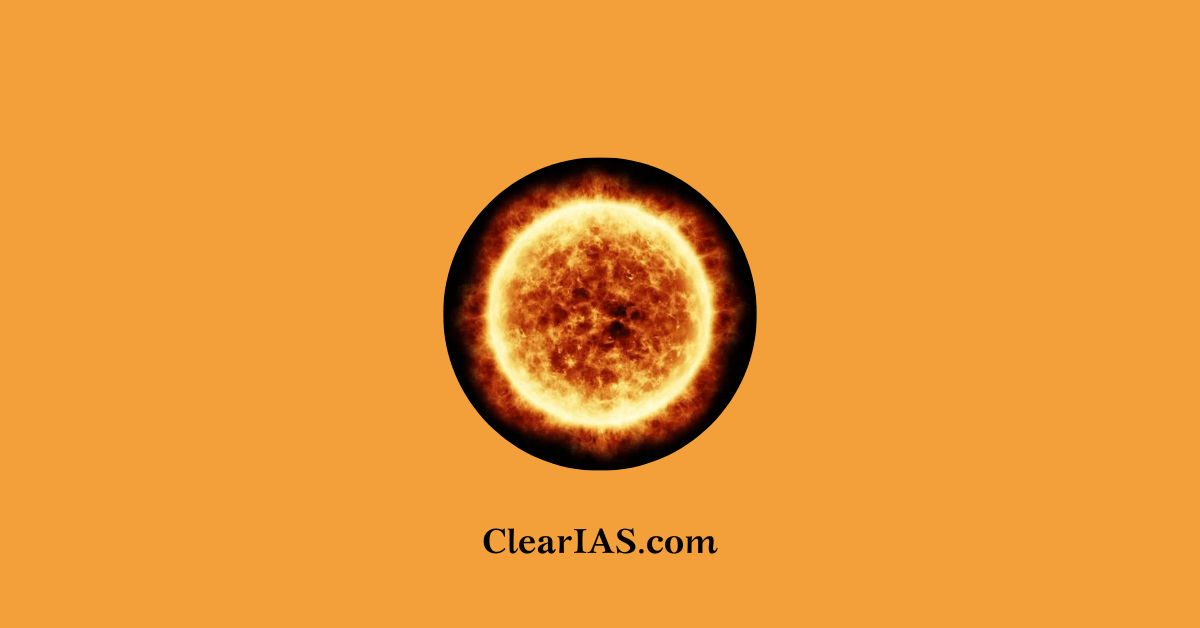 What are solar storms? How are they formed? What is its history? what are the different types of Solar storms? What are its effects on Earth? Read further to know more.
A study found that solar storms, which are abrupt discharges of high-energy solar particles, can interfere with grey whales' ability to navigate, leaving them to shore on land. What really solar storms are?
Solar storms
A solar storm is a term used to describe the atmospheric consequences that certain Sun-related occurrences have on Earth.
Solar storms result when a Sun generates powerful energy bursts like solar flares and coronal mass ejections. High-speed electrical charges and magnetic fields are rapidly sent towards the Earth by these occurrences
The production of the "northern lights," which are visible in the areas near the Arctic Circle, is one of the impacts of a solar storm affecting Earth. Disruption of satellites and other electronic communication systems is one of the negative effects of solar storms. High-magnetized solar particle ejections are known as solar storms or Coronal Mass Ejections by astronomers.
It can take these particles between 13 hours and five days to reach Earth at a speed of several million kilometres per hour. Humans are shielded from these particles by the atmosphere of the planet. However, the particles can influence artificial structures, interact with our planet's magnetic field, and cause powerful electric currents to flow near the surface.
It might mean one of the following:
Coronal mass ejection: Strong magnetic fields shape the corona, the outer solar atmosphere. The limited solar atmosphere can suddenly and violently expel bubbles of gas and magnetic fields known as coronal mass ejections where these fields are closed, frequently over sunspot groupings.
Solar flares are powerful radiation bursts caused by the release of magnetic energy linked to sunspots.
(Sunspots: Dark patches on the solar surface are home to intense magnetic fields continually moving. They are the size of the entire Earth. Over the course of days or weeks, sunspots form and disappear.)
Also read Parker Solar Probe: Explore the Sun – ClearIAS
Solar storm history
The history of a solar storm on earth moves back to 1859.
In 1859, the first solar storm ever observed made it to Earth in just under 17 hours.
The telegraph network was damaged, and several operators received electric shocks.
A solar storm that struck in 1921 affected the telegraph and train networks in New York, and a 1989 small-scale storm in Quebec, Canada, brought down the electricity infrastructure.
According to a 2013 assessment, if a solar storm like the one in 1859 struck the US now, 20–40 million people might go without power for a year or two, and the overall economic damage would be between $0.6 and $2.6 trillion.
Types of Solar Storms
Solar storms arise in the following varieties:
Solar flares: A solar flare is an abrupt increase in brightness on the Sun that is typically seen close to its surface or near a group of sunspots. A coronal mass ejection frequently, but not always, occurs together with strong flares. In total solar irradiation, often known as the "solar constant," even the strongest flares are hardly noticeable.
Coronal Mass Ejection (CME): The solar corona releases a considerable amount of plasma together with a magnetic field. They frequently appear after solar flares and are typically seen during an eruption of a solar prominence.
Geomagnetic Storm: A geomagnetic storm, also known as a solar storm, is a brief disruption of the Earth's magnetosphere brought on by an interaction between the magnetic fields of the Sun and the Earth.
Solar Particle Events: A solar particle event, also known as a solar proton event (SPE), or prompt proton event, occurs when particles (mostly protons) emitted by the Sun are accelerated either by coronal mass ejection shocks in interplanetary space or by flares that occur close to the Sun during the event.
 Effects on Earth
The following effects of solar storms could be felt by Earth:
Solar storms and flares that are close enough to Earth can affect the upper atmosphere and the space weather in the vicinity of the planet.
Global positioning systems (GPS), radio, and satellite communications operations may be impacted by solar storms.
GPS navigation systems and high-frequency radio communications are both affected by geomagnetic storms.
Programs for space research, electricity networks, and aircraft operations are all at risk.
This can result in a variety of issues for pipeline engineers.
Erroneous flow information can be transmitted by pipeline flow metres, which can also significantly speed up pipeline corrosion. Geomagnetically induced currents in pipes can be created by geomagnetic fields that fluctuate quickly.
Humans and other mammals are susceptible to radiation sickness from extremely high-energy particles like those transported by coronal mass ejections.
The Earth's magnetic field is momentarily perturbed when a coronal mass ejection hits the atmosphere.
Many urban centres are at risk because it can veer satellites off course and make them fall to the earth's surface.
According to some scientists, migratory creatures like birds and bees that use magneto reception for navigation may also be impacted.
Also Read: Augmented Reality – ClearIAS
Conclusion
The ability of scientists to predict solar storms is continuously developing. Clearly, scientists can warn of greater solar activity after anything explodes from the Sun. However, it's still very challenging to anticipate when an outburst may happen. Scientists keep an eye on sunspot activity and issue alerts when one is headed directly for Earth. They can now track sunspots on the "backside" of the Sun thanks to more recent equipment, which aids in providing early warnings about impending solar activity.
Article Written By: Atheena Fathima Riyas