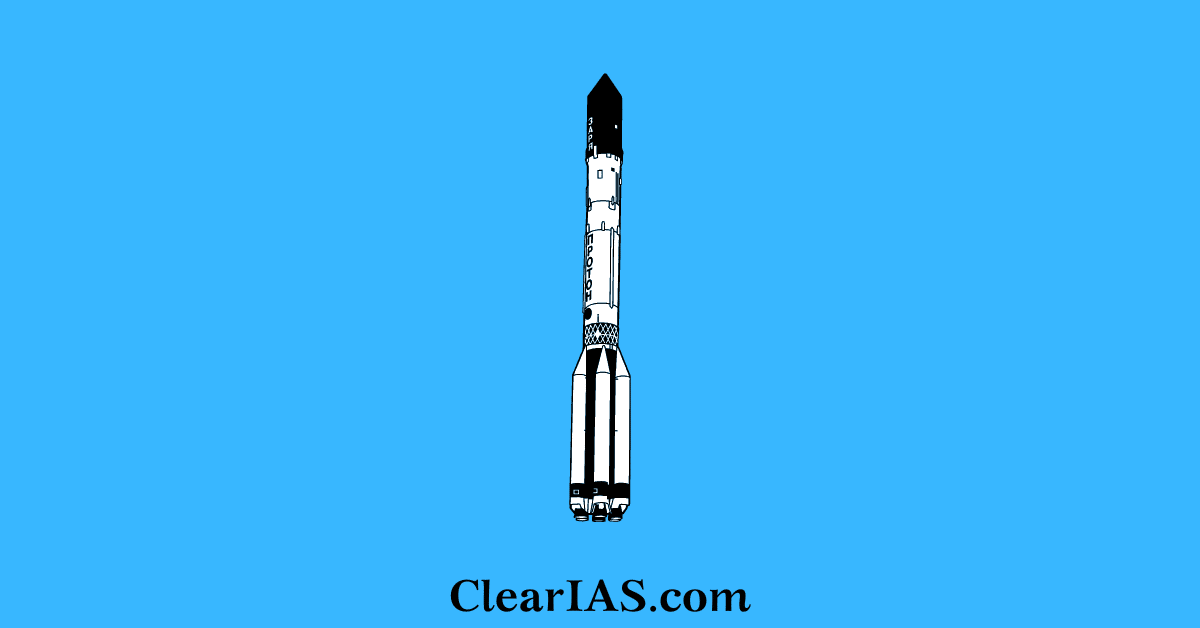 What is an SSLV? What is the significance of SSLV? Also read about recent developments made by India in the field of Satellite missions.
The Indian Space Research Organisation (ISRO) has launched the inaugural flight of the Small Satellite Launch Vehicle (SSLV), carrying an Earth observation spacecraft EOS-02 and a student satellite AzaadiSAT as co-passengers.
However, the mission failed to place the satellites in their appropriate orbits, and the satellites were lost because they had already separated from the launch vehicle.
Also, read about Space Weaponization and the Space Internet.
What is a Small Satellite Launch Vehicle?
The SSLV aims to service the rapidly expanding market for the launch of tiny satellites into LEO (Earth's low orbits), which has recently been formed to meet the needs of developing countries, universities/institutions for small spacecraft, and private enterprises. A Small Satellite Launch Vehicle (SSLV) is a three-stage Launch Vehicle configured with three solid propulsion stages and a liquid propulsion-based velocity trimming module as a terminal stage.
SSLV has a diameter of 2m and a length of 34m, with a lift-off weight of around 120 tonnes. From Satish Dhawan Space Centre, SSLV can launch 500kg satellites into 500km planar orbit (SDSC).ISRO's SSLV can transport satellites weighing less than or equal to 500 kg.
The launch vehicle will carry the small satellites into 500 km LEO (Low Earth Orbit). SSLV production is the responsibility of ISRO's commercial arm, NSIL (New Space India Limited). SSLV is ISRO's lightest launch vehicle, weighing around 110 tons.
In contrast to the PSLV's 70-day integration time, the SSLV takes only 72 hours. SSLV needs only 6 people to integrate it. SSLV of ISRO is a three-stage launch vehicle. The vehicle also features both vented and closed interstage.
Significance of SSLV:
The Era of small satellites: Initially, the larger satellite payloads were prioritised, but as the industry evolved, more actors arose, including businesses, governments, colleges, and laboratories, all of which started to deploy satellites. Mostly all of them fall in the category of small satellites.
The Rise in Demand: Small satellite launches have been increasingly popular during the last eight to ten years as a result of the expanding need for space-based data, communication, surveillance, and commerce.
Saves cost: Manufacturers and operators of satellites do not have the luxury of paying expensive travel costs or waiting months for space on a rocket. As a result, organisations are building satellite constellations in orbit. One Web and SpaceX's Starlink are two initiatives building a constellation of several satellites.
Business opportunity: Since the majority of the demand comes from businesses that are launching satellites for commercial purposes, there is an economic opportunity for space organisations like ISRO to capitalise on the sector's potential as a result of the increase in demand for rocket launches.
Drastic reduction of the turnaround time.
Launch on Demand fulfilment.
Realisation and operating cost optimisation.
Multiple satellites can be accommodated with ease.
Least amount of launch infrastructure requirements.
Heritage of proven design practises
Recent Developments
The United States has given ISRO permission to launch small satellites on the SSLV's second developmental flight.
It is reported to have its first developmental flight in April 2022.
SSLV-D1 Micro SAT will be launched by this SSLV on its maiden developmental flight.
What is the SSLV-D1/EOS-02 Mission?
It was designed to capture a larger share of the small launch vehicle market since it could transport satellites into Low Earth Orbit.
It was carrying the two satellites on board the rocket –

The primary EOS-2 Earth-observing satellite– ISRO designed and built the EOS-02 earth observation satellite. This microsat-class satellite provides superior optical remote sensing with excellent spatial resolution in the infrared spectrum.
The secondary AzaadiSAT student satellite– Is an 8U Cubesat weighing around 8 kg.
It carries 75 different payloads each weighing around 50 grams and conducts femto-experiments.
It carried out tiny experiments which would have measured the ionising radiation in its orbit and also a transponder which worked in the ham radio frequency to enable amateur operators to access it.
Girl students from rural regions across the country were provided guidance to build these payloads.
The payloads are integrated by the student team of "Space Kidz India".
What was the Issue?
The problem appeared to be the SSLV's terminal stage, called the velocity trimming module (VTM).

According to the launch profile, the VTM was supposed to have burnt for 20 seconds at 653 seconds after launch.
However, it burnt for only 0.1 seconds, denying the rocket the requisite altitude boost.

The two satellites separated from the vehicle after the VTM burned, there was a malfunctioning of a sensor which resulted in placing the satellites in an elliptical orbit, rather than a circular orbit.
According to ISRO, all the stages were performed normally, both satellites were injected. But the orbit achieved was less than expected, which makes it unstable.
UPSC Civil Services Examination Previous Year Question (PYQ)
With reference to India's satellite launch vehicles, consider the following statements: (2018)
PSLVs launch the satellites useful for Earth resources monitoring whereas GSLVs are designed mainly to launch communication satellites.
Satellites launched by PSLV appear to remain permanently fixed in the same position in the sky, as viewed from a particular location on Earth.
GSLV Mk III is a four-staged launch vehicle with the first and third stages using solid rocket motors, and the second and fourth stages using liquid rocket engines.
Which of the statements given above is/are correct?
(a) 1 only
(b) 2 and 3
(c) 1 and 2
(d) 3 only
Ans: (a)
Article Written by: Remya