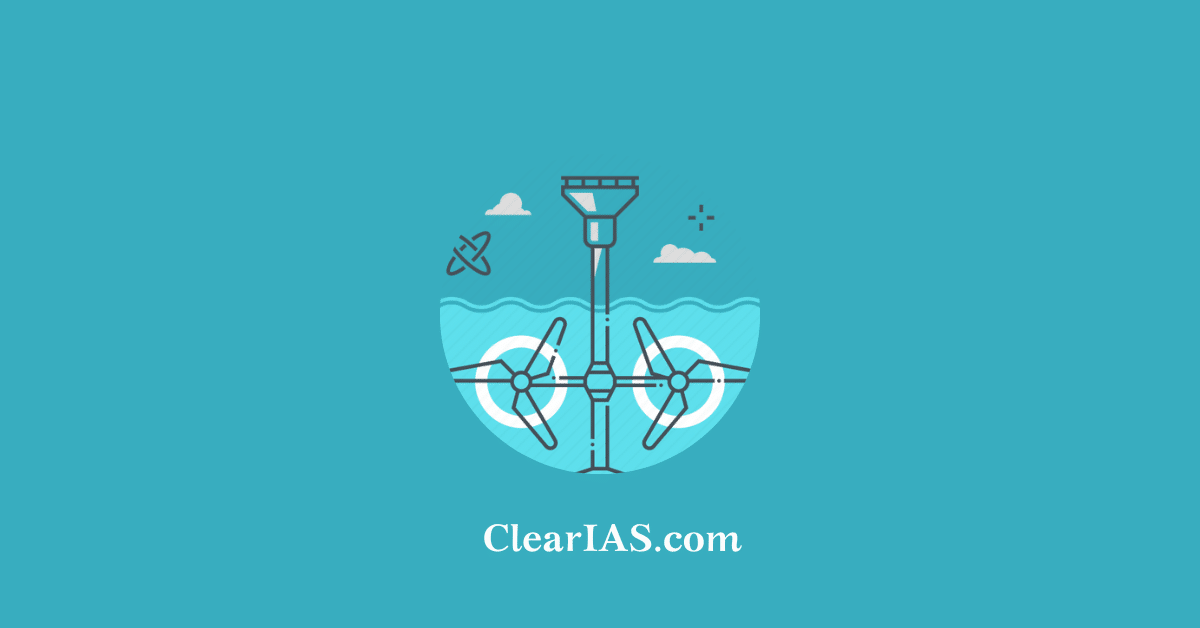 Although it's been debated for decades, the topic of tidal energy has dominated the headlines of late. What is it, what benefits does it offer and what's the potential for its future use? Where does India's Tidal energy potential lie? Read the article to know more about tidal power.
India has a coastline of approximately 7,500 kilometers and experiences significant tidal variations, making it a potential candidate for harnessing tidal energy. While tidal energy is in its early stages of development in India, there have been efforts to explore its potential as a renewable energy source.
The energy from nature- the sun, the wind, waves, tides, etc. can be converted into a usable form. We can make use of the energy from tides as a source of renewable energy.
How is tidal energy potential distributed?
How can we convert tidal energy into power?
What is Tidal Energy?
Tidal energy is produced by the gravitational interaction of the Earth, the sun, and the moon, which causes the tides to rise and fall naturally.
Tidal waters can be used to make electricity by forming a reservoir or basin behind a barrage and then sending them through turbines in the barrier.
Tidal energy is formed by the movement of tides and seas, and the intensity of the water from the rise and fall of waves is a type of kinetic energy.
A tidal generator converts the energy of tidal flows into power.
It is gravitational hydropower that creates electricity by using the movement of water to propel a turbine.
Tidal power is a form of renewable energy that harnesses the kinetic and potential energy of ocean tides to generate electricity.
How does Tidal Energy generate power?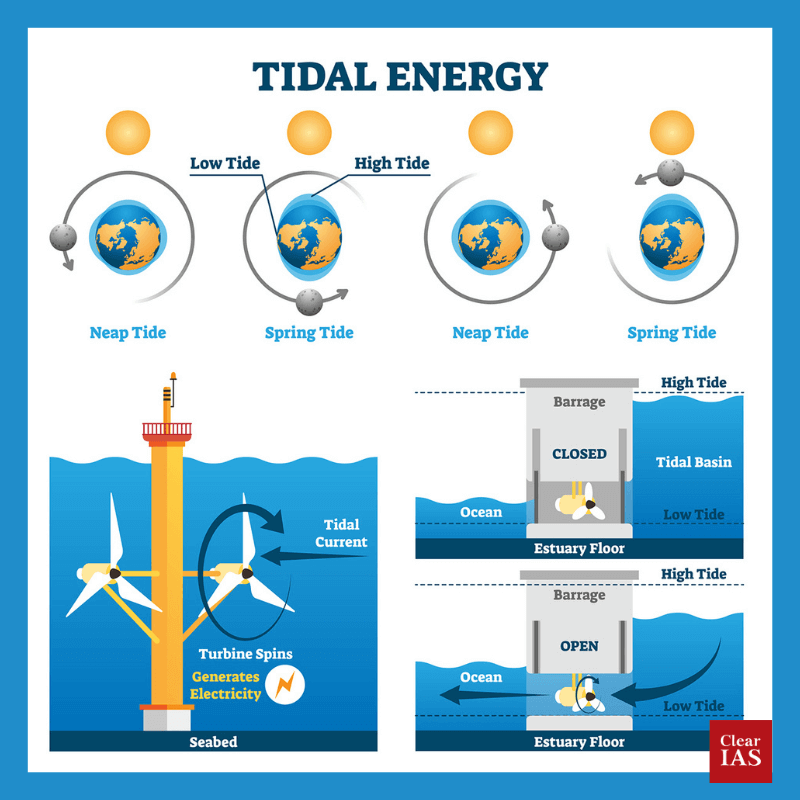 Tides are caused by the gravitational interactions between the Earth, the Moon, and the Sun, resulting in the rise and fall of water levels in oceans and seas. Tidal energy is generated by capturing the movement of water during these tidal cycles.
Oceanic tides are used to generate electricity by building floodgate dams across sea/ocean inlets.
During high tide, water flows into the inlet and is trapped when the gate is closed.
The floodgate's retained water is piped back to the sea.
After the tide falls outside the floodgate, this water is sent via a turbine that generates electricity.
Methods of Harnessing Tidal Energy
There are two main methods of harnessing tidal power:
Tidal Stream Generator
Tidal stream generators, like wind turbines, utilize the kinetic energy of moving water to power turbines.
These turbines are placed on the seabed in areas with strong tidal currents. As the tides flow in and out, the movement of water causes the turbines to rotate, generating electricity. Tidal stream systems can be installed in areas such as tidal channels, straits, and estuaries.
Some tidal generators can be fitted into existing bridge constructions or be fully buried.
High velocities can be generated at specific sites by land constrictions such as straits or inlets, which can be captured using turbines.
Horizontal, vertical, open, and ducted turbines are all available.
Tidal Barrage
Tidal range systems like tidal barrages and tidal lagoons take advantage of the potential energy difference between high and low tides.
Tidal barrages generate potential energy by utilizing the difference in height (or hydraulic head) between high and low tides. Tidal barrages are large dams or barriers built across the entrance of an estuary or bay. Sluice gates and turbines are used to control the flow of water through the barrage, allowing water to flow in during high tide and releasing it during low tide to generate electricity.
When using tidal barrages to create power, the potential energy from a tide is captured by constructing specialized dams.
When the water level rises and the tide begins to come in, the momentary spike in tidal power is diverted into a wide basin behind the dam, which retains a large amount of potential energy.
As the tide recedes, this energy is converted to mechanical energy as the water is released via massive turbines that generate electrical power through generators. Barrages are like dams that run the length of a tidal estuary.
Tidal Lagoon
Tidal lagoons are similar to barrages but are constructed within a bay, creating an enclosed area with a tidal range.
A modern tidal energy design idea is to build circular retaining walls outfitted with turbines that can catch the potential energy of tides.
The reservoirs built are similar to tidal barrages, but the area is artificial and there is no pre-existing ecology.
Advantages of Tidal Energy
Tidal energy is a renewable resource, as tides are caused by the gravitational forces of the Moon and the Sun, which are predictable and consistent.
As technology progresses, tidal energy will become more economical and efficient.
These systems typically have lower environmental impacts compared to fossil fuel-based power generation. They do not produce greenhouse gas emissions or air pollutants.
It defends against coastal floods because of its stability under varied design situations.
Tidal lagoons can absorb storm surges and waves once every 500 years.
Tidal power equipment and infrastructure have a significantly longer lifespan and are less expensive than other renewable technologies.
Limitations
The construction of tidal power facilities is now more expensive, because of the significant capital needs.
Tidal barrages can impact local ecosystems by altering water flow and sediment distribution. They can also affect fish migration patterns.
The main environmental issues are the impacts of blades on fish seeking to enter the lagoon, auditory output from turbines, changes in sedimentation processes, and habitat alteration.
Maintenance and repair of equipment can be complex.
Energy demand is restricted. Powerful tides only occur on average for 10 hours per day, tidal energy storage capacity must be built.
It is challenging to offer tidal energy to coastal areas since the energy of the tides is typically a long distance from where the electricity would be needed inland.
Tidal Energy Potential in India
India's coastline has several locations with strong tidal currents and significant tidal ranges, particularly in the Gulf of Cambay (Khambhat) in Gujarat and the Gulf of Kutch. These areas have been identified as having the highest tidal energy potential in the country.
The tidal cycle is caused by the moon's gravitational influence and occurs every 12 hours.
The difference in water height between low and high tide is referred to as "potential energy."
To capture enough power from the tidal energy potential, the high tide must be at least five meters (16 feet) higher than the low tide.
Only around 20 areas on the earth get such high tides. India is one of them. On the west coast of Gujarat, the Gulf of Cambay and the Gulf of Kutch have maximum tidal ranges of 11m and 8m, respectively, with average tidal ranges of 6.77m and 5.23m.
Research and development activities related to tidal energy are ongoing in various institutions and organizations in India. These activities focus on turbine design, deployment strategies, environmental impact assessments, and resource assessments.
Government Initiatives
India has collaborated with countries such as France and the United Kingdom to share knowledge and expertise in the field of tidal energy. These collaborations aim to accelerate technological advancements and project implementation.
The Gujarat government inked an agreement in 2011 with  Gujarat Power Corporation Limited (GPCL), Atlantis Resource Corporation (UK), and Power Monitoring Expert Systems, Singapore to build a 250 MW tidal power plant in the Gulf of Kutch.
The first phase of a 50 MW tidal power plant in Mandavi in the Kutch area has commenced.
The Ministry of New and Renewable Energy (MNRE) sanctioned a demonstration project in 2008 to develop a 3.75 MW tidal power plant in Durgaduani Creek in the Sunderbans of West Bengal, but it never saw the light of day.
Challenges
It's been only 40 years since India began attempts to study and harness tidal energy. A legislative commission has now asked the Indian government to reconsider the potential of tidal power in India. It also asked to explore the realistically exploitable potential, do additional research in the sector, and build a tidal power pilot project.
India commenced construction on two tidal power facilities in West Bengal and Gujarat, with an installed capacity of 3.75 and 50 megawatts, respectively, in 2007 and 2011. Both of these initiatives, however, were put on hold due to high expenses.
Exorbitant prices and environmental dangers are two primary reasons why India has yet to establish tidal power facilities.
Tidal energy projects need to be developed carefully to minimize their impact on marine ecosystems and local communities. Environmental impact assessments play a crucial role in ensuring sustainable project development.
Tidal power is not being pursued on a worldwide scale due to a variety of constraints.
Way forward
Although tidal energy offers more significant potential than wave or offshore wind energy, only a few locations are suitable for tidal stream energy extraction.
Tidal stream energy extraction technology is still in its infancy. It has immense potential to become a significant element of a site's future energy mix. Tidal barrages and other technologies have been investigated to better understand how to harness ocean energy. Tidal energy, while not yet a popular commercial energy source, has the potential to be employed as a commercial renewable energy source.
The sector has the potential to expand, boosting economic growth, lowering carbon footprints, and creating jobs not only along the coasts but also inland along supply networks. It is more relevant now because India has vowed to cut its emission intensity by 33 to 35 percent compared to 2005, by 2030.
Article Written  By: Atheena Fathima Riyas