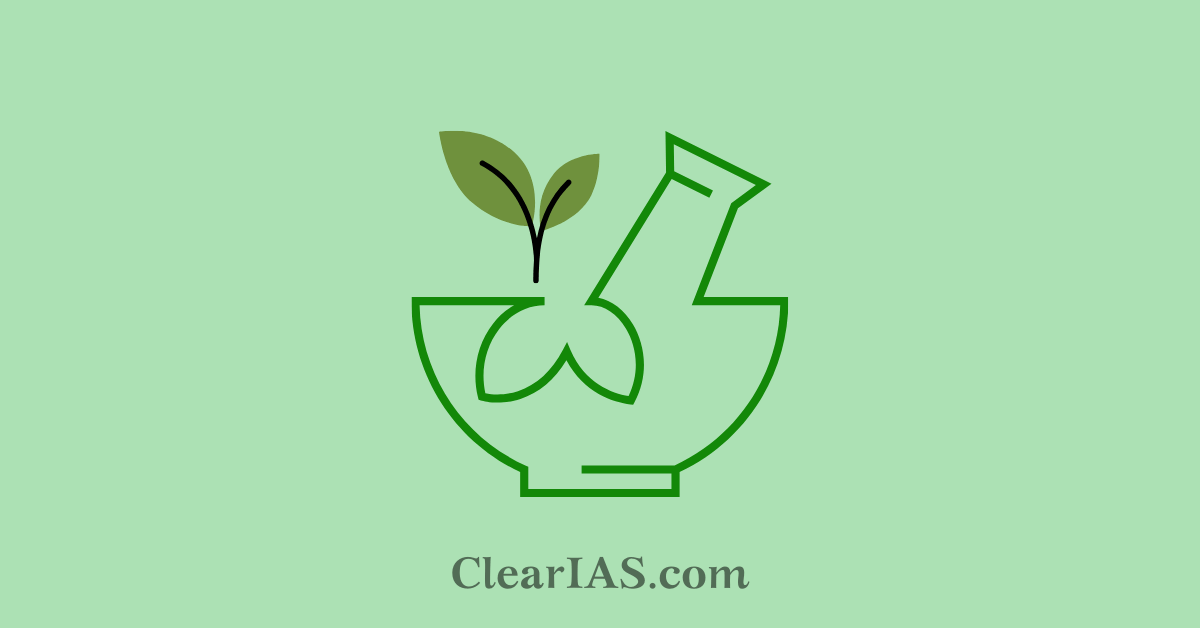 Global Centre for Traditional Medicine (GCTM) is a unique and first-of-its-kind concept dedicated to traditional medicinal practices. Read here to know more about traditional medicines.
The Prime Minister laid the foundation stone of the WHO Global Centre for Traditional Medicine (GCTM) in Jamnagar today, in the presence of the Prime Minister of Mauritius Mr. Pravind Kumar Jugnauth, and Dr. Tedros Ghebreyesus, Director-General, World Health Organization (WHO).
Additionally, the Global Ayush Investment and Innovation Summit will be held later this month in Gandhinagar which is aimed at increasing investments and showcasing innovations in the field of traditional medicine.
Traditional medicine
The term traditional medicine describes the total sum of the knowledge, skills, and practices indigenous and different cultures have used over time to maintain health and prevent diagnosis and treat physical and mental illness.
Its reach encompasses ancient practices such as acupuncture, ayurvedic medicine, herbal mixtures as well as modern medicines.
But today, national health systems and strategies do not yet fully integrate the millions of traditional medicine workers, accredited courses, health facilities, and health expenditures.
Traditional medicine is also increasingly prominent in the world of modern science.
Some 40% of approved pharmaceutical products in use today derive from natural substances, highlighting the vital importance of conserving biodiversity and sustainability.
For example, the discovery of aspirin drew on traditional medicine formulations using the bark of the willow tree, the contraceptive pill was developed from the roots of wild yam plants, and child cancer treatments have been based on the rosy periwinkle.
Nobel-prize winning research on artemisinin for malaria control started with a review of ancient Chinese medicine texts.
There has been a rapid modernization of the ways traditional medicine is being studied.
Artificial intelligence is now used to map evidence and trends in traditional medicine and to screen natural products for pharmacokinetic properties.
Functional magnetic resonance imaging (MRI) is used to study brain activity and the relaxation response that is part of some traditional medicine therapies such as meditation and yoga, which are increasingly drawn on for mental health and wellbeing in stressful times.
Traditional medicinal use has also been updated by mobile phone apps, online classes, and other technologies.
Traditional medicine in India
India's traditional medicine system is not limited to treatment, it is rather a holistic science of life.
India has the unique distinction of having six recognized systems of medicine in this category. They are Ayurveda, Siddha, Unani and Yoga, Naturopathy, and Homoeopathy. It is represented by the AYUSH ministry.
Ayurveda goes beyond just healing and treatment and apart from healing and treatment; social health, mental health-happiness, environmental health, sympathy, compassion, and productivity are included. Ayurveda is taken as the knowledge of life and it has been deemed as the fifth Veda.
Siddha system of medicine is practiced in some parts of South India, especially in the state of Tamilnadu. It has a close affinity to Ayurveda yet it maintains a distinctive identity of its own.
Unani medicine has its origin in Greece, believed to have been established by the great physician and philosopher- Hippocrates (460–377 BC).
Aristotle (384–322 BC) laid down the foundation of Anatomy & physiology.
The next phase of development took place in Egypt and Persia (present-day Iran).
The Egyptians had well-evolved pharmacies; they were adept in the preparation of different dosage forms like oils, powder, ointment, alcohol, etc.
The Arabian scholars and physicians under the patronage of Islamic rulers of many Arabian countries have played a great role in the development of this system. They introduced the Unani medicine to India around 1350 CE.
There is another traditional medicine practiced in the Himalayan region, the Sowa-Rigpa system is practiced mainly in Leh-Ladakh and Himalayan regions such as Sikkim, Arunachal Pradesh, Darjeeling, Lahaul & Spiti.
Global Centre for Traditional Medicine (GCTM)
GCTM will be the first and only global outpost centre for traditional medicine across the world. It will emerge as an international hub of global wellness.
The New Centre will focus on data, innovation, and sustainability and will optimize the use of traditional medications.
The centres five main areas will be:
research and leadership
evidence and learning
data and analytics
sustainability
equity and innovation and technology
Objectives of GCTM
The Centre aims to channel the potential of traditional medicine, by integrating it with technological advancements and evidence-based research.
It will seek to set policies and standards on traditional medicine products and help countries create a comprehensive, safe, and high-quality health system.
It aims to support nations in developing policies & action plans to strengthen the role of traditional medicine in pursuing the goal of universal health coverage.
According to WHO estimates, 80% of the world's population uses traditional medicine but the system is yet not integrated into central health systems.
India has committed an estimated USD 250 million to support the GCTM's establishment, infrastructure, and operations.
Significance of GCTM
The national health system had not yet integrated the traditional medicinal workers and facilities. This will change with the functioning of GCTM.
It will push the modernization of traditional medicines to make them more accessible and to increase its reach to the global platform as well.
Way forward
India has signed a couple of more agreements before with WHO concerning traditional medicinal practices like in 2016, the Ministry of AYUSH signed a Project Collaboration Agreement (PCA) with the WHO in the area of traditional medicine.
Further, almost 32 MoUs for undertaking collaborative research and development of traditional medicinal systems have been signed with institutes, universities, and organizations from the US, Germany, UK, Canada, Malaysia, Brazil, Australia, Austria, Tajikistan, Saudi Arabia, Ecuador, Japan, Indonesia, Reunion Island, Korea, and Hungary.
More opportunities will open up in the future to preserve the traditional practices- the traditional medicines gave rise to the modern pharmaceutical industry and now it is imperative to preserve and conserve the science for the future as well.