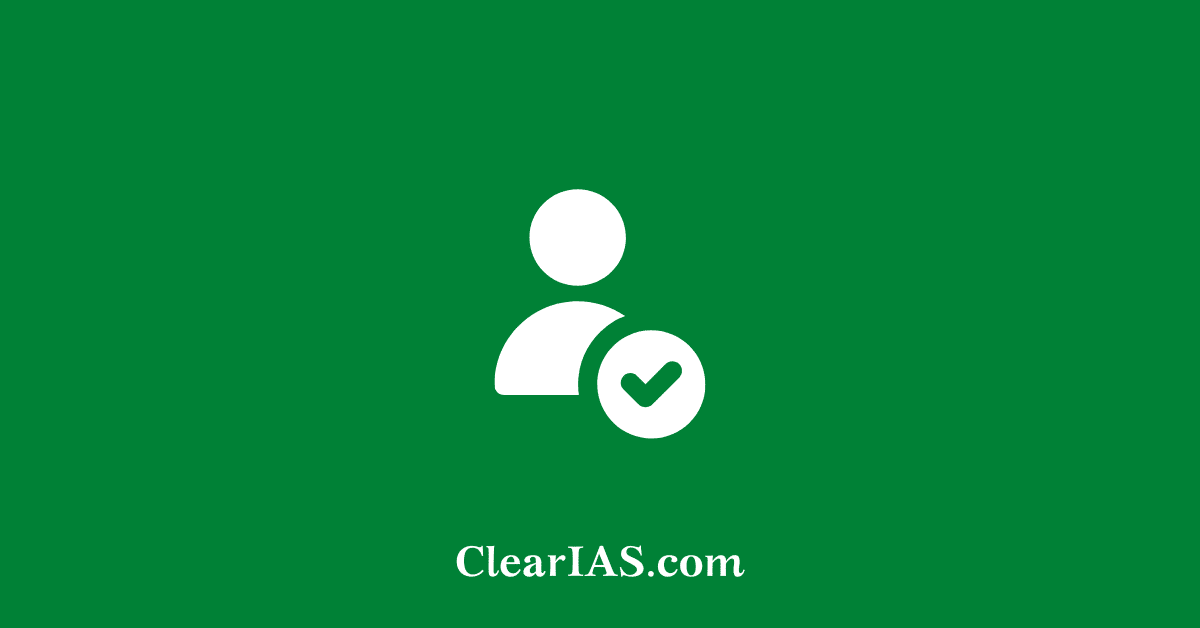 What is transparency? What constitutes accountability? What is the importance of accountability and transparency? What are the initiatives to enhance transparency and accountability in India? Read here to know more.
The idea of good governance is as old as Indian civilization. 'Raj Dharma' was the supreme code of conduct or the rule of law that governed all the actions of the ruler.
Transparency and Accountability are the cornerstones of good public governance. The ideas of accountability and transparency have been frequent themes of policy declarations and initiatives in recent years. Transparency and accountability have become globally important and necessary for excellent and successful performance as well as responsible governance.
What Is Transparency?
The greater flow of accurate information that is available to all key stakeholders is referred to as "transparency." Transparency, then, is the disclosure of timely and accurate information.
Making choices and actions transparent is important, as is sharing and providing the required information to the parties involved.
The definition of transparency is the utmost openness and clarity with which actions are carried out.
It is regarded as one of the fundamental qualities on which customer credibility increases, particularly when it comes to various organisational units in society.
It indicates that choices are taken and carried out in compliance with rules and laws. It implies that those who will be impacted by such decisions and their implementation have immediate and open access to the information.
It alludes to political and administrative decisions and actions being transparent in government.
Civic rights like the right to information, open meetings, financial transparency, budgetary review and audit, and others are included in it.
What Is Accountability?
Accountability indicates that officials and administrative bodies must carry out the duties and responsibilities associated with their posts.
Government, business, and civil society organisations must answer to the general public and institutional stakeholders for their decisions. The government must be held accountable at all levels because accountability is crucial for fighting corruption, which is widely regarded as a serious problem in governance.
Accountability can be thought of as a form of acknowledgement, in contrast to transparency, which places a focus on openness.
Simply put, it is having to defend one's decisions or actions.
A person or organisation must take responsibility for their activities, own up to them, and transparently communicate the results.
What has been done, what is being done right now, and what is planned are all explained and justified.
Compliance with organisational policies, legal requirements, professional codes of behaviour, and responsiveness to all key stakeholders are often ways to attain accountability.
In today's setting of globalisation, there are many stakeholders, including the market, civil society, individuals, and the media, and accountability is complicated by everyone's participation in the governance process.
Transparency and Accountability: Importance
It is crucial that the government operates openly and is held responsible for its decisions and deeds.
The government's role and operations are expanding: for quick development and social change.
The growth of women, children, the physically disabled, marginalised groups, and other issues were addressed by the new policies. All of this led to the expansion of governmental organisations with overlapping functional divisions.
In this situation, the need for transparency and accountability was felt in order to monitor how various departments were performing..
To check the powers and duties: The permanent executive became both the creator and the administrator of laws. Hence, the executive's powers were expanded.

As a result, accountability and transparency were vital to check the executive's powers and duties.

Participatory governance: It can help to increase confidence and the effect of programmes.
Transparency and accountability in governance may lead to significant changes in work culture, resulting in more concern for society.
Information: Accountability and transparency provide a new method of giving real-time information through an online dashboard. This not only answers people's issues, but it also improves service quality.
The link between the government and the people may be improved, and citizens can feel more connected.
A two-way information channel will be established to better understand what consumers desire. "Listen, inquire, act, interact, and inform" are concepts.
Initiatives To Enhance Transparency In India
Right to Information Act, Right to Public Service Legislation, Citizens Charters, e-Governance, and e-procurement are some of India's major initiatives to improve transparency.
Right to Information (RTI) Act:
It is an act of the Indian Parliament that establishes the laws and procedures for citizens' access to information. It took the place of the previous Freedom of Information Act of 2002.
Under the RTI Act, any Indian citizen may seek information from a "public authority" (a government entity or "state instrumentality"), which is supposed to respond promptly or within thirty days.
The information must be delivered within 48 hours if the matter involves a petitioner's life or liberty. The RTI Bill was passed by the Parliament of India on 15 June 2005 and came into force with effect from 12 October 2005.
Right to Public Services legislation:
It consists of statutory laws that ensure the timely delivery of services for a variety of government services provided to citizens, as well as a system for disciplining errant public servants who fail to provide the service required by the statute.
Citizen's Charter:
A Citizens' Charter represents the commitment of the Organisation towards standard, quality, and time frame of service delivery, grievance redress mechanism, transparency, and accountability.
In its attempts to create a more responsive and citizen-friendly administration, the Ministry of Personnel, Public Grievances and Pensions Department of Administrative Reforms and Public Grievances coordinates the efforts to formulate and operationalize Citizens' Charters.
E-Governance:
It is defined as the use of information and communication technology (ICT) at all levels of government to provide citizens with services, interact with businesses, and communicate and exchange information between different government departments in a timely, efficient, and transparent manner.
E-Procurement:
Central Public Procurement Portal is a robust and secure platform offering full transparency in public procurement for the Government of India, most States, and Local Governments across India.
Initiatives To Enhance Accountability In India
Lokpal and Lokayukta
In the Republic of India, a Lokpal is an anti-corruption authority or ombudsman agency that represents the public interest.
Lokayukta is appointed by and for each of India's State Governments.
Lokpal has jurisdiction over the central government to investigate charges of corruption against its public officials and other corruption-related matters.
Lokayukta comes into action in a state after the state legislature passes the Lokayukta Act and a person with a good reputation is nominated for the position.
Following Anna Hazare's Jan Lokpal agitation in 2011, the Lokpal and Lokayuktas Act was enacted with revisions in parliament in 2013. Pinaki Chandra Ghose is the current Lokpal Chairperson.
Public Interest Litigation:
Justice P. N. Bhagwati introduced public interest litigation (PIL) as a means of securing public interest and demonstrating the availability of justice to socially disadvantaged parties.
Centralized Public Grievance Redress and Monitoring System (CPGRAMS):
Public Problems Redressal is one of the hallmark efforts for governance reform launched by the Indian central government by addressing the grievances of the general public.
The Department of Administrative Reforms and Public Grievances established CPGRAMS in June 2007.
Any citizen of India can use the public grievance process to bring their problems, grievances, or requests to the attention of national and state government Ministries and Departments.
Central Vigilance Commission (CVC):
The Central Vigilance Commission is the apex vigilance institution, independent of any executive authority, charged with overseeing all vigilance activity under the Central Government and advising various authorities in Central Government organisations on vigilance planning, execution, review, and reform.
Vigilance entails taking clean and timely administrative action to improve staff efficiency and effectiveness, as well as the organisation's overall efficiency and effectiveness, as a lack of Vigilance leads to waste, losses, and economic deterioration.
Comptroller and Auditor General (CAG):
The CAG is a constitutionally mandated person tasked with keeping an eye on the government's finances and operations.
He/she is critical in making the government more transparent and responsible to both the legislature and civil society.
The CAG audits the finances of the federal and state governments, as well as entities that are owned or funded by the government.
The CAG evaluates the performance of various government agencies, enterprises, pieces of legislation, and even welfare programs like the National Rural Employment Guarantee Scheme and the Sarva Shiksha Abhiyan.
Public Accounts Committee:
The Public Accounts Body is a committee of selected members of parliament established by the Indian Parliament to audit the government's revenue and expenditure.
They ensure that parliament has control over the executive, based on the fundamental idea that parliament represents the people's will.
Social Audit in Local Governments
A social audit, in the context of government schemes, is an accountability mechanism that measures, assesses, and identifies gaps in service delivery, as well as pledges to fix those gaps, with the direct participation of intended beneficiaries.
Conclusion
Accountability and transparency are now recognised as crucial tenets for governing democratic democracies. Let's define accountability and transparency before discussing how they are benefited, what they need, and how significant they are. Additionally, accountability will be encouraged if the governance system is adequately transparent. Accountability and transparency should be related to an organization's goal, which should prioritise achieving the public good.
Article written by Aseem Muhammed