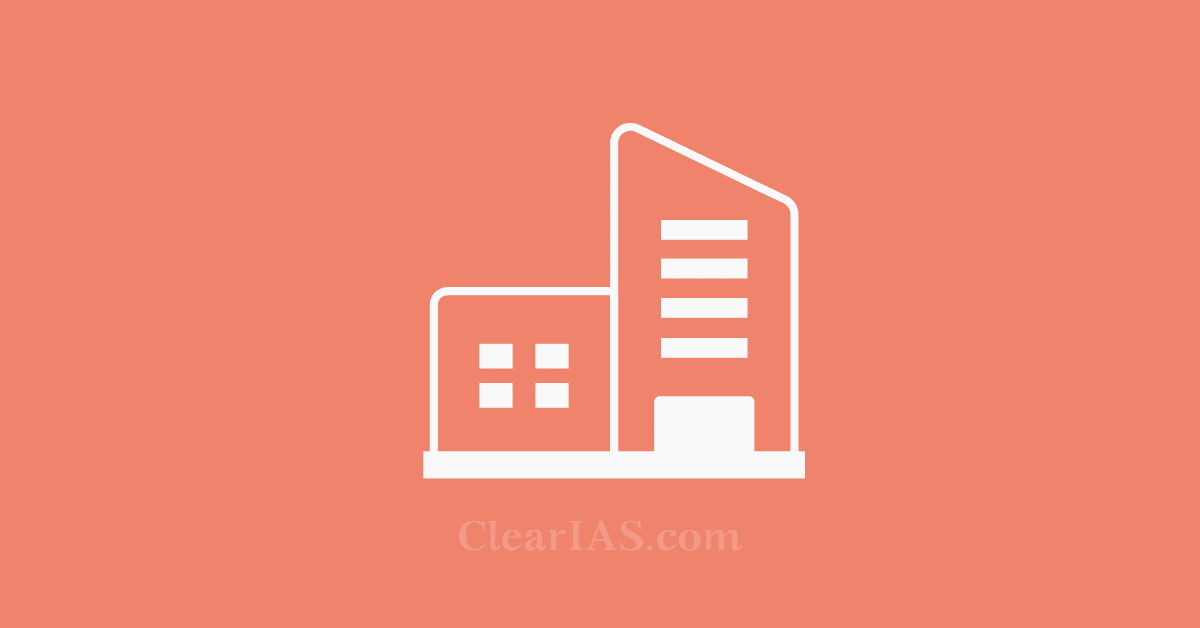 Non Constitutional bodies or Extra Constitutional bodies are authorities or agencies that are not defined in the Indian Constitution.
We have learned about Constitutional Posts and Constitutional Bodies in our Indian Polity notes.
In this post, we shall learn about Non-Constitutional Bodies in India.
What is meant by a Non-Constitutional Body?
A non-constitutional body is an organisation or institution which is not mentioned in the Constitution of India.
Unlike a Constitutional Body, a non-constitutional body does not derive its powers from the Indian Constitution.
Usually, a non-constitutional body derives in powers from corresponding laws passed by the Indian Parliament.
There are also non-constitutional bodies that derive power based on Indian Government Orders (Executive Resolution).
Classification of Non-Constitutional Bodies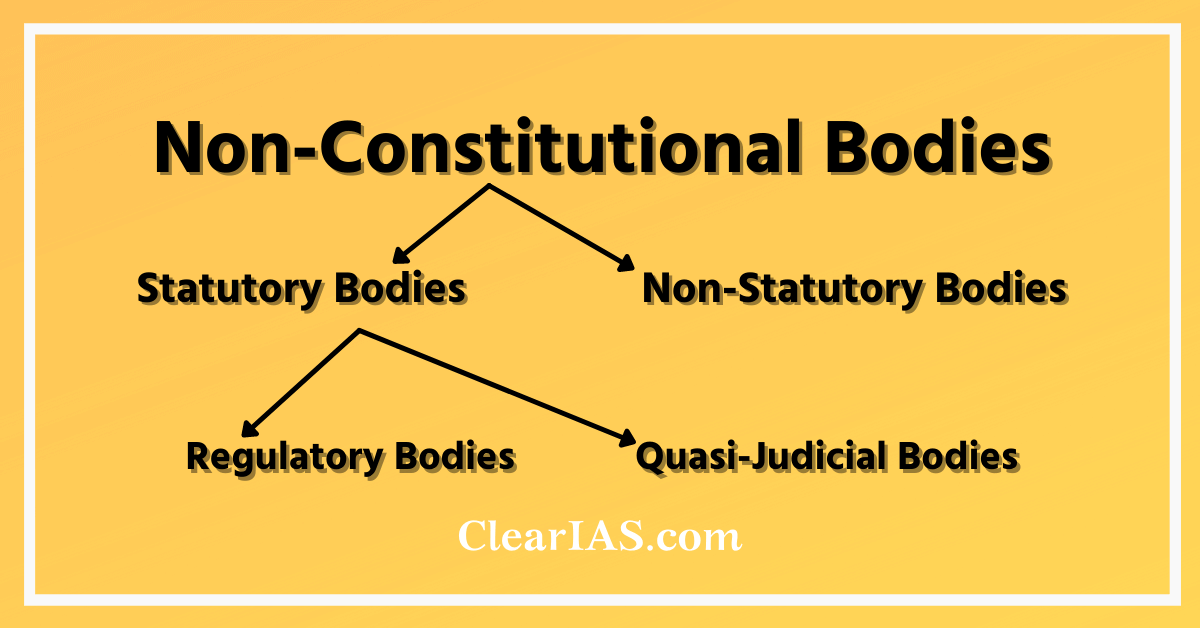 Based on how the body derives its power, non-constitutional bodies can be broadly classified into two – (1) Statutory Bodies (2) Non-Statutory Bodies.
Statutory Bodies – They get the power from a statute (ie an Act enacted by the Legislature). Eg: National Investigation Agency (NIA), National Human Rights Commission (NHRC), Lokpal and Lokayukta etc.
Non-Statutory Bodies – They usually get the power from an Executive order. Eg: NITI Aayog, National Development Council (NDC) etc
Statutory Bodies can be further classified into two based on their roles and responsibilities. They are (1) Regulatory Bodies (2) Quasi-Judicial Bodies.
Regulatory Bodies – A regulatory body is a government agency that is accountable for exercising autonomous authority over some area of human activity in a regulatory or supervisory capacity. However, their regulatory interventions are outside executive observation. Eg: Biodiversity Authority of India (BAI), Pension Fund Regulatory and Development Authority (PFRDA) etc.
Quasi-Judicial Bodies – Quasi-Judicial bodies are non-judicial bodies like Commissions or Tribunals which can interpret the law. They are different from judicial bodies in that their field is limited compared to a court. Eg: National Green Tribunal, National Human Rights Commission, Central Information Commission.
Note: One statutory body can be both regulatory as well as quasi-judicial in nature. Eg: RBI, SEBI etc.
Non-Constitutional Bodies in India (Video Class)
Note: Subscribe to ClearIAS YouTube Channel to learn from more free videos.
List of Non-Constitutional  Bodies in India which are regulatory in nature
RBI – Reserve Bank of India
SEBI – Securities and Exchange Board of India
IRDAI – Insurance Regulatory and Development Authority of India
PFRDA – Pension Fund Regulatory & Development Authority
NABARD – National Bank for Agriculture and Rural Development
SIDBI – Small Industries Development Bank of India
NHB – National Housing Bank
TRAI – Telecom Regulatory Authority of India
CBFC – Central Board of Film Certification
FSDC – Financial Stability and Development Council
FSSAI – Food Safety and Standards Authority of India
BIS – Bureau of Indian Standards
ASCI – Advertising Standards Council of India
BCCI – Board of Control for Cricket in India
AMFI – Association of Mutual Funds in India
EEPC – Engineering Export Promotional Council of India
EICI – Express Industry Council of India
FIEO – Federation of Indian Export Organisation
INSA – Indian National Shipowners' Association
ICC – Indian Chemical Council
ISSDA – Indian Stainless Steel Development Association
MAIT – Manufacturers' Association for Information Technology
NASSCOM – National Association of Software and Service Companies
OPPI – Organisation Of Plastic Processors of India
PEPC – Project Exports Promotion Council of India
PNGRB – Petroleum and Natural Gas Regulatory Board
List of Non-Constitutional  Bodies in India which are quasi-judicial in nature
National Human Rights Commission
National Consumer Disputes Redressal Commission
Competition Commission of India
Income Tax Appellate Tribunal
National Company Law Tribunal
Appellate Tribunal for Electricity
Railway Claims Tribunal
Intellectual Property Appellate Tribunal
Banking Ombudsman
National Green Tribunal
Central Information Commission
SEBI
RBI
Note: 'Quasi' is Latin for "as if." Quasi-Judicial bodies have a partly judicial character.
They possess the right to hold hearings and conduct investigations into disputed claims and alleged infractions of rules and regulations. They make decisions in a similar manner as courts.
UPSC CSE Questions from the topic
1 Question 2019) Consider the following statements:
1. Petroleum and Natural Gas Regulatory Board (PNGRB) is the first regulatory body set up by the Government of India.
2. One of the tasks of PNGRB is to, ensure competitive markets for gas.
3. Appeals against the decisions of PNGRB go before the Appellate Tribunals for Electricity.
Which of the statements given above are correct?
(a) 1 and 2 only
(b) 2 and 3 only
(c) 1 and 3 only
(d) 1, 2 and 3
Answer: (b) 2 and 3 only
2 Question 2019) In India, which of the following review the independent regulators in sectors like telecommunications, insurance, electricity, etc.?
Ad Hoc Committees set up by the Parliament
Parliamentary Department Related Standing Committees
Finance Commission
Financial Sector Legislative Reforms Commission
NITI Aayog
Select the correct answer using the code given below.
(a) 1 and 2
(b) 1, 3 and 4
(c) 3, 4 and 5
(d) 2 and 5
Answer: (a) 1 and 2