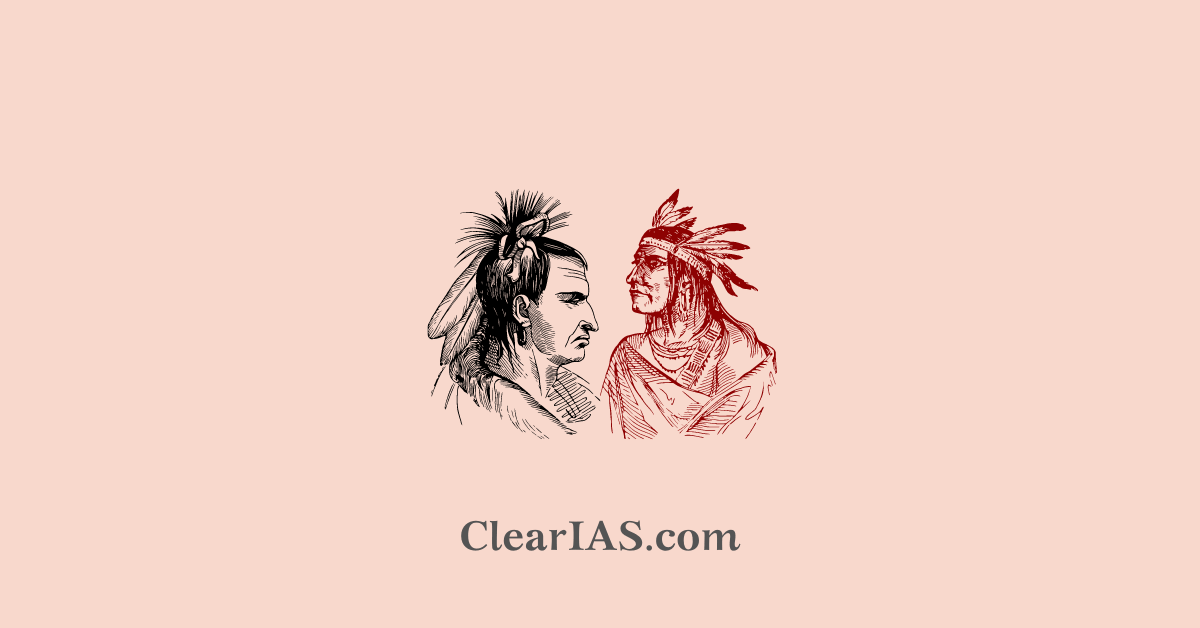 According to the census, Scheduled Tribes constitute 8.6 per cent of the country's total population and 11.3 per cent of the total rural population. Know all about the tribal population here.
The tribes are the indigenous or native inhabitants of the area who are thought to have been the Indian Peninsula's earliest settlers.
They are generally called Adivasis, implying original inhabitants.
A tribe was a self-contained, homogeneous group that existed independently of any hierarchical system.
What is Article 342?
According to article 342 of the Indian Constitution, the President may with respect to any State or Union territory specify the tribes or tribal communities or parts of or groups within tribes or tribal communities as Scheduled Tribes in relation to that State or Union territory.
In the case of a State, it is required to consult the governor of the State.
Moreover, Parliament may by law include in or exclude from the list any tribe or tribal community or part of or group within any tribe or tribal community of Scheduled Tribes.
In pursuance of these provisions, the lists of Scheduled Tribes are notified/published for each State or Union territory and are valid only within the jurisdiction of the State or Union territory and not outside.
Growth of Tribal Population
According to the 1991 census, there were 6.7 Cr. Scheduled Tribes in the country (excluding Jammu and Kashmir), make up 8.08 per cent of the overall population. India's tribal population increased to 10.43 Cr. from 8.43 Cr. in 2001
As per the 2011 census, 10.42 crore Indians are notified as 'Scheduled Tribes' (ST), which constitute 8.6% of countries total population.
The growth of the Scheduled Tribes population was due to the following two reasons:
There has been a rapid natural growth of tribal population, and
The list of Scheduled Tribes has frequently been expanded.
Why Demographic Study of Tribal Population is Difficult?
The use of arbitrary criteria for "scheduling the tribes" has severely harmed the demographic study of tribal populations.
Due to a lack of precise and scientific standards, the research of indigenous people suffers from major abnormalities.
For instance, in Madhya Pradesh, the Gonds are a Scheduled Tribe, whereas, in Uttar Pradesh, they are a Scheduled Caste.
Distribution of Scheduled Tribes
The distribution pattern is characterised by a striking tendency of clustering and concentrating in pockets, making them suffer from isolation and situated in areas where the environmental setting is, by and large, not suitable for settled agriculture.
As a result, the majority of tribal settlements are found in remote regions of the nation that are covered with hills and forests. The tribal groups have created their own distinct traditional way of life. After Independence, however, there was some interaction between tribal and non-tribal people that altered the situation substantially.
The distribution of Scheduled Tribes is markedly different from that of Scheduled Castes.  Scheduled Castes exhibit a very high concentration in the fertile Indo-Gangetic Plain and the Coastal Plains, where they work as agricultural labourers. Scheduled Tribes, on the other hand, tend to concentrate in remote and less hospitable regions.
State Level Patterns
There are wide variations in the state-level distribution of the tribal populations.
While, on one hand, no tribes have been scheduled in Punjab and Haryana, and the union territories of Delhi, Chandigarh and Puducherry; as much as 94.43 per cent of the total population in Mizoram and 94.79 per cent in Lakshadweep belongs to Scheduled Tribes.
Among the 15 major states, Chhattisgarh has the largest proportion of the Scheduled Tribe population at 30.62 per cent followed by Jharkhand at 26.21 per cent.
Further, 71% of India's Scheduled Tribes population is also mostly concentrated in six states: Madhya Pradesh, Maharashtra, Odisha, Gujarat, Rajasthan, and Jharkhand.
Tribal Economy
For the Indian classification of Scheduled Tribes, tribal economy plays a significant role. The following are the tribes' primary economies:
Hunting, fishing and food gathering,
Shifting cultivation and lumbering, and
Sedentary cultivation and animal husbandry.
A brief account of tribes practising these economies is given as under:
Hunting, Fishing and Gathering
A huge number of tribes rely on hunting, fishing, and food collecting and live in isolation in forests. Some of the tribes only engage exclusively in these activities.
A list of a few main tribes engaged in such activities from different states is given-
Raji in Uttar Pradesh;
Kharia, Birhor, Korwa, Pariha and Birgias in Jharkhand;
Kuki in West Bengal;
Hill-Maria in Chhattisgarh,
Juang in Odisha,
Chenchu and Yanadi in Andhra Pradesh and Telangana,
Koya, Reddi, Kadar and Paliyan in Tamil Nadu,
Bhil, Garasia in Maharashtra and Gujarat;
Bhil, Garasia and Sahariya in Rajasthan
Kuki, Konyak and Naga in Assam, Meghalaya, Nagaland and Arunachal Pradesh.
Shifting Cultivation and Lumbering
Shifting cultivation is said to be as old as the history of agriculture itself.
In this kind of farming, an area of forestland is cleared using the slash-and-burn method so that crops can be produced there.
After two to three years, the soil's fertility declines, and the farmer moves to another plot of land. It is termed shifting agriculture. Different regions of the country have different names for them. It is referred to as Jhum or jum.
The main tribes practising shifting cultivation and lumbering are-
Koria, Saharia, Bhutias and Kharwar in Uttar Pradesh,
Korwa and Asur in Jharkhand;
Garo, Mal-Paharia in West Bengal;
Gonda, Baiga, Maria, and Dhora in Chhattisgarh and Madhya Pradesh;
Saora, Khond, Kurumba and Bagola in Andhra Pradesh:
Saora, Keria and Khond in Odisha;
Khond, Gond, Kurumba and Muduwan in Tamil Nadu;
Gharasia and Bhil in Maharashtra and Gujarat;
Sedentary Cultivation and Animal Husbandry
Sedentary farming is a style of agriculture where the farmer grows food primarily for his personal needs, with a little left over to sell on the market.
This is hardly an advanced form of cultivation, and indigenous people typically practise it together with animal husbandry.
The primary tribes that have adopted these occupations include-
Tharu, Khasa, Bhoksa, Maghi, Kol and Bhotias in Uttar Pradesh;
Munda, Ho, Korwa, Oraon, Tamaria, and Santhal in Jharkhand;
Polia, Santhal, and Bhumji in West Bengal;
Parja, Bhatra, Baija and Gond in Chhattisgarh and Madhya Pradesh,
Badaga, Irula, Parga and Malydi in Tamil Nadu,
Badaga, Koya, Irula and Kota in Andhra Pradesh and Telangana;
Bhil, Dubla, Raiwari, Barali, Koli, Dhamalia, etc. in Maharashtra and Gujarat,
Bhil, Garasiya and Meena in Rajasthan.
Article Written By: Priti Raj