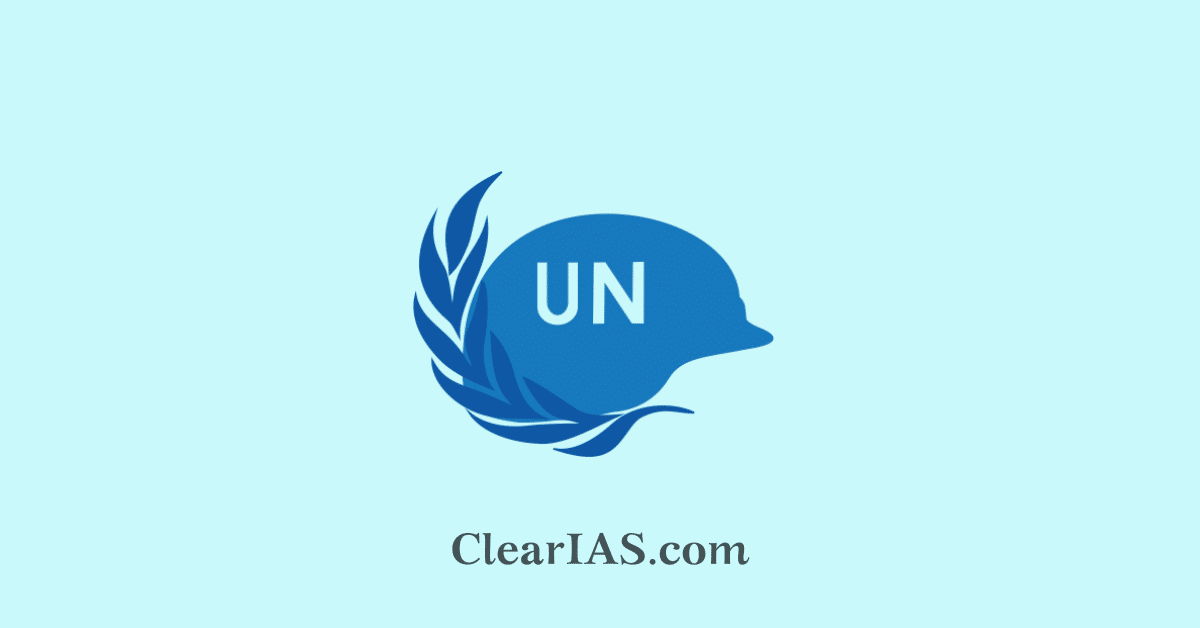 The UN peacekeeping marks its 75th anniversary this year and a yearlong campaign has been organized for the same. UN Peacekeeping has been one of the most important tools for mitigating conflict and promoting peace and security around the globe. Read here to learn more.
The Department of Peace Operations of the UN plays the function of peacekeeping as an "instrument developed by the organization as a way to help countries torn by conflict to create the conditions for lasting peace".
Although the United Nations acknowledges that all actions are "mutually reinforcing" and that overlap between them is common in practice, it is separated from peacebuilding, peacemaking, and peace enforcement.
The theme of the 75th anniversary "Peace begins with me" recognizes the service and sacrifice of peacekeepers, past and present. It also pays tribute to the resilience of the communities that we serve, who continue to strive for peace despite many obstacles.
UN Peacekeeping
In 1948, the first UN peacekeeping mission, "UN Truce Supervision Organisation (UNTSO)" began operations in Palestine.
Peacekeepers support former combatants in carrying out any peace accords they may have signed while monitoring and documenting peace processes in post-conflict areas.
Such aid can take many different forms, such as separating former combatants, establishing power-sharing agreements, supporting election processes, enhancing the rule of law, and promoting economic and social growth.
Accordingly, military people, law enforcement officers, and civilians can all be UN peacekeepers, sometimes known as "Blue Berets" or "Blue Helmets" because of their light blue berets or helmets.
The UN has no standing army or police force of its own, and Member States are asked to contribute military and police personnel required for each operation.
Peacekeepers wear their countries' uniforms and are identified as UN peacekeepers only by a UN blue helmet or beret and a badge.
Civilian staff of peace operations are international civil servants, recruited and deployed by the UN Secretariat.
Three basic principles continue to set UN peacekeeping operations apart as a tool for maintaining international peace and security.
These three principles are inter-related and mutually reinforcing:
Consent of the parties
Impartiality
Non-use of force except in self-defense and defense of the mandate
Consent of the parties
UN peacekeeping operations are deployed with the consent of the main parties to the conflict.
This requires a commitment by the parties to a political process. Their acceptance of a peacekeeping operation provides the UN with the necessary freedom of action, both political and physical, to carry out its mandated tasks.
In the absence of such consent, a peacekeeping operation risks becoming a party to the conflict, being drawn towards enforcement action, and away from its fundamental role of keeping the peace.
Impartiality
Impartiality is crucial to maintaining the consent and cooperation of the main parties, but should not be confused with neutrality or inactivity.
United Nations peacekeepers should be impartial in their dealings with the parties to the conflict, but not neutral in the execution of their mandate.
Non-use of force except in self-defense and defense of the mandate
UN peacekeeping operations are not an enforcement tool. However, they may use force at the tactical level, with the authorization of the Security Council, if acting in self-defense and defense of the mandate.
The Security Council has a vital role in securing this commitment and cooperation while providing missions with realistic and clear mandates.
Peacekeepers protect civilians, actively prevent conflict, reduce violence, strengthen security, and empower national authorities to assume these responsibilities.
This requires a coherent security and peacebuilding strategy that supports the political strategy.
UN peacekeeping helps host countries to become more resilient to conflict, laying the groundwork to sustain long-term peace, including by addressing the root causes of conflict.
Functions of UN Peacekeeping
UN peacekeeping is also committed to working smarter and using modern technology as well as other innovations. All of this allows our peacekeepers to:
Protect civilians
Prevent conflicts
Build Rule of Law and security institutions
Promote human rights
Empower women
Deliver field support
Peacekeepers are called upon not only to maintain peace and security but also to facilitate the political process, protect civilians, and assist in the disarmament, demobilization, and reintegration of former combatants.
They also play a key role in supporting democratic efforts such as organizing elections, protecting and promoting human rights, and assisting in the creation and restoration of the rule of law.
Peacekeeping in Africa
Africa continues to have more peacekeeping missions than any other continent. Since 1960, there have been more than thirty UN peacekeeping missions across Africa, the most of any region.
India and Peacekeeping
India has a rich legacy of contribution to UN Peacekeeping operations and is one of the largest contributors of troops.
It has contributed approximately 2,75,000 troops to peacekeeping missions so far, with around 5,900 troops currently deployed in 12 UN Missions.
Indian Army personnel have operated under difficult conditions in challenging terrains and have displayed exemplary professionalism, humane approach, courage, and valor, to the extent of making the supreme sacrifice to defend the UN mandates.
159 Indian Army soldiers have made the supreme sacrifice to ensure peace across the globe.
Apart from the current deployment, India has pledged one Infantry Battalion Group and Corvette with Helicopter, as hard power and an Engineer Company & Signal Company as Force enablers, to be deployed at the behest of the UN.
The Indian Army has established a Centre for UN Peacekeeping (CUNPK) in New Delhi to impart niche training in peacekeeping operations.
In keeping with the need for women peacekeepers in conflict areas under UN mandate, India has deployed Female Engagement Teams (FETs) in MONUSCO and UNISFA (the second largest women contingent after Liberia).
India has also deployed Women Military Police in UNDOF and women staff officers / military observers in various missions.
Criticism
UN peacekeeping missions on the continent have been criticized for a wide range of problems, including mismanagement, failure to act when civilians are under threat, rights abuses by peacekeepers, and financing troubles.
Peacekeeping forces have also been accused of committing human rights abuses, including pervasive allegations of sexual abuse and exploitation.
Though UN investigations into such allegations have increased in recent years, very few lead to prosecutions and none has resulted in a public conviction.
UN peacekeepers have immunity from prosecution in the countries where they are deployed, leaving their home countries to undertake legal action.
Some critics argue that peacekeeping missions are too costly given their mixed success, and that they are too reliant on funding from a few major donors.
The veto power of the Security Council's permanent members can delay or weaken peacekeeping mandates, such as in Sudan's Darfur region.
Conclusion
The challenges faced by peacekeepers are greater than ever, with rising global tensions, more complex conflict, and a proliferation of misinformation and disinformation, which impedes their work and threatens their safety.
Despite these obstacles, peacekeepers persevere, alongside many partners, in the collective pursuit of peace.
More than fifty thousand troops are deployed for UN operations in Africa and tens of thousands more are deployed for regionally led missions in countries where civil wars and insurgencies have killed civilians and threatened to destabilize surrounding regions.
Reports of sexual and other abuses by UN peacekeepers have drawn particular condemnation in recent years and prompted some reforms.
Still, heated debate persists about how to make these missions more effective, such as by looking to non-UN initiatives to bring peace to conflict-stricken parts of Africa.
In 2018, UN Secretary-General Antonio Guterres launched the Action for Peacekeeping (A4P) initiative.
It focuses on developing more targeted peacekeeping mandates with clear political strategies, improving the safety of peacekeepers as well as civilians in mission areas, and better training troops.
In tandem, the Security Council unanimously adopted a resolution aimed at improving leadership and accountability in peacekeeping, in response to the reports of sexual exploitation and abuse by peacekeepers.
-Article written by Swathi Satish