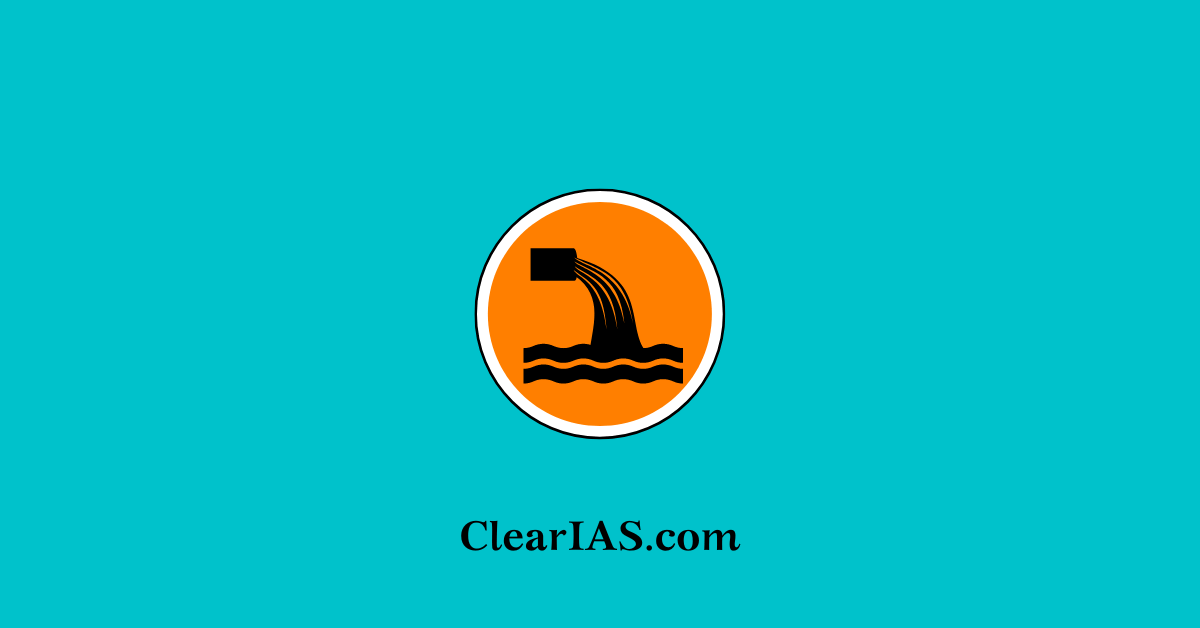 What are the initiatives of the government to prevent water pollution? Read to know more about water pollution prevention methods and agencies.
Since water is a state subject and it is the duty of the States/Union Territories (UTs) to take the necessary steps to control water pollution.
The government of India's role is limited to setting standards, offering technical help, and, occasionally, providing partial financial aid in accordance with existing schemes.
A depth understanding of water pollution its effect and its measures are mentioned below.
Groundwater Pollution
Central Ground Water Board (CGWB) generates groundwater quality data for the country as part of its groundwater quality monitoring program and scientific studies.
These studies show that in many States and UTs, levels of pollutants such as fluoride, arsenic, nitrate, iron, and heavy metals beyond the permissible limits are present.
The majority of the groundwater contamination is geogenic in origin and has not changed significantly over time.
Nitrate contamination, on the other hand, is mostly the result of human activity, and some places, particularly those close to inhabited areas, have seen an increase in its presence. Furthermore, overuse of fertilisers can also result in nitrate contamination.
Key Findings
According to the Central Pollution Control Board's (CPCB) most recent study, 351 polluted stretches were identified on 323 rivers based on monitoring results in terms of Bio-chemical Oxygen Demand (BOD), which is an indicator of organic pollution.
Eight states comprise almost 60% of polluted river stretches. Those states are- Maharashtra, Assam, Madhya Pradesh, Kerala, Gujarat, Odisha, West Bengal and Karnataka. Among all, Maharashtra has the maximum number of polluted river stretches in the country.
The massive amount of sewage that is released into rivers untreated or partially treated contaminates waterways by raising their biological oxygen demand.
Biological Oxygen Demand
Biological Oxygen Demand is the quantity of dissolved oxygen required by microorganisms for aerobic decomposition  (in the presence of oxygen) of organic materials (waste or pollution).
The BOD increases with the amount of organic matter present (e.g., in sewage and polluted bodies of water). Therefore, the BOD is a trustworthy indicator of the organic pollution of a water body.
One of the main reasons for treating wastewater prior to its discharge is to reduce its need for oxygen and thereby lessen its demand.
Water Body Regulating and Monitoring Agency
The water quality of the country's various rivers is regulated by several agencies such as-
Central Pollution Control Board (CPCB)
State Pollution Control Boards (SPCBs)
Pollution Control Committees (PCCs)
Central Water Commission (CWC)
Causes of Water Pollution
Various factors are responsible for the pollution of water and the deterioration of water quality.
According to the Central Pollution Control Board and the Ministry of Environment, Forest, and Climate Change, encroachments caused by population growth, urbanisation, and encroachment have led to a decline in water bodies over time.
The main causes of river pollution in the country are discharges of partially and untreated sewage from cities and towns and industrial effluents into their respective catchments, issues with the operation and maintenance of sewage/effluent treatment plants, a lack of dilution, and other non-point sources of pollution.
River pollution is also a result of non-point sources of pollution such as agricultural runoff, open defecation, runoff from solid waste dump sites, etc.
Government's stand to Control Industrial Pollution
According to the provisions of the Water (Prevention & Control of Pollution) Act of 1974 and the Environment (Protection) Act of 1986, industrial units must install effluent treatment plants (ETPs) and treat their effluents to meet specified environmental standards before discharging into rivers and other bodies of water.
As a result, the CPCB, State Pollution Control Boards (SPCBs), and Pollution Control Committees (PCCs) keep an eye on industries' compliance with effluent discharge standards and take appropriate legal action in the event of non-compliance with these Acts' provisions.
Additionally, the industries are urged to maintain Zero Liquid Discharge (ZLD) whenever possible, enhance technology to reduce waste water output, reuse wastewater, and recycle wastewater.
State Governments have the primary responsibility to monitor, as well as take corrective actions, regarding pollution of water sources by industries or mines.
Deaths Due to Lack of Clean Water
According to the 2018 Composite Water Management Index (CWMI) study from NITI Aayog, around two lakh people per year die as a result of insufficient access to clean water.
According to the same NITI Aayog report, over 600 million people or 40% of India's projected population may experience water stress by 2030.
Measures Taken by the Government to prevent water pollution
Various programmes have been launched by the Government of India for the conservation and protection of rivers and water bodies in the country.
National River Conservation Programme (NRCP)
National Lake Conservation Programme (NLCP)
Atal Mission for Rejuvenation and Urban Transformation (AMRUT)
Smart Cities Mission
Mahatma Gandhi National Rural Employment Guarantee Scheme (MGNREGS)
Repair, Renovation and Restoration (RRR) schemes
(1) National River Conservation Programme (NRCP)
The Ministry of Environment and Forests (MoEF) National River Conservation Plan (NRCP) aims to protect rivers from pollution and enhance water quality.
(2) National Green Tribunal
The concerned States and Union Territories (UTs) are trying to implement Action Plans for the restoration of water quality in the identified polluted stretches of rivers in accordance with the directives of the National Green Tribunal.
(3) Jal Jeevan Mission
Since August 2019, the Indian government has been working with the states to carry out the Jal Jeevan Mission (JJM), which aims to provide drinkable tap water to every rural home in India by 2024, including those in habitations where the water quality is poor.
Children are especially sensitive to water-borne diseases and contamination in drinking water. A particular effort was started in 2020 to make the provision of potable tap water supply in schools, Anganwadi centres, ashram shalas, etc. on a priority basis.
As a result, 8.52 lakh (83%) schools and 8.76 lakh (78.4%) Anganwadi centres across the country now have access to tap water.
(4) National Lake Conservation Programme (NLCP)
The National Lake Conservation Plan (NLCP) is being implemented by the Ministry of Environment and Forests to manage and conserve contaminated and degraded lakes in urban and semi-urban areas.
Its objective was to conserve aquatic ecosystems (lakes and wetlands) by putting long-term conservation plans into action that were guided by uniform policies and standards.
(5) Atal Mission for Rejuvenation and Urban Transformation (AMRUT)
Atal Mission for Rejuvenation and Urban Transformation (AMRUT) was established with the intention to make sure that every home has access to a water tap with a reliable water supply and a sewer connection.
Way Forward
The government has taken several initiatives to control water pollution but further changes are also important. A few of them are-
The minimum flow of the river is necessary to preserve and it is important to restore the aquatic health and ecosystem. A minimum river flow is necessary for the discharge of treated sewage.
Citizen involvement and engagement are essential for overhauling the waste management industry and bringing about the necessary behavioural change.
A comprehensive waste management policy is required, one that emphasises the importance of decentralised garbage disposal procedures since this will encourage private actors to participate.
It's critical that bioremediation, or the use of microbes to purify contaminated soil and water, become mandated in all regions where it is possible.
Article Written By: Priti Raj