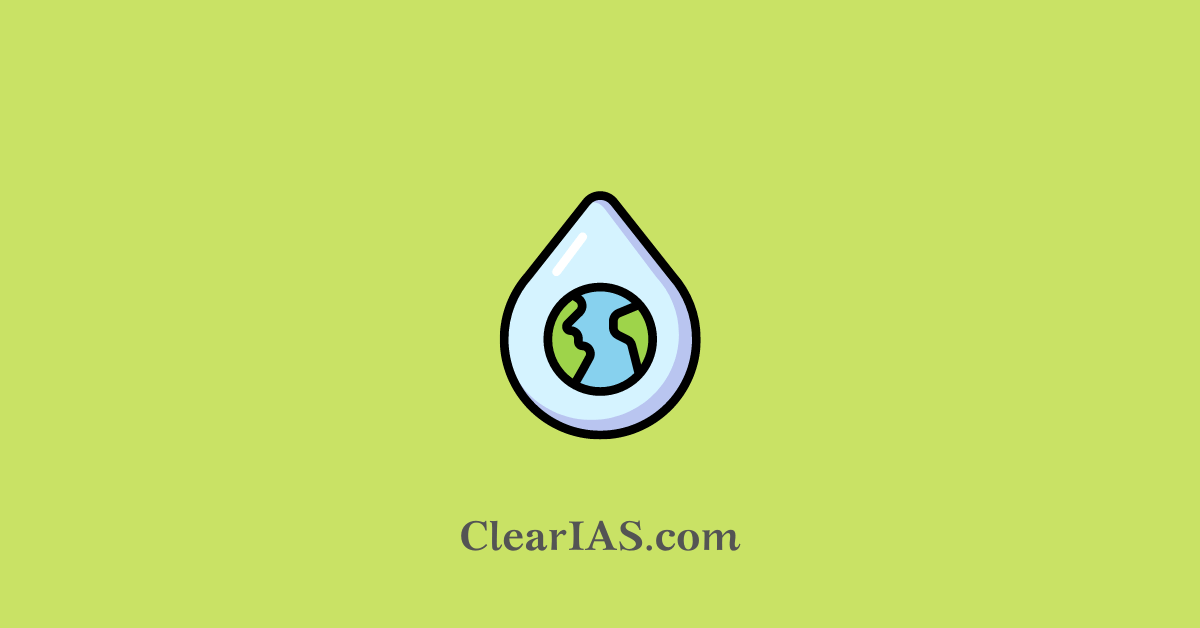 India has 16% of the global population but only 4% of the freshwater resources. Several reasons intensify groundwater depletion which is detailed below.
In India, there is a lack of fresh water, but there is also a long-standing increase in groundwater exploitation.
The need for groundwater for agriculture has expanded since the 1960s as a result of the government's encouragement of the "green revolution" to secure food security. To meet this demand, there are now more borewells than ever before because of rapid rural electrification and the accessibility of modern pump technologies.
According to the Central Groundwater Board of India, 17% of groundwater blocks are overexploited, meaning that the rate at which water is extracted is higher than the rate at which the aquifer can recharge.
Groundwater resources, which support over 60% of irrigated agriculture and around 85% of domestic water supply in rural areas and 45% of it in urban areas, are already under pressure from groundwater pollution and the effects of climate change.
Reasons for Groundwater Depletion
There are several natural and anthropogenic reasons for the depletion of groundwater. Some of the important reasons are-
Agricultural crop pricing and water-intensive crops
The primary cause of over-exploitation has been the rising demand for groundwater from agriculture. A shift toward water-intensive or cash crops for financial gain has become a reason for the depletion of groundwater.
Energy subsidies and groundwater extraction
The practice of giving power subsidies to agriculture has been a significant contributor to India's declining water levels. A total of 89% of the groundwater extracted in 2009 was used for irrigation, while 11% of it was used for home and industrial purposes. The availability of cheap/subsidized power in many regions encourages further extraction of this resource.
In order to limit water consumption in agriculture, the Commission on Price Policy for Kharif Crops (2015–16) has suggested setting quantitative restrictions on both water and power use per hectare.
Inadequate regulation of groundwater law
In most urban and rural regions, private ownership of groundwater is common due to the lack of regulations that prevent excessive exploitation of this resource, which has made the problem worse.
Green Revolution
Groundwater was over-extracted as a result of the Green Revolution, which allowed for the cultivation of crops that required a lot of water in areas that were prone to drought and water shortages.
Quality of groundwater
In its Performance Audit of Water Pollution in India, 2011–12, the Comptroller and Auditor General (CAG) of India noted that despite increasing contamination of groundwater sources and the presence of contaminants like arsenic, nitrate, fluoride, salinity, etc., no program is being implemented at the central or state level to control pollution and restore groundwater.
High MSP (Minimum Support Price)
High MSP draws farmers' attention toward those crops for which MSP is provided by the government. That includes cash crops and other crops that require intensive irrigation, which further deteriorated the condition of groundwater.
Groundwater contamination
The presence of specific pollutants in groundwater that exceed the limits set for drinking water is referred to as groundwater contamination. Groundwater depletion is also a major cause of contamination.
The commonly observed contaminants include arsenic, fluoride, nitrate, and iron. Bacteria, phosphates, and heavy metals are additional contaminants that are brought on by human activity, such as residential sewage, agricultural practices, and industrial effluents.
Landfill pollution, septic tank leaks, leaking underground gas tanks, and excessive fertilizer and pesticide use are a few of the sources of contamination.
It has been noted that around 60% of all districts in the country have problems with either groundwater availability, groundwater quality, or both.
Common Groundwater Contaminants
Nitrates: The most common groundwater contamination is dissolved nitrate. A high amount can speed up eutrophication in surface waters and induce the child condition "blue baby disease" (methemoglobinemia). sewage, fertilizers, air pollution, landfills, and industries are some sources of nitrates.
Pathogens: bacteria and viruses that cause water-borne illnesses include cholera, dysentery, polio, and hepatitis, as well as typhoid and cholera. sewage, landfills, septic tanks, and animals are some sources.
Trace metals: consist of Nickel, Copper, Chromium, Lead, Mercury, and Cadmium. These metals are potentially harmful and carcinogenic. Sources include the discharges from industrial and mining operations as well as the fallout or ash pond disposal of fly ash from thermal power plants. industrial solid waste dumping and leaching into groundwater via rainwater.
Inorganic Constituents: If people use groundwater as a drinking source, the accumulation of inorganic dissolved salts like SO4, Chloride, etc. along with Na, and K, building up high dissolved solids and a combination of Carbonates, Bicarbonates along with Ca and Mg building up the high hardness of water and converting soft/sweet water into hard water will cause gastrointestinal problems in people.
Organic compounds: include organic substances that are volatile or semi-volatile, such as pesticides, PCBs, and petroleum derivatives. Among the sources include industrial discharges, spills, sewage landfills, street drainage systems, and agricultural activities.
Measures Taken to Control Groundwater Depletion
Since water is a state subject, each state government is largely responsible for taking action to increase, conserve, and manage water resources effectively.
The Central Government offers technical and financial support to the State Governments through a variety of schemes and programs to supplement their efforts in the field of water harvesting, groundwater depletion, and contamination.
The Central Government has taken a number of actions to guarantee water security in different regions of the country.
Central Ground Water Authority (CGWA): Under Section 3 (3) of the "Environment (Protection) Act, 1986," the Central Ground Water Authority (CGWA) was established with the goal of regulating and overseeing groundwater development and management throughout the country. The CGWA has recommended States and UTs to develop policies that will encourage artificial groundwater recharge and rainwater collection.
Central Ground Water Board: CGWB's "Master Plan for Artificial Recharge to Ground Water in India" 2013- The Master Plan calls for the construction of 1.11 crore artificial recharge and rainwater harvesting structures across the country. The increased groundwater resources will increase the supply of water for irrigation, residential use, industry, and drinking.
Jal Shakti Abhiyan (JSA): a time-limited initiative using a mission-mode strategy to enhance groundwater conditions in the water-stressed blocks of 256 districts in India. The "Jal Shakti Abhiyan – Catch the Rain" campaign has also been introduced.
National Water Policy (2012): It emphasizes the necessity of increasing water availability through the direct use of rainwater and was developed by the Department of Water Resources. In addition, encroachment and diversion of water bodies and drainage systems must not be permitted, and when they have occurred, they must be adequately restored and maintained.
Atal Bhujal Yojana: In the areas that have been identified as being overexploited and experiencing a water shortage, the Atal Bhujal Yojana (ABHY) scheme, which is co-funded by World Bank funding- is being implemented.
Article Written By: Priti Raj