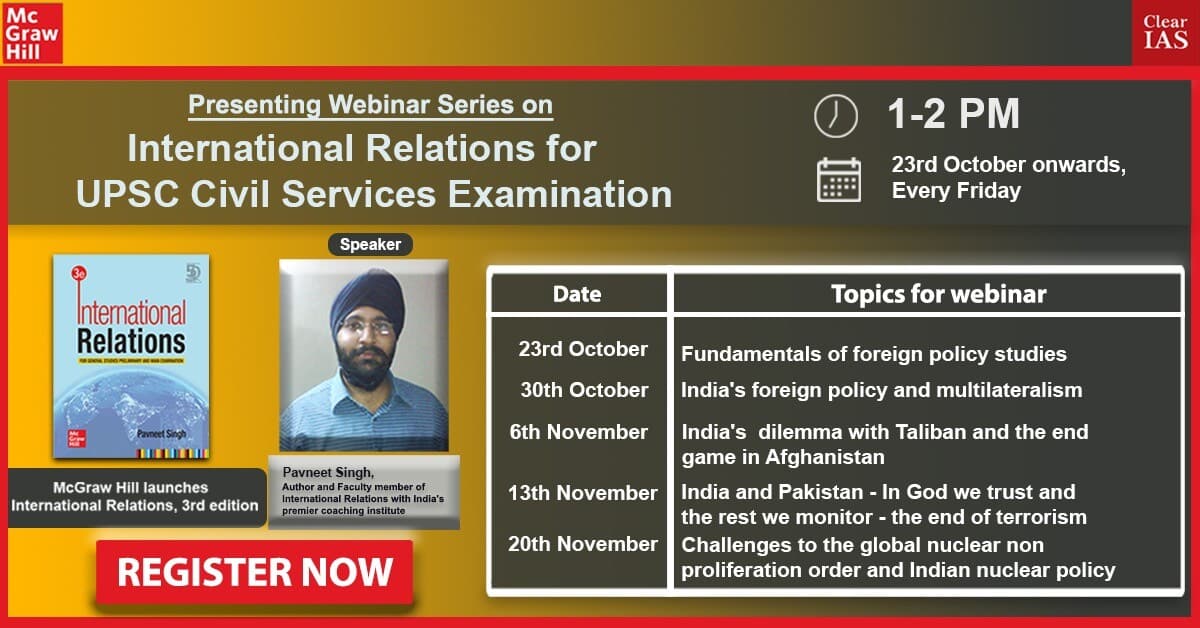 Register to attend the webinar series on International Relations by Pavneet Singh (FREE). Learn from the expert in foreign affairs.
ClearIAS in partnership with McGraw Hill is presenting a webinar series on International Relations for UPSC Civil Services Examination.
The LIVE classes will be handled by Mr. Pavneet Singh, author of the book 'International Relations' published by McGraw Hill. (Click to buy from Amazon).
Update: Click here for the login link of the latest webinar.
Series of 5 Webinars (LIVE Classes)
The peculiarity of the program, is that this will not be just 1 webinar, but a series of 5 webinars. All webinars will be conducted free for all registered aspirants.
Live classes will be conducted on the following topics on every Friday from October 23, 2020.
Fundamentals of foreign policy studies
India's foreign policy and multilateralism
India's relationship with the Taliban and the end game in Afghanistan
India and Pakistan – In God we trust and the rest we monitor
Challenges to the global nuclear non-proliferation order and Indian nuclear policy
How to register for the Webinar Series on International Relations by Pavneet Singh?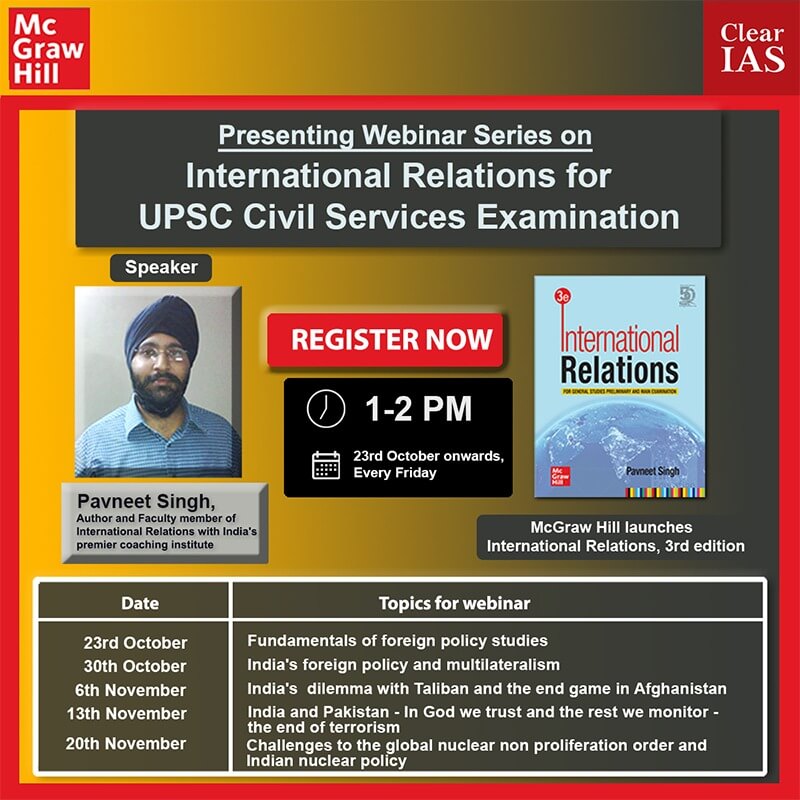 Click here to register for the webinar.
You can register for an individual session or for all 5 webinars together.
Once registered, you can log in using this link.
We hope the sessions will be useful for aspirants preparing UPSC Mains 2020 as well as aspirants preparing for UPSC 2021.
As seats are limited, hurry to book your slots.
About Pavneet Singh
Pavneet Singh is an expert in International Relations, Internal Security and Current Affairs. As a reputed faculty on International Relations, he has years of experience in teaching UPSC aspirants.
He has successfully guided numerous successful Civil Services aspirants, who at present serve in different capacities in the Government of India, ranging from officers in the Indian Administrative Service, Indian Police Service to officers in covert units of Intelligence Bureau and field operations of Research & Analysis Wing.
He has garnered all the experience of his teaching years into a best-selling textbook for International Relations, published by McGraw Hill Education. (Click to buy from Amazon).