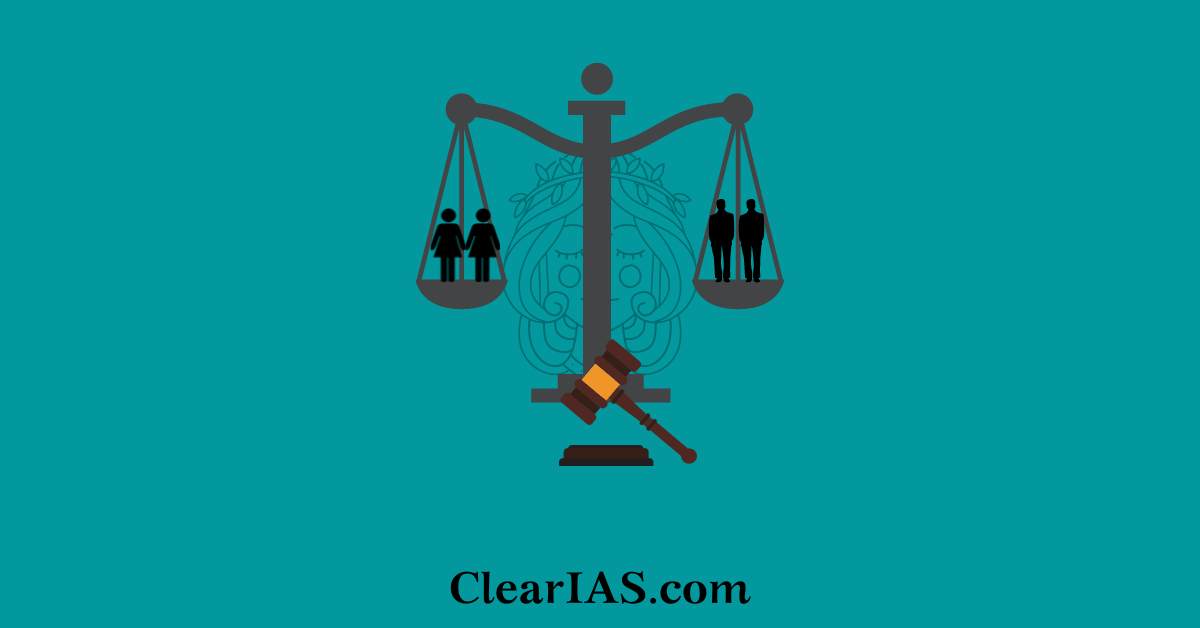 What is the status of women in the judiciary? What are the challenges faced by women in the judiciary? Read further to know more.
Several institutional and structural factors have hampered women's representation in the judiciary. It is critical to address this disparity in order to ensure equitable access to justice.
Justices Hima Kohli and Bela M Trivedi have been appointed to the bench by Chief Justice of India D Y Chandrachud. The Supreme Court first had an all-female bench in 2013; the next time was in 2018.
At the moment, only three of the Supreme Court's 27 judges (out of a total of 34) are women. This reflects the skewed representation of women in the legal system.
Also read: Judicial infrastructure in India
What is the Status of Women in the Judiciary?
The status of women in the judiciary in India has improved in recent years, but there is still room for improvement. According to data from the National Judicial Data Grid, as of December 2020, women make up approximately 11% of the total number of judges at the district court level, and around 8% at the high court level.
Although this is a small percentage, it represents a significant increase from a decade ago. However, women are under-represented in the higher judiciary, with only around 6% of judges in the Supreme Court of India being women.
Also, read Judicial appointments in India.
High Courts: 11.5% of judges in High Courts are female.
Only 17 of the 37 women who were recommended by the Supreme Court Collegium for appointment as high court judges have actually been given the job as of yet; the other names are still being processed by the national government.
Collegium has thus far recommended 192 candidates for the high courts.
A total of 37 of them, or 19%, were women.
Subordinate Courts: About 30 percent are women judicial officers in subordinate courts.
Advocates: Of the 1.7 million advocates, only 15% are women.
Bar Council: Only 2% of the State Bar Council's elected officials are women. The Bar Council of India has no female members.
There are also initiatives and efforts being made in India to increase the representation of women in the judiciary. For example, the Indian government has set a goal of having at least 33% of all judicial positions filled by women.
In addition, the judiciary is also making efforts to address bias and discrimination against women in the legal profession and to create a more gender-sensitive environment in the courts.
However, the progress is slow, and significant challenges still exist, such as a lack of women representation in recruitment, lack of opportunities for career development and advancement, and unconscious bias.
Also read: History of Indian Judiciary
What is the significance of women's representation in the judiciary?
Having women represented in the judiciary is important for a number of reasons:
Fairness and equality: Representation of women in the judiciary helps to ensure that the perspectives and experiences of all members of society are taken into account when making decisions, which can lead to more fair and just outcomes.
Breaking down stereotypes: Women's representation in the judiciary can serve as a powerful symbol of gender equality and can help to break down stereotypes and biases that may exist in the legal system.
Need for diversification: Diversification brings positive institutional changes, and the judiciary needs to be more diverse.
Role models: Women judges can serve as role models for young women and girls, encouraging them to pursue careers in law and leadership.
Improved decision-making: Research suggests that having more women in the judiciary leads to better decision-making and improved legal reasoning. Studies have found that more diverse groups tend to make more creative, innovative, and robust decisions.
Balanced justice delivery system: The presence of women as judges and lawyers will substantially improve the justice delivery system.
Cultural perspective: Representation of women in the Judiciary brings in different life experiences and cultural practices which can be a key factor in understanding the nuances of the society and thus help in providing a more holistic approach towards decision making.
Legitimacy: The judiciary will not be trusted if it is viewed as a bastion of elitism, exclusivity, and privilege. Therefore, the presence of women is essential for the legitimacy of the judiciary.
Balanced and empathetic approach: Improving the representation of women in the judiciary could go a long way toward a more balanced and empathetic approach in cases related to sexual violence. The issue of gender sensitization has been raised many times, especially in cases where male judges failed to show empathy for female victims.
Overall, having a more diverse judiciary that includes women can help to create a more fair, just, and equitable legal system for everyone.
Challenges of women in the judiciary?
There are a number of challenges that women face in the judiciary, including:
Stereotypes & lack of infrastructure: The previous Chief Justice Ramana noted that barriers to entry and advancement for women in the legal profession include a lack of infrastructure, gender stereotypes, and social attitudes.
"Clients' preferences for male attorneys, an unsettling atmosphere in courtrooms, a lack of infrastructure, crowded courtrooms, a lack of restrooms for women, etc. all discourage women from entering the profession.
According to the study, there are only about 22% of the 6,000 trial courts without women's restrooms.
Gender bias: Women in the judiciary may face unconscious bias and discrimination from colleagues, clients, and other members of the legal community. This can make it harder for them to be taken seriously and can impede their advancement in their careers.
Work-life balance: Women in the judiciary may face additional challenges in balancing their work and personal responsibilities, as the demands of the job can be intense and require long hours. This can make it harder for women to advance their careers and can contribute to burnout.
Male-dominated appointment structure: Currently, there are many women candidates who are deserving of being appointed as judges, but the main issue is the Supreme Court's male-dominated collegium structure.
Hostile environment in the courtroom: It is very difficult for female litigators to advance professionally because of the hostile and sexist environment at the highest courts.
Domestic duties: Despite being offered judgeships in the past, many women's rights advocates turned them down due to their domestic duties.
Lack of representation: Women are underrepresented in the judiciary, particularly at the higher levels. This can make it harder for women to find role models and mentors and can make it harder for them to be seen as qualified candidates for leadership positions.
Glass ceiling: Women in the judiciary may hit a "glass ceiling" where they become stuck at a certain level in their careers, even if they are highly qualified, this is due to the lack of representation and bias.
Harassment: Women in the judiciary also face a higher risk of harassment and assault, which can make the workplace an inhospitable environment.
These challenges can make it more difficult for women to succeed in the judiciary, but with more and more women entering the profession and advocating for change, the system is slowly but surely moving towards a more inclusive, equitable and fair environment.
What are the Reasons for Low Women's Representatives?
There are several reasons why women are underrepresented in politics, including:
Patriarchy in Society: The patriarchal nature of society is the main cause of the underrepresentation of women in the judiciary.
Courtrooms frequently have hostile environments for women. Other traumatic experiences that are frequently related by many women lawyers include harassment, a lack of respect from the bar and the judiciary, and being told what to say and what not to say.
Opaque Collegium System: Because entry-level positions in the lower judiciary are filled through entrance exams, more women tend to do so.
The collegium system used by the higher judiciary, however, has a history of being more opaque and therefore more likely to reveal bias.
No Women's Reservation: The High Courts and Supreme Court do not have reservation policies for women, which are common in lower levels of the judiciary in many states.
As a result of this reservation, states like Assam, Andhra Pradesh, Telangana, Odisha, and Rajasthan now have 40–50% female judicial officers.
Family Responsibilities: The promotion of female judges from the lower courts to the higher courts is also influenced by factors related to age and family obligations.
Lack of role models and mentorship: Without female political leaders to look up to and learn from, it can be difficult for women to envision themselves in those roles.
Unequal access to resources: Women tend to have less access to financial resources and networks that can be used to run for office.
Bias in the political process: Research has shown that women face bias in the political process, from the media to the voting booth, which can make it harder for them to win elections.
Not Enough Women in Litigation: Given that judges in the high courts and Supreme Court are largely comprised of lawyers who were elevated from the bar to the bench, it is important to note that the number of women attorneys is still low, which limits the pool from which women judges can be chosen.
Judicial Infrastructure: The lack of judicial infrastructure is another barrier that prevents women from entering the field of law.
Obstacles include small, crowded courtrooms, and a lack of restrooms, and childcare facilities.
Way Forward
A fixed percentage of women judges in the higher judiciary must be maintained and promoted in order for India's judicial system to evolve into one that is gender-neutral.
By raising awareness and emphasizing inclusivity, it is necessary to bring about institutional, social, and behavioral change among India's population.
The legal profession ought to be a symbol of gender equality because it is a gatekeeper of equality and a profession dedicated to upholding rights.
A court may be more open to considering itself in a new light and more likely to undergo further modernization and reform if its long-standing demographics are altered.
Conclusion
There has been a steady improvement in the representation of women in the judiciary. But despite recent progress, bias against women in the legal system still exists.
To eliminate the bias and create a truly representative judiciary, institutional reforms, and social change are both required.
Also read: History of Indian Judiciary
Article Written by: Remya