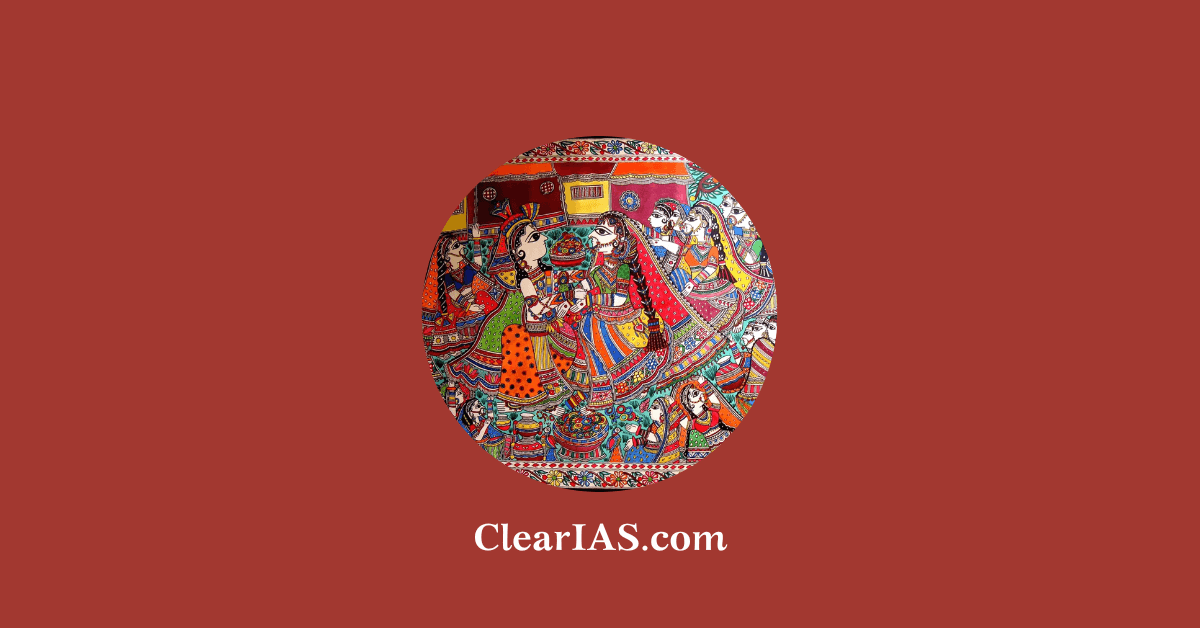 What are the salient aspects of art forms, literature, and architecture from ancient to modern times? Read further to know more about it.
Art forms can be broadly classified into three – (1) visual arts (2) performing arts (3) literary arts.
Visual arts include architecture, sculpture, painting, ceramics, etc.
Performing arts including dance, music, theatre, etc.
Literary arts include poetry, prose, etc.
Also read: Indian Folk paintings
Visual arts
Visual Arts in India boast a rich and diverse tradition, dating back thousands of years.
From the intricate cave paintings of prehistoric times to the vibrant contemporary art scene, Indian visual arts are a tapestry of various styles, techniques, and cultural influences reflecting the nation's complex history and myriad communities.
(1) Painting
Spanning across regions and centuries, Indian paintings offer a visual treasure trove, ranging from sacred texts' illustrations to depictions of daily life, nature, and abstract themes.
Historical Perspectives:
Cave Paintings:

Examples: Ajanta and Ellora Caves showcase splendid murals and sculptures depicting Buddhist heritage and tales.

Temple Art:

Overview: Sacred art and architecture flourished with elaborate carvings, sculptures, and frescoes adorning Hindu, Jain, and other religious temples.

Mughal Miniature Paintings:

Overview: This art form blossomed under the Mughal Empire, characterized by meticulous detail, vibrant colors, and intricate patterns portraying court life, nature, and mythology.

Rajput Paintings:

Overview: Reflecting the Rajputana grandeur and love for nature, these paintings often depict legendary tales, festivals, and celebrations.
Colonial Influence:
The British colonial era introduced Western styles and techniques, leading to a synthesis of Eastern and Western aesthetics. Academic art institutions were established, providing formal training to Indian artists, who began experimenting with various styles and themes.
Modern and Contemporary Art:
Bengal School of Art:

Overview: Emerging as a response to British academic art styles, it revived Indian themes and techniques, blending them with Far Eastern painting styles.

Progressive Artists' Group:

Overview: Founded in 1947, this group aimed to break away from traditional styles, promoting a new and modern art form that reflected contemporary realities and global influences.

Contemporary Indian Art:

Overview: Indian artists today work in various mediums, embracing installation, digital art, and mixed media, engaging with social, political, and environmental themes.
Notable Artists: M.F. Husain, S.H. Raza, Anish Kapoor, Subodh Gupta.
Folk and Tribal Art:
Madhubani: Originating in Bihar, it is known for its geometric patterns and vibrant colors, often depicting mythological stories.
Warli: A Maharashtrian tribal art form characterized by simple, white linear designs on mud walls, representing daily life and social celebrations.
Pattachitra: Originating in Odisha and West Bengal, it is a traditional cloth-based scroll painting form known for its intricate details and mythological narratives.
Painting is one of the main forms of artistic expression utilized in India, which has a rich history of artistic achievement. Numerous hints point to the existence of a thriving painting industry in India since antiquity.
In several areas of India, archaeologists have discovered wall paintings, which is evidence that even early historical men in India enjoyed art and leisure activities.
Paintings were used to illustrate texts during the ancient and medieval eras, which is where painting history may be tracked. Then the tiny style emerged, which dominated the Rajput and Mughal courts.
The Westernization of painting and etching began with the arrival of the Europeans. Modern painters explored many designs, colours, and styles.
Many Indian painters are becoming well-known internationally and receiving honours and awards for their creativity.
Also read: Indian Paintings: Everything You Need To Know
(2) Pottery
Since pottery is shaped like a literary composition and has a significant appeal to the census, it has been referred to as the "lyric of handicrafts." One of the oldest crafts that man began to do was the creation of items out of clay.
The earliest proof was discovered at the Neolithic Mega sites in Pakistan. The ruins demonstrate how advanced clay pottery production was in about 6000 BC.
At the moment, each region of India specializes in a specific kind of clay work. Orche, red and black, painted grey water, northern black ware, glazed, and unglazed are some of the more popular varieties of Indian pottery.
(3) Architecture
The development of Indian art and architecture is a tale. The structures and sculptures have their own stories to tell, spanning from the ancient Indus Valley Civilization until British rule.
The development of Indian architecture and art is a reflection of the rise and fall of major empires, the invasion of foreign rulers who later became native, the blending of various cultures and styles, etc.
Classification of Indian Architecture
Harappan architecture
Mauryan architecture
Post Mauryan architecture
Gupta Age architecture
South Indian architecture
Delhi sultanate architecture
Mughal architecture
Indo-Gothic style
Neo Roman style
Also read: Rock Cut Architecture: Evolution and Contributions
Also read: Temple Architecture and Sculpture; Hindu, Buddhist and Jain (Indian Culture Series – NCERT)
Also read: Colonial Architecture
(4) Sculpture
Sculptures are relatively modest three-dimensional works of art. One sculpture is typically formed of a single type of material, and men tend to rely less on precise dimensions while creating them.
The bronze figures and seals that are most frequently discovered demonstrate how adept the Harappan sculptures were at managing three-dimensional volumes.
When it comes to the Mouryas, the sculptures were largely employed as a means of religious expression and to decorate stupas in the Thorana and Medhi. Around Sarnath, a new school of sculpture emerged during the Gupta era.
Also read: Indian Bronze Sculpture (Indian Culture Series – NCERT); Modern Indian Sculpture
Performing Arts
India's performing arts are deeply embedded in its cultural fabric, offering a stunning array of dance, music, theatre, and more.
These forms, handed down through generations, are not merely entertainment but also serve as vital expressions of India's social, religious, and cultural identity
(1) Dance
Classical Dances:1. Bharatanatyam:

Origin: Tamil Nadu
Features: Known for its grace, purity, tenderness, and sculpturesque poses, Bharatanatyam is one of the oldest and most widely practiced Indian dance forms.
Themes: Often depicts religious and mythological tales, with an emphasis on devotion and the embodiment of music through intricate movements and expressions.

2. Kathak:

Origin: Northern India
Features: Kathak is characterized by fast footwork, spins, and expressive facial movements. It is a narrative dance form, with performances traditionally based on storytelling.
Themes: Often revolves around the tales of Radha-Krishna or stories from Persian and Urdu poetry.

3. Kathakali:

Origin: Kerala
Features: Known for its elaborate costumes, vibrant makeup, and detailed gestures, Kathakali is a dance-drama form that presents stories through a combination of dance, music, and acting.
Themes: Primarily focuses on epics like the Ramayana, Mahabharata, and the Puranas.

4. Odissi:

Origin: Odisha
Features: Celebrated for its lyrical beauty and the use of tribhanga (three-bend) posture, Odissi is a highly expressive and devotional dance form.
Themes: Often depicts stories of love and devotion, primarily inspired by the tales of Lord Krishna and other deities.

5. Kuchipudi:

Origin: Andhra Pradesh
Features: Kuchipudi is known for its graceful movements and strong narrative dramatic aspect. Performers often dance on the rim of a brass plate, balancing a pot on their head.
Themes: Predominantly based on religious and mythological tales, often highlighting the lives and deeds of Hindu gods and goddesses.

6. Manipuri:

Origin: Manipur
Features: Distinguished by its fluidity and softness, Manipuri is a graceful dance form often performed in a group, celebrating divine love.
Themes: Frequently revolves around the Raas Lila of Radha and Krishna, highlighting their celestial love.

7. Mohiniyattam:

Origin: Kerala
Features: A solo dance form performed by women, Mohiniyattam is recognized for its elegant movements, facial expressions, and exquisite costume.
Themes: Typically portrays the theme of love and devotion, often taking inspiration from the lives of Hindu deities.

8. Sattriya:

Origin: Assam
Features: As a part of the Vaishnavism tradition, Sattriya was originally performed in monasteries as a part of religious practices. It has since evolved and been adapted for the stage, recognized for its vibrant and energetic movements.
Themes: Primarily focuses on the stories and teachings from the Bhagavad Gita and other Hindu epics.

Folk & Tribal Dances:

Examples: Bhangra (Punjab), Garba (Gujarat), and Lavani (Maharashtra), each embodying the joy, rituals, and colours of their respective regions.
According to Bharata's Natya Shastra, Lord Brahma merged elements from the four Vedas to form the fifth Veda, known as Natya Veda, after being asked by the Gods to create a pastime.
With lyrics from the Rig Veda, gestures from the Yajur Veda, music from the Sam Veda, and emotions from the Atharva Veda, the Natya is a combination of dance, drama, and music.
This demonstrates the spiritual significance dance holds in Indian cultural tradition. Indian mythology is rife with instances of dance styles and expressions, from Shiva's tandava dance, which symbolizes the cycle of creation, preservation, and destruction, to Parvati's feminine response.
A similar emphasis on dance as a form of social amusement may be seen in the engravings of communal dancing at Bhimbetka and the sculpture of the Bronze Dancing Girl from the Harappan Civilization.
In Bharata's well-known work Natyashastra, which is a thorough and vivid treatise on the numerous components of Indian classical dance, the word "dance" is first formally used.
The text, which was likely put together between 200 BC and 200 AD, provides detailed descriptions of the techniques, postures, emotions, ornamentation, stage, and even clothing.
Dance, according to Bharata Muni, is the "whole art," including all other art forms such as music, sculpture, poetry, and theatre.
Different dance forms have developed with their own distinctive subtleties in various parts of India. The core of Indian classical art is the guru-shishya parampara.
Eight classical dance genres, including Bharatanatyam, Kuchipudi, Kathakali, Mohiniattam, Odissi, Manipuri, Kathak, and Sattriya, are now practised in India, according to Sangeet Natak Akademi.
Folklore, stories, and myths from all throughout India, mixed with regional song and dance customs, produce a diverse range of composite art. The majority of the time, folk dances are untrained, spontaneous, and performed by the masses without any training
Also read: Classical Dances of India: Everything you need to know about
(2) Music
Classical Music:

Hindustani: Predominant in Northern India, it is known for its raga system, improvisation, and emotional depth.
Carnatic: Popular in Southern India, it's celebrated for its structured, composition-based performances.

Folk Music:

Overview: Diverse and region-specific, Indian folk music is the voice of the soil, reflecting the daily life, aspirations, and folklore of various communities.

Devotional Music:

Examples: Bhajans, Kirtans, and Qawwalis are performed across the country, expressing spiritual longing and devotion.
Any culture's soul is its music, and India has a long history of inventive music. The sage Narada Muni is credited with bringing music to the planet. The seven-holed flute has been discovered among the artefacts from the Indus Valley Civilization.
Two thousand years ago, during the Vedic era, the earliest literary references to music were discovered. The Sama Veda has all seven notes of the raga Kharaharapriya in decreasing sequence. An Upaveda of the Sama Veda is the science of music known as the Gandharva Veda.
The Indian subcontinent is home to a wide variety of music that falls into various categories. Some are more inclined toward classical music, while others are experimenting with world music.
The public is becoming more and more interested in the recent trend of fusing classical heritage with other musical genres like pop and jazz. Indian music can be categorized as follows:
Carnatic and Hindustani styles of music are considered classical.
Folk music
India is a geographically diverse nation, and this diversity is represented in the Indian culture as well. This nation has its own kind of music, which serves as the foundation for the affirmation of its cultural identity.
Folk music is the music of the people and has no set norms, whereas classical music adheres to the Natyashastra's standards and cultivates a guru-shishya (student-mentor) tradition.
They have a lot of musical rhythms and are based on various subjects. In order for them to be dance-oriented, they are also arranged to beat. Folk music comes in a variety of forms, each unique to a particular State.
Also read: Carnatic And Hindustani Music: Differences and Similarities
Also read: Folk Music Of India
(3) Puppetry
One of the older types of entertainment is puppetry. It's an engaging experience because a puppet is being controlled by a master, and freelance artists like it because it's inexpensive to produce animation and performances.
One of the most brilliant human inventions, this kind of entertainment provides the artist with complete flexibility over design, colour, and movement.
Both for entertainment and education, puppetry has always piqued attention in India. Puppets with sockets attached have been found at the Mohenjo-Daro and Harappa excavation sites, indicating that puppetry was still practised as a form of art at those times.
Around 500 BC, some allusions to marionette theatre were discovered. Puppetry is mentioned in writing in both the Mahabharata and the Tamil epic Silappadikaram, both of which were composed between the first and second centuries BC.
In Indian culture, puppetry has philosophical significance in addition to being an art form.
Different regions of India have created a wide range of puppetry traditions, each with its own unique style of puppets. Folktales, myths, and local stories were incorporated. India's puppetry can be essentially divided into four groups – namely string puppets, shadow puppets, glove puppets rod puppets.
Also read: Indian Puppetry
(4) Theatre
Traditional Theatre:

Examples: Ramlila (dramatizing the Ramayana), Yakshagana (Karnataka), and Kathakali theatre are popular, steeped in mythology and ritualistic elements.

Modern & Contemporary Theatre:

Overview: Influenced by Western theatre, Indian playwrights and directors have experimented with themes, styles, and narratives, reflecting socio-political realities and individual experiences.
The Natya Shastra is the first official treatise on dramaturgy, and it was written between the years 200 BC and AD 28. It contains descriptions of 10 different play genres, ranging in length from one act to ten lakhs.
In India, the theatre started out as a narrative art form that combined acting, dancing, and music.
The theatre included dance, music, and recitation as essential elements. Sanskrit theatre is one of the forms of classical theatre in India.
While classical Sanskrit theatre was more urban-oriented and sophisticated in its treatment of the location for the theatre had rural roads and the rustic flavour was reflected in the dramatic style involved, traditional folk theatre reflected various aspects of the localized style, including social norms, beliefs, and customs.
The demand for fresh forms of entertainment led to the creation of modern Indian theatre. Dramas started to become commercialized, and viewers had to pay.
Also read: Indian Theatre Forms
(5) Martial Arts
India, a country with a diverse population of cultures and ethnicities, is renowned for the great range of martial arts it has produced throughout the years.
These art forms, which were once utilized for warfare, are now typically displayed as part of rituals that preserve physical fitness or serve as a way of self-defence. Literally, "martial art" refers to disciplines related to combat a war
Numerous martial arts styles in the nation have connections to dance, yoga, and performing arts. During the British era, some art forms, such as kalarippayattu and silambam, were outlawed, but they rose to prominence after the first independence.
Also read: Martial Arts Of India
Literary Arts
Indian literary arts embody a rich and diverse tradition, mirroring the socio-cultural complexities of the Indian subcontinent.
With its origins in sacred texts, folklores, and epics, the literary canvas of India encompasses various languages, scripts, and stylistic forms, offering a kaleidoscope of human experiences, philosophical insights, and cultural expressions.
(1) Literature
The Latin word literature means writing made of letters.
Literature is mainly classified into prose and poetry.
The prose is again categorized as fiction and nonfiction.
Ancient Literature:
Vedas and Upanishads:

Overview: Sacred texts form the bedrock of Indian philosophy, spirituality, and culture, covering themes like cosmology, ethics, and meditation.

Epics:

Ramayana: Authored by Valmiki, it's a grand narrative exploring themes of duty, righteousness, and devotion.
Mahabharata: An epic tale of war, duty, and morality, including the Bhagavad Gita, a significant spiritual and philosophical discourse.

Sanskrit Classics:

Works like Kalidasa's "Shakuntala" and Bhasa's plays are renowned for their poetic beauty and dramatic expression.
Medieval Literature:
Bhakti and Sufi Poetry:

Overview: Devotional poetry blossomed in regional languages, emphasizing love and devotion to God, and promoting egalitarian spiritual values.

Court Poetry and Chronicles:

Examples: Prithviraj Raso, written in Apabhramsha, celebrates the heroics of Rajput king Prithviraj Chauhan.
Modern Literature:
Colonial Era:

Writers like Rabindranath Tagore, Bankim Chandra Chattopadhyay, and Mirza Ghalib made significant contributions to Indian literature, reflecting the socio-political conditions of the time.

Post-Independence:

With the advent of the Progressive Writers' Movement, literary works started addressing themes of social reform, nationalism, and human rights.
Contemporary Literature:
Indian literature today is a dynamic amalgamation of traditional and modern themes, exploring issues like identity, diaspora, gender, and globalization.
Notable authors include R.K. Narayan, Salman Rushdie, Arundhati Roy, and Jhumpa Lahiri.
Regional Literature:
Each linguistic region in India boasts a vibrant literary tradition, with classics in Tamil, Bengali, Marathi, Punjabi, Malayalam, and other languages.
These literatures cover a wide array of genres, from poetry and drama to novels and short stories, reflecting the local cultures, histories, and sensibilities.
Conclusion: Salient Aspects of Art Forms, Literature and Architecture
Together, the salient aspects of Indian art forms, literature, and architecture contribute to a mesmerizing mosaic of cultural expressions, each piece significant, telling tales of a civilization that has thrived for millennia.
They offer not only a sense of identity and continuity for the people of India but also serve as a source of fascination and inspiration for audiences around the globe.
Engaging with these forms allows for a deeper understanding of the human spirit's resilience, creativity, and perpetual quest for meaning, making the exploration of Indian culture a rewarding and enlightening endeavour for all.
Related Posts
Article written by: Atheena Fathima Riyaz