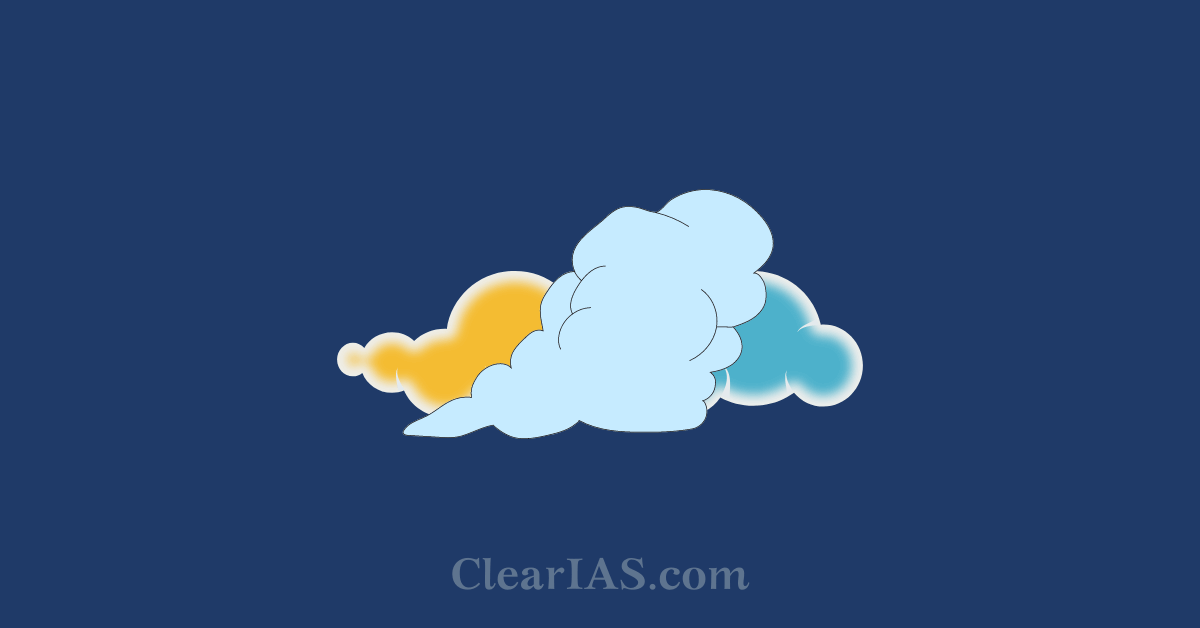 What is an air mass? What is its significance? How does it affect the global climate? Know more here.
What is an air mass?
It is defined as a large body of air having little horizontal variation in temperature and moisture.
The air masses have a relatively uniform distribution of vertical gradients in their physical properties like temperature, pressure, and humidity.
How does an air mass originate?
Air masses are formed in very particular surface and atmospheric conditions which are found only in a few areas of the world. These preconditions are:
Physiographic homogeneity – surface should be either an oceanic surface or a plane on a continental surface.
Atmospheric conditions must be stable for the origin of air masses. There should not be any major movement in the air. This is important for air to maintain contact with uniform surface area for a long duration of time.
The air should rest on the given surface for 2 to 3 days to absorb the properties of the given surface.
Such atmospheric conditions are found in very restricted areas on the globe where the air is sinking slowly and gradually over the uniform surface, such areas are:
Polar and subpolar regions  (due to the presence of polar high-pressure belts and related sinking of air)
Subtropical high-pressure belts (due to subsidence of air from the upper troposphere to lower troposphere)
Source regions:
The homogenous surfaces, over which air masses form, are called the source regions. The source region should be extensive with gentle, divergent air circulation. Areas with high pressure but little pressure difference or pressure gradient are ideal source regions. There are no major source regions in the mid-latitudes as these regions are dominated by cyclonic and other disturbances.
The main source regions are the high-pressure belts in the sub-tropics (giving rise to tropical air masses) and around the poles (giving rise to polar air masses).
Source Region establishes heat and moisture equilibrium.
When an air mass moves away from a source region, the upper level maintains the physical characteristics for a longer period. This is possible because they are stable with stagnant air which does not facilitate convection.
Movement of air masses:
Once they are formed they start moving away from the source regions due to gravity.
Usually, they follow the path provided by the permanent winds system prevailing in that area which are polar winds, westerly winds, and trade winds.
Types of air masses
Classification of air masses is done based on a variety of parameters. In total there are 16 kinds and each has been denoted by a symbol for identification. However, for understanding fronts and cyclones further, only two types of classification are required.
They are classified based on the nature of the surface from which they originate. On this basis they are classified as:
Continental – originating from the homogeneous continental surface
Maritime – originating from homogeneous oceanic surface
Therefore the classification is done based on their latitudinal position. On this basis both the above-mentioned they have been further classified into two kinds of each:
Continental Air mass
1. Continental tropical air mass
The source regions include tropical and subtropical deserts of the Sahara in Africa, West Asia, and Australia.
These are dry, hot, and stable and do not extend beyond the source.
2. Continental polar air mass
Source regions of these are the Arctic basin, northern North America, Eurasia, and Antarctica.
These are characterized by dry, cold, and stable conditions.
The weather during winter is frigid, clear, and stable.
During summer, the weather is less stable with the lesser prevalence of anticyclonic winds, warmer land, and lesser snow.
Maritime air mass
1. Maritime tropical air mass
The source regions of these include the oceans in the tropics and sub-tropics such as Mexican Gulf, the Pacific, and the Atlantic oceans.
These are warm, humid, and unstable.
The weather during winter has mild temperatures, overcast skies with fog.
During summer, the weather is characterized by high temperatures, high humidity, cumulous clouds, and convectional rainfall.
2. Maritime polar air mass
The source region of these is the oceans between 40° and 60° latitudes.
These are those continental polar air masses that have moved over the warmer oceans, got heated up, and have collected moisture.
The conditions over the source regions are cool, moist, and unstable. These are the regions that cannot lie stagnant for long.
The weather during winters is characterized by high humidity, overcast skies, and occasional fog and precipitation.
During summer, the weather is clear, fair, and stable.
They are also denoted by symbols as follows:
Maritime tropical (mT)
Continental tropical (cT)
Maritime polar (mP)
Continental polar (cP)
Continental arctic (cA)

Affect on global climate:
These have a deep impact on their areas of influence. For example, the Western European type of climate is fully developed by subtropical Marine Air masses.
The origin of temperate cyclones is dependent on the convergence of two contrasting air mass that are continental polar and Maritime tropical air mass.
The monsoon which is the backbone of Indian agriculture is also an example of tropical Marine Air mass