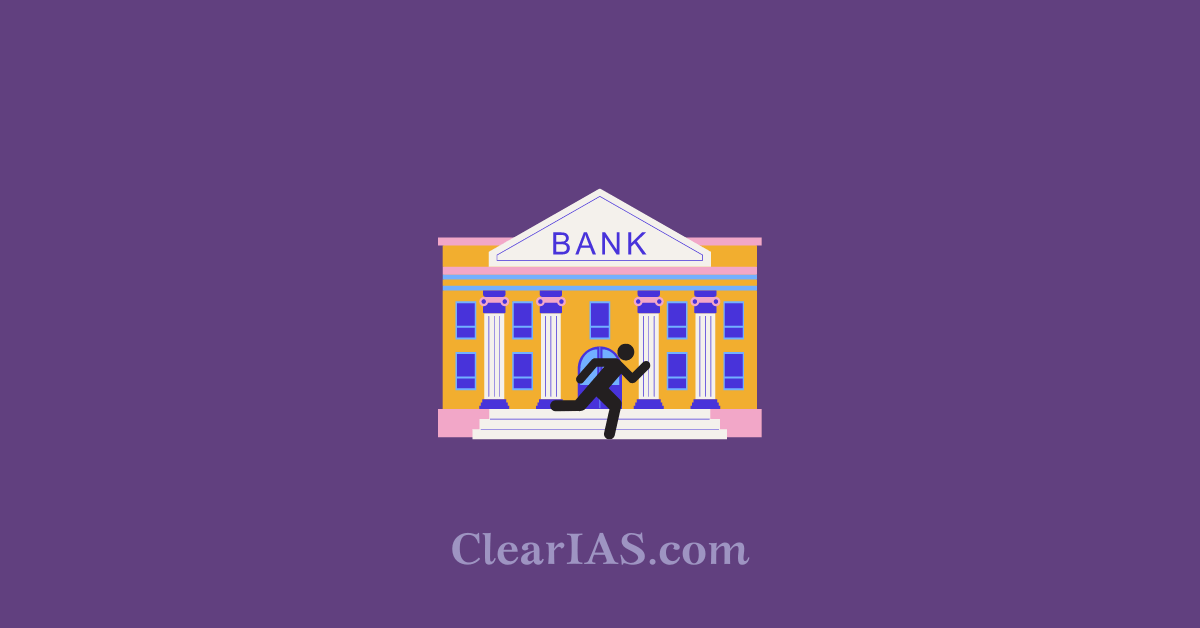 The news of the Silicon Valley bank collapse in the US has revived the issue of a bank run and its effects on the economy. A bank run is being said as the primary cause behind the second-biggest bank failure in US history. Read here to learn about a bank run, its causes, and its effects.
Silicon Valley Bank is the biggest American bank to fail since the global financial crisis of 2008. The Signature bank also suffered the same fate. The bank run was caused by the collapse, which was brought on by the constant rise in interest rates.
A bank run happens when many individuals withdraw their money from a bank or another financial institution at once out of concern that it could go out of business.
In 1933, the Federal Deposit Insurance Corporation was created in response to a bank run that occurred during the Great Depression.
What is a bank run?
When several clients of a bank or other financial institution simultaneously withdraw their savings out of worry for the bank's stability, this is known as a bank run.
The likelihood of default rises as more individuals withdraw their money, which encourages additional people to do the same. Extreme circumstances may arise when the bank's reserves are insufficient to cover the withdrawals.
With more people withdrawing money, banks will use up their cash reserves and ultimately end up defaulting.
Bank runs have occurred throughout history including during the Great Depression and the 2008-09 financial crisis.
Silent bank runs occur when funds are withdrawn via electronic transfer instead of in person.
A bank run usually happens out of fear rather than actual insolvency.
It is a typical illustration of a self-fulfilling prophecy that is sparked by panic and causes a bank to really become insolvent.
The bank runs the danger of going out of business because people keep taking money out.
So, a scenario that starts out in fear might later develop into a real emergency.
Most banks don't keep that much amount of hard cash in their branches, as most institutions set limits to how much they can store in their vaults.
Causes of a bank run
The widespread worry that depositors would lose their money is one of the main causes of the run on the bank. Customers are compelled to act right away without even confirming the news.
A bank that practices fractional reserve banking only keeps a percentage of the deposits made on the property. As a result, when several customers take their money at once, they forfeit the actual cash on hand. It causes a severe cash crisis, which forces the bank into bankruptcy.
Losses on selling assets at lower prices can cause a bank to become insolvent. A bank panic occurs when multiple banks endure runs at the same time.
When multiple banks confront the same situation simultaneously, bank panic ensues, resulting in an economic recession, economic instability, and a systemic banking crisis.
Prevention and mitigation
Some of the common practices adopted by banks and financial institutions to prevent bank runs are as follows:
Selling assets to increase cash availability inside the facility
Imposing withdrawal limitations or prohibiting withdrawals entirely
Borrowing more money from other banks, financial institutions, or the central bank.
If banks don't have enough cash on hand, they can borrow from other organizations. Huge loans could keep them from filing for bankruptcy.
In the event that a bank run is imminent, banks may decide to close for a while. This stops individuals from gathering in a line and withdrawing cash.
People's concern often dissipates when they learn that the government insures their deposits.
Deposit insurance is one such safety valve through which the losses of the so-called "unsophisticated" depositors of banks can be plugged, albeit to a stipulated limit, in case banks fail, and thereby help arrest the cataclysmic impact of bank runs.
The government may step in to prevent banks from defaulting in various ways, such as:
Setting higher cash reserve requirements
Bailing out of banks
Implementing oversight and regulation
Introducing deposit insurance schemes
History of bank runs
Bank runs date back to the early days of banking when European goldsmiths in the 15th and 16th centuries would issue paper receipts payable for actual gold in excess of the stock they had.
This was a pioneering instance of fractional reserve banking, in which banks could print more paper money redeemable for gold than they really had on hand.
The Great Depression is frequently linked in contemporary history with bank runs.
American depositors started to fear after the 1929 stock market disaster and turned to storing actual cash for safety. In 1930, Tennessee had the first bank failure brought on by large-scale withdrawals.
Bank runs were a prominent response to the financial crisis of 2008–2009.
The sixth-largest financial institution in the United States at the time, Washington Mutual (WaMu), was shut down on September 25, 2008.
In 2022, the sanctions against Russia during the 2022 Russian invasion of Ukraine and the removal of Russian banks from the SWIFT system led to a banking panic across multiple Russian banks
Measures by RBI for bank stability
RBI takes a series of actions to ensure the stability of banks in case of emergencies:
Reporting entails making reports, such as the Financial Stability Report, available to the public twice a year to lessen the likelihood of speculation and, consequently, bank runs.
Consumers trust in the nation's monetary situation is also increased by initiatives like making the minutes of monetary policy committee meetings available to the public.
Using important reserve ratios to exercise control, such as CRR (Cash maintained separately with the RBI) and SLR (Cash, Gold or G-Secs kept with the banks).
They make sure that there is enough liquidity in the banks to fulfill the escalating demand.
Restructuring assets to increase equity also increases bank capital and, as a result, improves Basel-III standards CAR values compliance.
Conclusion
Bank runs can bring down banks and trigger further systemic financial crises because they produce negative feedback loops.
Due to the fact that a bank may only have 10% of the cash represented by all deposits on hand, if, say, 20% of customers want their money back, the bank will not have enough cash on hand to reimburse its depositors.
But, if the withdrawals were spaced out across time and at a slower rate, the bank might be able to find the money.
While several regulatory mechanisms are now in place to mitigate bank runs, silent bank runs mediated by electronic transfers can make a run on the bank still possible.
-Article written by Swathi Satish