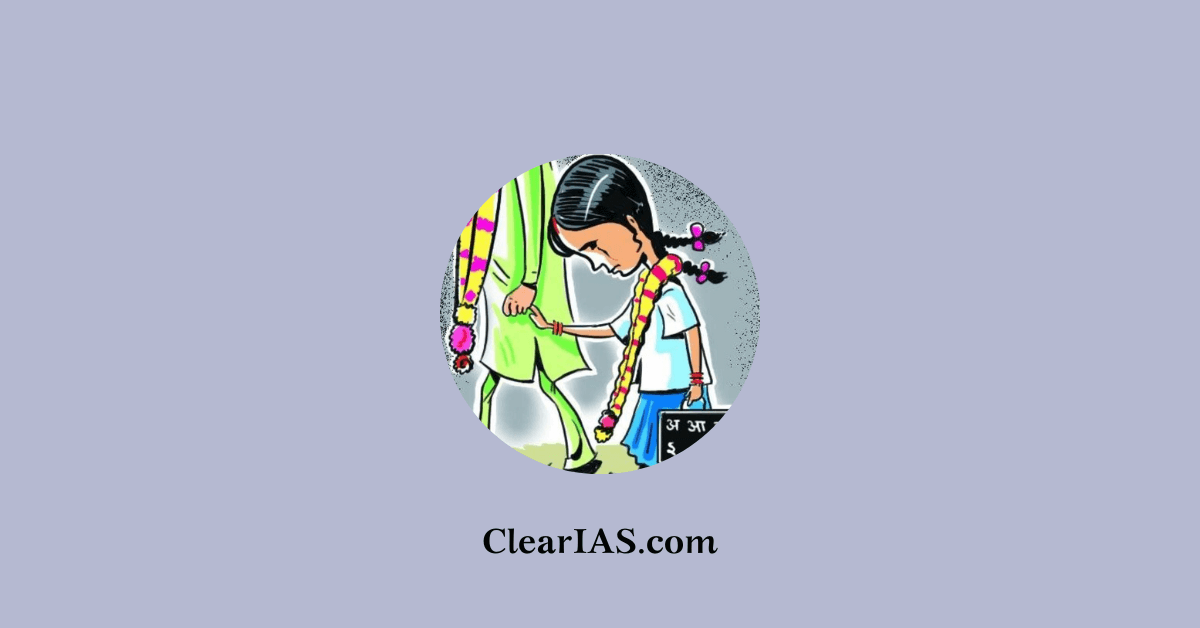 How rampant is child marriage in India? What are its reasons? What are the consequences of child marriage? Read further to know more.
The Indian government has recently considered raising the marriage age for women in India from 18 to 21 years.
They do this because delaying marriage could have a significant positive impact on public health and provide actual benefits to both individuals and society.
In this context, let us analyze the topic in detail.
Child marriage
A young child (usually a girl under the age of fifteen) marries an adult man in child marriage, a social phenomenon that happens in many Indian civilizations.
In a second sort of child, marriage practice, the parents of the two children (the boy and the girl) plan a future union. The boy and girl don't actually meet until they are legally able to get married, at which point the wedding is over. Women must be 18 years old to get married, while men must be 21.
India's child marriage statistics
It is estimated that there are around 24 million child brides in India. The National Family Health Survey estimates that 40% of the 60 million child marriages worldwide occur in India.
India has the fourteenth-highest rate of child marriage in the world, according to the International Center for Research on Women.
Different marriage traditions and customs exist throughout regions, castes, and tribes. The northwest of the country has greater rates of child marriage than the southeast.
The states with the highest rates of child marriage include Bihar, Rajasthan, Jharkhand, Uttar Pradesh, West Bengal, Madhya Pradesh, Andhra Pradesh, and Karnataka (50 per cent or more).
State-wise pattern of Child Marriage
West Bengal has the greatest number of child marriages among the states (42 per cent), with Bihar and Tripura closely behind (40 per cent each).
Surprisingly, the decline in child marriage has been minimal at best in these states with high frequency.
On the other end of the spectrum are Goa, Himachal Pradesh, and Kerala (6 per cent to 7 per cent).
Reasons for child marriage in India
The reasons for child marriages in India are discussed below.
Patriarchal ideals: The primary cause of early marriage is the fervent desire to maintain a girl's virginity in order to retain the family's honour. A girl's prized possessions are her virginity and chastity. Because of the excessive value placed on virginity, society has developed a variety of strategies and protective measures to shield females from potential sexual abuse, including early marriage and isolating them from social activity.
Regressive customs and religious norms: Governments are frequently unable to implement current laws or address inconsistencies between the national law on marriage age and ingrained customs and religious norms. The official acceptance of cultural, sociological, and customary norms that influence and direct the institution of marriage and family life is the reason for this. Girls are married off before they reach puberty in certain Indian villages where child marriage is common due to the stigma that the culture attaches to marriage after puberty.
Marriage's rising cost: Many families are forced to marry their girls off young in order to save money due to the escalating costs of wedding ceremonies and associated dowry costs.
Poverty: Poor families struggle to provide for everyone in the household, thus they would prefer to "send off" their daughter as soon as possible to another family.
Caste disparities: Encouraged by the landed castes, the downtrodden classes and castes imitate this feudal social custom because it gives them access to low-cost family labour. Therefore, maintaining this system serves the interests of the dominant classes.
Lack of education: Inadequate educational possibilities for females, particularly in rural regions, increase a girl child's vulnerability to being married off at a young age. A lack of education also diminishes the ability of girls to reject marriage and pursue alternate objectives.
The Prohibition of Child Marriage Act contains a loophole that permits child marriages to continue when the girl reaches the age of 18, even if it does not make them unlawful. In many instances, authorities don't take action against people responsible for marrying off youngsters since there is a window of opportunity for the girl's agreement.
Fake certificates of age: Through manipulation, fraudulent birth certificates are frequently obtained. Additionally, panchayats can play a questionable role in the marriage of children by issuing panchnamas with fictitious dates of birth.
The Covid-19 epidemic made the threat worse: The COVID-19 pandemic has made the disparities that encourage child marriage worse. According to a recent study published in The Lancet, the Covid-19 pandemic may put up to 2.5 million young girls (under the age of 18) at risk of being married in the next five years.
Consequences of child marriage
The consequences of child marriage are discussed below.
Studies show a direct correlation between the prevalence of child marriage and poor health indicators, frequently as a result of early childbearing, which raises maternal mortality and morbidity rates.
Children born to relatively young moms have significant mortality rates. Health issues are likely to arise in the youngsters that survive.
Additionally, young girls who are married as children run the danger of getting HIV and other STDs.
Domestic violence and abuse can cause post-traumatic stress disorder and depression, which have an impact on mental health.
Women's work options, financial security, and capacity to contribute to society are all limited by child marriage, which is also closely linked to lower educational attainment among girls.
Young, illiterate mothers are also less likely to have children who will pursue higher education, which feeds the cycle of poor literacy and scarce job possibilities.
Young married women frequently lack status and influence inside their marriages and households, which increases their risk of experiencing domestic abuse, sexual abuse, and social isolation.
Fertility rates are directly impacted by lower marriage age. The reproductive rate increases as the age of marriage decreases.
Child marriage breaches the rights of children, including their right to an education, their right to be safe from physical and emotional harm, their right to leisure time, and their right to be with their parents.
Measures taken to avoid child marriage
Various measures were taken during the different time periods.
Actions conducted during the colonial era
The Indian Penal Code, which was passed in 1860, made having sex with a girl who is younger than 10 illegal.
The Age of Consent Bill, of 1927, which stated that marriage with a girl under the age of 12 would be invalid, revised the rape rule in 1927.
The Child Marriage Restraint Act of 1929 established 16 as the minimum age for girls' marriage and 18 as the minimum age for males' marriage. Because it was sponsored by the judge and Arya Samaj member Harbilas Sarda, the statute is also known as the Sarda Act.
The 1978 Child Marriage Restraint (Amendment) Act: The Sharda Act was modified in 1978 to set the legal marriage age for males and women as 18 and 21, respectively. The marriage that was performed in defiance of this requirement was nonetheless legal, nevertheless.
Act of 2006 forbidding child marriage
A person who, if a male, has not reached the age of twenty-one or, if a female, has not reached the age of eighteen is referred to as a "child" under this Act.
It is possible for boys and girls who were coerced into child marriages to annul their unions up to two years after becoming adults, and in some cases, marriages between minors can be dissolved before they turn 18 years old.
Child marriage offspring are regarded as legitimate children.
The District Courts are in charge of determining the kid's parental custody while keeping in mind the best interests of the youngster.
Compulsory Registration of Marriages Act, 2006
According to the Compulsory Registration of Weddings Act, 2006, all marriages in India must be registered as of the year 2006.
It specifies that regardless of faith, every Indian citizen must register their marriage within 10 days of getting hitched.
It would be crucial to enforcing this mandatory registration in order to stop underage marriages throughout the nation.
A committee to review the legal age for women to get married
A committee was established by the Union Ministry for Women and Child Development in 2020 to look at issues such the average age of motherhood, the necessity of reducing the Maternal Mortality Ratio, and the enhancement of women's nutritional status. Jaya Jaitely is in charge of the Committee.
The Union Budget 2020–21 included a proposal for the Committee.
The Committee suggested raising the minimum age of marriage for girls to 21 and implementing the change gradually.
Right to Education Act 2009
All kids between the ages of 6 and 14 are expected to receive a basic education under the RTE Act. It upholds the fundamental right to education (Article 21).
The Act seeks to prevent problems like child marriage by fostering an environment that is conducive to learning for all children.
International Partnerships
South Asian Initiative to End Violence Against Children (SAIEVAC), which adopted a regional action plan (2015–2018) to end child marriage, includes India as a member.
One of the twelve nations chosen to participate in UNFPA and UNICEF's global initiative to speed up efforts to end child marriage in India.
Sexual contact with a minor is considered rape under the Protection of Children from Sexual Offenses (POCSO) Act, and the minor's "consent" is regarded as invalid because they are too young to give consent.
Way Forward
Various suggestions can be used to improve the situation of child marriages in India.
A safety mechanism should be established for those who report child weddings, and monitoring of the application of current child marriage regulations needs to be strengthened.
The prohibition of the Child Marriage Act, of 2006 must be effectively enforced, and this requires strong political and administrative resolve.
Organize a national effort to stop child marriage. There is a need for media efforts and awareness-raising activities to encourage girls' empowerment and the postponement of marriage.
Compulsory marriage registration must be made. Since there is no law requiring the registration of marriages across India, it is essential that it be made mandatory. Thus, the enforcement of such a legal requirement may put pressure on parents to put off marriage.
A significant intervention technique for postponing the age of marriage is to increase girls' access to education and employment opportunities as well as their motivation to attend school and pursue higher education.
For the purpose of sensitising the employees of the government's enforcement agencies, orientation and training programmes must be organised.
In order to promote delayed marriage, elected officials, and community-based workers, including development activists, need orientation and training regarding the relevant legal laws and policy-related knowledge.
It is important to motivate the women's SHGs and organisations to act jointly to postpone marriage and avoid child marriage. The SHGs and women's organisations may be crucial in inspiring girls and their families to continue their education.
Special attention must be paid to the region where child marriage is most common.It is necessary to build up special Cells in the districts where child marriage is prevalently practised.
In collaboration with civil society organisations and governmental organisations, these specialised Cells may carry out research on the prevalence of child marriage, legal loopholes, administrative barriers to the effective implementation of the Prohibition of Child Marriage Act, and intervention strategies.
Mass child marriages during some holidays should receive special attention: There should be extra attention paid to religious holidays like Akha Teej and Ganesh Chaturthi when a lot of child marriages take place.
In order to prevent immoral trafficking and provide rehabilitation for trafficked victims, it is imperative that the Immoral Traffic Prevention Act and UJJAWALA plan be implemented effectively. Vulnerable and impoverished families are prime targets for human trafficking.
Teenage girls require particular policies. While the coverage of such schemes is being expanded, effective and efficient management of Conditional Cash Transfer Schemes and other programmes aimed at empowering adolescent girls should be guaranteed.
It is important to pay attention to adolescent girls who are struggling. It is necessary to effectively enforce the Juvenile Justice Act and rehabilitate such girls.
Adolescents' sexuality needs to be addressed, and they need to be made aware of the rights of women and children.
Article Written By : Atheena Fathima Riyas