Yes, today is the first anniversary of Clear IAS android app and the third anniversary for clearias.com! It was twelve months back on June 8, 2014 that Clear IAS android app was launched on Google Play store. Now, after one year – thanks to the fantastic reception by aspirants across India  – Clear IAS stands today very close to the landmark figure of 1,00,000 downloads! To celebrate the first birthday, we have come up with a major upgrade to the existing version. With new functionalities wrapped in a much cleaner and faster design, the updated version provides everything an aspirant needs to clear UPSC exams by self-study – that too for FREE!
How to download Clear IAS App?
What's new with the Clear IAS latest version?
Integrated with clearias.com website, Clear IAS app has added lot many features ever since its release. Here is what you'll love about the latest version of Clear IAS Android App – Version Code 16.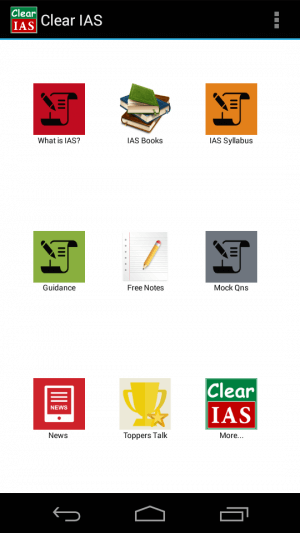 Major design and layout changes.
Updated all sections as per the latest UPSC syllabus.
New loading image, menu icons, and font.
White background without any menu screen color.
Updated list of all leading newspapers.
Removed permissions like camera and vibration.
Updated: UPSC Toppers Interviews and preparation strategies.
IAS online mock tests for Prelims and Mains.
Updated links to buy useful IAS books online.
Fixed bugs; added new functionalities.
Note: After download and installation, you may need to re-start your app multiple times to complete the upgrade. The app may auto-close a few times before completing the upgrade.
What motivates us to go mobile along with the web?
Clear IAS™ stands for free/affordable high-quality education. We have been a strong presence on the web for last 3 years guiding lakhs of aspirants in various exams. As our user-base from small screen devices too has been rapidly increasing, we decided to provide this application – with enhanced features in a reader-friendly format – free of cost to our mobile and tablet users.
Also read: Now Boost Your IAS Preparation With Clear IAS Mobile App!
Huge Response to Clear IAS Android App from IAS Aspirant Community
Clear IAS mobile app received a huge response from our users. The app received top ratings, mostly 5 stars! Clear IAS app was ranked among the top 5 new apps under the education category in the Google Play store. Within 6 months since its launch, Clear IAS app crossed 50,000 downloads in Google Play store. We got a happy user community, as the free-to-download app helped aspirants extend their exam preparation from laptop to mobiles and tablets. We have also released the iPhone version. Clear IAS iPhone app can now be downloaded from App Store!
Clear IAS app: AppMakr selects Clear IAS as app of the week!
AppMakr, a US based company which provides the platform for more than 21 lakh mobile apps, selected Clear IAS as app of the week – a distinction which only 52 apps get per year.
Download links for Clear IAS Mobile App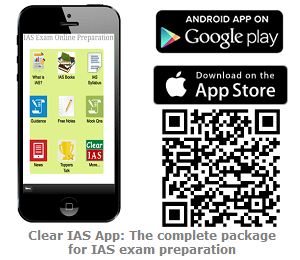 Android users who have access to Google Play store: As mentioned above, android users who have access to Google Play store can directly download the app from the Clear IAS mobile application download link. Alternatively they can also search using the keyword "clearias" in the search box at Google Play for apps.
Android users who don't have access to Google Play store: Those android users who do not access have to Google Play store can install it as a native app from other markets, where our app is available. Please note that you may need to enable third-party app installation in the 'settings' of your device.
iOS users: Yes, we have our iPhone App ready (Update April 8, 2015): Click to download Clear IAS app on App Store on Apple iTunes.
Other smartphone users like Blackberry or Windows: Till the corresponding version is available, you may use our HTML5 version from the link https://h.theapp.mobi/clearias.
PS: Please don't forget to add your reviews and comments here, as well as in Google Play store. Thanks!