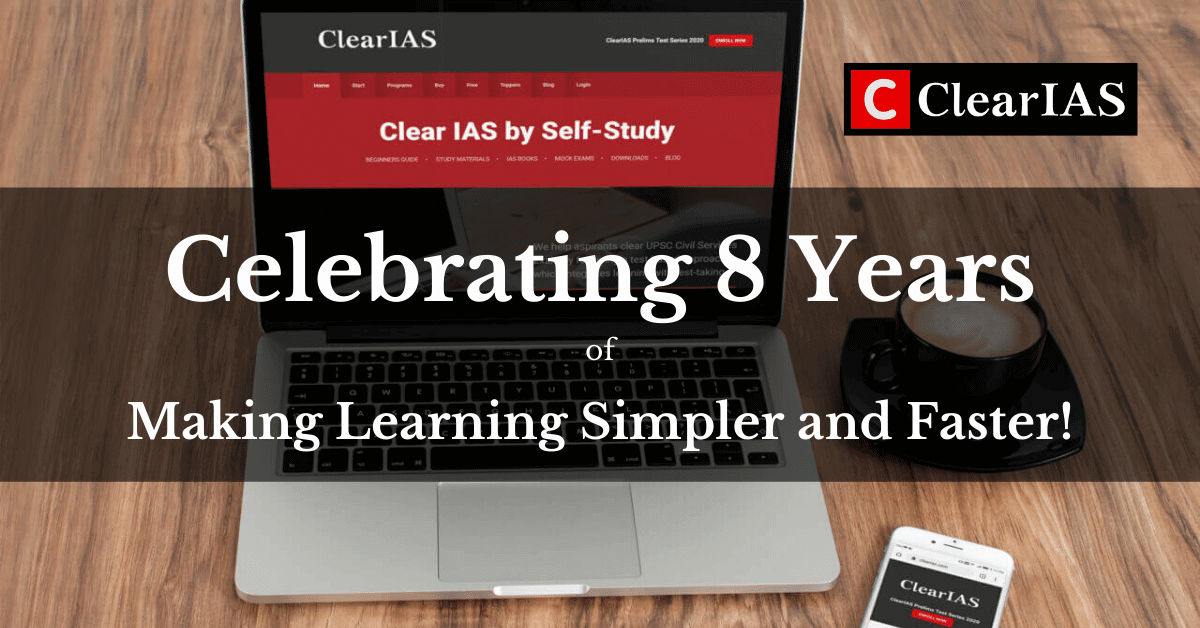 We are happy to let you know that ClearIAS is celebrating our eighth anniversary today! Thank you all for your love and support!
It seems like yesterday, but today we are 8 years young!
It was eight years ago, on 08-06-2012, I registered the domain ClearIAS.com.
The ClearIAS Story, ever since, has been really exciting!
Thank you for the love!
The success of ClearIAS is by and large because of the unparallel encouragement provided by the followers of ClearIAS.
Today, around 1 million users visit ClearIAS.com per month and learn online.
Your success story is our success story!
Your emails and comments are our encouragement.
If our efforts made you learn something new in life, our purpose is accomplished.
On this occasion, I would also like to thank all who associated with ClearIAS from the very beginning. This includes many friends of mine who later topped the UPSC Civil Services Exam and became IAS, IPS, and IFS officers!
ClearIAS Programs: Making Learning Simple and Faster!
If you are new to ClearIAS, check the Programs link in the menu to get an overall idea of ClearIAS Programs for Prelims, Mains, and Interview.
While 90% of ClearIAS study-materials are free, we also offer premium services and products – like ClearIAS Prelims Mock Test Series and e-books.
One of the core philosophy of all educators at ClearIAS is to make learning simple and faster.
We cover both Current and Conventional (Static) topics and provide study-materials for about 15 subjects – like Current Affairs, History, Geography, Polity, Economics, Science and Technology, Environment, World History, Internal Security, International Relations, Ethics etc.
Many Exciting Initiatives coming up!
Despite the lockdown, the last few months were quite active for ClearIAS.
Things are only going to get better from here!
Stay tuned for more updates from ClearIAS!
#HappyAnniversaryClearIAS