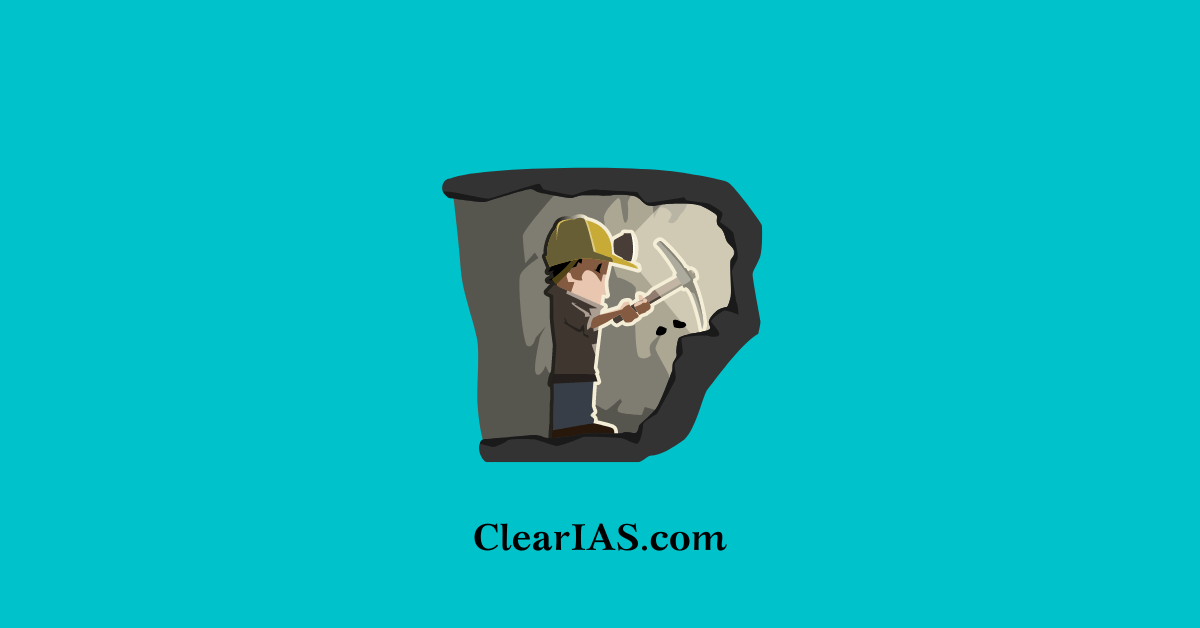 Despite doing good in technology, health, and educational front, India is still facing challenges in the power sector. Power cuts on account of the coal crisis have affected several states such as Gujarat, Rajasthan, Tamil Nadu, Delhi, Andhra Pradesh, etc. What might be the reasons for India's looming power crisis? Read the article to know more about it.
The energy needs of India are on rising due to the electrification of more houses and new industries coming into being.
Do you think we have a sufficient amount of coal to meet this rising demand as people are moving to a new developmental phase?
How developing the coal sector help the country in overcoming the present power crisis?
Introduction
India has the fourth largest coal reserves in the world. It is estimated to be around 319.02 billion tonnes of which not even 1 billion tonnes is extracted in a year. The majority of extracted coal is used for electricity production. The remaining coal is used for cement, steel and other industries.
The top five states in terms of total coal reserves in India are:
Jharkhand
Odisha
Chhattisgarh
West Bengal
Madhya Pradesh
How can the coal crisis lead to power cuts?
Different sources of power production are renewable and non-renewable sources. Non-renewable accounts for coal and non-coal sources (diesel, natural gas). Coal (Thermal base power production) is the major component of entire electricity production.
Other sources such as renewables i.e. wind, solar, etc, are not reliable sources of power. They have their limitations and cannot provide power for 24 hours.
Similarly, non-coal sources of non-renewable sources also have their limitations. Its capacity is not beyond a particular point. In the total amount of electricity, the production of coal constitutes around 70%. This is the reason why the coal crisis led to power cuts.
Coal imports
India is the second-largest importer of coal after China. As per the present Import policy, coal can be freely imported (under Open General Licence) by the consumers themselves considering their needs based on their commercial prudence.
Steel Authority of India Limited (SAIL) and other steel-making facilities import coking coal primarily to fill the gap between demand and supply domestically and to raise the quality.
Non-coking coal is imported by coal-based power stations, cement factories, captive power plants, sponge iron plants, industrial customers, and coal traders.
Related link: Coal mining in India
Who is responsible for the exploration and development of coal reserves in India?
The Ministry of Coal is ultimately responsible for formulating policies and strategies regarding the exploration and development of coal and lignite reserves, for approving significant projects with high economic value, and for making decisions regarding all pertinent matters.
These important roles are carried out by the Public Sector Undertakings Coal India Ltd. and its subsidiaries and Neyveli Lignite Corporation India Limited under the administrative supervision of the Ministry (NLCIL).
The Ministry of Coal also has a joint venture with the Government of Telangana called Singareni Collieries Company Limited in addition to Coal India Ltd. and Neyveli Lignite Corporation India Ltd. Governments of Telangana and India both own 49% and 51% of the company, respectively.
Reasons for coal shortage in recent times
There was a surge in electricity demand due to the revival of the economy after the second wave of Covid19 got declined, along with a limited production of coal.
Available coal cannot reach on time due to container shortages because of high imports and exports.
However, starting in 2021, rising industrial demand, global price swings, and most recently, Russia's invasion of Ukraine, caused coal prices to soar to all-time highs. All of this has had a significant impact on India's coal imports.
The almost depleted thermal power plants are now under additional strain as a result of the increasing heat waves. The country's electricity demand reportedly reached a record high of 201 gigawatts (GW) on April 26, 2022, as several areas of the nation suffered from extreme heat.
The nation's industries, which have resumed operations following the second wave of the COVID-19 epidemic, can be blamed for the unexpected increase in demand. Additionally, despite having the fourth-largest reserves in the world, domestic coal producers cannot keep up with demand.
Conclusion
To liberalise the coal industry the government created (in June 2019) a High-Level Committee under the direction of the Vice-Chairman of NITI Aayog. This HLC issued several significant suggestions (October 2019) for coal block allocations, with the most significant being a paradigm change in which coal was to be viewed as an input to economic growth through the relevant sectors utilising coal rather than as a source of money.
The Indian government wants to accelerate economic growth in the nation's aspirational regions. Because these States have abundant natural resources, making use of those resources in the coal sector is essential to their growth. The Government of India's transparent actions and commercial auction of coal mines have come at the perfect time to close the gap between the country's supply and demand for coal.
Article written by: Krishnapriya JR