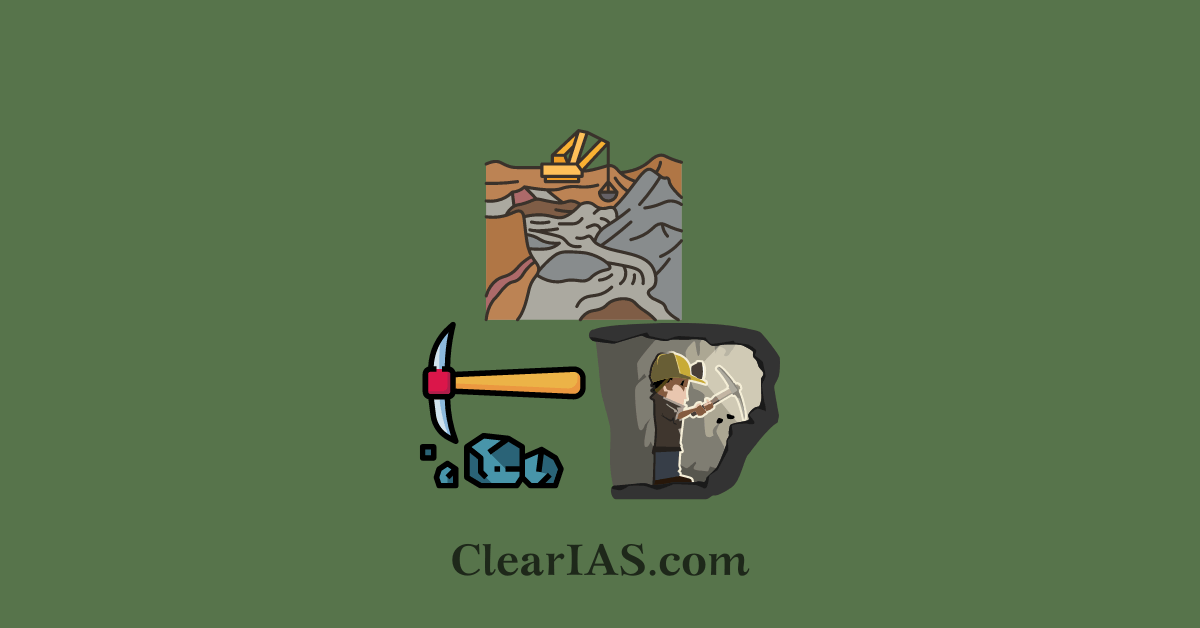 The Mining sector in India is one of the core industries of the economy. It provides basic raw materials to many important industries. India is a major producer of numerous metals and minerals. Mining contributes to about 3% of the GDP of India. Read here to know important facts and figures about the Indian mining sector.
India has a significant mining industry. India is a significant producer of essential minerals, holding 3527 mining leases for 40 key minerals covering a total lease area of around 315,986 hectares.
The mining sector in India can influence social inclusion, economic progress, and environmental sustainability.
The mining sector's GDP contribution only swings between 2.2% and 2.5%, but based on the GDP of the entire industrial sector, it ranges from 10% to 11%. Even small-scale mining adds 6% to the overall cost of mineral production. About 700,000 people have employment chances in the mining sector in India.
Mining sector in India
As India acquired independence in 1947, the region's long-standing mining legacy experienced modernization alongside the rest of the world.
The 1991 economic reforms and the 1993 National Mining Policy both contributed to the expansion of the mining industry.
Both metallic and non-metallic minerals are found in India. The non-metallic minerals include mineral fuels, and precious stones, among others, whereas the metallic minerals include ferrous and non-ferrous minerals.
India has large reserves of Iron ore, Bauxite, Chromium, Manganese ore, Baryte, Rare earth, and Mineral salts.
India is the 2nd largest crude steel producer in the world, with 120 MT of crude steel produced in FY'22.
India is home to 1,303 mines that reported mineral production (excluding atomic, fuel, and minor minerals) in 2019-20 and produces 95 minerals – 4 fuel-related, 10 metallic, 23 non-metallic, 3 atomic, and 55 minor minerals.
India is the 2nd largest producer of coal, all India production in 2021-22 was 777.31 MT (P) with a growth of 8.55%.
India is the Fourth largest iron ore producer in the world. The coal and iron ore is in the fifth largest reserve in the world.
India is the world's fourth-biggest producer of iron ore, alumina, chromite, and bauxite as of 2015.
By 2012, India was the largest producer of sheet mica.
By 2019, the nation was the fourth-largest producer of iron ore, fourth-largest producer of chromium, fifth-largest producer of bauxite, fifth-largest producer of zinc, seventh-largest producer of manganese, seventh-largest producer of lead, seventh-largest producer of sulfur, eleventh-largest producer of titanium, sixteenth-largest producer of phosphate, and fifth-largest producer of gypsum, 5th largest world producer of graphite and 3rd largest world producer of salt.
In 2018, it was the 11th-largest uranium producer in the world.
With the launch of the National Mineral Policy 2019 and the Mines and Minerals (Development and Regulation) Amendment Act 2021, India presents a major opportunity for investors looking to invest in the metal industry in India.
Minerals like manganese, lead, copper, and alumina are expected to witness double-digit growth in the years ahead. There is significant scope for new mining capacities in iron ore, bauxite, and coal.
India has an advantage in the cost of production and conversion costs of steel and alumina.
Metal and mining industries
NMDC LTD
Incorporated in 1958 as a Government of India fully owned public enterprise, NMDC is under the administrative control of the Ministry of Steel, Government of India.
Since its inception, it has been involved in the exploration of a wide range of minerals including iron ore, copper, rock phosphate, limestone, dolomite, gypsum, bentonite, magnesite, diamond, tin, tungsten, graphite, beach sands, etc.
NMDC is India's single largest iron ore producer.
The company has been categorized by the Department of Public Enterprises as a "NAVRATNA" Public Sector Enterprise in 2008.
COAL INDIA
Coal India Limited (CIL) is a state-owned coal mining corporation that came into existence in November 1975.
It has been awarded the status of Maharatna company.
With its normal production of 79 million tonnes (MT) in the year of its establishment, Coal India Limited is today the world's largest coal producer.
Indian Institute of Coal Management (IICM), a state-of-the-art management training 'Centre of Excellence' is the largest corporate training institute, operated under CIL and conducts multi-disciplinary management development programs.
Major Mining States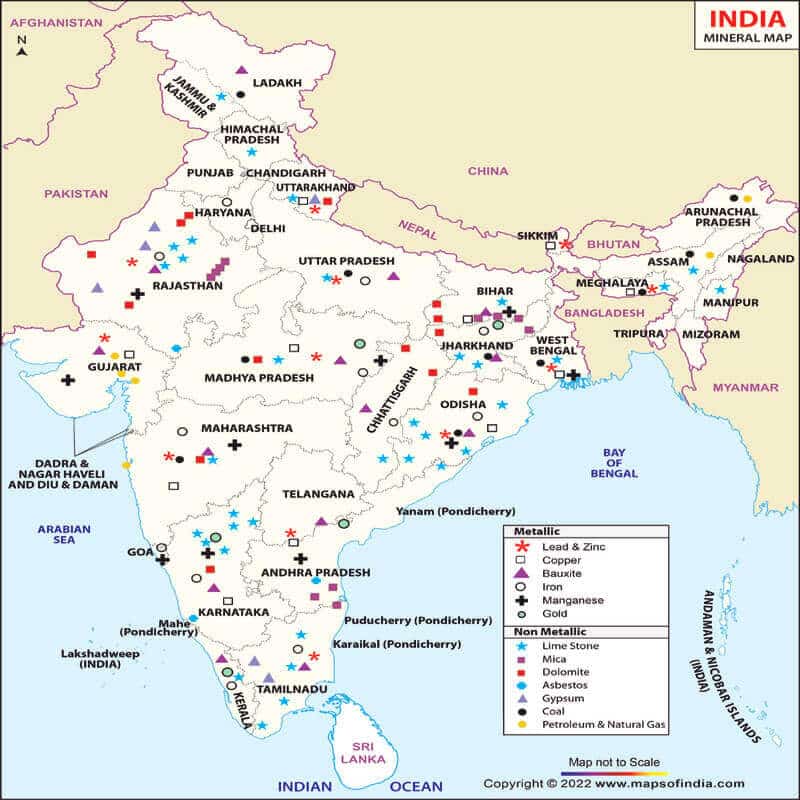 Andhra Pradesh
Jharkhand
Odisha
Rajasthan
Karnataka
Madhya Pradesh
Maharashtra
Government initiatives for the mining sector in India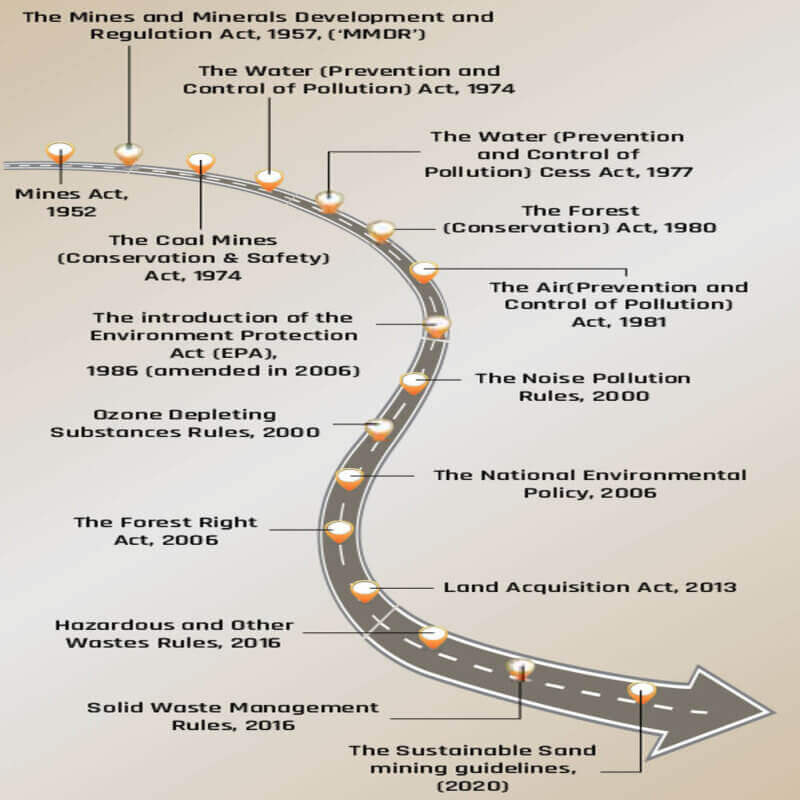 In Union Budget 2021, the government reduced customs duty to 7.5% on semis, flat and long products of non-alloy, alloy, and stainless steels to provide relief to MSMEs.
To boost the recycling of copper in India, the government announced a reduction of import duty on copper scrap from 5% to 2.5% in the Union Budget 2021.
The Ministry of Mines notified the Mineral Conservation and Development (Amendment) Rules in November 2021 to provide rules regarding the conservation of minerals, systematic and scientific mining, and the development of minerals in the country for environmental protection.
The National Steel Policy aims to boost per capita steel consumption to 160 kgs by 2030-31. The government has a fixed objective of increasing rural consumption of steel from the current 19.6 kgs per capita to 38 kgs per capita by 2030-31.
Ministry of Coal has formulated a strategy to develop an integrated approach for eliminating road transportation of coal in mines and has taken steps to upgrade mechanized coal transportation and loading system under 'First Mile Connectivity' projects.
National Mineral Exploration Policy 2019 aims to have an effective, meaningful, and implementable policy that brings further transparency, better regulation and enforcement, balanced social and economic growth as well as sustainable mining practices.
Mission Purvodaya emphasized harnessing the untapped potential of the region to fuel the next wave of national growth.
FDI up to 100% under the automatic route is allowed in:
Mining and exploration of metal and non-metal ores including diamond, gold, silver, and precious ores but excluding titanium-bearing minerals and its ores; subject to the Mines and Minerals (Development & Regulation) Act, 1957.
Coal and Lignite mining for captive consumption by power projects, iron and steel cement units, and other eligible activities permitted under and subject to the provisions of the Coal Mines Nationalization Act, 1973.
Setting up coal processing plants like washeries is subject to the condition that the company shall not do coal mining and shall not sell washed coal or sized coal from its coal processing plants in the open market and shall supply the washed or sized coal to those parties who are supplying raw coal to coal processing plans for washing or sizing.
Commercial mining, with a provision for 100% foreign investment, has also been allowed by the Government:
Mining and mineral separation of titanium-bearing minerals and ores, its value addition, and integrated activities.
Mining and mineral separation of titanium-bearing minerals and ores, its value addition, and integrated activities are subject to industry regulations and the Mines and Minerals (Development and Regulation Act 1957).
Challenges/Impact of the mining sector
The negative environmental and social externalities of mining (land degradation, land conversion, mine wastes, air pollution, groundwater deterioration, and water body pollution) are of great concern.
The most concerning social effects of mining in India seem to be those relating to land usage, population displacement and resettlement, health, social and cultural disturbance, inequality, and conflicts.
Additional environmental and socioeconomic issues are brought up by the fact that a large portion of the nation's natural resources is found in areas covered in forests.
There is increased pressure on metals and minerals to satisfy the needs of an anticipated GDP growth of 6% over the next ten years in one of the world's fastest-growing countries.
As part of its adherence to the Paris Agreement, India is required to provide key minerals for the shift to a low-carbon economy.
The need for mineral resources would rise even more as a result of the "Make in India" program to develop the industrial sector.
Mineral reserve depletion is already a problem that needs to be addressed.
The mineral sector can pose challenges in terms of impact on livelihoods and human rights, and provide economic opportunities to communities near the mines and beyond.
Way forward
There is a sizable potential for new mining operations in the iron ore, bauxite, and coal sectors, as well as a sizable potential for subsurface deposit discoveries in the future.
Steel, zinc and aluminum producers continue to benefit from attractive commercial prospects brought on by infrastructure initiatives. One essential component of the real estate industry is iron and steel.
Given the industry's projected rapid expansion in the residential and commercial building sectors, demand for these metals is expected to remain high.
The mining sector's growth and its contribution to GDP growth in the post-covid era are anticipated to be significantly fuelled in the future by both rising local demand and exports.
The Mineral resource sector has played a vital role in the world economy and human development from time immemorial. The achievement of the United Nations' Sustainable Development Goals (SDGs) and the execution of the Paris Agreement are dependent on the sector.
-Article written by Swathi Satish