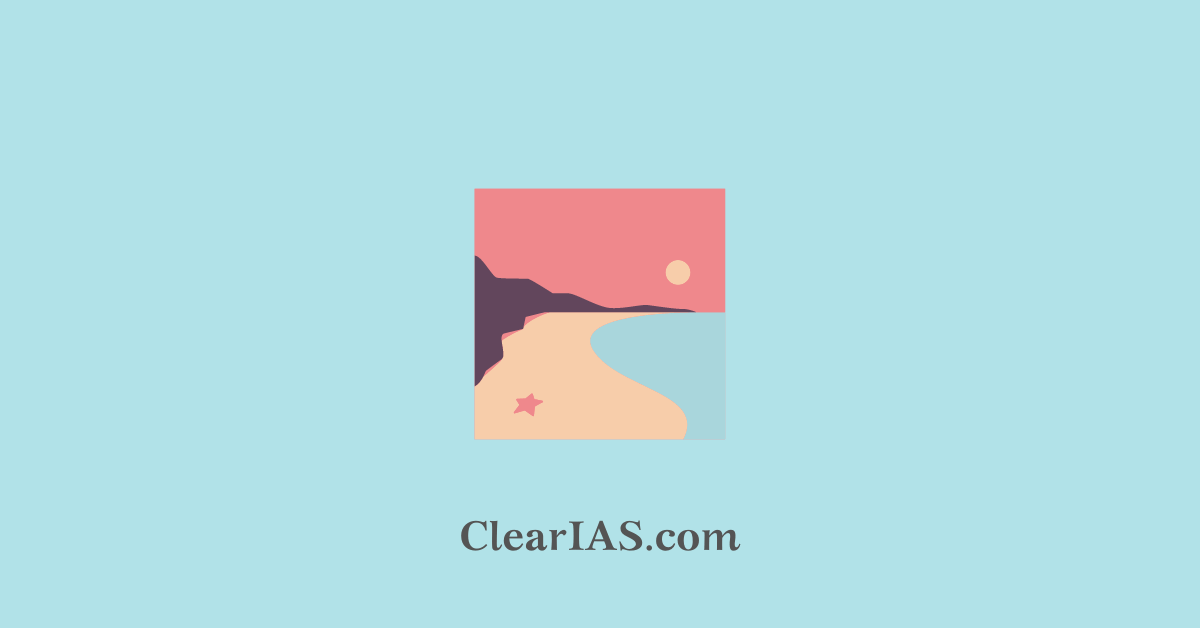 Coastal Erosion is wearing away and redistributing solid elements of the shoreline as well as sediment.
In most cases, coastal erosion is caused by natural forces including waves, tidal and littoral currents, and deflation.
A substantial percentage of the Indian population, about 20% lives along the coast, and developmental activities have put tremendous pressure on the fragile coastal environment.
Current Status of Coastal Erosion
Recently, the Ministry of Earth Sciences informed that a sizable portion of the 6,907.18 km long Indian coastline of the mainland is under varying degrees of Coastal erosion.
Approximately 34% of the coastline is under varying degrees of erosion, 26% is accreting, and the remaining 40% is stable.
Over the years from 1990 to 2018, West Bengal experienced erosion along around 60.5% (323.07 km) of its coastline followed by  Kerala (46.4%) and Tamil Nadu (42.7%).
Earlier, the Indian National Centre for Ocean Information Services (INCOIS) published an atlas of Coastal Vulnerability Index (CVI) maps for the entire Indian coastline.
Causes of Coastal Erosion
There are several causes of coastal erosion that can be a result of either natural or man-made activities. Sometimes, it is a combination of both natural and man-made factors.
Natural causes are often not possible to resist or avoid but the damage caused by man-made reasons is the result of ill-planned activities. The effects of climate change, sea-level rise and other long-term causes of erosion are still unaccounted for.
Natural Causes
Waves, winds, tides, near-shore currents, storms, sea level rise, etc. are examples of natural factors that affect coastal erosion.
Also, the natural variation in the supply of sediments to the coastline from the river can affect the erosion of the coastline.
An increasing sea level will promote shoreline setbacks.
Another factor is the subsidence occurrence. Subsidence is a regional phenomenon that reduces a region's surface area. It has similar effects on the coastline to sea level rise.
Severe storms, tidal surges, and cyclones are examples of catastrophic events that create abnormally high sea levels and significant erosion.
Man-Made Causes
The majority of erosion that is caused by humans is a result of human interference with both the rivers' sediment load and the natural transportation process. Coastal defence buildings, river management projects, sand and aggregate mining, oil and gas exploration (which results in long-term subsidence), and ports and harbours that affect sediment flow are examples of human activity.
Also read: Erosion and Deposition: Action of Running Water and Groundwater
Coastal Erosion Protection Measures
Coastal protection measures moderate the long-term average erosion rate of shoreline change. Nature not only erodes but also has the capacity to protect. Protection of the coastline from erosion is provided by nature in the form of a stable beach, capable of dissipating incident wave energy. Nature's coastal protection is also demonstrated at the headlands, reefs, shores, dunes, etc.
The measure to control erosion includes non-structural and structural or their combination. A brief description of these measures is given below:
Non-structural measures
The non-structural measures try to dissipate wave energy by mirroring natural forces and preserving the coast's natural topography. These actions are frequently referred to as soft solutions. These include:
Artificial nourishment of beaches
Coastal vegetation such as mangrove and palm plantation
Sand bypassing at tidal inlets
Dune reconstruction/rehabilitation
Structural Measures
Structural measures are also known as hard structural or engineering measures. It includes the use of physical structures constructed near the coast to prevent or restrict water from reaching the potential damage areas. These solutions influence the coastal processes to reduce the rate of coastal erosion.
The structural measures used for coastal erosion prevention include seawalls, revetment, breakwaters, off-shore groins, groynes, offshore reefs, artificial headland, etc.
Combination of the Structural and Non-Structural Measures
The combination of Structural and Non-Structural Measures to control coastal erosion gives synergetic outcomes and provides an environmentally and economically acceptable coastal protection system.
The hard solutions have a wide range of drawbacks, including the fact that they are expensive, lead to erosion, and occasionally damage the aesthetic value of the site, lowering its economic value. It should be mentioned that soft solutions are not quick fixes, they take time to work, and they only do so from a medium- to long-term perspective.
These combinations act as interim hard structures and some of the common approaches of combinations are:
Combining beach nourishment with artificial
Headlands or groynes
Revegetation with temporary offshore breakwaters/ artificial reefs is commonly used.
Successful Coastal Erosion Mitigation Measures
A few success examples are:
Puducherry Beach Restoration Project, Puducherry
The Submerged Reef has been implemented by MoES and beach nourishment is implemented by Govt of Puducherry. This helped in the restoration of a 1.5 km long city beach after 30 years and helped in improving tourism and fishing activities in addition to protection of the coast during extreme cyclonic events.
 Kadalur Periya Kuppam, Tamil Nadu
An Offshore submerged dyke was implemented. This helped in the protection of three fishing Villages during extreme cyclonic events and restored the lost beach that is being used for the landing of fishing boats and other fishing activities.
Shoreline Change Atlas of Indian Coast
The Coastal Protection and Development Advisory Committee (CPDAC), which was established by the Department of Water Resources, River Development, and Ganga Rejuvenation (Govt. of India) suggested a coastal atlas showing data on coastal erosion derived from satellite data and protection measures implemented by all maritime states of India.
As a result, Space Applications Centre (ISRO), in coordination with Central Water Commission, launched a project titled "Shoreline Change Atlas of the Indian Coast" at the behest of the Coastal Management Directorate.
This Atlas comprises shoreline change maps prepared using satellite data for 2004-06 and 2014-16 time-frame for the entire country. The maps indicate the status of the coastal protection measures implemented by maritime States/UTs as well as the eroding, stable, and accreting coasts.
Conclusion
Sea level rise, variations in storm frequency and intensity, increases in precipitation, and warmer ocean temperatures all have an impact on coasts. In addition, when atmospheric carbon dioxide (CO2) concentrations rise, the seas take in more of the gas, contributing to ocean acidification. The coastal and marine ecosystems may well be significantly impacted by this increase in acidity.
We are aware that coastline erosion is a complicated and important issue for a large country like ours. Efforts are being undertaken to counter the threat of coastal erosion and protect our coastlines using both the traditional ways (using hard structures like a seawall, etc.) and also the new, innovative soft measures like dune rehabilitation.
Article Written By: Priti Raj