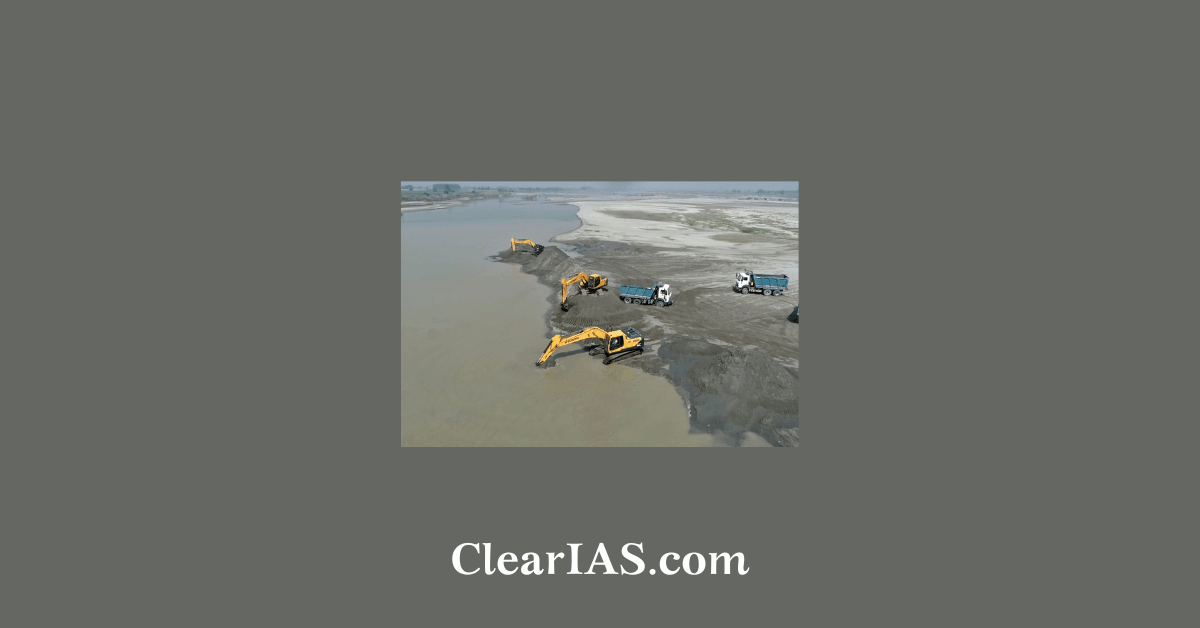 Sand mining is the extraction of sand from various sources, such as rivers, beaches, and seabeds, for use in construction, manufacturing, and other industries. Read here to learn more about it.
While sand is a valuable and essential resource, unregulated or unsustainable sand mining can have severe environmental, social, and economic consequences.
For the first time, the report Convergence of Wildlife Crime with Other Forms of Organized Crime: A 2023 Review, by the nonprofit Wildlife Justice Commission (WJC) has noted sand mining as a form of environmental crime.
Sand mining
Sand, a raw material and second-most-used resource in the world is used to make concrete, asphalt, and glass. About 40-50 billion tonnes of sand resources are exploited each year, but their extraction is managed and governed poorly in many countries, the report stated.
The sand is extracted from rivers, coastal or marine ecosystems and has enormous environmental impacts mining causes erosion and directly affects communities and their livelihoods.
Indiscriminate extraction negatively impacts aquifers, reduces protection against storm surges, shrinks deltas, freshwater and marine fisheries, land-use changes, and biodiversity.
Despite the scale of the issue, no global treaties governing sand extraction are in effect and the environmental damage is reportedly perpetuated by illegal sand-mining operations, organized and operated by violent sand mafias.
Sand-mining killings from Indonesia, Kenya, Gambia, South Africa, and Mexico have been reported.
Methods of Sand Mining
Riverbed Mining: This is the most common form of sand mining and involves the extraction of sand directly from riverbeds and floodplains. It often leads to the erosion of riverbanks and can have a significant impact on river ecosystems.
Beach Mining: Sand is often mined from beaches, especially in coastal areas with high tourism and construction demands. This can lead to the erosion of beaches, which threatens coastal communities and ecosystems.
Dredging: Dredging is the process of removing sand from the seabed or ocean floor using specialized equipment, such as dredgers. It is typically used for large-scale projects, such as harbor expansion.
In-Stream Mining: In-stream mining involves extracting sand from the river channel itself. This can disrupt the natural flow of rivers and harm aquatic life.
Environmental and Social Impacts
Habitat Destruction: Sand extraction can destroy river and beach habitats, which are critical for various aquatic species and nesting sea turtles.
Erosion: The removal of sand from riverbeds and beaches can lead to increased erosion and a higher risk of flooding in adjacent areas.
Water Quality: Sand extraction can cause the sedimentation of rivers and streams, leading to reduced water quality and impacting aquatic ecosystems.
Threat to Biodiversity: Many species depend on healthy river and coastal ecosystems. Sand extraction can disrupt their habitats and lead to declines in biodiversity.
Livelihoods: Coastal communities often rely on tourism and fishing, and sand mining can negatively affect these industries. It can also displace local communities.
Health and Safety: Sand extraction is often labor-intensive and can expose workers to hazardous conditions and respiratory issues due to dust and airborne particles.
Illegal sand mining
Illegal sand mining, also known as sand theft or sand poaching, refers to the unlawful extraction of sand from rivers, beaches, or other natural environments. It is a widespread environmental problem with significant ecological, social, and economic consequences.
Illegal sand extraction can have severe environmental consequences.
It disrupts river ecosystems, leading to erosion, loss of habitat for aquatic life, and alterations in river flow patterns.
It can also lead to the degradation of coastal areas, impacting coastal ecosystems and increasing the risk of erosion and flooding.
Sand is a finite and non-renewable resource, and illegal mining contributes to the depletion of this resource.
The excessive removal of sand can result in the loss of valuable sediment that helps maintain beaches, riverbanks, and deltas.
The extraction of sand from rivers can disturb aquatic ecosystems, harm fish breeding grounds, and contribute to the decline of aquatic species. This disruption can have cascading effects on local biodiversity.
Illegal sand extraction can have negative social and economic impacts on local communities.
It can lead to the displacement of communities that depend on riverbanks for their livelihoods, such as fishing and agriculture.
It can also exacerbate conflicts between various stakeholders, including sand miners, local communities, and government authorities.
Sand mining often involves hazardous working conditions, with workers at risk of accidents, injuries, and exposure to harmful substances. Unregulated mining operations can pose health and safety risks to workers and nearby communities.
The removal of sand from riverbeds can undermine the stability of bridges, embankments, and other infrastructure, leading to structural damage and maintenance costs.
The illegal sand trade often involves smuggling sand across borders and the operation of a black market. This can contribute to organized crime, money laundering, and corruption.
India
In India, sand extraction grew after the rapid urbanization brought on by the economic liberalization in the 1990s.
Even though the country has sand mining laws in place, a lack of proper implementation and monitoring means that the riverbeds are constantly threatened.
Locals have complained about the impact of sand extraction on the migratory birds and fishes visiting River Yamuna.
Read Impact of sand mining on Indian Rivers (Down to Earth) for the grim picture.
Regulation and Control
Efforts to regulate and control sand extraction vary by region and country. Some common approaches include:
Licensing and Permitting: Requiring sand mining operations to obtain licenses or permits, which may include environmental impact assessments.
Zoning and Land Use Planning: Designating specific areas for sand extraction and excluding sensitive habitats.
Environmental Laws: Enforcing laws that protect natural resources, water quality, and ecosystems.
Monitoring and Enforcement: Regular monitoring and inspections to ensure compliance with regulations.
India
Sand is a minor mineral under Section 3(e) of the Mines and Minerals (Development & Regulation) Act, 1957 (MMDR Act).
Section 15 of the MMDR Act empowers the State Governments to make rules for regulating the grant of quarry leases, mining leases, or other mineral concessions in respect of minor minerals and for purposes connected therewith.
Hence, the regulation of minor minerals comes under the legislative and administrative domain of the State Governments.
Further, Section 23C of the MMDR Act empowers the State Governments to make rules for preventing illegal mining, transportation and storage of minerals and for the purposes connected therewith.
Ministry of Mines has prepared a 'Sand Mining Framework' in consultation with Mining Departments of the States incorporating best practices amongst States with the objectives of sustainability, availability, affordability, and transparency in sand mining.
The 'Sand Mining Framework' has been circulated to all the State Governments for necessary action.
Moreover, the Ministry of Environment, Forest & Climate Change has issued Sustainable Sand Mining Management Guidelines, 2016, which, inter-alia, addresses the issues relating to the regulation of sand mining.
According to the 2020 Sand Mining Regulations, the permission to extract sand given to any mining contractor would be audited mandatorily every two years based on the replenishment rate of sand and gravel after every monsoon. Further mining can be done only after this.
Way forward
To address the negative impacts of sand mining, various sustainable alternatives are being explored.
Researchers are investigating the use of alternative materials like recycled construction waste and crushed rock. Along with innovations, implementing environmentally friendly quarrying practices, such as reclamation and reforestation should be practiced.
Promoting responsible consumption and construction practices to reduce the demand for sand is also significant.
Overall, sand mining is a complex issue with economic, environmental, and social dimensions. Balancing the need for sand with responsible and sustainable mining practices is essential to mitigate its negative impacts and protect the environment and communities that depend on it.
-Article by Swathi Satish