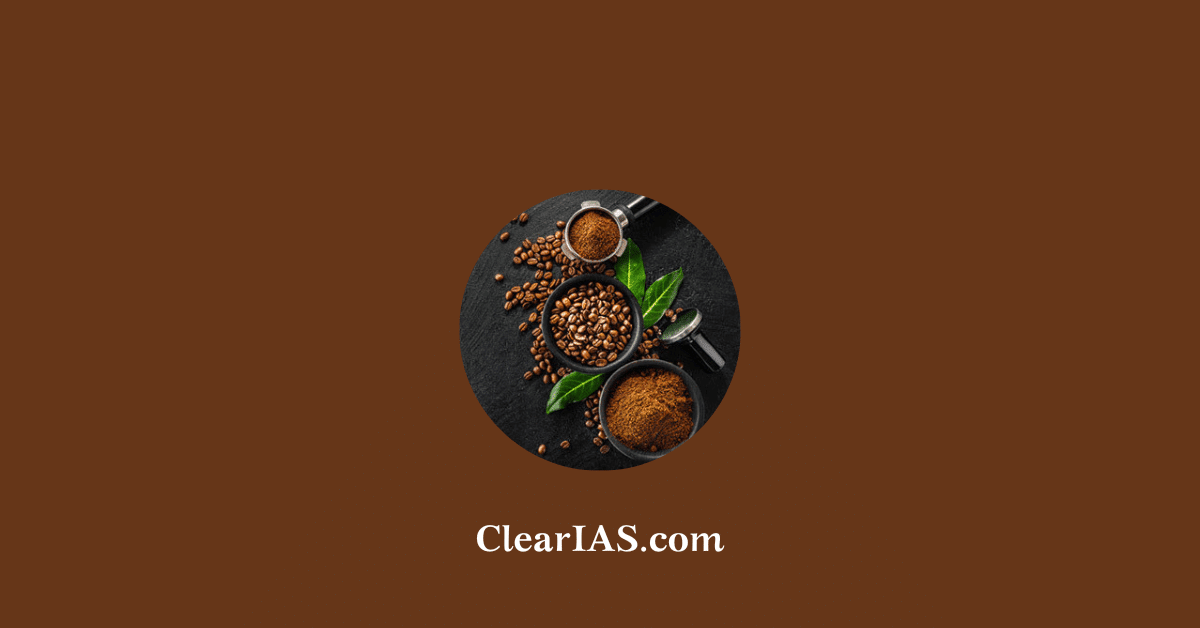 In India, coffee farming is a business that is increasingly losing money. The industry is already struggling under the weight of high material and production costs, a labour shortage, and now shifts in climatic patterns. What are the different varieties of coffee? What are the challenges faced by the coffee industry in India? Read the article to learn more about the Coffee industry in India.
India's coffee cultivation
The history of Indian coffee began with the saint Baba Budan's 1600 AD planting of seven coffee seeds in the courtyard of his hermitage in Chikmagalur, Karnataka.
The first commercial coffee plantations were established in the 18th century by British businessmen. India will produce roughly 3% of the world's coffee in 2020, placing it among the top 10 producers in the world.
Facts about Coffee Plant
The coffee plant is a member of the Rubiaceae family taxonomically. It is a shrub with evergreen leaves. The berries, which are 1.5 cm oval in shape, appear after the flowers, which bloom at the same time. The berries start out green, ripen to yellow, turn scarlet, and then turn black when they are dried. In seven to nine months, berries mature. Vegetative methods are typically used for propagation to sustain the new strains of coffee. The common techniques for vegetative propagation are cuttings, grafting, and budding. However, seeds can also be used to grow coffee. To plant coffee traditionally, 20 seeds are placed in each hole at the start of the rainy season; half of these seeds are inevitably lost.
Climate requirements for coffee production
Coffee requires a warm, humid environment with fluctuating temperatures.
Coffee requires a hot, muggy environment with temperatures between 15°C and 28°C. Usually, it is planted beneath shaded trees.
Strong sunlight, temperatures exceeding 30°C, cold, and snowfall are detrimental to a coffee plantation.
When the berries ripen, dry weather is required.
For coffee cultivation, rainfall between 150 and 250 cm is ideal.
The best soil for growing coffee is well-drained, rich, friable, loamy soil containing humus and minerals.
Coffee also requires skilled, affordable labour.
The tropical plant is also produced in semi-tropical regions.
Indian coffee is unique since it is shade-grown and elevated, unlike coffee from other major producing nations, which is cultivated on flat soil.
Indian Agriculture: Farming Types, Features and Challenges – ClearIAS
Important Varieties
Only a small number of the more than 100 species of coffee are raised commercially. Coffea robusta (also known as Coffea canephora) and Coffea arabica are grown in our nation.
Coffee Robusta
In addition to South Asia and South East Asia, Robusta coffee, scientifically known as Coffea canephora, is mostly farmed in Africa and Brazil. Vietnam has emerged as one of the world's top producers and exporters of coffee solely due to this coffee. Despite being inferior to Coffea arabica, it needs less maintenance. It contains twice as much caffeine as Arabica.
Coffea Arabica
Ethiopia and the Arab world are home to the Coffea arabica plant. It is thought to be the first coffee type to be cultivated and goes by the name Coffee Shrub of Arabia. There isn't much caffeine in it by nature.
Coffee Liberica
The species Coffea liberica is one that has its origins in Liberia. The shrub can reach a height of 9 metres, and its cherries are bigger. In the Philippines, the cultivar Barraco is a significant crop.
Coffea charrieriana
The coffee plant Coffea charrieriana contains no caffeine. In Cameroon, you can find it.
Mocha Coffee
Coffea Arabica is the source of mocha coffee or cafe mocha. This name originated from a Yemeni town called Mocha. In the 15th and 16th centuries, Yemen was the world's top producer and exporter of mocha coffee.
Comparison between Arabica and Robusta coffee
Arabica is preferred as a beverage over Robusta mostly because of its taste. Although robust and almost twice as caffeinated as Arabica, Robusta has a worse quality of flavour because of its increased caffeine level.
Robusta makes up about 20–25% of all coffee produced worldwide, with Arabica making up the remainder. Production of the other cultivated kinds is minimal.
Baba Budangiri
A mountain known as Dattagiri or Baba Budangiri is located in the Western Ghats' Dattagiri Hill Range/Baba Budan Giri Range in Karnataka's Chikkamagaluru District. Both Hindus and Muslims can make the trip to the Baba Budangiri shrine. The birthplace of coffee plantations in India is known as Baba Budangiri. According to legend, Bababudan, a Sufi scholar, planted seven coffee beans and thereafter "smuggled" coffee from Yemen in 1670. In today's multibillion-dollar Indian coffee business, it holds a distinct place.
Coffee Production
Both Arabica and Robusta varieties of coffee are produced in India. Due to its mild fragrant flavour, Arabica coffee has a higher market value than Robusta coffee.
The southern region of India is where coffee is primarily grown. The majority of India's total coffee production, or around 70%, is produced in Karnataka. Tamil Nadu and Kerala come after it. Orissa and the North-eastern regions produce less than other regions
Coffee Consumption
More than 70% of the nation's produce is exported. India is the eighth-largest volume exporter of coffee, according to The Food and Agriculture Organization (FAO).
Coffee exports from India exhibit seasonality, with export peaks occurring between March and June.
 Coffee Board of India
The Ministry of Commerce and Industry is in charge of the Coffee Board of India, which was founded in 1942. The Board's actions are generally focused on improving production, productivity, and quality; promoting exports to increase the value returns for Indian coffee; and fostering the growth of the domestic market.
Challenges Faced by Coffee Industry
The cost of production is increasing as a result of the labour shortage on coffee plantations. In Brazil, labour costs make up 25% of the total cost of production, but in India, planters claim they make up 65%.
During the summer, electricity outages occur on plantations. As a result, irrigation is costly due to the high cost of diesel.
The geology and coffee terrain of India prevents large-scale mechanisation of plantings.
The majority of private banks demand collateral from growers in order to finance them. Small- and medium-sized growers still have difficulties with this.
Additionally, banks did not modify the loans that coffee growers had taken out. As a result, farmers are currently subject to SARFAESI Act recovery proceedings.
 The coffee industry in India has suffered as a result of significant changes in climatic trends. Between 2015 and 2017, there were dry spells, then between 2018 and 2022, there were unseasonably severe rains, floods, and landslides.
Unpredictable weather patterns can encourage the spread of novel illnesses and the reproduction of pests.
Even in the domestic market, there is no formal system in place for pricing. Therefore, dealers are in control of prices while producers are being pushed to the periphery.
Despite being highly regarded, Indian coffee lacks a distinctive brand identity in the global marketplace. As a result, it cannot compete with well-publicised brand names like Colombian coffee.
Indian coffee is losing market share to coffee exported from other countries like Brazil due to high production costs and poor marketing.
The Western Ghats, which are home to many ecologically vulnerable areas, are where most coffee is cultivated in India. One of the top 25 hotspots for biodiversity in the world is this. This makes it difficult to promote coffee farms.
Way forward
The Coffee (Promotion and Development Bill), scheduled to become law in 2022, will replace the 80-year-old Coffee Act. It aims to eliminate clauses that are no longer necessary and hinder commerce in coffee.
The goal of the new regulation is to encourage the sale and consumption of Indian coffee with fewer limitations from the government, including through e-commerce platforms.
In order to bring the Indian coffee sector into line with international best practices, it also aims to promote more economic, scientific, and technical research.
Create new sources of income. To improve earnings from coffee gardens, coffee growers could experiment with adding exotic fruit-bearing trees, fish farming, apiary, or green tourism in addition to the customary inter-cropping of pepper and cardamom.
To overcome obstacles like global currency volatility and climatic whims, small coffee growers require minimum support prices and subsidies.
Also read: Tea Industry in India
Article Written By: Atheena Fathima Riyas