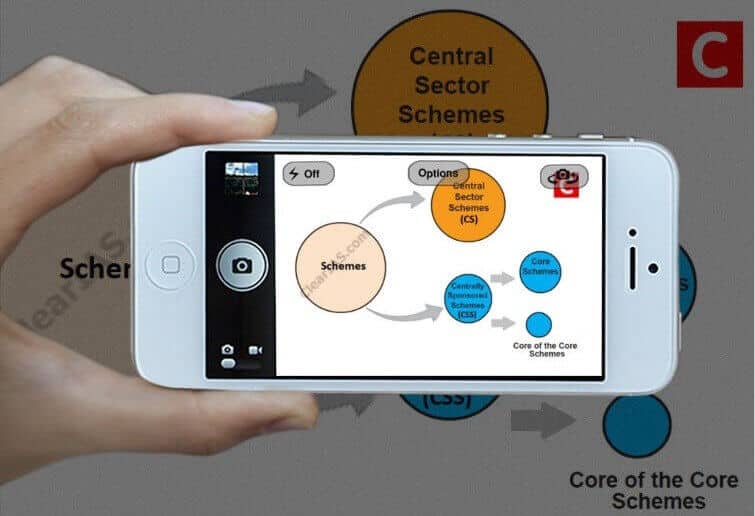 Do you know that Central Government Schemes are classified into Core of the Core Schemes, Core Schemes, and Major Central Sector Schemes in Union Budget 2018?
Centrally Sponsored Schemes vs Central Sector Schemes
Actually, the two major classifications of Central Government Schemes are Centrally Sponsored Schemes (CSS) and Central Center Schemes (CS).
Centrally Sponsored Schemes (CSS) are again divided into Core of the Core Schemes and Core Schemes.
Core of the Core Schemes
1 National Social Assistance Progam
2 Mahatma Gandhi National Rural Employment Guarantee Program
3 Umbrella Scheme for Development of Scheduled Castes
4 Umbrella Programme for Development of Scheduled Tribes
5 Umbrella Programme for Development of Minorities
6 Umbrella Programme for Development of Other Vulnerable Groups
Core Schemes
7 Green Revolution
8 White Revolution
9 Blue Revolution
10 Pradhan Mantri Krishi Sinchai Yojna
11 Pradhan Mantri Gram Sadak Yojna
12 Pradhan Mantri Awas Yojna(PMAY)
13 National Rural Drinking Water Mission
14 Swachh Bharat Mission
15 National Health Mission
16 National Education Mission
17 National Programme of Mid Day Meal in Schools
18 Umbrella ICDS
19 Mission for Protection and Empowerment for Women
20 National Livelihood Mission – Ajeevika
21 Jobs and Skill Development
22 Environment, Forestry and Wildlife
23 Urban Rejuvenation Mission: AMRUT and Smart Cities Mission
24 Modernisation of Police Forces
25 Infrastructure Facilities for Judiciary
26 Border Area Development Programme
27 Shyama Prasad Mukherjee Rurban Mission
28 Rashtriya Swasthya Bima Yojna
Major Central Sector Schemes
29 Crop Insurance Scheme
30 Interest Subsidy for Short Term Credit to Farmers
31 Crop Science
32 Agricultural Universities and Institutions
33 Regional Connectivity Scheme
34 Interest Equalisation Scheme (Department of Commerce)
35 National Industrial Corridor Development and Implementation Trust (NICDIT)
36 Exhibition-Cum-Convention Centre, Dwarka
37 North Eastern Industrial and Investment Promotion Policy (NEIPP)
38 Refund of Central and Integrated GST to Industrial Units in North Eastern Region and Himalayan States
39 Compensation to Service Providers for creation and augmentation of telecom infrastructure-Bharatnet
40 Optical Fibre Cable based network for Defence Services
41 Price Stabilisation Fund
42 Promotion of Electronics and IT HW Manufacturing (MSIPS, EDF and Manufacturing Clusters)
43 Promotion of Digital payment
44 Equity Capital to Micro Units Development Refinance Agency (MUDRA Bank)
45 Pradhan Mantri Kisan Sampada Yojana
46 Pardhan Mantri Swasthya Suraksha Yojana
47 National AIDS and STD Control Programme
48 Border Infrastructure and Management
49 Police Infrastructure
50 Metro Projects & MRTS
51 National Capital Region Transport Corporation
52 Higher Education Financing Agency (HEFA)
53 Employees Pension Scheme, 1995
54 Education of Minorities girl child
55 National Manufacturing Competitiveness Programme (NMCP)
56 Prime Minister Employment Generation Programme (PMEGP)
57 Credit Support Programme
58 Wind Power – Grid Interactive Renewable Power
59 Solar Power – Grid Interactive Renewable Power
60 Green Energy Corridors – Grid Interactive Renewable Power
61 Solar Power – Off-Grid/Distributed and Decentralized Renewable Power
62 Capacity Building- Panchayat Sashaktikaran Abhiyaan (PSA) /Rashtriya Gram Swaraj Abhiyan (RGSA)
63 LPG Connection to Poor Households
64 Phulpur Dhamra Haldia Pipeline Project
65 National Seismic Programme
66 Deen Dayal Upadhyaya Gram Jyoti Yojna
67 Sahaj Bijli Har Ghar Yojana (Rural) – Saubhagya
68 Integrated Power Development Scheme
69 Strengthening of Power Systems including Power Sector Development Fund
70 National Highways Authority of India including Road Works
71 Science and Technology Institutional and Human Capacity Building
72 Innovation, Technology Development and Deployment
73 Biotechnology Research and Development
74 Sagarmala
75 Member of Parliament Local Area Development Scheme (MPLAD)
76 Amended Technology Upgradation Fund Scheme(ATUFS)
77 Procurement of Cotton by Cotton Corporation under Price Support Scheme
78 Central Silk Board
79 Remission of State Levies (ROSL)
80 Integrated Development of Tourist Circuits around specific themes (Swadesh Darshan) & PRASAD
81 National River Conservation Programme
82 National Ganga Plan and Ghat Works
83 Khelo India
Quick Revise Government Schemes – Download ClearIAS PDF Compilation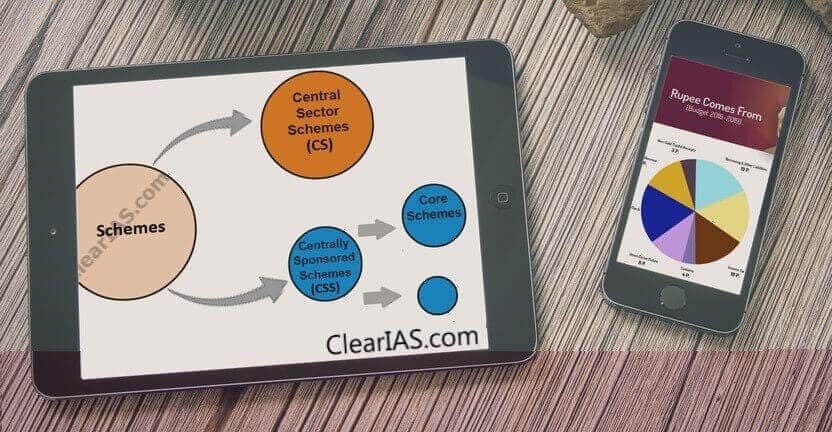 ClearIAS has compiled an ebook in PDF form "Government Schemes for Quick Revision" with data from various government websites. This ebook will help you to learn not only the government schemes but also the main points of the latest union budget and economic survey!