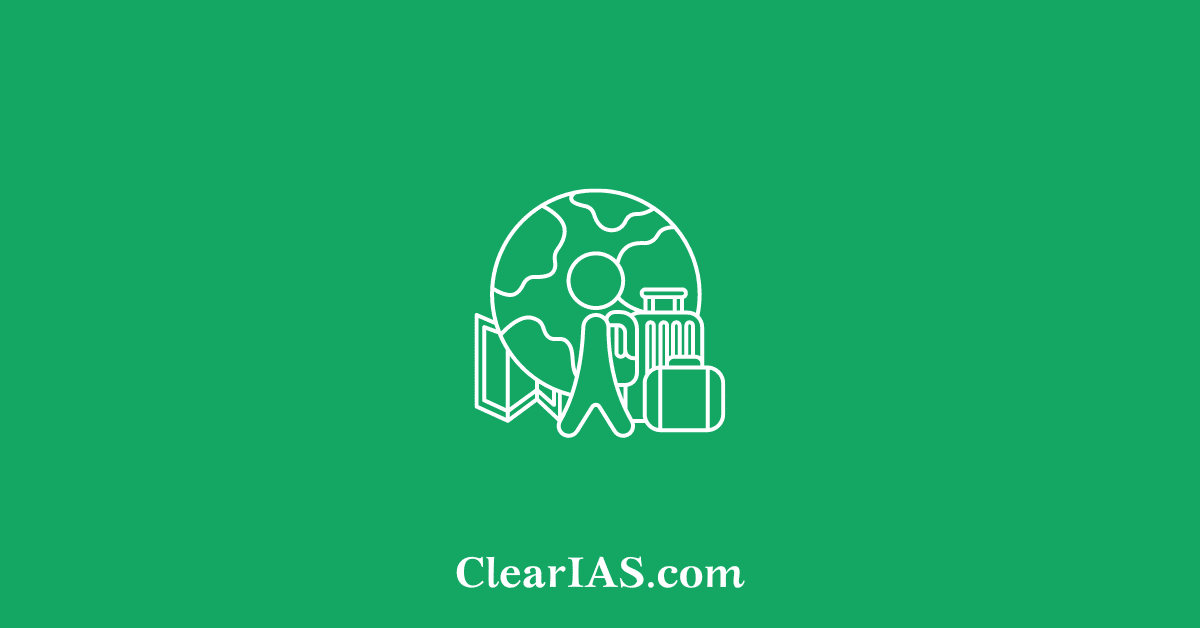 What is Cultural tourism? Why Cultural tourism is significant in India? What is being done to promote cultural tourism in India? Read further to know more
India has a wide variety of attractions that showcase its extensive cultural heritage. India attracts tourists from all over the world because of its abundance of spectacular heritage monuments.
As a result of cultural tourism in India, people have visited historic temples, regal palaces, scenic beaches, and attractive hills.
Present scenario of the tourism sector in India
With 1.52 million foreign visitors anticipated in 2021, India is one of the top tourism destinations in the globe. India's foreign exchange revenues increased by roughly $8.8 billion as a result of this. There were also about 680 million domestic travellers.
India is a much-liked tourist destination thanks in large part to its distinct culture, history, and position as one of the world's oldest civilizations, as well as its plethora of breathtaking natural attractions. As a result, there are 40 UNESCO world heritage sites (32 cultural, 7 natural & 1 mixed). With towns, forts, tombs, tunnels, rock shelters, and churches, India has a lot to offer tourists.
What is Cultural tourism?
Cultural tourism is a kind of tourism that enables visitors to take part in local cultural celebrations like festivals and traditions. The traveller can thus have genuine cultural contact with the people.
Furthermore, because cultural tourism is a significant development engine, it enables local societies to embrace their culture. Communities, therefore, make a point of praising and supporting their culture since it sets them apart from other communities.
As nations recognise the value of cultural tourism and how it can boost local economies, they are focusing on developing cities and villages that will captivate tourists from across the world to experience and observe the culture in a way that has never been possible before.
Why Cultural tourism is significant in India?
Tourists travel to India to experience it for themselves because of the country's well-known rich cultural legacy and mysticism.
Some of the most important civilizations and faiths in the world have their roots in India and were nurtured there. India is a popular travel destination because of its numerous World Heritage Sites and unparalleled cultural vibrancy.
Since time immemorial, India has been regarded as the land of ancient history, legacy, and culture, which is the main reason for its current stratospheric ascent in the tourism sector.
Over the years, India has had numerous kings, and each of them had an impact on Indian culture. Different cultures have left their mark on dance, music, celebrations, architecture, traditional customs, food, and languages.
The richness and diversity of India's heritage and culture can be attributed to the influence of all these different cultures. This cultural wealth helps to project India as the top destination for cultural tourism, boosting that industry in India.
To promote cultural tourism in India, the Indian government established the Ministry of Tourism and Culture. The ministry recently launched the "Incredible India!" campaign, which has contributed to the expansion of India's cultural tourism industry.
Various sites of cultural tourism centres in India
India's diversity is a result of the country's mixture of religious and cultural traditions. The nation is home to a large number of world historic monuments that have an enticing influence and have long drawn visitors from around the world. We would be delighted to familiarise ourselves with the many customs and civilizations that make up India's cultural heritage.
The Pushkar fair (Rajasthan), Taj Mahotsav (Uttar Pradesh), and Suraj Kund mela are just a few of the fairs and festivals that travellers can attend in India (Haryana). sites include the Taj Mahal (Uttar Pradesh), the Hawa Mahal (Uttar Pradesh), Hampi (Karnataka), the Ajanta & Ellora caves (Maharashtra), and Mahabalipuram (Tamil Nadu) (Rajasthan).
Rajasthan is the most popular state in India for cultural tourism among the several states. Rajasthan is known for having a rich cultural legacy, which is the reason behind this. The state is well known for its numerous exquisite palaces and forts that highlight Rajasthan's rich cultural heritage. Rajasthan's rich cultural legacy is also reflected in the numerous folk songs and music. Rajasthan has many festivals and fairs, including the camel festival, the Marwar festival, and the Pushkar festival. All of these draw a lot of people to Rajasthan since they allow them to experience the state's vibrant culture.
Tamil Nadu is renowned for cultural tourism in India as well because it exhibits Dravidian customs and culture. Its numerous temples reflect India's rich cultural heritage. Numerous tourist attractions in Uttar Pradesh attest to the nation's rich cultural heritage. The Taj Mahal in Agra is the most well-known structure. Many tourists also go to Uttar Pradesh cities like Varanasi, Allahabad, Vrindavan, and Ayodhya because they capture exquisite scenes from India.
In India, Uttaranchal is renowned for its cultural tourism industry. The Himalayas, known as the "abode of the Gods," are located in this state. The Kumaon and Garhwal regions of the state are home to numerous historic temples.
Government initiatives to boost India's cultural tourism
Some of the government initiatives to boost cultural tourism in India are:
PRASHAD Scheme
The Ministry of Tourism introduced the "National Mission on Pilgrimage Rejuvenation and Spiritual Augmentation Drive (PRASAD)" in 2014–15 with the goal of holistically developing recognised pilgrimage places.
In October 2017, the program's name, which had previously been PRASAD, was changed to "National Mission on Pilgrimage Rejuvenation and Spiritual Heritage Augmentation Drive (PRASHAD)".
The respective State/Union Territory Government shall implement the initiatives listed under this scheme through the designated agencies.
Under its provisions, the Ministry of Tourism offers State Governments Central Financial Assistance (CFA) for boosting tourism at predetermined locations.
The Central Government will contribute 100% of the funds needed for components covered by public funding under this programme.
It also tries to incorporate corporate social responsibility (CSR) and public-private partnerships (PPP) for the project's increased sustainability.
HRIDAY scheme
The National Heritage City Development and Augmentation Yojana, an HRIDAY programme, was introduced on January 21, 2015, by the Ministry of Housing and Urban Affairs.
The goal of this programme is to protect and promote the nation's rich cultural heritage. The HRIDAY programme seeks to preserve cultural assets while also promoting urban planning and historic cities' economic development.
The National Heritage City Development and Augmentation Yojana places a strong emphasis on the heritage cities' accessibility, security, safety, way of life, cleanliness, and quick service delivery.
Buddhist Tourism Circuit
The Buddhist circuit is a route that follows in the footsteps of the Buddha from Lumbini in Nepal where he was born, through Bihar in India where he attained enlightenment, to Sarnath and Kushinagar in Uttar Pradesh in India, where he gave his first teachings and his final resting place.
Kushinagar is the centre of the Buddhist circuit, which consists of pilgrimage sites at Lumbini, Sarnath, and Gaya.
Palace on Wheels
A luxurious tourist train is called The Palace on Wheels. To promote tourism in Rajasthan, it was started by the Indian Railways in collaboration with the Rajasthan Tourism Development Corporation. The name has since changed to Heritage Palace on Wheels.
In August 2009, the train service underwent renovations and was reopened with new furnishings, itineraries, and menus.
The idea for the Palace on Wheels came from the historical royal significance of the coaches, which were designed to serve as the private trains for the former kings of Rajputana, Baroda, the Nizam of Hyderabad, and primarily the Viceroy of British India.
Each saloon showcases the state's cultural character through the use of furnishings, handicrafts, paintings, and other decorations. The interior of the train was designed by Rashmi Gupta, an architect from Jaipur.

What is being done to promote cultural tourism in India?
The tourist industry has been growing as a result of numerous causes. Let's look at them now:
Hospitality and food
The Indian hospitality industry is a major contributor to this expansion. The public and commercial hospitality sectors have developed adequate resorts and hotels that offer excellent conventional and delectable options to tourists to accommodate and feed them.
Additionally, eating has given visitors to India another reason to go. This nation provides a wide variety of culinary delicacies that are practically unmatched.
Activities and events
Indian Council for Cultural Relations (ICCR) and MCT (Ministry of Culture & Tourism) have worked together to promote Indian culture throughout the world. To accomplish this, several Indian Cultural Centers on both the national and international levels organise a variety of programmes and events, including yoga coaching, music, dance, and language classes in Hindi and Sanskrit.
To promote the culture and variety of the nation, there are various activities like festival celebrations and art exhibitions. Through a Global Engagement Scheme, the Ministry of Culture also promotes Indian culture abroad. In this programme, Indian festivals are promoted and various cultural organisations abroad receive financial and infrastructural assistance.
Creation of world-class tourism infrastructure
The Swadesh Darshan programme, which was introduced by the Indian Tourism Ministry, has been another step done by the Indian government. It aided in the creation of theme-based circuits that cater to both mainstream tourist and specialist markets.
Under this programme, world-class infrastructure has been built to promote Indian culture and history. 27 projects totalling 2261.50 crores have been approved for 21 states and Union Territories since 2015.
Generation of tourism markets abroad
Through a marketing strategy and integrated campaigns using international media, the Indian Tourism Ministry has been pushing India as a top travel destination.
Since October 2021, the top 20 source markets abroad have seen all of these promotional activities carried out by the synergized combination of all the tourism offices abroad.
For instance, proposals for organising events with themes like Spirit of Gujarat in nations with a Gujarati Diaspora have been sent to the Indian government. Gujarat's culture and heritage will be the main focus of this event.
Azadi Ka Amrit Mahotsav is another festival with a distinct subject that would be promoted on Independence Day and Republic Day of India. It would foster a sense of pride in one's country and emphasise how the people contributed significantly to India's independence.
Another instance of this project is the International Buddhist Conclave, which takes place every two years. This gathering celebrates Buddhist heritage.
Additional initiatives are taken by the Government of India
Issuing the Tourist e-Visa to a chosen few nations is another effective government measure that would help India's tourism grow. Teams have been chosen by the Indian government to take part in significant travel shows and international tourism expos. Several roadshows have also been held to advertise India as a tourist destination.
In addition to all these activities, the government is also setting up training courses and workshops to attract qualified people to this profession. Here, providing a better experience is the goal.
Easy setup of tourism businesses
The Indian Ministry of Tourism has made conducting business easier and assisted in establishing Web-based Delivery Systems for the general population.
To make the process of submitting business applications for government approval transparent, it recognises the Trade and Travel Service Providers and aids hotels and resorts in classifying under a single directory. With effect from January 2016, this was done online along with the integration of payment gateways.
Development of a mobile app
The Indian Tourism Ministry introduced the Swachh Paryatan mobile application in February 2016. This enables citizens to report any problems with sanitation and hygienic conditions at different national tourist attractions.
Scaling greater heights
The government's measures will be essential moving ahead to build a sustainable system that will attract new participants to the cultural tourism sector while bolstering the performance of the current ones.
However, there is still much to learn about the enormous potential of India's cultural tourism sector. If properly developed, this industry can increase its GDP contribution to India and increase employment possibilities there. To do this, it is necessary to stimulate related industries including transportation, infrastructure, lodging, and hospitality.
Conclusion
The government is paying attention to India's expanding cultural tourism industry and taking the necessary steps to support it in maintaining this development. The industry, however, still has a lot of unrealized potentials. If appropriately utilised, this can increase the industry's contribution to India's GDP and provide job possibilities there.
By bringing revenue to historic sites, ruins and mausoleums, tourism has the potential to enhance and safeguard heritage and culture.
Related Posts
Article written by Aseem Muhammed