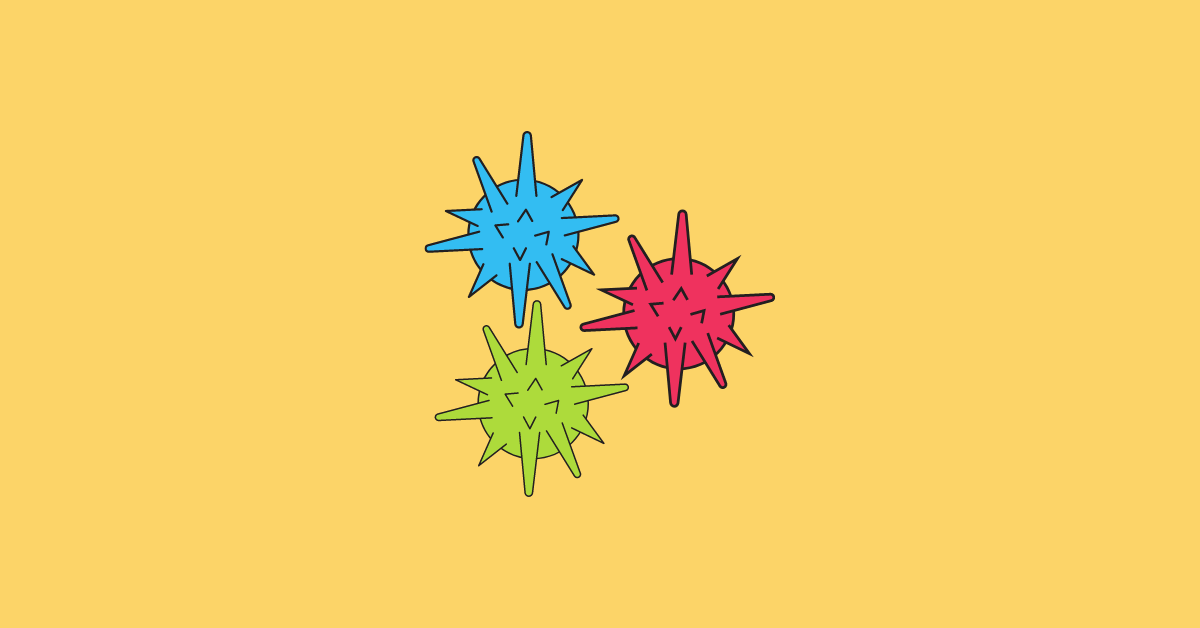 What are viruses? Is a virus a living organism or a non-living organism? What are the types of viruses? Read to know more.
Viruses are found wherever there is life.
They probably existed since living cells first evolved.
As viruses do not form fossils, it is unclear how viruses originated initially.
What is a virus?
Viruses are not plants, animals, or bacteria. They are generally placed in their own kingdom.
In the strictest sense, viruses should not even be considered organisms – because they are not free-living. Viruses cannot reproduce and carry on metabolic processes without a host cell.
A virus is an acellular organism which are 10 to 100 times smaller than bacteria, about 20-300 nm in size.
Viruses can infect a variety of living organisms, including bacteria, plants, and animals.
The infective, extracellular (outside the cell) form of a virus is called the virion.
Virus Defenition
A virus is a small collection of genetic code (either DNA or RNA) surrounded by a protein coat.
They lack metabolic machinery of their own to generate energy or synthesize proteins. They can reproduce only within a living cell – hence they are obligate intracellular parasites. They take over the functions of the host cell hence causing infection.
Viruses are inactive outside the host (crystallized form) and active inside. This puts them in the unique criteria of living as well as the non-living entity or 'not truly living'.
History
Louis Pasteur (1822-1895) speculated a pathogen too small to be detected by microscopes. This was because he was unable to find the cause of rabies.
The earliest indications of the biological nature of viruses came from studies in 1892 by the Russian scientist Dmitry I. Ivanovsky.
Dutch scientist Martinus W. Beijerinck surmised that the virus was a new kind of infectious agent.
Both Ivanovsky and Beijerinck found that a disease of tobacco plants could be transmitted by an agent, later called the tobacco mosaic virus.
In the early 20th century, the English bacteriologist Frederick Twort discovered a group of viruses that infect bacteria, now called bacteriophages.
The first images of viruses were obtained upon the invention of electron microscopy in 1931 by the German engineers Ernst Ruska and Max Knoll.
The second half of the 20th century saw the discovery and documentation of many viruses.
Virus Structure
Viruses may be either rod-shaped or spherical.
Viruses consist of one or more molecules of either DNA or RNA enclosed in a coat of protein. This coat protects the genetic material when the virus is outside of the host cell.
Now, let's try to understand a virus from inside to outside.
(1) Nucleic Acid: Starting from the inside, you will see a nucleic acid, which can be either RNA or DNA. The nucleic acid can be either single-stranded or double-stranded.
(2) Protein Coat: Surrounding the nucleic acid almost all viruses will have e a protein coat. This will either be in the form of the capsid or little small units.
(3) Envelope: Some viruses will also have an envelope that they obtain as they emerge from the cell.
How are viruses classified?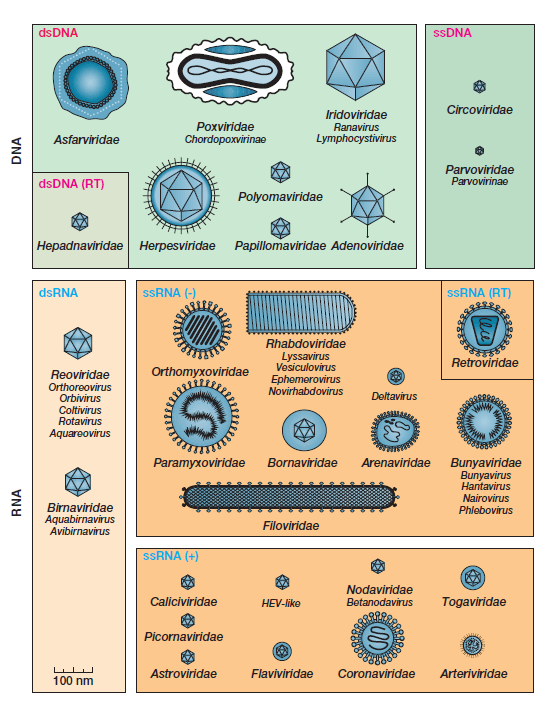 Researchers estimate that viruses outnumber bacteria by 10 to 1.
Viruses are classified according to various criteria such as morphology, nucleic acid type, their host, etc.
Classification based on nucleic acid type:
DNA viruses – can be single-stranded or double-stranded
RNA viruses – can be single-stranded or double-stranded
Classification based on host type:
Viruses of humans
Viruses of bacteria (bacteriophage)
Viruses of animals
Viruses of plants
Virus Types
The above two classifications can be clubbed together which will cover a wide range of virus types and diseases caused by them in respective hosts.
| | | | |
| --- | --- | --- | --- |
| Virus family | Examples/Diseases caused | Host | Nucleic Acid |
| Adenoviridae | Canine hepatitis virus, Few types of the common cold | Humans, animals | DNA |
| Herpesviridae | Epstein-Barr virus, Herpes simplex virus, cytomegalovirus, Chickenpox | Humans, animals | DNA |
| Poxviridae | Smallpox, cowpox, monkeypox | Humans, animals | DNA |
| Papoviridae | Human papillomavirus | Humans | DNA |
| Rhinovirus | Common cold | Humans | DNA |
| | | | |
| Enterovirus | Common cold | Humans, animals | RNA |
| | Human coronavirus, MERS, SARS, common cold | Humans, Animals | RNA |
| Reoviridae | Rotavirus, reovirus | Plants, animals | RNA |
| Picornaviridae | Poliovirus, hepatovirus, foot and mouth disease virus, enterovirus | Humans, animals | RNA |
| Virgaviridae | Tobacco mosaic virus | Plants | RNA |
| Flaviviridae | Dengue virus, hepatitis C, yellow fever, Zika virus | Humans, animals | RNA |
| Orthomyxoviridae | Infleunza virus A, B, C | Humans, animals | RNA |
| Paramyxoviridae | Measles, mumps, rinderpest, canine distemper | Humans, animals | RNA |
| Bunyaviridae | Stem necrosis, California encephalitis, hantavirus | Plants, humans, animals | RNA |
| Rhabdoviridae | Rabies, vesicular stomatitis | Plants, animals | RNA |
| Filoviridae | | Humans, animals | RNA |
| Hepeviridae | Hepatitis E | Humans | RNA |
| | | | |
| Retroviridae | HIV | Humans, animals | RNA |
| Caulimoviridae | Caulimovirus, cacao shoot virus | plants | RNA |
| Hepadnaviridae | Hepatitis B | humans | DNA |
Can antibiotics be used against viruses?
As viruses don't have the same components as bacteria, they cannot be killed by antibiotics.
Antiviral medications or vaccines can eliminate or reduce the severity of several viral diseases.
Questions about viruses
Qn UPSC CSE 2021) Consider the following:
1. Bacteria
2. Fungi
3. Virus
Which of the above can be cultured in an artificial/ synthetic medium?
(a) 1 and 2 only
(b) 2 and 3 only
(c) 1 and 3 only
(d) 1, 2 and 3
Answer: (a) 1 and 2 only
Qn UPSC CSE 2021) Consider the following statements:
1. Adenoviruses have single-stranded DNA genomes whereas retroviruses have double-stranded DNA genomes.
2. Common cold is sometimes caused by an adenovirus whereas AIDS is caused by a retrovirus.
Which of the statements given above is/are correct?
(a) 1 only
(b) 2 only
(c) Both 1 and 2
(d) Neither 1 nor 2
Answer: (b) 2 only
Related Posts