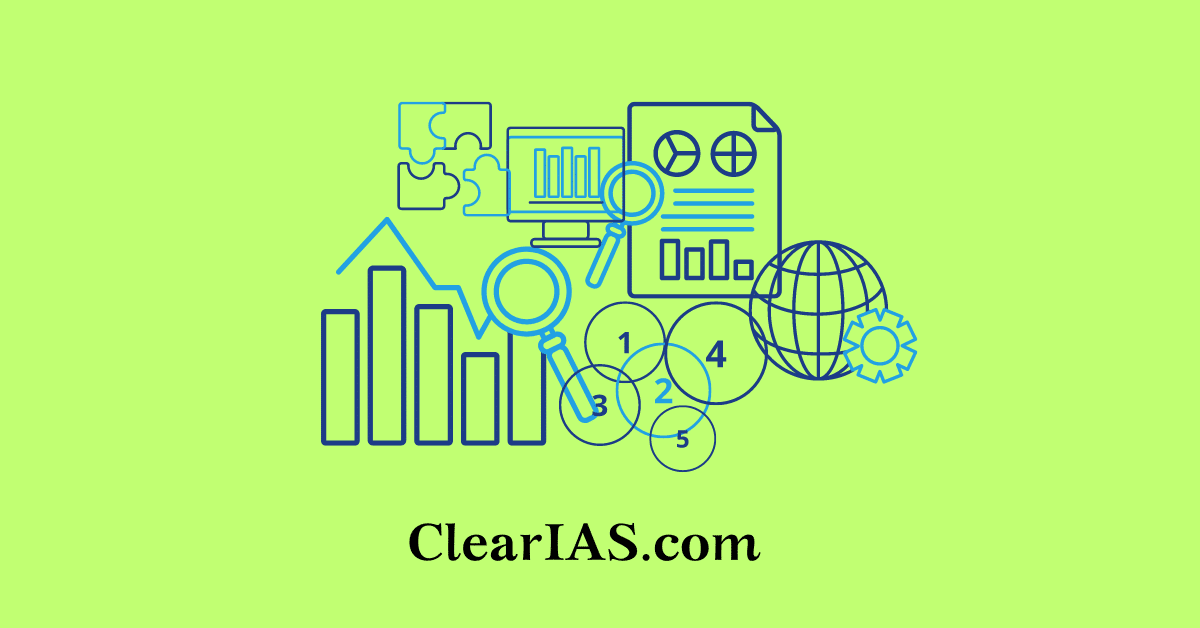 What is data interpretation? How to interpret charts, graphs, tables etc? What is data sufficiency? Read to know more.
Data Interpretation (DI) is an essential skill not just for competitive exams like the Civil Services Examination but also in real-life decision-making. For an IAS officer, interpreting data correctly can lead to better policy decisions, more efficient resource allocation, and a deeper understanding of societal issues.
In this blog post, we'll delve into the basics of data interpretation, and its significance, and provide a model question to help you practice.
Data Interpretation (DI)
Data Interpretation refers to the process of drawing meaningful conclusions from data, typically presented in the form of charts, graphs, tables, or other visual formats. It involves understanding, analyzing, and making sense of data to make informed decisions or to derive insights.
Key Components of Data Interpretation:
Understanding Data Formats: Data can be presented in various formats, such as pie charts, bar graphs, line graphs, tables, scatter plots, histograms, etc. Recognizing and understanding these formats is the first step in DI.
Analytical Skills: DI requires the ability to analyze data, identify patterns, trends, or anomalies, and draw logical conclusions based on the information presented.
Mathematical Calculations: Often, DI involves performing basic mathematical operations like addition, subtraction, multiplication, division, percentage calculations, etc., to interpret the data correctly.
Decision Making: In many scenarios, especially in business or competitive exams, DI is used as a tool for decision-making. The ability to interpret data correctly can lead to better decisions.
Critical Thinking: Not all data presented is accurate or relevant. Critical thinking helps in discerning the reliability and relevance of the data.
Why is Data Interpretation Important?
Decision Making: Data-driven decisions are often more accurate and effective. Interpreting data correctly ensures that decisions are based on evidence and not just intuition.
Analytical Skills: DI tests your ability to process information, identify patterns, and draw conclusions. These are essential skills for any civil servant.
Time Management: DI questions can be time-consuming. Efficiently interpreting data can save precious minutes in the exam.
Model Question on Data Interpretation:
Directions: The following pie chart shows the distribution of a city's budget across various sectors. Use the chart to answer the questions below.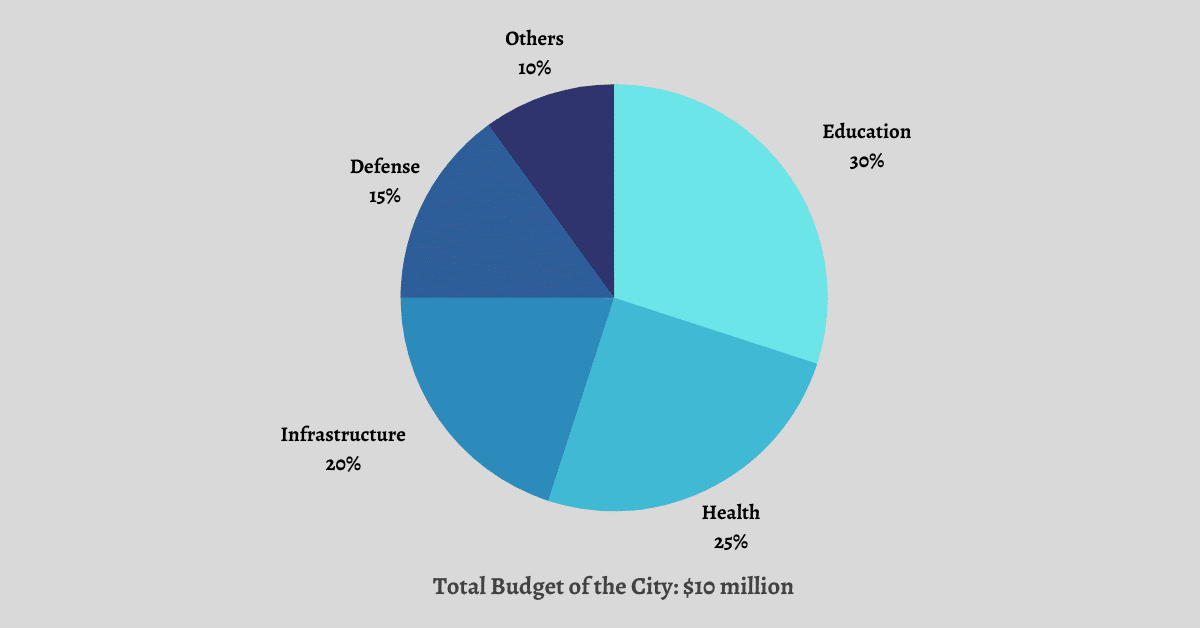 Question 1: How much budget is allocated to the Health sector?
A) $2 million
B) $2.5 million
C) $3 million
D) $1.5 million
Answer: B) $2.5 million (25% of $10 million)
Question 2: If the city decides to increase the Defense budget by 50%, how much will the new allocation be?
A) $1.5 million
B) $2.25 million
C) $2.5 million
D) $1.75 million
Answer: B) $2.25 million (50% increase of 15% of $10 million)
Question 3: Which sector has the least budget allocation?
A) Education
B) Health
C) Infrastructure
D) Others
Answer: D) Others
Data Sufficiency (DS)
Data Sufficiency (DS) is a unique type of question format often seen in various competitive exams, including the UPSC CSE Prelims. Unlike traditional problems where you solve for a specific answer, DS problems require you to determine if the information given is sufficient to answer the question. It tests your analytical skills and your ability to discern relevant information.
Key Points to Remember:
Don't Solve Completely: The goal is not to find the exact answer but to determine if the given data is sufficient to find an answer.
Each Statement is Independent: Treat each piece of information or statement independently before combining them.
Avoid Assumptions: Only rely on the information provided. Do not make assumptions or use external knowledge.
Model MCQ on Data Sufficiency for UPSC CSE Prelims:
Question: Is the number 'n' an even number?
Statements:
n

2

 is an even number.

n

2

is divisible by 4.
Options:
A) Statement 1 alone is sufficient, but statement 2 alone is not sufficient.
B) Statement 2 alone is sufficient, but statement 1 alone is not sufficient.
C) Both statements 1 and 2 together are necessary to answer the question.
D) Each statement alone is sufficient.
Solution:
If

n

2

 is even, then 'n' must be even. (Odd number squared is always odd).
If 'n' is divisible by 4, then 'n' is also even.
Thus, each statement independently provides sufficient data to answer the question.
Answer: D) Each statement alone is sufficient.
Conclusion: Data Sufficiency questions can seem tricky at first, but with practice, you can develop a systematic approach to tackle them. Remember, the objective is not to find the exact answer but to determine the sufficiency of the provided data. Always read the statements carefully and avoid making unwarranted assumptions.
How to study Data Interpretation for CSAT?
Students may note that this article on Data Interpretation is just an overview of the topic. There is a lot more to learn about basic numeracy and data interpretation in the CSAT paper.
We recommend the below sources to learn the subject.
Go through ClearIAS YouTube Classes on CSAT.
Read books on CSAT.
Also read: CSAT Course: UPSC Prelims Paper 2 Program
Tips for Effective Data Interpretation:
Understand the Question: Before diving into the data, ensure you understand what's being asked.
Look for Trends: Instead of getting lost in numbers, look for patterns or trends in the data.
Use Elimination: Sometimes, it's easier to eliminate the wrong answers than to find the right one.
Practice: Like any other skill, the more you practice DI, the better you'll get at it.
Conclusion:
Data Interpretation is a crucial skill for any aspirant aiming to clear the Civil Services Examination. It not only tests your mathematical abilities but also your analytical and decision-making skills. Regular practice can help you master this section and score well in the examination.
Remember, in the real world, especially in administrative roles, you'll often be presented with vast amounts of data. Your ability to interpret and draw meaningful conclusions from that data can make a significant difference in your effectiveness as an officer.
Happy Learning and Best of Luck!