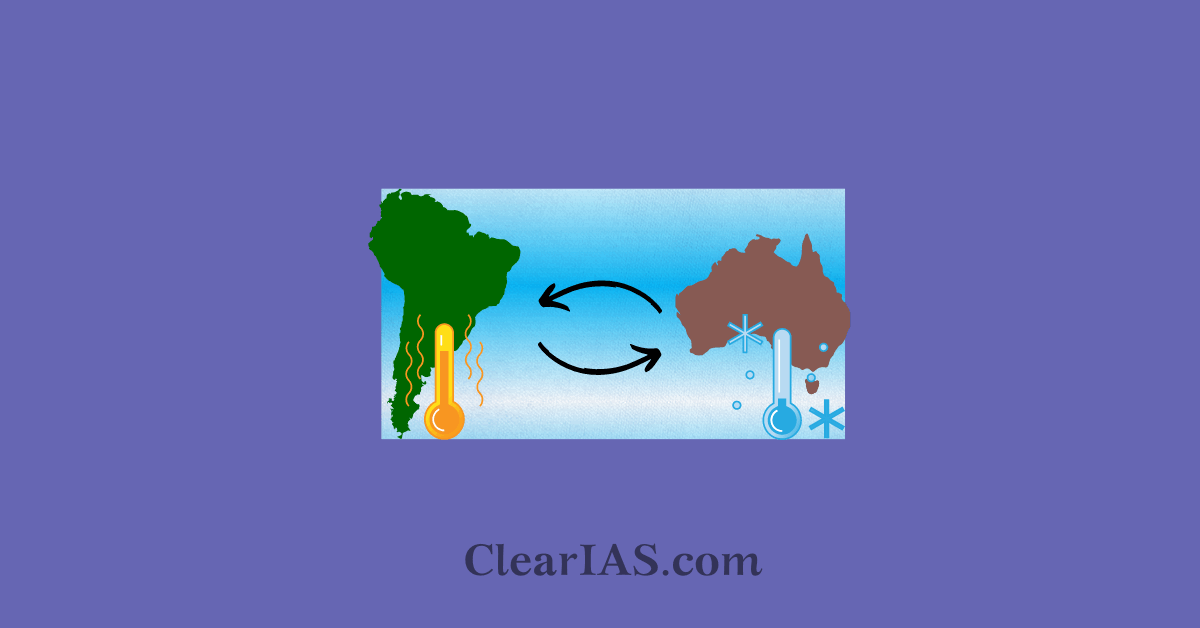 El Nino and La Nina are climate patterns in the Pacific Ocean affecting the weather worldwide. These phenomena are extremely important for understanding the global climate. Read here to know in detail.
The El Niño/La Niña Southern Oscillation (ENSO) has a major influence on climate patterns in various parts of the world.
In addition to changes in the atmosphere, this naturally occurring phenomenon is caused by shifting ocean temperatures in the central and eastern equatorial Pacific.
We now can foresee this phenomenon more accurately one to nine months in advance thanks to scientific advancements in understanding and modeling which have allowed civilization to plan for associated risks including severe rain, floods, and drought.
During normal conditions in the Pacific Ocean, trade winds blow west along the equator, taking warm water from South America toward Asia.
To replace that warm water, cold water rises from the depths, a process called upwelling.
El Niño and La Niña are two opposing climate patterns that break these normal conditions.
Scientists call these phenomena the El Niño-Southern Oscillation (ENSO) cycle.
El Nino
El Niño means Little Boy or Christ Child in Spanish.
South American fishermen first noticed periods of unusually warm water in the Pacific Ocean in the 1600s.
The full name they used was "El Niño de Navidad" because El Niño typically peaks around December.
El Niño can affect our weather significantly.
The warmer waters cause the Pacific jet stream to move south of its neutral position.
With this shift, areas in the northern U.S. and Canada are dryer and warmer than usual.
But in the U.S. Gulf Coast and Southeast, these periods are wetter than usual and have increased flooding.
El Nino has a significant impact on marine species off the Pacific coast as well.
Under typical circumstances, upwelling delivers cold, nutrient-rich water from the depths to the top.
Upwelling weakens or ceases entirely during El Nino.
There is a reduction in phytoplankton off the coast when the nutrients from the deep are absent.
This impacts fish that consume phytoplankton, which impacts everything that consumes fish.
Tropical animals like yellowtail and albacore tuna may enter regions that are usually too cold as a result of the warmer waters.
La Nina
La Niña means Little Girl in Spanish. La Niña is also sometimes called El Viejo, anti-El Niño, or simply "a cold event."
La Nina has the opposite effect of El Niño.
During La Nina events, trade winds are even stronger than usual, pushing more warm water toward Asia. Off the west coast of the Americas, upwelling increases, bringing cold, nutrient-rich water to the surface.
These cold waters in the Pacific push the jet stream northward.
This tends to lead to drought in the southern U.S. and heavy rains and flooding in the Pacific Northwest and Canada.
During a La Nina year, winter temperatures are warmer than normal in the South and cooler than normal in the North.
La Niña can also lead to a more severe hurricane season.
During La Niña, waters off the Pacific coast are colder and contain more nutrients than usual.
This environment supports more marine life and attracts more cold-water species, like squid and salmon, to places like the California coast.
A neutral state is when neither El Nino nor La Nina is present. During this time the sea surface temperatures in the tropical Pacific are close to average.
Monitoring El Nino-La Nina Phenomenon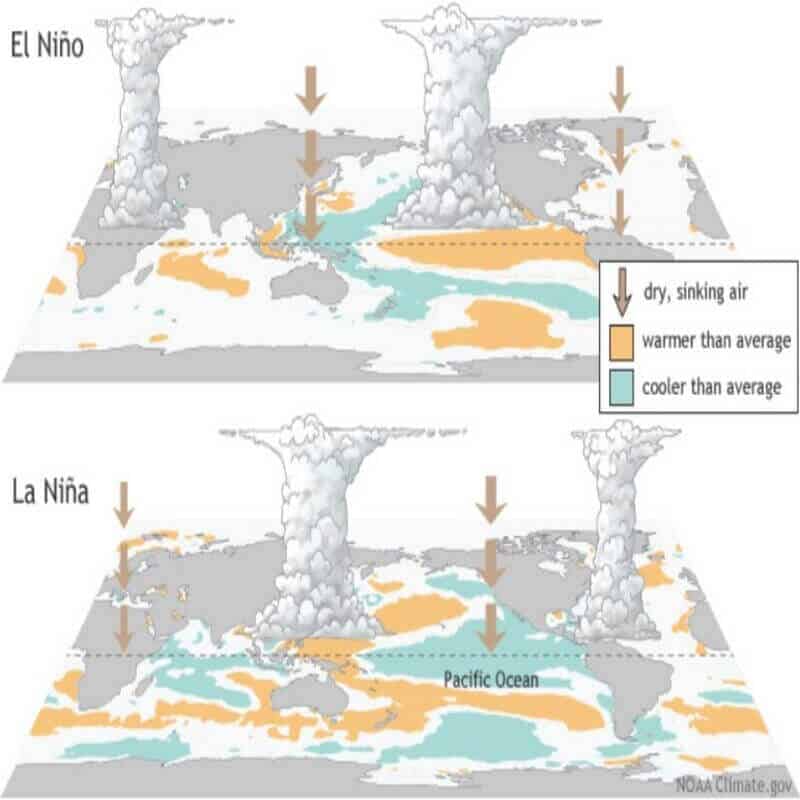 There are several methods used to predict developments in the Pacific Ocean. Complex dynamical models predict how the tropical Pacific Ocean will change from its current condition.
Some of the precursors to such developments can also be captured by statistical forecasting models.
Additional value is added by expert analysis of the current situation, particularly when evaluating the consequences of the changing condition below the ocean's surface.
The consequences of ocean-atmosphere interactions within the climate system are taken into account by all forecasting techniques.
The meteorological and oceanographic data that allow El Nino and La Nina episodes to be monitored and forecasted are drawn from national and international observing systems.
The exchange and processing of the data are carried out under programs coordinated by the World Meteorological Organization (WMO).
The International Research Institute for Climate and Society (IRI) and WMO work together to produce the WMO El Nino/La Nina Update on a semi-regular basis (about every three months) as a contribution to the United Nations Inter-Agency Task Force on Natural Disaster Reduction.
It is based on contributions from top global monitoring and forecasting centers and an expert consensus that WMO and IRI helped to create.
Impact of El Nino-La Nina on different parts of the world
El Nino:
Ocean temperatures, speed, and power of ocean currents are impacted.
The coastal fisheries and local weather of Australia to South America are affected.
Rainfall increases drastically in South America, contributing to coastal flooding and erosion. But causes droughts in Indonesia and Australia.
El Nino-related flooding is associated with increases in cholera, dengue, and malaria in some parts of the world, while drought can lead to wildfires that create respiratory problems.
It decreases the occurrences of hurricanes in the Atlantic.
Upwelling on the coasts of Ecuador, Peru, and Chile.
Weaker monsoons and sometimes drought in India and Southeast Asia.
La Nina:
Milder winters in northern Europe and colder winters in southern and western Europe around the Mediterranean region.
In North America, it causes stronger winds along the equatorial region, hurricanes in the Caribbean and central Atlantic, and more tornados in the US.
Drought in South America especially in Peru and Ecuador.
Increased rainfall in the western pacific eventually affected continental Asia and China.
Heavy floods in Australia.
Increased temperatures in the western Pacific, Indian Ocean, and Somalia coasts.
Colder winters in India as it pipes strong cold air from Siberia and forms a north-south low-pressure system.
Lesser impact of western disturbances.
Indian Ocean Dipole (IOD) and ENSO
It was observed that a positive IOD index often negated the effect of ENSO, resulting in increased Monsoon rains in several ENSO years like 1983, 1994, and 1997.
Indian Ocean Dipole is a varying ocean-atmosphere system in the Indian Ocean like ENSO in the Pacific Ocean.
The Indian Ocean Dipole (IOD) is defined by the difference in sea surface temperature between two areas (or poles, hence a dipole), a western pole in the Arabian Sea (western Indian Ocean), and an eastern pole in the eastern Indian Ocean south of Indonesia.
IOD develops in the equatorial region of the Indian Ocean from April to May peaking in October.
With favorable IOD winds over the Indian Ocean blow from east to west (from the Bay of Bengal towards the Arabian Sea). This results in the Arabian Sea (the western Indian Ocean near African Coast) being much warmer and the eastern Indian Ocean around Indonesia becoming colder and dry.
In the negative dipole year (negative IOD), the reverse happens to make Indonesia much warmer with increased rainfall.
Previous ENSO events
El Nino:
1982-83 and 1997-98 were very intense events of the 20th century.
1997-98 was the first scientifically monitored full event.
The "year without a winter" was a time when temperatures in the Midwest broke records for warmth.
La Nina:
The 2010 La Nina event correlates with one of the worst floods in the history of Queensland, Australia.
-Article written by Swathi Satish