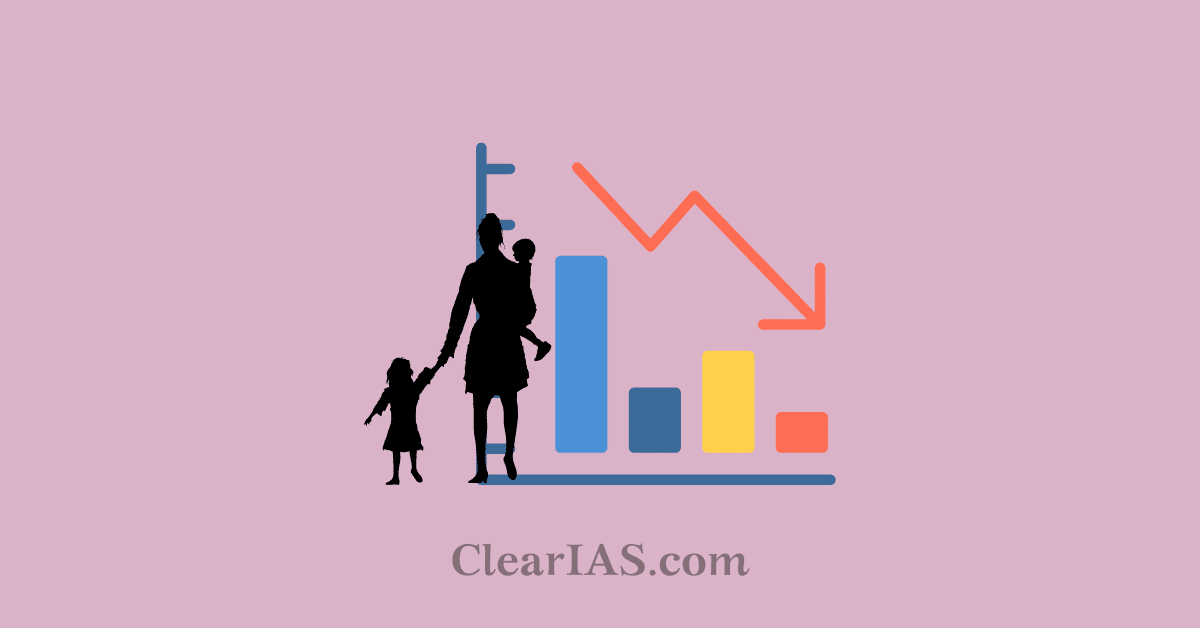 Total Fertility rate (TFR) is an important factor in population growth. Read here to know about the declining fertility rate in India.
The Total fertility rate (TFR) has declined from 2.2 (reported in 2015-16) to 2.0 at the all- India level, according to the latest National Family Health Survey of India OR NFHS- 5 (phase 2) released by Union Health Ministry.
1.6 in urban areas
2.1 in Rural area
2.0 all India
The NFHS-5 (National Family Health Survey) for 2019-2021 was conducted in around 6.1 lakh sample households from 707 districts of the country, covering 7,24,115 women and 1,01,839 men to provide disaggregated estimates up to the district level.
There are 1,020 women per 1,000 men in India according to the recently released Fifth Edition (NFHS-5). Such a sex ratio has not been recorded in any of the previous four editions of the NFHS.
Total Fertility Rate (TFR)
Total fertility rate (TFR) is the average number of children born to a woman in her reproductive years (15-49 years). The total fertility rate (TFR) is an important factor in determining the population growth and demographic stability of a country.
Repalcement Level Fertility
Replacement level fertility is the level of fertility at which a population exactly replaces itself from one generation to the next, i.e., the level of fertility needed to keep the population the same from generation to generation.
Why is the Replacement Level Fertility rate 2.1 and not 2?
The TFR of 2.1 ensures the replacement of the woman and her partner. Another 0.1 children per woman are included to counteract infant mortality.
Also read: China's Population Decline
UN projection of Human Population
United Nations (UN) projects that the global human population may increase from 7.8 billion in 2020 to 10.9 billion by 2100. A 40% population increase would have a strong impact on economies, food production, environment, and global climate. Based on these observations and the ongoing global decline in TFR, the United Nations through its medium projection model has predicted that TFR in all countries will converge to near replacement level (2.1) during the decades up to 2100.
Hence it is important to understand the causes of population growth for aspects of international and national planning for the future.
Key indicators for India in NFHS-5
The key factors or indicators for determining the fertility rates in India are listed below. These indicators were made use to compile the data in NFHS-5.
Population and Household Profile
Characteristics of Adults (age 15-49 years)
Marriage and Fertility
Infant and Child Mortality Rates (per 1,000 live births)
Current Use of Family Planning Methods (currently married women age 15–49 years)
Unmet Need for Family Planning (currently married women age 15–49 years)
Quality of Family Planning Services
Maternal and Child Health – Maternity Care (for last birth in the 5 years before the survey)
Delivery Care (for births in the 5 years before the survey)
Child Vaccinations and Vitamin A Supplementation
Treatment of Childhood Diseases (children under age 5 years)
Child Feeding Practices and Nutritional Status of Children
Nutritional Status of Adults (age 15-49 years)
Anemia among Children and Adults
Blood Sugar Level among Adults (age 15 years and above)
Hypertension among Adults (age 15 years and above)
Screening for Cancer among Adults (age 30-49 years)
Knowledge of HIV/AIDS among Adults (age 15-49 years)
Women's Empowerment (women age 15-49 years)
Gender-Based Violence (age 18-49 years)
Tobacco Use and Alcohol Consumption among Adults (age 15 years and above)
Also read: Population and Associated Issues
What does the Total fertility Rate in India indicate?
According to the United Nations's population division, countries experiencing below replacement facility (lower than 2.1 children per woman), indicates that a generation is not producing enough children to replace itself, eventually leading to a reduction in population.
Total Fertility Rate of 2.0 indicates the stability of the population in the long term for a country. it means two parents are being replaced by two children in the future.
India is still not expected to see a fall in population for another 30-40 years since more than 30% of the population are between ages 10-30 and are likely to have children over the next two decades.
Mortality rates: Infant and child mortality rates have improved since the previous round. The steepest fall has been recorded in the mortality rate of children under 5 – from 49.7 to 41.9 deaths per 1,000 live births.
Vaccination rates: Similarly, vaccination rates have improved since NFHS-4. The fraction of fully vaccinated children between the ages of 12 and 23 months has gone up from 62% to 76%, along with the rates of partial vaccination.
Childhood diseases: 'Childhood diseases' present a more mixed picture. While the prevalence of diarrhea in the two weeks preceding the survey dipped slightly in NFHS-5, the fraction of children receiving ORS and zinc for diarrhea has gone up substantially.
Child-feeding practices: Children's feeding practices have largely improved – except for the percentage of children younger than 3 years who were breastfed within an hour of birth, which remains unchanged from NFHS-4. The largest improvement is in the percentage of children who were exclusively breastfed when under six months – from 55% in NFHS-4 to 64% in NFHS-5.
Nutritional Status: The NFHS-5 data shows that the percentage of children who are stunted (low height-for-age), wasted (low weight-for-height) and underweight (low weight-for-age) has gone down. There is a slight increase in the percentage of severely wasted and overweight children. The more alarming thing is the 8 percentage points rise in the fraction of children suffering from anemia – from 59% in NFHS-4 to 67% in NFHS-5.
While there has been some progress, India isn't making as much progress as it should have towards SDG 2.2 – since the percentage of stunted, wasted, underweight, and anemic children in India is 36%, 19%, 32%, and 67%, respectively.
What are the reasons for the fertility rates decline?
Many factors like education (mean school years for females), economy (Gross Domestic Product), religious beliefs, contraceptive prevalence rate (CPR), the strength of family planning programs, etc influence the fertility rates of a country. These factors play an important role in the current decline in the fertility rate in India also, as listed below:
Higher level of education among females
Increased mobility
Late marriages
Financial independence
Better access to family planning methods/ high contraceptive prevalence rate
The declining infant mortality rate
The declining neonatal mortality rate
Future implications:
The low Fertility Rates in India eventually will lead to a decline in population like in developed countries such as Japan, Germany, and Russia. Hence, the focus on limiting the family size can be reduced.
The need of the hour now is to divert the attention to other matters like:
Better employment opportunities so that the limited working population will be skilled in the future.
Formulate policies to take care of higher medical costs as the population ages and productivity shrinks.
Provide an affordable social security system that provides pensions to the elderly and takes care of their daily needs and medical expenses.
States with higher fertility rates need to keep working on improving schooling, income levels, and reducing infant and neonatal mortality rates.