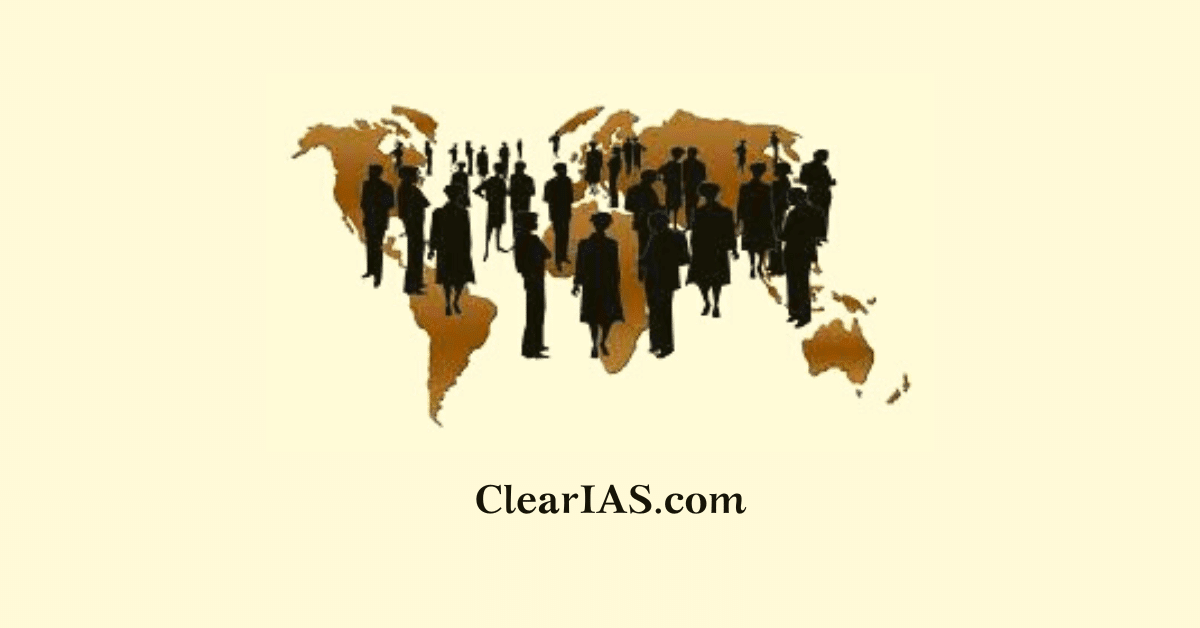 On November 15, 2022, the total number of humans living on the planet crossed 8 billion as per the data of the United Nations Population Fund 2022. What is India's share of the world population? How does this population rise impact society? How can be effectively managed? Read on to know more.
According to World Population Prospects 2022, India will overtake China as the world's most populated nation in 2023.
In 1804, the number of people on earth reached one billion.
In 1930, it took an additional 126 years to reach the second billion, and a further 30 years to reach the third.
The fifth billion was completed in  13 years, whereas the fourth billion only required 14 years.
The rapid expansion of humans gives birth to numerous issues in the least developed regions.
It is suggested that immediate action be taken to prevent population growth because failure to do so could result in major issues like environmental harm and a lack of food resources.
| | |
| --- | --- |
| WORLD POPULATION | YEAR |
| 1 Billion | 1804 |
| 2 Billion | 1927 |
| 3 Billion | 1959 |
| 4 Billion | 1974 |
| 5 Billion | 1987 |
| 6 Billion | 1998 |
| 7 Billion | 2011 |
| 8 Billion | 2022 |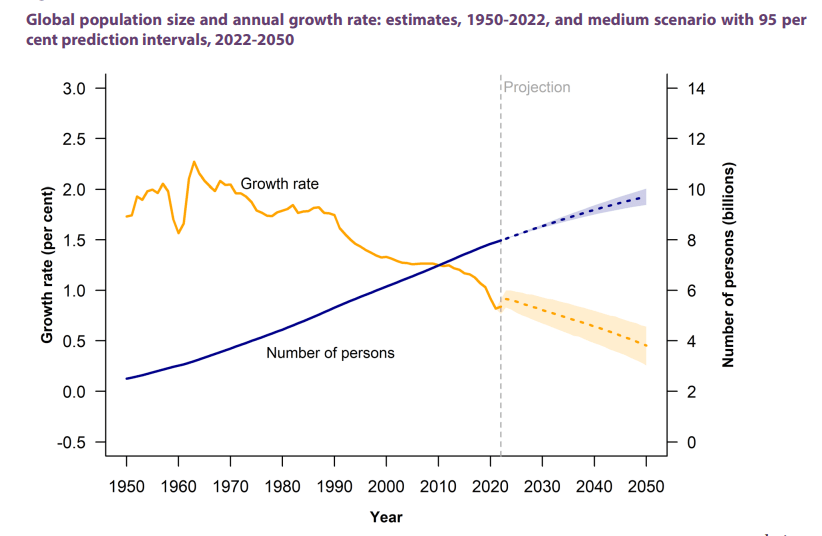 In a developing nation like India, the size and growth of the population are two critical aspects of the demographic phenomenon. India is the second most populated nation in the world after China, with 1,412,495,893 people living there based on the latest United Nations data. India's population is equivalent to 7% of the world's population.
India ranks number 2 in the list of countries (and dependencies) by population.
According to the United Nations' 2022 World Population Prospects report, India may surpass China as the most populated nation by 2023 and reach 1.5 billion people by 2030.
Also read: China's Population Decline
Findings related to India in UN World Population Prospects Report 2022
India's growth rate was 2.3% in 1972, while it is currently less than 1%.
Over this time, the average number of children an Indian woman has in her lifetime has decreased from around 5.4 to under 2.1.
The Replacement Fertility Rate, at which a population precisely replaces itself from one generation to the next, has reached India.
With improved access to healthcare and medical developments, both fertility rates and mortality rates have been dropping.
In the following decades, the population of 0-14 years, 15-24 years, and 65+ will continue to decrease while rising.
Population expansion in India has been fueled by this decline in early mortality for succeeding generations, which is reflected in higher levels of life expectancy at birth.
What opportunities are brought about by a growing population?
First, a growing working-age population presents a chance for increased per-capita economic growth. The "demographic dividend," a time-limited potential for rapid economic growth, is made possible by this change in the age distribution.
Second, it contributes to the development of a consumption-driven economy that is less reliant on exports to survive. As observed in the example of India, such economies have the propensity to absorb global shocks in a substantially better manner.
For international investors, the large domestic market is appealing. As a result, it contributes to drawing foreign investment into the domestic economy.
Third, a growing population increases opportunities for immigration to other nations, which contributes to the creation of more foreign exchange reserves and strengthens a country's soft power abroad.
For instance, the Indian Diaspora in the U.S. sends a sizable share of remittances to their families who live in India.
Issues Related to Population Growth
Overpopulation is a severe threat to our own existence. It results in issues with politics, society, and the economy, including unequal resource distribution, subpar living circumstances, a broken health system, and others.
Overpopulation causes working institutions to become dysfunctional, undermines all efforts to upgrade the nation's infrastructure, and makes social welfare programs ineffective.
Social Aspects
Crime: Population growth and poverty are directly related, and lack of resources and job prospects result in unemployment. The educated youth who are affected by unemployment are thus driven to commit social crimes like robbery, beggarly, prostitution, murder, etc.
The discontent among educated unemployed youth is reflected in the terrorist actions that we currently witness in several regions of the nation, for instance, Jammu and Kashmir.
Minority-majority gap: Fears of supremacy over minorities and identity loss might arise in some cultures as a result of overpopulation.
Thus, it has the potential to fuel communalism and cause rifts in the social fabric based on religion.
Economical Aspects
Aging population: Due to an increase in life expectancy, India's population is aging. This has increased the percentage of the elderly population.
for example, in 2011, Kerala's share of the population over 60 years old was 12.6% and Tamil Nadu's was 10.4%. By 2031, these are anticipated to rise to 20.9% and 18.2%, respectively.
An increase in the senior population results in higher healthcare and social security costs. This will significantly increase the state exchequer's financial burden and cut back on funding for investing in capital assets.
Unemployment: Although there is a large army of laborers as a result of overpopulation, it is difficult to give each working person a job that pays a living wage due to a lack of capital resources.
There is a clear distinction between disguised unemployment in rural areas and open unemployment in urban areas.
Resource Depletion: Overpopulation is a direct cause of excessive resource exploitation, environmental degradation, and deterioration. While resources in India have either remained constant or have expanded arithmetically, generating resource constraints, population growth in India has been geometric.
Uneven Income Distribution: The government's need for investment and capital formation is impacted by overpopulation, which has an impact on the government's overall development efforts.
Unemployment, unequal food distribution, and rising poverty, which are the main causes of the increase in poverty, make the situation worse.
Poverty: People become poor as a result of unemployment, unfair income distribution, and a lack of resources.
Political Aspects
A nation's politics is impacted by its economic and social conditions. Rising unemployment, poverty, and unequal wealth distribution all have an impact on the nation's law and order condition.
Caste politics: Political parties engage in caste-based politics to satisfy their vote bank, which is another factor contributing to the nation's division.
The interstate disparity in population distribution: There are significant differences between states in terms of growth and population. Increased migration into states with smaller populations and more established economies will be caused by rising populations in some states.
Social conflict including the insider-versus-outsider debate may result from this. States already reserve jobs for their residents. Additionally, ageing States will depend on foreign immigrants to sustain economic growth.
Also read: Fertility Rate in India: Reasons for Decline
Environmental Aspects
Environmental deterioration: Overpopulation is putting pressure on the land, and there is less land available per person. Environmental deterioration brought on by population growth includes pollution, biodiversity loss, and global warming, among other things. Cities like Delhi, which are suffering from air pollution, are already seeing the effects of overcrowding.
Health Aspects
Spread of infectious diseases: One of the main elements affecting people's health is population growth. Numerous infectious diseases have emerged as a result of concerns like urban overcrowding and environmental changes brought on by population growth.
Governments are increasingly unable to expand their healthcare facilities and systems due to population increase.
Demographic Disaster
However, if the economic benefits are not inclusive, unable to create jobs, and unable to enhance the living conditions of the youth, the social cohesiveness may suffer significantly. This optimistic view of the demographic dividend presented in the preceding discussion may be clouded by issues with education, employment prospects, and health care.
A youthful population that lacks skills, is underutilized, and is frustrated might stymie economic development and cause a demographic disaster that could destabilize peace and incite conflict.
The Pratham research states that just about 50% of fifth graders are able to read books of class two and struggle with basic addition and subtraction.
Similarly to this, the health system is underdeveloped, and 48% of children are underweight now, contributing to the demographic dividend of the future.
In eight industries over the last few years, India added the fewest new organized jobs than any other country. In 2017, the contribution from jobs in the unorganized sector would increase to 93%, and 60% of those having jobs did not find work for the entire year, indicating persistent underemployment.
Therefore, the only way to prevent this demographic dividend from becoming a demographic disaster is to ensure that there is more employment in the manufacturing and service sectors, and we also need to work on revamping the educational system.
The negative consequences of low employment growth are already evident in the rise in violent protests, terrorism, and other law-and-order issues.
How Can the Population Rise be Effectively Managed?
Raising the Marriage Age: Fertility is influenced by marriage age. Therefore, raising the marriage age to 21 is a good idea.
Education dissemination: It influences people's perspectives. It increases understanding of the significance of family planning and birth control options. Women who have received education are more health concerned and steer clear of repeated pregnancies, which lowers the birth rate.
Adoption: Adoption is another powerful tool for reducing the population. Despite costly medical care, some parents are unable to conceive. It is advised that they adopt children from orphanages.
Economic Measures: Numerous economic actions must be implemented as preventative measures against population expansion. More employment opportunities must be created by the government through policies. It is essential to increase employment opportunities in both urban and rural locations.
India's Population Policy
India has had a formal population policy in place for more than 50 years.
In fact, India may have been the first nation to formally declare such a policy in 1952.
The National Family Planning Programme served as the implementation of the population policy. The fundamental goals of this programme have not changed much throughout the years; they are to attempt and change the rate and pattern of population growth in a socially desirable way.
Early on, the main goals were to enhance public health standards, raise public knowledge of population and health issues, and cut down the rate of population growth by promoting various birth control methods.
After the Emergency, the National Family Welfare Program was established instead of the National Family Planning Program, and coercive techniques were abandoned. A wide range of sociodemographic goals is now present for the programme.
The National Population Policy of 2000 included the development of a fresh set of rules.
National Population Policy(NPP),2000
The strategy sought to combine community initiative, women's empowerment, education, and Panchayati Raj institutions into the field of population control. Family welfare is used in place of family planning.
Objectives:
To provide integrated service delivery for essential reproductive and child health care, as well as to meet the unmet needs for contraceptives, health care infrastructure, and health professionals.
By 2010, the total fertility rate should reach replacement levels as a medium-term goal.
long-term goal: to stabilize the population by 2045.
Broad Targets:
Reduce infant mortality to 30 per cent and improve child and reproductive health by addressing the infrastructure, service, and supply needs for basic reproductive and child health.
Reduce the percentage of boys and girls who drop out of primary and secondary school to under 20% by making education up to the age of 14 free and mandatory.
reduce maternal mortality to 100.
Achieving universal immunization of children against all vaccine-preventable illnesses.
Achieving 80% of deliveries should take place in medical facilities, 100% should be handled by skilled experts, and 100% of pregnancies, births, and deaths should be registered.
It envisioned a stable population by 2045, which was later postponed to 2065.
Enhancing the health and family welfare services and expanding access to contraceptives.
It has drawn criticism on a number of fronts since it offers monetary incentives for small family norms, despite the fact that financial incentives do not alter habits and behaviours based on social norms.
Additionally, NPP-2000 placed a strong emphasis on the function of Panchayati Raj Institutions, although it did not specify exactly what that function would be.
Disincentives are the most common kind of coercion. State-imposed disincentives frequently discriminate against the poor and women.
Government Schemes
To stabilize the population, the government has mostly relied on family planning initiatives. Family welfare programs are a crucial part of the family planning process, and several different ones have been introduced over time:
The Janani Suraksha Yojana encourages institutional delivery while lowering maternal and newborn fatalities through financial aid.
The Integrated Child Development Scheme emphasizes the overall health, nutrition, and vaccination of children under the age of six as well as the correct dietary and physical education of expectant and nursing mothers.
program for universal immunization.
Pradhan Swasthya Mantri The Suraksha Yojana aims to balance out the disparities between the cost and accessibility of tertiary-level healthcare.
Program for ASHAs to provide contraceptives to beneficiaries' homes and doorsteps.
Plan for ASHAs to ensure birth spacing. An essential component of the ASHA kit now includes the pregnancy testing kit.
Population growth is a serious global concern that has negative socioeconomic, environmental, and health effects. The birth rate, mortality rate, and migration rates are all factors that affect the population growth rate of the country, which is rapidly rising. The demand for greater resources in overpopulated areas leads to deforestation for food production, urban overcrowding, and the spread of terrible diseases.
Since Independence, the government has launched a number of initiatives to reduce population increase, some of which have been somewhat successful in doing so. There is a need for a more targeted strategy in certain areas that continue to experience rapid population expansion.
Article Written By: Aryadevi E S