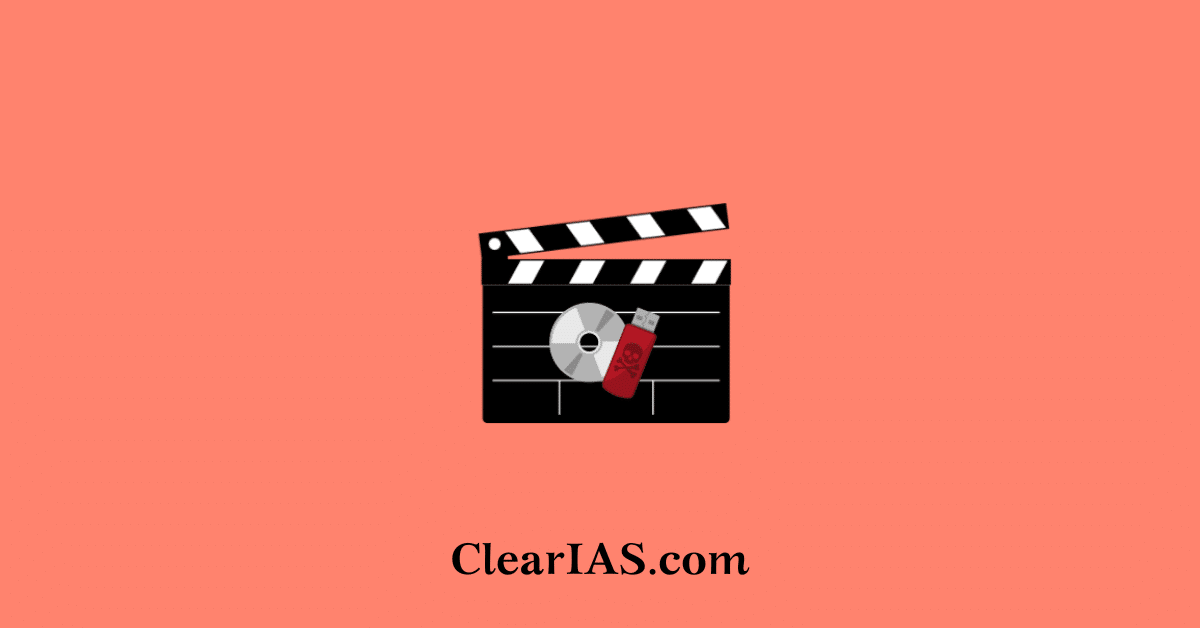 Film piracy is a significant issue with a range of negative consequences for the film industry, the economy, and intellectual property rights. Read here to know more about the menace.
With the film industry facing losses of up to Rs. 20,000 crore every year due to piracy, the Ministry of Information and Broadcasting has taken strong steps to check film piracy in the country.
The Parliament passed the Cinematograph (Amendment) Act, 2023 during this year's Monsoon Session.
Now, the Ministry of Information and Broadcasting has established an institutional mechanism for Nodal Officers to receive complaints against piracy and direct the intermediaries to take down pirated content on digital platforms.
Film piracy
Film piracy, also known as movie piracy, refers to the unauthorized copying, distribution, and sharing of films, whether in theaters, through physical copies (such as DVDs and Blu-rays), or online.
It is a form of copyright infringement and intellectual property theft. Film piracy has several implications and consequences.
Economic Loss: The film industry, including producers, studios, distributors, and theaters, suffers significant financial losses due to piracy. Pirated copies of movies are often available for free or at a fraction of the cost of legitimate copies, leading to decreased revenue for the industry.
Impact on Jobs: The film industry generates employment for a wide range of professionals, including actors, directors, producers, cinematographers, editors, and countless others. Economic losses from piracy can lead to job cuts and reduced opportunities within the industry.
Quality Concerns: Pirated copies of films may have lower quality, including poor audio and video. Viewers who watch pirated versions may miss out on the full cinematic experience and the intended artistic quality of the film.
Loss of Revenue for Theaters: Movie theaters depend on ticket sales and concessions for their revenue. When pirated copies of films become widely available, fewer people may go to theaters, resulting in financial losses for these businesses.
Diminished returns: The promise of financial gain and recognition provides an incentive for filmmakers and artists to create new and innovative content. Film piracy can reduce this incentive by diminishing potential returns on investment.
Legal Consequences: Engaging in or promoting film piracy can lead to legal consequences, including fines and imprisonment. Governments and copyright enforcement agencies work to combat piracy through legal means.
Online Piracy
With the rise of the internet, online piracy has become a major concern. Illegal streaming and downloading of movies through websites, torrents, and peer-to-peer networks are common methods of film piracy.
Loss of Intellectual Property Rights: Film piracy undermines the intellectual property rights of creators and copyright holders. It can discourage investment in filmmaking and other creative industries.
Impact on International Trade: The unauthorized distribution of films can harm international trade and relations, as it often involves the violation of intellectual property rights protected by international agreements and treaties.
Cybersecurity Risks: Websites and platforms that host pirated content may expose users to cybersecurity risks, including malware and viruses that can be harmful to their devices and personal information.
Film piracy in India
As of now, there is no institutional mechanism to directly take action on pirated film content except legal action under the Copyright Act and IPC.
Illegal Distribution Channels: Piracy in India involves the unauthorized distribution of copyrighted films through various channels. These channels include physical copies (such as DVDs), illegal downloads from websites, peer-to-peer file sharing, and the sale of pirated DVDs and CDs on the streets.
Online Piracy: With the growth of the internet, online piracy has become a major concern. Various websites and torrent platforms offer free downloads of copyrighted films, often shortly after their official release.
Camcording: In some cases, individuals use camcorders or smartphones to record movies in theaters and then distribute these low-quality copies, often referred to as "cam rips."
After the Parliament passed the Cinematograph (Amendment) Act, 2023 during this year's Monsoon Session, the Ministry of Information and Broadcasting established an institutional mechanism of Nodal Officers to receive complaints against piracy and direct the intermediaries to take down pirated content on digital platforms.
The Act aimed to curb film piracy, a measure that has been a long-standing demand of the film industry, and the appointment of nodal officers is a major step in that direction.
It is noteworthy that the Act has been amended after 40 years to incorporate provisions against film piracy, including digital piracy after the last significant amendments were made in 1984.
The amendment includes a strict punishment of a minimum of 3 months imprisonment and a fine of Rs. 3 lakh which can be extended up to 3 years imprisonment and a fine up to 5% of the audited gross production cost.
The act addressed the issues relating to film certification, including the issue of unauthorized recording and exhibition of films and film piracy by transmission of unauthorized copies on the internet, and imposed strict penalties for piracy.
These amendments are in harmony with the existing laws that address the issue of film piracy, viz. the Copyright Act, of 1957, and the Information Technology Act (IT) 2000.
Who can apply?
An original copyright holder or any person authorized by them for this purpose can apply to the Nodal Officer to take down pirated content.
If a complaint is raised by a person who does not hold the copyright or is not authorized by the copyright holder, the Nodal Officer can hold hearings on a case-to-case basis to decide the genuineness of the complaint before issuing the directions.
After receiving directions from the Nodal Officer under the law, the digital platform will be obliged to remove such internet links hosting pirated content within 48 hours.
Way forward
Efforts to combat film piracy include anti-piracy laws, digital rights management (DRM) technologies, copyright enforcement, and public awareness campaigns about the negative consequences of piracy.
The film industry also continues to explore new distribution models and technologies to make content more accessible and affordable, which can help deter piracy.
The Indian government has taken steps to address film piracy, including the establishment of specialized police units to combat copyright infringement. Legal measures and initiatives have been introduced to curb piracy and protect intellectual property rights.
Various organizations and industry bodies in India run awareness campaigns to educate the public about the negative consequences of film piracy and to encourage the legal consumption of entertainment content.
Given the international nature of online piracy, cooperation with international bodies and governments is essential to combat film piracy effectively.
-Article by Swathi Satish