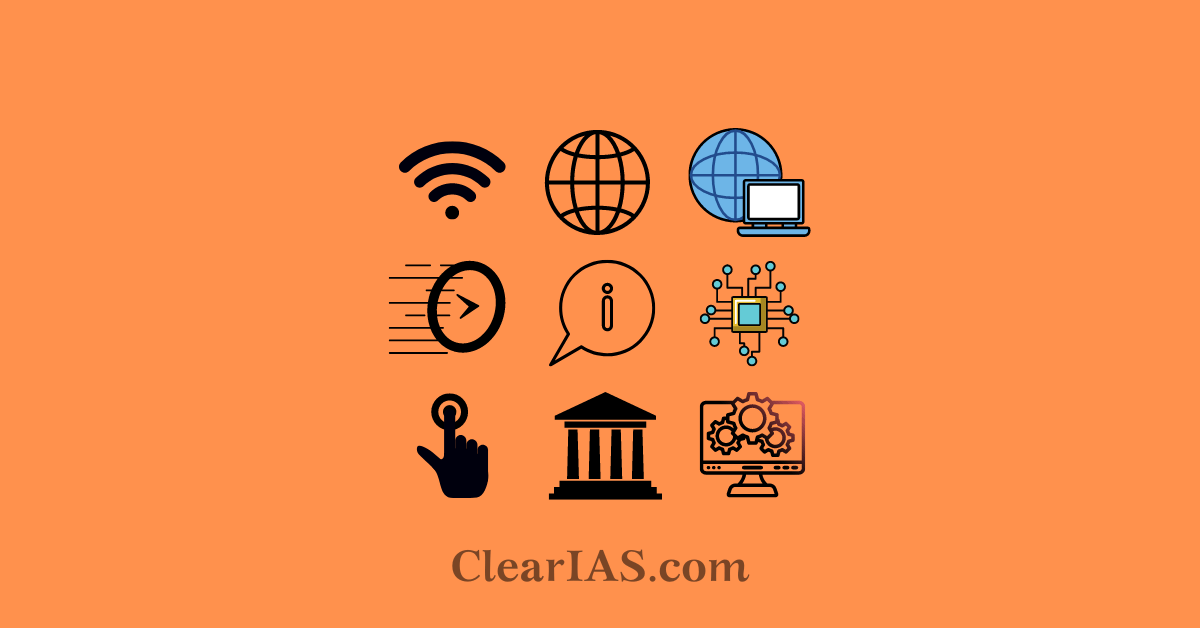 Digital India is a flagship programme of the Government of India launched in 2015. Read here to know the program in detail.
Digital India is a flagship programme of the Government of India with a vision to transform India into a digitally empowered society and knowledge economy.
It was launched in July 2015.
E-governance initiatives in India gained momentum in the mid-1990s for wider sectoral applications with an emphasis on citizen-centric services.
The major Information and Communication Technology (ICT) initiatives included major projects like railway computerization, land record computerization, etc., which focused mainly on the development of information systems. Later on, many states started individual e-governance projects aimed at providing electronic services to citizens.
These initiatives did not make the expected impact due to isolated and less interactive features. Hence, more comprehensive planning and implementation were required to establish a connected government.
Digital India is an umbrella programme that covers multiple Government Ministries and Departments. It weaves together a large number of ideas and thoughts into a single, comprehensive vision so that each of them can be implemented as part of a larger goal.
e-Kranti: National e-Governance Plan 2.0
The national-level e-governance programme called National e-Governance Plan (NeGP) was initiated in 2006.
There were 31 Mission Mode Projects under the National e-Governance Plan covering a wide range of domains viz. agriculture, land records, health, education, passports, police, courts, municipalities, commercial taxes, treasuries, etc.
24 Mission Mode Projects have been implemented and started delivering either a full or partial range of envisaged services.
All new and ongoing e-governance projects as well as the existing projects, which are being revamped, should now follow the key principles of e-Kranti namely:
Transformation and not Translation
Integrated Services and not Individual Services
Government Process Reengineering (GPR) to be mandatory in every MMP
ICT Infrastructure on Demand
Cloud by Default
Mobile First
Fast Tracking Approvals
Mandating Standards and Protocols
Language Localization
National GIS (Geo-Spatial Information System)
Security and Electronic Data Preservation
The portfolio of Mission Mode Projects has increased from 31 to 44 MMPs. Many new social sector projects namely Women and Child Development, Social Benefits, Financial Inclusion, Urban Governance eBhasha, etc., have been added as new MMPs under e-Kranti.
Vision Areas of Digital India
The vision of the Digital India programme is to transform India into a digitally empowered society and knowledge economy.
The Digital India programme is centered on three key vision areas:
1. Digital infrastructure as a core utility to every citizen
High-speed internet as a core utility
Cradle-to-grave digital identity
Participation in digital and financial space through mobiles and banking
Easy access to a Common Service Centre (CSC)
Shareable private space on a public cloud
2. Governance and services on demand
Seamlessly integrated services across departments
Services available in real-time from online and mobile platforms
All citizen entitlements to be portable and available on the cloud
Digital transformation for ease of doing business
Electronic and cashless financial transactions
Leveraging Geospatial Information System (GIS) for decision support systems and development
3. Digital empowerment of citizens
Universal digital library
Universally accessible digital resources
All documents/certificates to be available on the cloud
Availability of digital resources/services in Indian languages
Collaborative digital platforms for participative governance
Digital India: Programme pillars
Digital India aims to provide the much-needed thrust to the nine pillars of growth areas, namely:
Broadband Highways
Universal Access to Mobile Connectivity
Public Internet Access Programme
e-Governance: Reforming Government through Technology
e-Kranti – Electronic Delivery of Services
Information for All
Electronics Manufacturing
IT for Jobs
Early Harvest Programmes
Digital India Initiatives
The Government has taken up many initiatives under the Digital India campaign:
DigiLockers: This flagship initiative aims at 'Digital Empowerment' of the citizen by providing access to authentic digital documents in citizen's digital document wallet
E-Hospitals: It is a Hospital Management Information System (HMIS) which is a one-stop solution for connecting patients, hospitals, and doctors through a single digital platform. Till February 2021, as many as 420 e-Hospitals had been established under the Digital India campaign
E-Pathshala: Developed by NCERT, e-Pathshala showcases and disseminates all educational e-resources including textbooks, audio, video, periodicals, and a variety of other print and non-print materials through the website and mobile app
BHIM: Bharat Interface for Money is an app that makes payment transactions simple, easy, and quick using Unified Payments Interface (UPI)
Digital India Bhashini: It is India's Artificial Intelligence (AI) led language translation platform.
Digital India GENESIS: (Gen-next Support for Innovative Startups) is a national deep-tech startup platform to discover, support, grow and make successful startups in Tier-II and Tier-III cities of India.
My Scheme: It is a service discovery platform facilitating access to Government Schemes. It aims to offer a one-stop search and discovery portal where users can find schemes that they are eligible for.
Meri Pehchaan: It is a National Single Sign On (NSSO) for One Citizen Login. It is a user authentication service in which a single set of credentials provide access to multiple online applications or services.
Chips to Startup (C2S) Programme: The C2S Programme aims to train specialized manpower in the area of design of semiconductor chips at bachelor, master, and Research levels, and act as a catalyst for the growth of Startups involved in semiconductor design in the country.
Indiastack global: It is a global repository of key projects implemented under India Stack like Aadhaar, UPI (Unified Payment Interface), Digilocker, Cowin Vaccination Platform, Government e MarketPlace, DIKSHA Platform, and Ayushman Bharat Digital Health Mission.
Digital India week 2022
The Digital India Week 2022 under the Digital India Programme, to strengthen the Ease of Doing Business and Ease of Living.
The theme for the week was 'Catalyzing New India's Techade'.
Way forward
The Digital India programme aims at pulling together many existing schemes. These schemes will be restructured, revamped, and re-focused and will be implemented in a synchronized manner. Many elements are only process improvements with minimal cost implications. The common branding of programmes as Digital India highlights their transformative impact.
India's aim for the digital revolution will help is pushing all sectors and jurisdictions of the economy. The advances in governance, reforms, start-ups, and demographic advantage will push the country towards being the fastest growing digital economy.