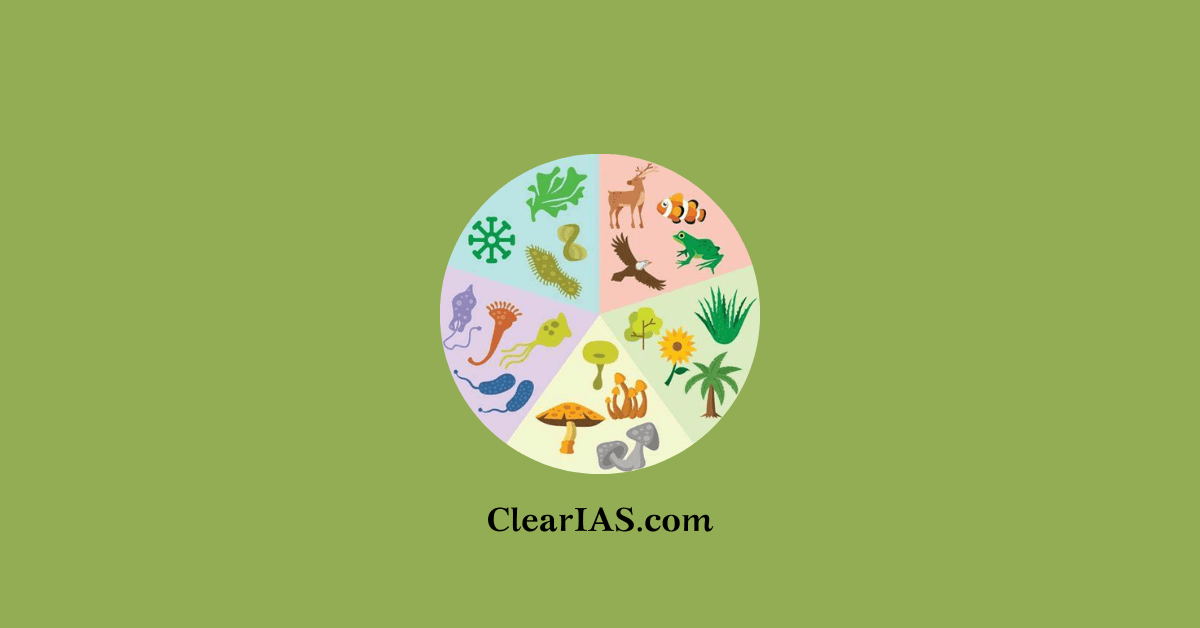 The Five Kingdom Classification is a system of organizing and categorizing living organisms into five major groups or kingdoms based on their fundamental characteristics and evolutionary relationships. How are animal and plant kingdoms classified? What are the characteristics of the Five Kingdoms? Read further to know more.
In the past, all living beings were divided into two realms. The plant kingdom was one, while the animal kingdom was another.
The animal world included every living organism that could eat, move, grow to a certain size, and then stop growing.
The plant world, on the other hand, consisted of living beings that did not move or eat yet continued to grow throughout their lives.
The Evolution of the Five Kingdom Classification
Aristotle developed the first biological taxonomy of plants and animals based on simple morphological characteristics- animal or plant origin. This initial observation by the Greek philosopher was expanded in the 19th and 20th centuries by the discovery of new kingdoms, finally arriving at today's widely-recognized five, which cover the 8.7 million species that live on Earth, according to estimates by the United Nations Environment Programme (UNEP).
Some scientists classified them as plants and animals, while others, such as Robert Whittaker, Ernst Haeckel, and others, attempted to classify them as part of a larger system.
Linnaeus divided all living organisms into two kingdoms: Plantae and Animalia.
R.H. Whittaker offered a detailed five-kingdom classification of animals and plants, which included Monera, Protista, Fungi, Plantae, and Animalia. This five-kingdom category was the most commonly utilized one.
It was first established in 1969, with the names Monera, Protista, Fungi, Plantae, and Animalia.
The complexity of cell structure and organisms, body organization, mode of nourishment, reproduction, and interrelationships are the key classification criteria in the five-kingdom system.
The five kingdom classification of animals and plants defines whether the organism is eukaryotic or prokaryotic, unicellular or multicellular, asexual or sexual, autotrophic, heterotrophic, or a combination of these characteristics.
Five kingdom classification of animals and plants
"The system of biological kingdoms is the way in which science classifies living things according to their ancestry over the course of evolution."
Five kingdom classifications of animals and plants include:
Kingdom Monera
Kingdom Protista
Kingdom Fungi
Kingdom Plantae
Kingdom Animalia
Bacteria are classified as Kingdom Monera in the five-kingdom categorization. Chrysophytes, Dinoflagellates, Euglenoids, Slime-moulds, and Protozoans are all members of the kingdom Protista.
Members of Kingdom Fungi demonstrate a wide variation in architecture and environment. Saprophytic nutrition is used by the majority of fungi.
All eukaryotic chlorophyll-containing creatures are classified as Plantae. This group includes algae, bryophytes, pteridophytes, gymnosperms, and angiosperms.
The Kingdom Animalia includes heterotrophic eukaryotic multicellular creatures without a cell wall. Certain acellular species, such as viruses and viroids, as well as lichens, are not classified using the five kingdom concept.
Characteristics of the Five Kingdoms
The five kingdoms have been subdivided into phylum (animals) and divisions (plants). They are further classified into the following categories: Class, Order, Family, Genus, and Species.
Kingdom → Phylum → Class → Order → Family → Genus → Species
Let us now examine the various kingdoms, as well as their characteristics and examples.
Kingdom Monera
Prokaryotes are creatures that do not have distinct nuclei or organelles.
This group comprises Blue-green algae or cyanobacteria (which have cell walls)and mycoplasma (which doesn't have a cell wall) are two well-known bacteria.
These are the most abundant microorganisms and thrive in harsh environments.
Some of the bacteria have cell walls, while others like mycoplasma do not.
The mode of nourishment of organisms in this group can be either self-synthesis (autotrophic) or acquisition from the environment (heterotrophic).
The species in this kingdom are prokaryotic and unicellular. Furthermore, these species lack a well-defined nucleus.
Similarly, it lacks cell organelles. Some creatures in this kingdom have a cell wall, whereas others have not.
Many of them live as parasites in or on other creatures.
Bacteria are classified into four types based on their spherical form.
Spherical Coccus
Rod-shaped Bacillus
Comma-shaped Vibrium
Spiral Spirillum
Some of the bacteria are autotrophic, which means they produce their food. They can be photosynthetic or chemosynthetic autotrophs (metabolic synthesis of organic compounds by living organisms using energy derived from reactions involving inorganic chemicals). Bacteria, mycoplasma, cyanobacteria, and other organisms are all members of the Monera kingdom.
Also Read: Diseases caused by microorganisms – ClearIAS
Kingdom Protista
Protista includes all single-celled eukaryotes.
This kingdom's borders are not well-defined. This kingdom is related to the kingdoms of plants, animals, and fungi.
Chrysophytes, Dinoflagellates, Euglenoids, Slime molds, and Protozoans are all members of this group. Unicellular algae, diatoms, and protozoans are some examples. Protozoans are heterotrophic organisms that live as parasites or predators.
Its feeding mode might be autotrophic or heterotrophic.
Protista is mostly aquatic organisms. Several organisms contain flagella or cilia that aid in locomotion.
Protists reproduce both asexually and sexually through cell fusion and zygote development.
Sub-groups of Protista
The kingdom Protista is divided into the following subgroups:
Chrysophytes: This group includes golden algae (desmids) and diatoms. They can be found in both saltwater and freshwater settings.
Dinoflagellates are typically photosynthetic and saltwater organisms. Their color is determined by the major pigments in their cells; they can be red, blue, brown, green, or yellow.
Euglenoids are freshwater organisms that live in still water. They lack a cell wall and instead have a protein-rich layer termed a pellicle.
Slime Moulds are saprophytic molds. The organism glides along putrefying leaves and twigs, feeding on organic matter. Plasmodial slime molds formed when they were exposed to favorable conditions.
Kingdom Fungi
These are eukaryotic heterotrophic organisms.
Saprophytes are fungi that are heterotrophic and absorb soluble organic materials from dead substrates.
Parasites are organisms that rely on live plants and animals for survival.
Several fungal species have long-term mutually beneficial partnerships with blue-green algae (or cyanobacteria). They are known as symbiotic connections.
Lichens are the name given to these symbiotic life forms. They can also exist as mycorrhizal symbionts with the roots of higher plants. Lichens = Fungi + Bluegreen algae (Cyanobacteria)
Fungi can reproduce vegetatively through fragmentation, fission, and budding.
Conidia, sporangiospores, and zoospores are asexual spores, while oospores, ascospores, and basidiospores are sexual spores.
Fungal creatures include multicellular, eukaryotic, and heterotrophic organisms. Furthermore, we can see that their mode of nourishment is saprophytic. This is because this kingdom feeds on decomposing organic debris.
The cell walls of all species in this kingdom are made of a material called chitin.
For example, the Fungi kingdom includes mushrooms, yeast, Aspergillus, and other organisms.
Also Read: Fungal Diseases – ClearIAS
Kingdom Plantae
Plants are multicellular eukaryotes with cellulose-based cell walls.
They are autotrophs and employ chlorophyll for photosynthesis.
A few members, such as insectivorous plants and parasites, are partially heterotrophic. Insectivorous plants include bladderwort and Venus fly trap, while Cuscuta is a parasite.
Algae, Thallophyta, Bryophyta, Pteridophyta, Gymnosperms, and Angiosperms are all members of the Plantae family.
Plants have two unique life cycles, the diploid sporophytic and the haploid gametophytic, which alternate.
The lengths of the haploid and diploid phases, as well as whether these phases are free-living or dependent on others, varied between plant groupings. This is known as the alternation of generation.
All plants, including trees, bushes, ferns, herbs, and others, are included in this kingdom. Furthermore, this kingdom is divided into several divisions based on bodily differentiation and whether or not specialized vascular tissue is present.
Plantae Kingdom includes pines, Spirogyra, mango plants, ferns, and other plants.
Kingdom Animalia
This category includes all multicellular eukaryotes without cell walls. These are heterotrophic organisms.
They rely on plants for food, either directly or indirectly. They digest their meals in an internal cavity and store food reserves as glycogen or fat.
Their form of nourishment is the Holozoic, meaning they consume food.
They have distinct growth patterns and mature into adults with distinct shapes and sizes.
Higher forms have more complex sensory and neuromotor mechanisms. The majority of them can move around.
Copulation of male and female is followed by embryological development in sexual reproduction.
These organisms lack a cell wall. Also, their feeding method is heterotrophic. Similarly, they are extremely diverse.
Some species in this kingdom are simple, whilst others have a sophisticated body with specialized tissue differentiation and bodily organs.
Animalia is separated into several classes and phyla.
Subphyla of Animalia
Animalia has been subdivided into ten subphyla depending on their bodily architecture or differentiation. The following are the different phyla of the animal kingdom:
Porifera: Porifera, often known as sponges, are characterized by having holes in their bodies. Spongilla and Sycon are phylum Porifera examples.
Coelenterata (Cnidaria): The Greek word "kilos," which connotes a hollow stomach, is where the word "Coelenterates" first appeared. Its body cavity is hollow, and its body is divided into two ends. The inner and outer linings are the two cell layers that make up its body. Coelenterata members include Hydra and Jellyfish.
Platyhelminthes: Flatworms are the common name for Platyhelminthes. Their bodies are flattened dorsoventrally. They are either free-living (like liver flukes) or parasitic (Planaria). Tapeworm and Planaria are two examples of the phylum Platyhelminthes.
Nematoda: They are cylindrical-bodied roundworms. Nematoda is a subclass of animals that includes Ascaris and Wuchereria.
Annelida: Often, annelids are referred to as segmented or ringed worms. They have a cylindrical body with segments. Examples of the Annelida phylum include earthworm leeches.
Arthropod: Arthropods are animals with jointed appendages, and the word "arthropod" means "with jointed legs." They are bilaterally symmetrical, making them the largest phylum of animals. They have segmented bodies, bear-jointed appendages, and an exoskeleton. Phylum Arthropoda examples include spiders, butterflies, and mosquitoes.
Mollusca: The second-largest animal phylum is called Mollusca. Their bodies are less segmented, and their organs and organ systems are well-developed. They are often triploblastic and bilaterally symmetric. Mollusca includes creatures like snails and octopuses
Echinodermata: Originating from the Greek terms echinos, which meant hedgehog, and derma, which meant skin, are Echinodermata. Hence, echinoderms are creatures with spiky skin. Echinodermata includes sea urchins and starfish.
Hemichordata: Hemichordata is a class of soft-bodied, delicate creatures.
The epidermis only has one layer. It consists of worm-like aquatic creatures that are organized at the organ-system level.
Examples include Balanoglossus and Saccoglossus
Chordata: The Chordates are a group of creatures that are classified at the organ-system level, bilaterally symmetrical, and triploblastic. They have a nerve cord and a notochord. The following subphyla can be found within Phylum Chordata:
Urochordata:For e.g., Ascidia, Salpa, Doliolum.
Cephalochordata: For e.g, Lancelets
Vertebrata: For e.g, Humans
Also Read: Virus – Definition, Structure, and Types – ClearIAS
Conclusion
Whittaker's Five Kingdom classification of animals and plants taxonomy is the most widely used, and it comprises Animalia, Monera, Protista, Fungi, and Plantae. The structure of the cell, manner of nourishment, reproduction, and body organization, as well as phylogenetic linkages, serve as the foundation for this classification study.
The earlier classification system was based on a single trait used to put together two quite different creatures. Fungi and plants, for example, were grouped based on the presence of a cell wall.
Similarly, unicellular and multicellular species were classed together. The five-kingdom classification of animals and plants is superior to the older classification of plants and animals because it eliminates the confusion caused by classifying the same species in two separate kingdoms.
While the Five Kingdom Classification was widely used for many years, advancements in molecular biology and genetic studies have led to the development of more complex classification systems, such as the Six Kingdom Classification (adding Archaea as a separate kingdom) and the Three-Domain System (dividing life into Bacteria, Archaea, and Eukarya).
These modern classification systems provide a more accurate representation of the evolutionary relationships among living organisms based on genetic similarities and shared ancestry.
Previous year's UPSC question
Q. Lichens, which are capable of initiating ecological succession even on a bare rock, is a symbiotic association of
(a) algae and bacteria
(b) algae and fungi
(c) bacteria and fungi
(d) fungi and mosses
Answer: (b) Algae and fungi
Also read: Critically Endangered Animal Species of India
Article Written By: Atheena Fathima Riyas