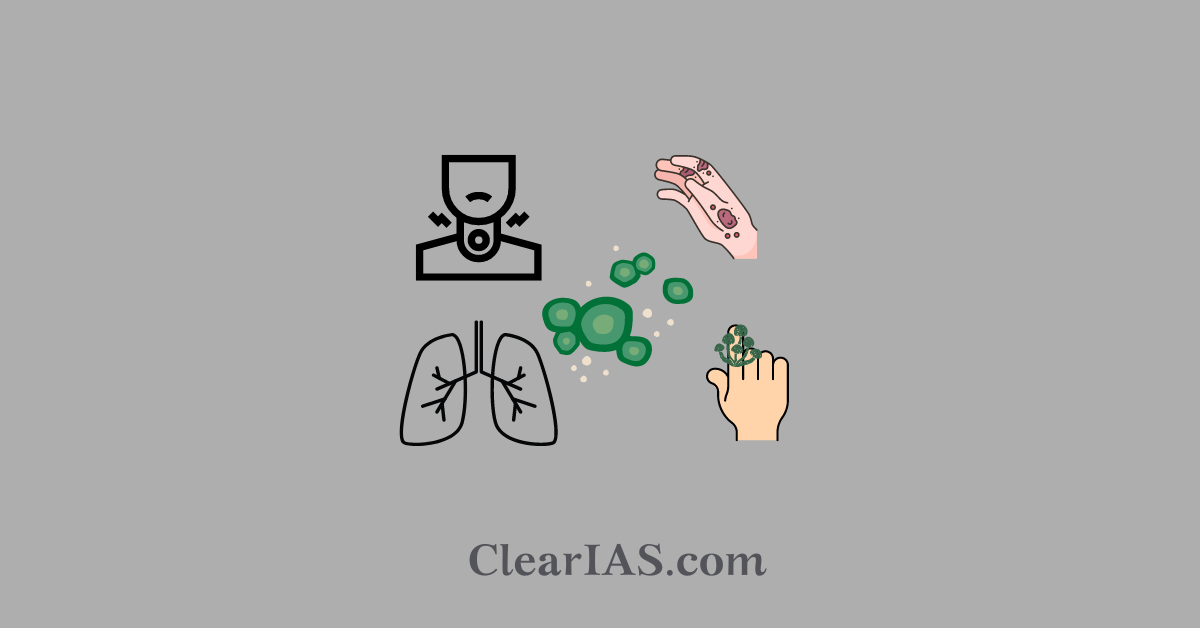 The fungal disease sometimes referred to as mycosis, is a condition brought on by fungi. More than one billion people worldwide suffer from fungus infections each year, which are widespread and prevalent. Other animals can develop a variety of fungal illnesses, some of which can be transferred from animals to people. Read here to know more.
Fungal pathogens are a major threat to public health as they are becoming increasingly common and resistant to treatment.
Unlike treatment for viral and bacterial diseases, there are only four classes of antifungal medicines currently available, along with a few candidates in the clinical pipeline.
The invasive forms of these fungal infections often affect severely ill patients and those with significant underlying immune system-related conditions.
Populations at the greatest risk of invasive fungal infections include those with cancer, HIV/AIDS, organ transplants, chronic respiratory disease, and post-primary tuberculosis infection.
Also read: Occupational Diseases
The threat of Fungal diseases
Emerging evidence indicates that the incidence and geographic range of fungal diseases are both expanding worldwide due to global warming and the increase in international travel and trade.
During the COVID-19 pandemic, the reported incidence of invasive fungal infections increased significantly among hospitalized patients.
As the fungi that cause common infections (such as candida oral and vaginal thrush) become increasingly resistant to treatment, risks for the development of more invasive forms of infections in the general population are also growing.
Despite the growing concern, fungal infections receive very little attention and resources, leading to a scarcity of quality data on fungal disease distribution and antifungal resistance patterns.
As a result, the exact burden of fungal diseases and antifungal resistance is unknown, and the response is therefore undermined.
Types of fungal diseases
Fungal infections are quite common and rare as well- they can be categorized by site of infection, geography, and immuno-comprised target as well as in biological classification.
Most common:
Fungal nail infections
Vaginal candidiasis or vaginal yeast infection
Ringworm
Candida infections of the mouth, throat, and esophagus
Fungal diseases based on geographic location
Blastomycosis- caused by moist soil fungus in US and Canada
Cryptococcus gattii infection- tropical and sub-tropical areas
Paracoccidioidomycosis- central and south America
Coccidioidomycosis (valley fever)- southwestern US, Mexico, central and south America
Histoplasmosis- due to bird or bat droppings
WHO Fungal Priority pathogens list (FPPL)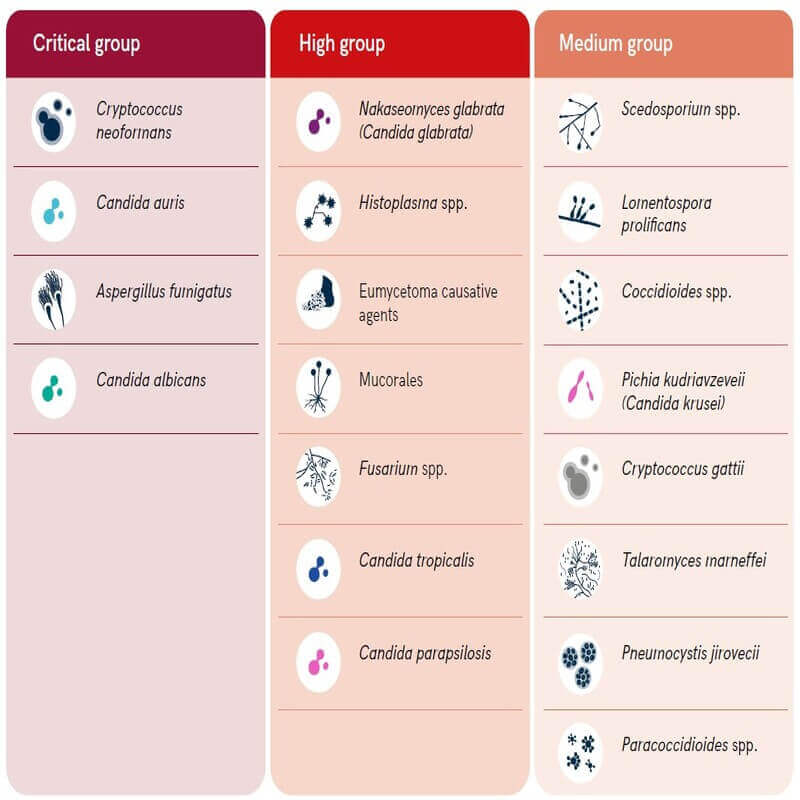 The WHO fungal priority pathogens list (FPPL) is the first global effort to systematically prioritize fungal pathogens, considering the unmet research and development needs and the perceived public health importance.
The WHO FPPL aims to focus and drive further research and policy interventions to strengthen the global response to fungal infections and antifungal resistance.
Three priority categories:
The WHO FPPL list is divided into three categories: critical, high, and medium priority.
Critical Priority Group: It includes Candida auris, which is a highly drug-resistant fungi, Cryptococcus neoformans, Aspergillus fumigatus, and Candida albicans.
High Priority Group: It includes a number of other fungi from the Candida family as well as others such as Mucorales, a group containing "black fungus", an infection that rose rapidly in seriously ill people, particularly in India, during CoVID-19.
Medium Priority Group: It includes a number of other fungi, including Coccidioides spp and Cryptococcus gattii.
The fungal pathogens in each priority category are so ranked primarily due to their public health impact and/or emerging antifungal resistance risk.
While recognizing these critical pathogens as of public health concern globally, WHO emphasizes that the FPPL must be interpreted and contextualized carefully, as some endemic pathogens could be of more concern in their respective regional or local contexts.
The FPPL report underscores strategies for policymakers, public health professionals, and other stakeholders.
The strategies proposed in the report are collectively aimed at generating evidence and improving response to these fungal priority pathogens including preventing the development of antifungal drug resistance.
The primary recommended actions are focused on:
strengthening laboratory capacity and surveillance;
sustaining investments in research, development, and innovation; and
enhancing public health interventions for prevention and control.
The report also highlights the urgent need for coordinated action to address the impact of antifungal use on resistance across the One Health spectrum and calls for expanding equitable access to quality diagnostics and treatments.
Also read: Rare Diseases: Policy and Management
Challenges in dealing with fungal infections
Resistance to antifungal medicines is partly driven by inappropriate antifungal use across the One Health spectrum.
For example, the injudicious use of antifungals in agriculture was linked to the rising rates of azole-resistant Aspergillus fumigatus
The need for more evidence to inform the response to this growing threat and to better understand the burden, both of disease and antifungal resistance.
Most fungal pathogens lack rapid and sensitive diagnostics and those that exist are not widely available or affordable globally.
The report also calls for fostering WHO's a collaborative effort with the Quadripartite organizations and other partners, to address the impact of antifungal use on resistance across the One Health spectrum.
Black fungus or Mucormycosis
Mucormycosis (previously called zygomycosis) is a serious but rare fungal infection caused by a group of molds called micromycetes.
These molds live throughout the environment. Mucormycosis mainly affects people who have health problems or take medicines that lower the body's ability to fight germs and sickness.
It most commonly affects the sinuses or the lungs after inhaling fungal spores from the air. It can also occur on the skin after a cut, burn, or another type of skin injury.
It affects the sinuses, the brain, and the lungs and can be life-threatening in diabetic or severely immunocompromised individuals, such as cancer patients or people with HIV/AIDS.
At the peak of the CoVID-19 outbreak, the black fungal disease has ravaged immune-compromised patients in India.
Doctors believed that mucormycosis, which had an overall mortality rate of 50%, was being triggered by the use of steroids, a life-saving treatment for severe and critically ill Covid-19 patients.
Steroids reduce inflammation in the lungs for Covid-19 and appear to help stop some of the damage that can happen when the body's immune system goes into overdrive to fight off coronavirus. But they also reduce immunity and push up blood sugar levels in both diabetics and non-diabetic Covid-19 patients.
It was thought that this drop in immunity could be triggering these cases of mucormycosis.
News about Fungal pathogens
WHO has published a report highlighting the first-ever list of fungal "priority pathogens".
It is a catalog of the 19 fungi that represent the greatest threat to public health.
Way forward
We need more data and evidence on fungal infections and antifungal resistance to inform and improve response to this priority fungal pathogen.
Countries should be encouraged to follow a stepwise approach, starting with strengthening their fungal disease laboratory and surveillance capacities, and ensuring equitable access to existing quality therapeutics and diagnostics, globally.
Emerging from the shadows of the bacterial antimicrobial resistance pandemic, fungal infections and fungal diseases are growing, and are ever more resistant to treatments, becoming a public health concern worldwide. Hence a collective and quick action is pertinent.
­-Article written by Swathi Satish