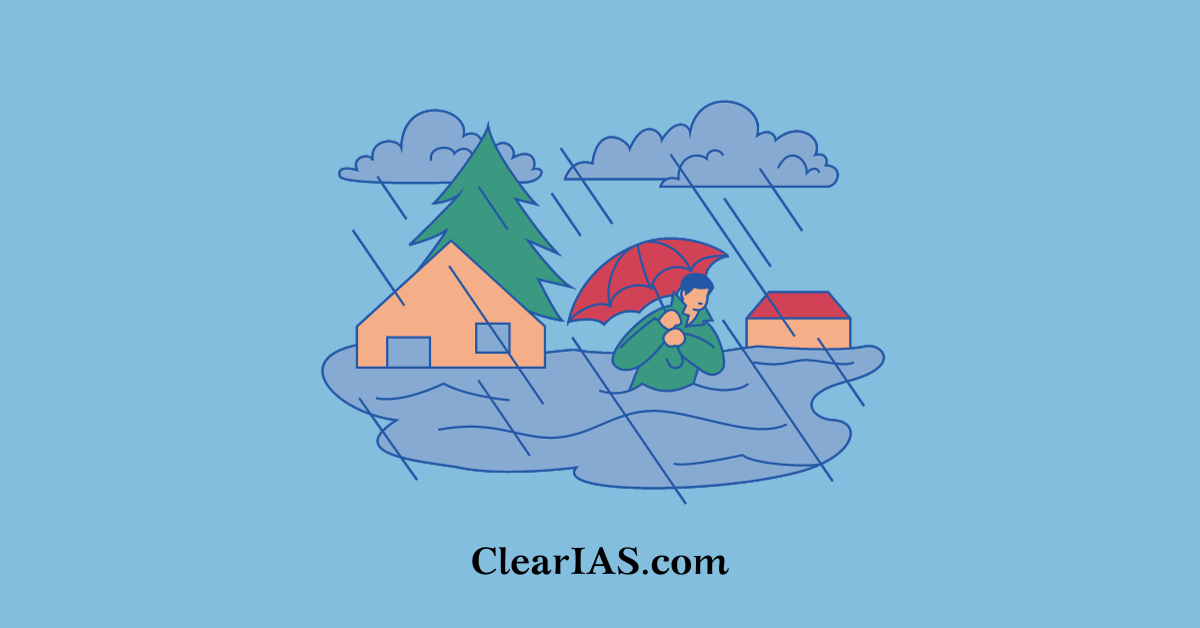 India is one of the worst flood affected nation across the world. The frequency of urban floods due to high-intensity rainfall is increasing over the years. Flood management and flood governance are in news often. In this post, let's analyse India's disaster response capabilities to tackle floods.
What is a Flood?
Flood is such a high stage in a water course i.e. river, river tributary or a water retaining body i.e. lake, pond, reservoir, seas, ocean or other low lying areas – the level at which water over flows over its banks and inundates the adjoining areas.
They are one of the natural calamities that India faces almost every year in varying degree of magnitude.
What are the factors responsible for floods?
There are various factors, including wide variation in rainfall over time and space and inadequate carrying capacity of rivers.
The problems get accentuated due to silting, bank erosion, landslides, poor natural drainage, glacial lake outburst, etc.
Indiscriminate development and encroachments on flood plain areas, improper planning and construction of roads, railway lines, etc. have also been responsible the or increase in flood damages.
With increased deforestation, the surface run-off has increased at the cost of infiltration, leading to tons of sediment being deposited on the riverbed on reaching the plains reducing carrying capacity further. Building dams will exacerbate this effect.
What are the types of the flood?
Coastal (Surge Flood): As the name suggests, it occurs in areas that lie on the coast of a sea, ocean, or another large body of open water. It is typically the result of extreme tidal conditions caused by severe weather. Often produced when the hurricanes and other storm pushes water onshore.
Fluvial (River Flood): It occurs when excessive rainfall over an extended period of time causes a river to exceed its capacity. Riverine flooding is further classified into two types i.e.
Overbank flooding – this is the most common type of flooding where the water level rises and breaches the banks over time.
Flash flooding – it is characterized by an intense, high velocity of water that occurs in an existing river channel with little to no notice.
Pluvial (Surface Flood): It is caused when heavy rainfall creates a flood event independent of an overflowing water body. It is widely conceived that one must be living near to the water body to be at the risk of flooding. Pluvial flooding debunks that myth, as it can happen in any urban area — even higher elevation areas that lie above coastal and river floodplains. There are two main reasons for pluvial flooding. First, torrential downpour making the urban drainage system saturated and making the roads flooded. The second one, run-off or flowing water from rain falling on hillsides that are unable to absorb the water.
Statistics in India – What do they say about Flood Management?
This year, the official death toll has risen to 77 and around 12 lakh people have been displaced.
The vast stretch of alluvial plains across Uttar Pradesh, Bihar, West Bengal, and Assam account for 17% of India's geographical area but disproportionately account for 43%–52% of all flood-prone areas of the country.
The total cost of all the natural disasters in India during 2014-15 is estimated to be $9.8 billion out of which $7 billion is due to flooding.
Flood Governance – What are the steps taken by the government?
Embankments were constructed to create a "safe" area for habitation and they provide these in areas where the embankments are new. But large populations continue to stay inside the embankment, that is, outside the "safe" areas, at the mercy of the imminent flood.
In 1980, the Rashtriya Barh Ayog (RBA) had assessed the area of 40 mha in the country lying in 21 States and one Union Territory. Subsequently, a Committee constituted under the Chairman, Ganga Flood Control Commission (GFCC), Patna in February 2006 identified a total of 39 districts in the country as flood prone.
The government's response to floods has been focused on massive structural interventions like dams, dredging of rivers, and porcupine structures to combat erosion. But empirical experience shows that dams often get silted quickly and in order to save the dam, water has to be released downstream, tending to cause flooding as a result of which bamboo porcupine structures gets washed away.
The Union Government has also been providing central assistance to the State Governments for effective flood management in critical areas based on the recommendations of the Task Force 2004 on Flood Management/Erosion Control.
Initiatives in order to deal with floods
Policy Statement 1954
High-Level Committee on Floods – 1957
Policy Statement of 1958
National Flood Commission (Rashtriya Barh Ayog) 1980
Expert Committee to Review the Implementation of the Recommendations of National Flood Commission – 2003 (R Rangachari Committee)
National Water Policy (1987/2002/2012)
Flood management
Flood management does not aim at total elimination or control of floods or providing total immunity from the effects of all magnitudes of floods.
It is a multipronged strategy ranging from modifying the floods by means of structural measures to learning to live with the floods by means of other nonstructural measures is well within pragmatic realism in flood management.
An efficient flood management is a special case of water management and requires a most holistic approach as it involves the management of thousands of micro-watersheds in both the catchment and the flood prone areas.
Flood Protection Vs Flood Governance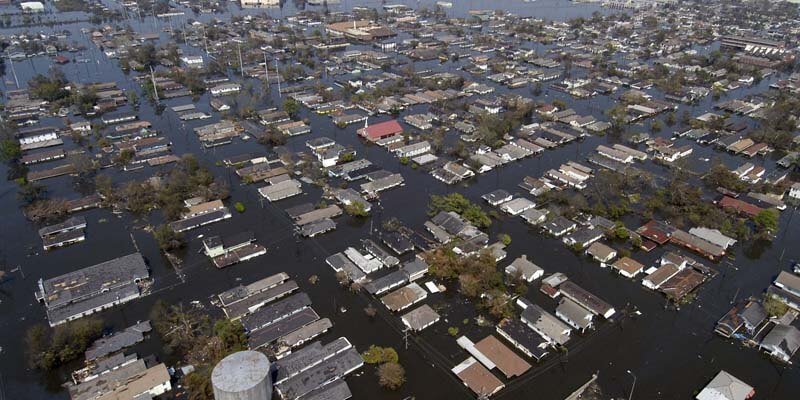 Flood protection necessarily starts and ends with structural intervention and provision of relief. Flood governance would require the innovative combination of initiatives undertaken at various levels. At one level, it is important to conduct "strategic environment assessment" of all development activities in the ecologically pristine locations of the Eastern Himalayas and aim for river basin management.
Important recommendations of Task Force 2004 on Flood Management/ Erosion Control
Expand the role of the Central Government in the Flood control sector – The flood control schemes should be funded through a Centrally Sponsored Scheme in the ratio of 90% Central and 10% State from the present 75:25.
The total investment for plan/flood Management may be to at least 1% of the total plan outlay.
Earmarking funds in the state sector as Additional Central Assistance for maintenance of embankments.
Creation of a revolving fund of Rs. 50 Crore, which may be available annually to the Ministry of Water Resources to take up emergent flood management schemes.
Strengthening of the Ganga Flood Control Commission by the addition of a Member (Works) and appropriate field formation for investigation and execution of critical flood management works.
Strengthening of Flood Management Organisation of the Central Water Commission by restoring the post of Member (Floods) abolished earlier and redeployment of posts of Chief Engineer, two Directors and other lower level functionaries in order to have policy formulation and coordination amongst various agencies.
Article by: Bharath Prasath