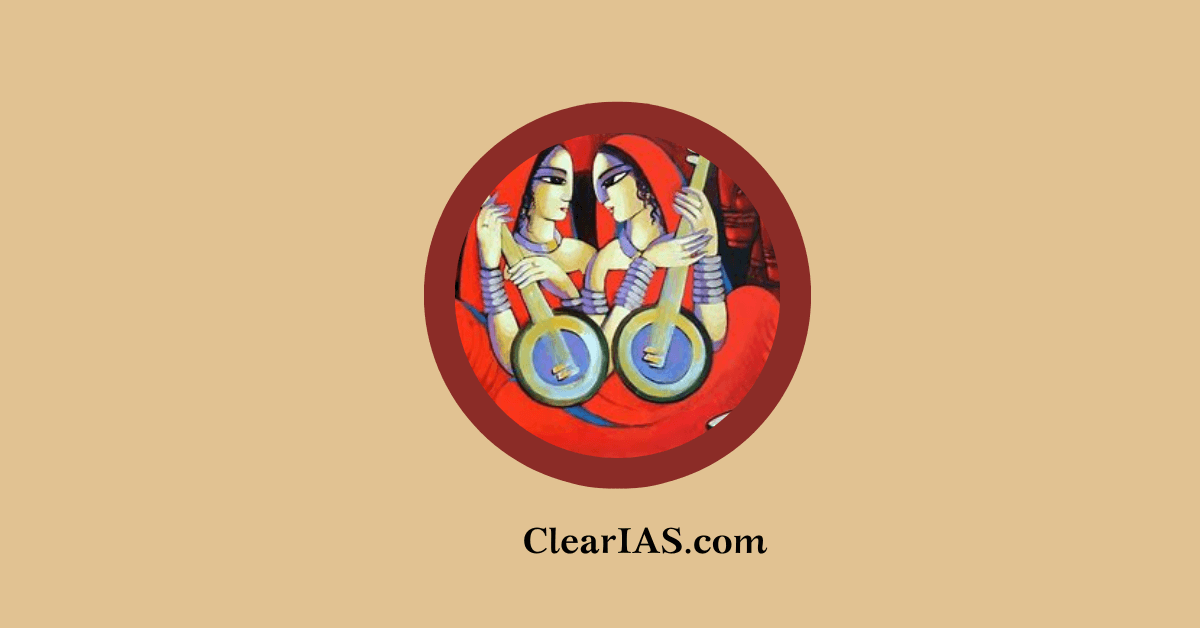 The numerous genres of folk music have significantly benefited from India's rich cultural variety. Read here to know the variety of folk music cultures India owns.
Indian culture has long emphasised the importance of music.  In India, almost every region has its distinctive folk music that captures the culture. From the upbeat bhangra of Punjab to Garba in Gujarat and Bhavageete in Karnataka, India's folk music history is truly fantastic.
Folk music, which has developed to ease the suffering and break up the monotony of daily living, is intimately tied with farming and other related vocations.
Even though pop and rap music helped folk music lose popularity, no traditional festival or celebration would be complete without folk music.
History  of Folk Music in India
The Vedic literature, which goes back to 1500 BC, contains the first descriptions of Indian folk music. Some academics and industry professionals even contend that Indian folk music may be as old as the nation. For instance, it is said that Pandavani, a type of folk music that is common throughout Central India, is as old as the Hindu epic Mahabharata. This astounding assertion is supported by the fact that Pandavani's focus is on the exploits of Bhima, a significant figure from the Mahabharata.
Folk songs were later widely utilised for entertainment and to commemorate important occasions like weddings, childbirth, festivals, etc. Folk music was also employed to transmit important information from one generation to the next. This implies that these songs might have had a significant impact before the introduction of paper to India.
Since there was no solid material available for humans to use to preserve historical knowledge, it became crucial to pass down valuable knowledge through songs. Therefore, folk songs were highly regarded by indigenous people because they not only offered pleasure but also valuable lessons that could be applied to daily life. Folk music is a type of music that has been mostly passed down orally through many generations.
It is sustained by customs and cultures that are followed in homes, neighbourhoods, and small social circles. Folk music is the music of the people and has no set rules, in contrast to classical music, which follows the Natyashastra regulations and fosters the guru-shishya (student-mentor) lineage.
They feature many different topics and are jam-packed with musical rhythm. They can be dance-oriented because they are also arranged to beats.
Folk music of different states
Every state has its distinct genre of folk music.
Wanawan
Folk music of Jammu and Kashmir. It is especially sung during wedding ceremonies and is considered very auspicious.
Panihari
Folk music of Rajasthan. Developed by women in Rajasthan. Most songs often had water and rain as their theme.
Maand
It is Rajasthan's most sophisticated style of folk music and is the exclusive contribution to the classical music of India. Maand is neither accepted as a full-fledged Raga nor is it reckoned among the freely rendered folk songs. It is quite similar to the Thumri or the Ghazal.
Sohar
Folk music of  Bihar is sung during childbirth.
Baul
Folk song of Bengal region. The Baul or Bauls are a group of mystic minstrels of mixed elements of Tantra, Sufism, Vaishnavism and Buddhism. Best known for their songs and poems to the god who dwells within. The term "Baul" is usually understood to mean "madman" or religious ecstatic, and Bauls often describe themselves as crazy for God.
Baul Sangeet, or Baul Sangeet music, is a type of folk song.  Its lyrics are influenced by Hindu Bhakti movements and Sufi, a type of Sufi song exemplified by Kabir's songs and known as 'Baul Gaan' or Baul song. Their music represents a long tradition in Bengal of preaching mysticism through songs, as in the Shahebdhoni or Bolahadi sects.
Khongjom Parva
Folk music of  Manipur. The art form depicts stories of the heroic battle of Khonjom, fought by the people of Manipur against the British empire in April 1891. Now, even great epics such as the Ramayana and Mahabharata are sung in this manner, along with the traditional Manipuri stories of Khamba and Thoibi and those about the exploits of Manipur'great rulers.
Pandavani
Folk music of Chhattisgarh.  It is a folk singing style of musical narration of tales from the ancient epic Mahabharata with musical accompaniment and Bhima as head too.  This folk music is popular in Chhattisgarh, Orissa, Madhya Pradesh and Andhra Pradesh. While Tambura is largely used as an accompanying musical instrument, it is also used as a prop to explain different characters from the Mahabharata.
For instance, the performer often places the Tambura on their shoulder while narrating the bravery of Bhima. While doing so, the Tambura represents Bhima's mace. Other musical instruments used are Manjira, Harmonium, Dholak and Tabla.
Lavani
Folk music of Maharashtra. Traditionally, the songs are sung by female artists, but male artists may occasionally sing Lavanis. The dance format associated with Lavani is known as Tamasha.  It was initially performed to entertain the soldiers. Lavani is further divided into two types – Nirguni Lavani and Shringari Lavani. While Nirguni Lavani is usually philosophical in nature, Shringari Lavani is sensual and often deals with erotic subject matter that often induces laughter among its listeners.
This musical form is also classified based on its listeners. If Lavani is performed in close quarters by a young girl for a set of dignitaries, it is called Baithakichi Lavani. If it is performed in public in front of a large audience, it is called Phadachi Lavani.
Powada
Folk music of Maharashtra. The word Powada itself means "the narration of a story in glorious terms".The narratives are always odes in praise of an individual hero or an incident or place.
Mando
Folk music of Goa. Mando is a musical form that evolved during the 19th and 20th centuries among the Goan Catholics. The major theme of Mandos is love, the minor ones being historical narratives, grievance against exploitation and social injustice, and political resistance during the Portuguese presence in Goa.
Kolattam/Kolannalu
It is the folk music of Andhra Pradesh, also called 'stick dance' and one of the most popular dance narratives. It  is a rural art usually performed during village festivals.
Bhavageete
It is one of the most important folk music of Karnataka. It is a form of expressionist poetry and light music. They are songs close to Ghazals sung in slower pitch. Bhavageete lies in music of expression and hence, the singer's expressions constitute the most important aspect of this form of music. The subject matter of this musical form deals with nature, love, philosophy, etc. Though Bhavageete is an ancient musical form, contemporary musicians and singers have revived it by incorporating poems written by eminent Kannada writers and poets.
Bhatiali
Bhatiali was sung by the fishermen of ancient Bengal. It is said that this musical form was used by the oarsmen and fishermen of Bengal to keep themselves entertained when they didn't have to row their boats with all their might. Nirmalendu Chowdhury is one of the best exponents of this ancient musical form.
Kummi Paatu
Kummi Paatu is yet another folk music form from Tamil Nadu. These folk songs are usually accompanied by a folk dance form known as Kummi or Kummi Aattam. It is often performed throughout Tamil Nadu during festivals and rituals.
Ovi
This type of music is native to Maharashtra and Goa. They are usually women's songs, which are sung by women in their spare time and while doing their household chores. They usually have four small lines of poetry in them. These are typically songs written for weddings, pregnancy, and as children's lullabies.
Pai Song
The majority of these songs are from Madhya Pradesh. They are sung at festivals, especially those that take place during the rainy season. As these are farmer communities' songs, they generally beg for a 'good monsoon and a good harvest.'The Saira dance is typically performed in Pai music.
India is a geographically diverse country, and this diversity is reflected in its culture. Dance and folk songs have always been an integral part of Indian society. Folk music is based on various social, and religious engagements in the community. These folk songs also enlighten us in getting knowledge about the culture of primitive societies and cultures.
Related topic: Major Tribes in India: State-wise compilation – Clear IAS
Article Written By Atheena  Fathima Riyas