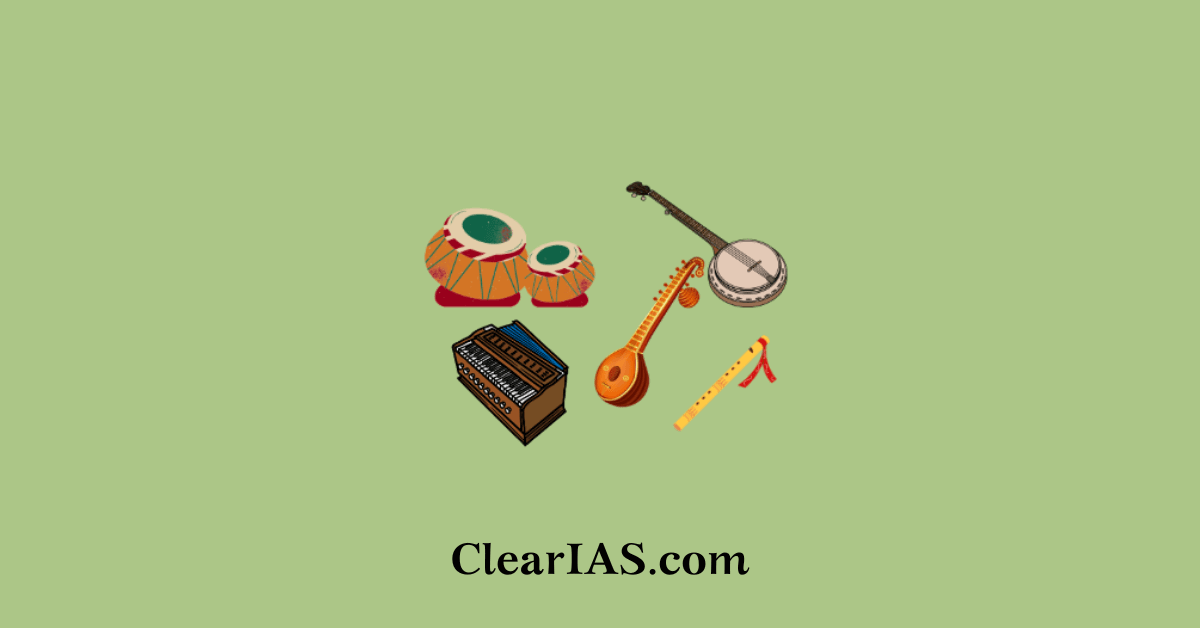 Various Indian musical instruments, both classical and folk create complex and melodious compositions. These instruments are integral to the diverse musical genres of India, including classical music, folk music, devotional music, and popular music. Read here to learn more about the Indian Musical Instruments.
The rich and diverse musical traditions of India have indeed led to the creation of a wide variety of musical instruments.
The Indian Musical Journey is an extensive collection of over a hundred instruments, representing the creative diversity and cultural heritage of Indian music.
These instruments represent just a glimpse of the extensive and diverse musical heritage of India. They contribute to the beauty and complexity of Indian music, and each has its unique role in shaping the country's musical landscape.
Indian Musical Instruments
The continuity of the musical traditions of India is established through a study of musical texts and numerous visual references one finds of musical instruments in painting and sculpture from prehistoric times to the present day.
The earliest evidence of music activity is found on the walls of cave paintings at Bhimbetka and in several parts of Madhya Pradesh, which were occupied by men approximately 10,000 years ago.
Much later, in the excavations of the Harappan Civilization, evidence is available of dance and music activity.
The Tamil word for instrument-Karuvi is found in Sangam literature of the 2nd to 6th century A.D., the literal meaning of which is "tool".
Over 2000 years ago, Bharata, in the Natya Shastra, classified instruments as tata (stringed instrument), sushira (wind instrument), avanaddha (percussion instrument), or ghana (solid instrument). Every one of the myriad instruments invented since then fits into one of these four timeless categories.
The Tata Vadya or Chordophones – Stringed instruments
The Sushira Vadya or Aerophones – Wind instruments
The Avanaddha Vadya or Membranophones – Percussion instruments
The Ghana Vadya or Idiophones are solid instruments that do not require tuning.
Also read: Classical dances of India; Folk dances of India
The Tata Vadya or Chordophones (Stringed instruments)
The tata vadya is a category of instruments in which sound is produced by the vibration of a string or chord. These vibrations are caused by plucking or by bowing on the string that has been pulled taut. The length of the vibrating string or wire, and the degree to which it has been tightened, determines the pitch of the note and the duration of the sound to some extent.
Sitar: The sitar is one of the most iconic Indian instruments, known for its long neck, resonant gourd body, and sympathetic strings. It is widely used in classical music, particularly in the North Indian tradition.
Veena: The veena is an ancient and traditional string instrument. It comes in various forms, with the Saraswati veena and the Rudra veena being notable examples. The veena is used in Carnatic music, the classical music tradition of South India.
Sarod: The sarod is a fretless, plucked string instrument that is prominent in North Indian classical music. It has a metallic fingerboard, and its sound is characterized by its sharp, resonant tone.
Violin: The violin has been adapted into Indian classical music and is used extensively in Carnatic music. It is a Western instrument that has been integrated into Indian classical traditions.
Tanpura: The tanpura is a long-necked, plucked instrument that provides a continuous drone in Indian classical music. It helps musicians maintain pitch and rhythm.
Ektara: The ektara is a simple, one-stringed instrument with a resonator made from a gourd. It is widely used in folk music, especially in regions like Bengal.
Sarangi: The sarangi is a bowed string instrument that is used in various forms of Indian music, including classical and folk. It is known for its emotive and soulful sound.
Santoor: It is a 100-string instrument and is a traditional instrument of Jammu and Kashmir from ancient times. Sufiana kalam music is accompanied by Santoor.
The Sushira Vadya or Aerophones (Wind instruments)
In the Sushira Vadya group, sound is produced by blowing air into a hollow column. The pitch of the note is determined by controlling the air passage and the melody is played by using the fingers to open and close the instrument.
Flute: The bamboo flute, known as the bansuri, is a key wind instrument in both North and South Indian classical music. It is popular for its lyrical and melodic qualities.
Shehnai: The shehnai is a double-reeded wind instrument known for its use in classical and folk music, especially in North India. It is often played at weddings and auspicious occasions.
Harmonium: The harmonium is a keyboard instrument with a set of reeds. It is widely used in various forms of Indian music, including classical, devotional, and popular music.
Mukhavina: Also known as the "Taimila," the Mukhavina is a brass wind instrument played in the traditional music of Karnataka, particularly in the region of Tulu Nadu. It has a distinct conical shape and is a key instrument in Yakshagana, a traditional theater art form.
Algoza: The algoza is a pair of wooden flutes bound together. It is commonly used by wandering minstrels, known as "Fakirs," in the Rajasthan and Punjab regions. The player simultaneously blows into both flutes to create melodies.
Nadaswaram: The nadaswaram is a large, double-reeded wind instrument used in South Indian classical music, especially in the Carnatic tradition. It has a powerful and sonorous sound and is often played during temple festivals and weddings.
The Avanaddha Vadya or Membranophones (Percussion instruments)
In the Avanaddha Vadya category of instruments, the sound is produced by striking the animal skin which has been stretched across an earthen or metal pot or a wooden barrel or frame.
Tabla: The tabla is a pair of hand-played drums that are central to North Indian classical music. It consists of two drums, the smaller "dayan" and the larger "bayan."
Dholak: The dholak is a double-headed drum, popular in both classical and folk music. It is played with the hands and is a versatile instrument.
Pakhawaj: The pakhawaj is a barrel-shaped drum used primarily in the dhrupad style of classical music. It is closely related to the mridangam.
Ghatam: The ghatam is a clay pot used as a percussion instrument in South Indian classical music. It produces a distinctive earthy sound.
Tabla Tarang: Tabla Tarang is a set of tuned tabla drums, each producing a different pitch. Musicians can create melodies by striking the different drums.
Mridangam: The mridangam is a double-headed drum from South India, primarily used in Carnatic music. It is played with the fingers and palms and has a unique tonal quality.
The Ghana Vadya or Idiophones
Idiophones are musical instruments that produce sound through the vibration of the instrument itself, without the need for strings, membranes, or reeds.
Manjira: Also known as cymbals or tala, Manjira is a pair of small, metallic hand cymbals used in classical music, folk music, and devotional songs. They are played by clashing them together to keep rhythm.
Ghungroo: Ghungroo is a set of small metallic bells strung together on a cord or pad. Dancers, especially in classical Indian dance forms like Kathak, attach ghungroos to their ankles to create rhythmic footwork sounds.
Khartal: Khartal is a wooden clapper instrument consisting of two rectangular blocks with jingles attached to them. It is commonly used in folk music, devotional music, and traditional storytelling.
Kanjira: The Kanjira is a small frame drum with metal discs on one side. It is widely used in Carnatic music, a classical music tradition of South India. The player holds the instrument in one hand and plays it with the other, creating a variety of rhythmic patterns.
Thattukazhi and Elathalam: These are small cymbals used in the traditional percussion ensemble in Kerala, particularly in the ritualistic performances of Theyyam and other art forms.
Chimpta: The Chimpta is an idiophone that consists of a metal strip with jingles attached. It is often used in Punjabi folk music and is played by striking the strip to create a jingling sound.
Ghungroo Tarang: This is a set of small ghungroos (bells) attached to a string or cord, similar to a string of pearls. Musicians use this instrument to create melodies and rhythms by plucking or striking the individual bells.
Thali: A thali is a metal plate that can be played by striking it with the fingers or other objects. It is often used as a simple percussion instrument during folk and devotional songs.
Bhapang: The Bhapang is a single-stringed instrument that produces sound by plucking the string and also by striking the resonating chamber with a stick.
These are just a few examples of the diverse range of musical instruments in India. Each instrument contributes to the unique soundscape of Indian music, whether it's classical, folk, devotional, or contemporary music.
-Article by Swathi Satish