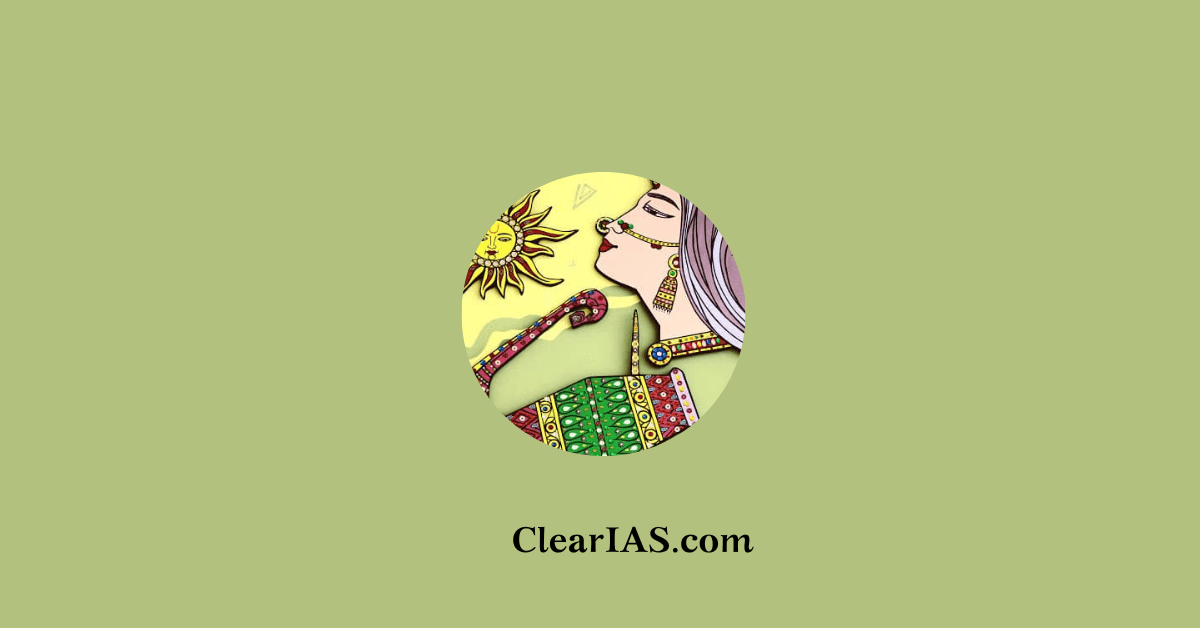 Folk painting is a visual representation of a particular group of people's common culture and contains customs unique to that culture, subculture, or group. Where do the ideas and themes behind folk paintings come from? How did they originate? Read the article to know more about the folk painting culture of India.
The world of paintings is very much colourful and expressive. And it has long stories behind it too.
Have you ever wondered how did India get such a varied culture of paintings?
Art reflects the human sense of aesthetics and is a product of human culture. In Indian art,a unique fusion of folk art exists. These art designs are diverse and reflect our rich cultural heritage. Folk art is a mirror of any region or place's folk cultural traditions.
Folk art is the traditional art of any region or tribe that has been passed down from generation to generation.
Folk painting is a visual representation of a particular group of people's common culture and contains customs unique to that culture, subculture, or group.
From the prehistoric cave paintings of Bhimbetka to Madhubani, which is thought to be as old as the Ramayana, to the frescoes of Ajanta and Ellora, every region of India has its folk painting traditions.
The folk group is a function of a shared community-based identity, not of individualism. Folk artists are not self-taught; they learn and teach the creation and production of folk art informally or officially. These are mythological legends, epic stories, and so on.
Also read: Indian Paintings: Everything You Need To Know
List of Folk Paintings of India
Folk Paintings are pictorial expressions of village painters which are marked by the subjects chosen from the epics like Ramayana and Mahabharata, Bhagavata Purana as well as daily village life, birds and animals and natural objects like sun, moon, plants and trees.
Kalamkari
A traditional painting style from Machilipatnam in Andhra Pradesh. Kalamkari translates as "painting produced with the help of a pen." The term relates to the pen that is used to make these exquisite works of art and comes from the word kalam, which means pen. Using a pointed bamboo called a Kalam, which is employed in this technique to control the flow of the colours, the cloth is painted. The pen is soaked in a mixture of water and fermented jaggery before the vegetable colours are added one at a time. Hand painting or block printing is used.
Vegetable dyes were used to create the hues on the cotton cloth. The pictures were drawn by hand and were inspired by Hindu mythology. The cartwheel, lotus flower, animals, and interlacing patterns of flowers and leaves are among the motifs used by the artisans.
Patna Kalam Art
Watercolour-based works deal exclusively with themes of a common man. It was promoted by Akbar and adopted by the Britishers in the 19th century.
Pichai
The painting belongs to the state of Rajasthan. Cloth paintings of Lord Krishna and used as a backdrop for his idol at Nathdwara temple, Udaipur.
Thangka Paintings
It's a traditional Tibetan painting. Buddha paintings are created in this style of art on cotton or silk fabrics. It is divided into three categories: ceremonies and everyday practice, glimpses into the Buddhist lifestyle, and Tibetan Buddhist wall paintings. Thangkas were first used as a symbol of adoration to represent Buddhism's highest ideals.
Young Tibetan monks created silk scrolls on canvas using vegetable and mineral colours, which were then framed in silk brocades. Every hue used in the artwork has a distinct meaning. After it is finished, the painting is typically framed with vibrant silk brocade.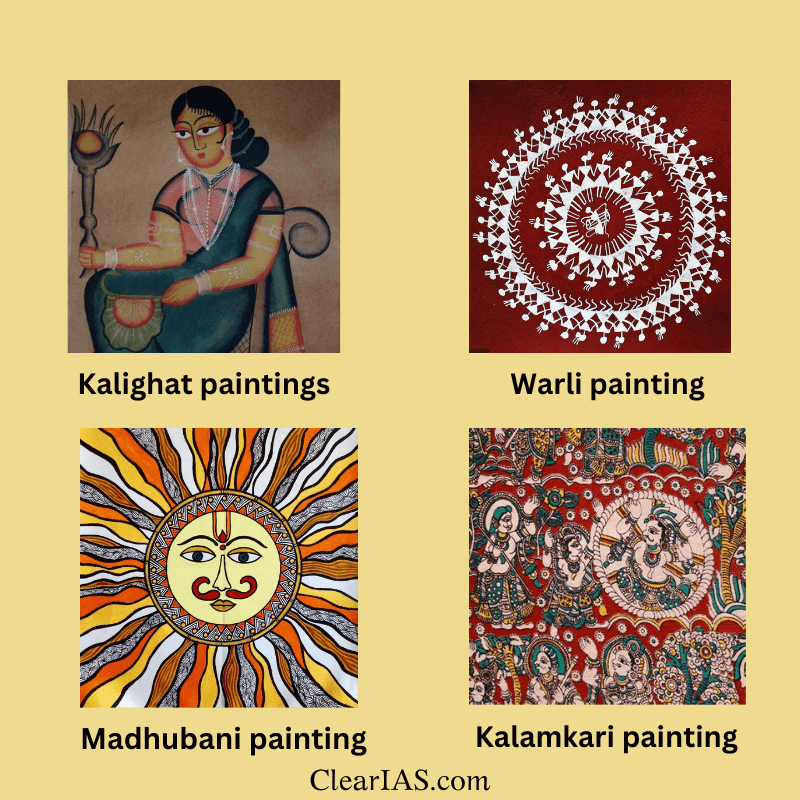 Manjusha Paintings
This art form originated in the Bihar region of Bhagalpur. Another name for it is Angika art, where 'ang' stands for one of the Mahajan apada. Since there are always snake patterns visible, it is also known as snake painting. These paintings were created on paper cartons and jute.
Madhubani Paintings
Major folk painting of Mithila region of Bihar state. Also called Mithila painting. It is a prominent painting of the Mithilanchal region in Bihar, Madhubani and some regions of Nepal, such as Darbhanga. Artists narrate mythological and religious events. In this style of folk painting, the scenes of Ramayana and the images of Hindu God-Goddesses are depicted on the canvas. Mahasundari Devi is a famous artist of Madhubani painting.
This painting developed into a Rangoli in the early days and later this art gradually descended on clothes, walls and paper into modern form. Men have also adopted this domestic painting commissioned by the women of Mithila.
There will be images of Hindu deities, natural scenes such as the sun and moon, religious trees and plants such as Tulsi, and marriage scenes. There are two types of Madhubani paintings – mural painting and Aripan or Alpana.
It is a tradition to make it at three special places in the house, such as the place of worship, the Khobar Room (in the married room), and at a marriage or any special celebration on the outer walls of the house. The paintings all have a common theme and are usually inspired by Hindu religious motifs such as Krishna, Rama, Durga, Lakshmi, and Shiva.
The figures in the picture are symbolic; for instance, a fish represents good fortune and fertility. Paintings of auspicious occasions such as births, marriages, and festivals are also created. To fill in any gaps in the painting, flowers, trees, animals, and so on are used.
On a base of cow dung and mud, these were traditionally painted on walls with rice paste and vegetable colours. With time, the foundation shifted to handmade paper, clothing, and canvas, with natural colours remaining. The paintings appear two-dimensional due to the lack of shading. The double line border, intense use of colour, intricate floral patterns, and exaggerated facial features are all prevalent aspects of these paintings.
Paintings are thought to have originated during the Ramayana period when the ruler of Mithila instructed his subjects to paint the walls and floors of their homes in honour of Sita and Rama's marriage. The people believed that by doing so, the Gods would be pleased.
Phad Painting
Phad painting belongs to the state of  Rajasthan. The art prints of historical figures like Goga Chauhan, Prithviraj Chauhan, Amar Singh Rathore and Teja Ji. They are scroll paintings on long rectangular cloth. The story of Pappu Ji and Narayandev Ji's lives is primarily portrayed in modern times.
They are painted with vegetable colours on a lengthy piece of cloth known as a phad and are either 15 feet or 30 feet long. Wide eyes and round features characterise the subjects. They frequently include tales that are pompous and upbeat in addition to pictures of the parade.
Warli Paintings
The marriage god Palghat, his horse, and the bride and groom are depicted in some common folk art prints on the Warli paintings of the Adivasi Warli people in Maharashtra. These paintings are unique since they feature wedding celebrations. A dance that men and women execute in circles and spirals around a musician is another common topic.
In this kind of art, a chewed bamboo stick is used as a brush, and the colour is made from a mixture of rice paste and water gum.
The perfect representation of Worli is made up of trees, birds, males, and females. These paintings are created by tribal women as part of a ritual on lucky days. These paintings have a mostly religious theme, employing simple, regional materials like rice Lehi and local vegetable gum as well as geometric shapes like squares, triangles, and circles over backgrounds of various colours.
The Worli lifestyle tableau is beautifully displayed in simple shapes. Worli painting does not promote religious images, unlike other tribal art types, and thus presents a more secular form.
Pattachitra Art
It is an Odishan folk painting. The Bhakti Movement served as inspiration for some of the Pata Chitra Paintings. The Sanskrit words patta, which means canvas or cloth, and Chitra, which means picture. The paintings incorporate classical and folk motifs, while the latter gives a slight edge. The painting's substrate is treated cotton, and the colours are created using natural ingredients such as lamp black, Hingula, Ramaraja, and burned coconut shells. The red or yellow outlines are first drawn with a brush rather than a pencil or charcoal and are then filled in with colours.
The painting is varnished at the last to give it a glossy finish. The Jagannath and Vaishnava religions, as well as several Shakti and Shiva cults, are the inspiration for these artworks. Raghurajpur, Odisha, is a city noted for this kind of art. Images in the pattachitra paintings are reminiscent of the state's mediaeval murals, especially those at Puri and Konark. Pattachitra on a palm leaf is known as talapattachitra.
Bold colours are used in many folk art prints to tell the tale of Radha-Krishna and Jagannath. They are still used today to decorate toys, masks, and playing cards made by the Ganjifa people. The subjects of the paintings include Subhadra, Balrama, Lord Jagannath, Dashavatara, and events from the life of Lord Krishna. They appear with a detailed outline in red, yellow, ochre, white and black colours.
Pithora Painting
It is the folk painting of the Rathvas and Bhilalas tribes of Gujarati. It is more than a ritual rather than an art form.
Kalighat Pat Art
These paintings were produced by rural migrants who lived in  Kalighat, Kolkata in the 19th century. Numerous Hindu Gods and other mythological figures are depicted in this genre of art. At that time, the major images in this artwork were depictions of figures from Hindu mythology and deities. This painting method is used by artists to illustrate episodes from the Ramayana, Mahabharata, and other kimvadantis in long papers while they sing and narrate the illustration.
Using brushes made of calf and squirrel hair, watercolours were painted on mill paper. The painted figures' contoured shading and articulated movements give them the appearance of plaques on a white background. Over time, people frequently used these artworks to reflect societal sentiments. Romantic depictions of women, shifts in gender roles, and satirical artwork decrying the hypocrisies of the newly wealthy can all be found in more contemporary works.
Patua Arts
Patua art, often known as Bengali art, has a long history. Local artists would tell Mangal Kavyas, or auspicious tales about Gods and Goddesses, as part of a long-standing tradition. Since ancient times, scroll painters, or patios, have travelled to other villages to sing their tales in exchange for food or payment. These paintings are done on pats or scrolls.
These were once painted on a cloth to narrate religious stories, but now political and social statements are made by using poster paints on sewed-together pieces of paper. The majority of these patuas come from the state's Midnapur district.
Patkar Paintings
In Jharkhand, tribal people produce paintings known as "Patkar paintings," also referred to as "scroll paintings." They are considered one of the nation's oldest painting schools. This traditional style of painting is related to Ma Mansa, one of the most important tribal deities.
Among the social and religious practices portrayed in these paintings are charitable giving and holding yajnas. The question of what happens to human life after death frequently appears in Paitkar's artwork.
Gond painting
Indian folk and tribal art make up this genre. People from the Gond community in Madhya Pradesh practise them.  For more than 1400 years, this art form has been practised. Typically, they show flora and fauna, people going about their daily lives, gods, holidays, and celebrations. They reproduce natural phenomena, historical events, ceremonies, and mythological tales. These paintings are strong, vivid, and colourful with a great deal of meticulous detail.
The art form became so well-known because of Jangarh Singh Shyam, a Gond legend and flag-bearer of Gond art. The original origins of the colours utilised in Gond art were things like cow dung, sap from plants, charcoal, colourful earth, mud, flowers, and leaves. But nowadays, artists use synthetic colours such as acrylic colours, watercolours, oil paints, etc.
Tanjore painting
Ancient Indian folk art known as Tanjore or Thanjavur painting has its roots in the South Indian town of Thanjavur,that dates back to the year 1600. These paintings are well-known for their use of gold foil, which gives the piece a surreal appearance, their use of brilliant hues and semi-precious stones, as well as their beautiful panel painting on a wood board with a deity as the main subject.
Hindu deities, saints, scenes from Hindu Puranas, Sthala-Puranas, and mythological subjects are among the principal themes of Tanjore paintings. Palagi Padam, which translates to "image on a wooden plank," is another name for these panel paintings that were created on wooden planks.  Tanjore's artwork is exquisitely lovely and graceful.
Cheriyal Scroll Painting
The Telangana-born Nakashi art form has been adapted into the Cheriyal Scroll Painting aesthetic. These 40–45 foot scrolls are painted in a narrative style and primarily feature tales from Indian mythology, the Puranas, and the Epics. They are created with handwoven khadi cloth.
The canvas or fabric is given special treatment with several coatings of a specially made solution, which stiffens the canvas and causes it to absorb colour, extending the life of the painting. The painters create the colours they use from natural materials, and they make the brushes from squirrel hair linked to sticks. The Krishna Leela, Ramayana, Mahabharata, Shiva Puranam, and Markandeya Puranam are some of the topics that frequently appear in Cheriyal paintings.
Kalamezhuthu
Traditional Indian ritualistic art known as Kalamezhuthu is conducted at Kerala's temples and sacred woods. For the blessings of gods and goddesses like Kali, Ayyappan, Bhadrakali, snake god, etc., it is practised as an offering. These deities' representations are painted on the ground using natural colours and powders.
A typical recipe calls for five different coloured powders: white rice flour, black charcoal powder, yellow turmeric powder, green powdered green leaves, and red turmeric-lime powder. The picture first begins from the centre and is developed outwards by the artist, who uses just his bare hands to create it.
Chittara paintings
This folk craft is practised by the female members of the Delaware group in the Sagar district of Karnataka. Yellow seeds and rice paste, two organic elements, were used to create it. Their homes, which are red mud hamlets, have murals on the walls and floors. Usually, these paintings depict scenes from the daily lives of tribal people, such as animals and birds, flowers used in pooja, rituals, gods, socioeconomic activities, gifts for children, etc.
Natural resources like toasted rice, trees, vegetables, minerals, and rocks and stones provide them with their colour. Additionally, they paint with a delicate jute brush called a "Pundi." This traditional artwork is generally produced on auspicious occasions and has intricate themes and geometric designs.
Saura paintings
This mural painting style of tribal art from the state of Odisha is strikingly similar to Warli paintings. The Saura tribe, one of the most well-known and historic tribes in the nation, is recognised for its use of the Saura paintings, commonly referred to as ikons. They hold great religious significance for these paintings.
The primary god of the Sauras is honoured by these straightforward yet detailed paintings and sketches on the walls of village homes. The sun, moon, tree of life, humans, horses, and elephants are a few typical motifs.
These Saura paintings are formed with a base of red or yellow ochre, and the brushes are made from sensitive bamboo stalks. Natural colours are employed, including those made from extracts of rice, white stone, coloured earth, tamarind seed, flower, and leaf mixes, and vermilion.
The human body is depicted by two distinct triangles in Saura's paintings, and there is no physical distinction between male and female features. The figures are also larger and less angular. Every Saura painting starts with a "fishnet" method, where the centre is initially filled up with patterns, designs, and people.
Bhil Art
This is another tribal art form practised by the Bhils. The Bhils reside in Madhya Pradesh, Gujarat, Rajasthan, and Maharashtra and are highly superstitious people. The Bhil paintings are traditionally done on the clay walls of their village homes and neem sticks, twigs, and natural colours are used to do so.
The bright and vibrant colours are extracted from turmeric, flour, vegetables, oil, and leaves. These Bhil paintings depict the everyday life of this tribe and they usually contain large shapes covered with uniform dots in numerous patterns and colours. These dots and patterns on a Bhil painting generally represent something that the artist wants like ancestors or deities. Some common depictions include nature, flora and fauna, Bhil deities, births and deaths, rituals, and festivals.
Indian villages are frequently depicted in folk art. Topics from epics like the Ramayana and Mahabharata, the Bhagavata Purana, as well as everyday village life, birds and animals, and natural phenomena like the sun, moon, planets, and trees, characterise the pictorial expressions of village painters. Many regions of India still practise Indian folk art, which has been handed down through generations.
A broad variety of art styles have developed over time due to their cultural diversity and individuality, some of which have remained unaffected by modernization and others which have adapted to new paint colours and materials. Numerous groups, people, and initiatives are attempting to conserve folk paintings as a link to India's history and traditions.
Also read: Salient Aspects of Art Forms, Literature and Architecture from Ancient to modern times
Article Written By: Atheena Fathima Riyas